I recently received an email saying that the Cornell Alumni Association was hosting their second annual fashion show fundraiser. I was surprised. Mainly because fashion is one of the last words I would associate with Cornell University.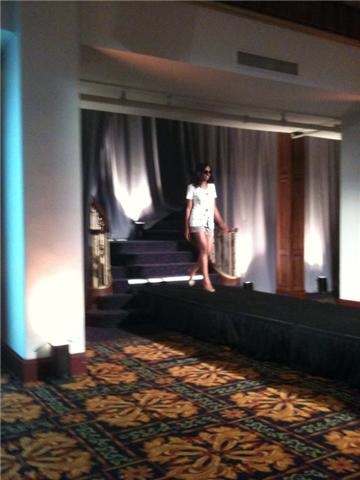 I tried mastering photography on the iPhone at the fashion show. I should probably learn to use the zoom function.
Sure enough, it was an interesting event. Cornell alumni walked the runway in designs from Stefanie Schoen, Good Karma, and Dlish Couture. While most of the designs were pretty basic, there was one skirt with sequined hem detailing that reminded me of the New York skyline — and I wanted it! Of course, what really caught my attention was the bowl of "Lucky Taco" fortune cookies, which looked fabulously kitsch and tasted mostly disgusting.
Then it was off to Le Club, where Chef Amy Glaze has started offering a private six course dinner for two — served in the kitchen. I was very curious about this dining experience, so I had to check it out. Gina, the owner, was nice enough to let us pay a visit to the kitchen. It was a little less glamorous than the vision I had mentally concocted.
She pointed to a utility cart by the door that was home to an unplugged microwave and some other miscellaneous kitchen utensils and explained that's where the table goes. I felt torn. While fine dining in a commercial kitchen is definitely a unique experience, I have to wonder if one wouldn't be more comfortable in the dining room.

Written by: Kalla Vieaux
Click here for more of 'The Kalla Chronicles'