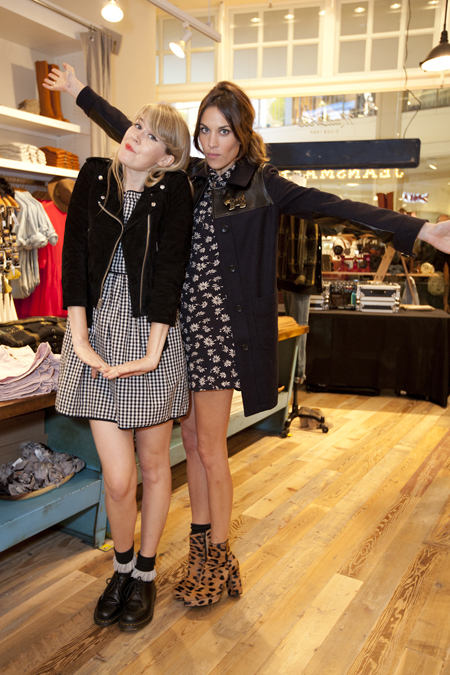 (Photo Credit: Michelle Drewes for Madewell)
San Francisco's most trendy, urban hipster crowd gathered at the collection launch party for Alexa Chung at Madewell this past Thursday, Sept. 22. The official time for the party wasn't until six o'clock but eager girls anticipating the new line were there as early as four. Once the doors opened, everyone poured inside.
Alexa herself was sitting on one of the cozy leather couches thrilled to greet her fans and future customers. The icon's style and radiance immediately captured everybody's attention and fans quickly lined up to have their picture taken with the designer.
Chung exuded her natural elegance in a black-and-white floral frock, paired with a blue, textured jacket. The finishing touches were leopard print booties which are a part of her new collection. Unfortunately the shoes were in such high demand that they ran out of them in stock very quickly, "That sucks!" said a disappointed Alexa .
But the buzz and energy inside the store were prevalent as DJ Tennessee Thomas kept a beat of indie French music going throughout the night. There was a delightful surprise of cookies and other treats that Chung had brought from her home country of England. At the back of the store, an open bar was whipping up delicious cocktails for an even better mood. The middle of the store was turned into a mini nail salon where girls could get their nails painted in Alexa's new favorite nail art design, palm trees! This charming idea was brilliant and girls flocked to get their mani's done.
As for the collection itself, it was truly a reflection of Alexa's personal taste. Dainty dresses, pencil leg pants, and knit sweaters were just a few of the signature pieces that the line was based off of. All of the clothes had a soft, feminine texture to them – exactly the kind of look that we see the designer in. The lucky ones who shopped early in the evening received a free gift, an adorable coin purse with the same "I'm serious" design logo that's on the shirt in the collection. To our surprise, 80 percent of the merchandise from the collection is currently in stock.
"We're a fairly new store and had such a positive response," says a sales associate at Madewell about why Alexa decided to come to the San Francisco instead of other locations. Indeed it was an honor to have this talented Brit come to the city for her launch party and we thank her for being such a charming hostess.
You can browse and buy the collection here!
Written By: Toni Docheva