Academy of Art University
SS/2019 & FW/2019 
Menswear and Womenswear Collections
New York Fashion Week
Saturday, September 8, 2018
8:00 PM 
Pier 59 Studios
San Francisco, CA, August 28, 2018 — The School of Fashion at Academy of Art University is proud to announce the debut of SS/19 and FW/19 collections during New York Fashion Week at Pier 59 Studios. The runway show will introduce a new generation of designers, providing a platform to showcase their talent, determination, and hard work during the globally revered fashion week.
Since 2005, the School of Fashion has presented collections created by select students and recent graduates during New York Fashion Week. This year, seventeen designers from the Master of Fine Arts degree programs will present a total of eleven womenswear and two menswear collections; three of the thirteen collections were created through collaborations in textile, knitwear, and fashion design. The collections will debut on Saturday, September 8th at 8:00PM at Pier 59 Studios. The 2019 collections will be viewed by an audience of national and international media, fashion industry executives, recruiters and fellow designers.
This is also the first season that the School of Fashion will host a two-day showroom in New York, allowing industry professionals to view the collections and designers' portfolios up close, and to meet the designers in person. The showroom is at Kimball Studio on Monday, September 10th and Tuesday, September 11th, from 9:00AM – 7:00PM
"The collections reflect the designers' abilities to explore their individual spirit while mastering their craft. They've honored the essence of our industry and carry conscientious practices into textile design, three-dimensional design, tailoring, and construction techniques; at the same time, they've intelligently integrated the use of technology and sustainable concepts into their work. It has been a pleasure for all of us in the School of Fashion to mentor them through their fashion education, both onsite and online; we look forward to watching them forge their careers through the industry." – Simon Ungless, Executive Director of the School of Fashion
Livestream Broadcast Academy of Art University School of Fashion SS2019 and FW2019 Collections
September 8, 2018 at 8:00 PM EST / 5:00 PM PST
https://www.academyart.edu/runway
SPRING 2019 / FALL 2019 COLLECTIONS
  Photo Credit: Danielle Rueda
Snežana Aničić-Van Pelt, MFA Fashion Design
Snežana Aničić-Van Pelt is originally from Belgrade, Serbia. In 2007, she graduated from the University of Belgrade with a BA in Ethnology and Anthropology and the year prior completed a certificate through the Center for Gender Research at the same university. Her previous work experience includes creating masks for the Venice's annual carnival with techniques including patina and gold leaf applications. In 2016, Aničić-Van Pelt accepted a design internship with Eckhaus Latta Fashion Studios in New York where she was in charge of design development, patternmaking, construction, and finishing details for the runway.
During the completion of her MFA, Aničić-Van Pelt derived inspiration for her collection through personal "observations of the ways our society has been shifting". With rapid societal changes and diversity in modern gender identity and lifestyle choices, Aničić-Van Pelt views her collection as a 'catalyst of the different qualities (identities) that can coexist as a whole, rather than fighting against each other. Aničić-Van Pelt explores the juxtaposition of soft to crisp drape, organic to sharp shapes, warm to cold textures; the raw to industrial fabric manipulations 'translate this idea of a multitude of choices clashing together – in harmony'. Aničić-Van Pelt uses a range of materials in the collection, including, yet not limited to: human hair, Mongolian yak and lambswool, organdy, crinoline, and, siliconed poplin and chenille. In 2017 Aničić-Van Pelt was one of the finalists selected to have her garment exhibited at The Metropolitan Museum design competition for Rei Kawakubo of Comme des Garçons; her garment, which she titled "Landscapes of the Human Condition" received the honor of 'fan favorite'.
Instagram: snezana_anicic_van_pelt
Portfolio: www.artsthread.com/profile/snezanaanicic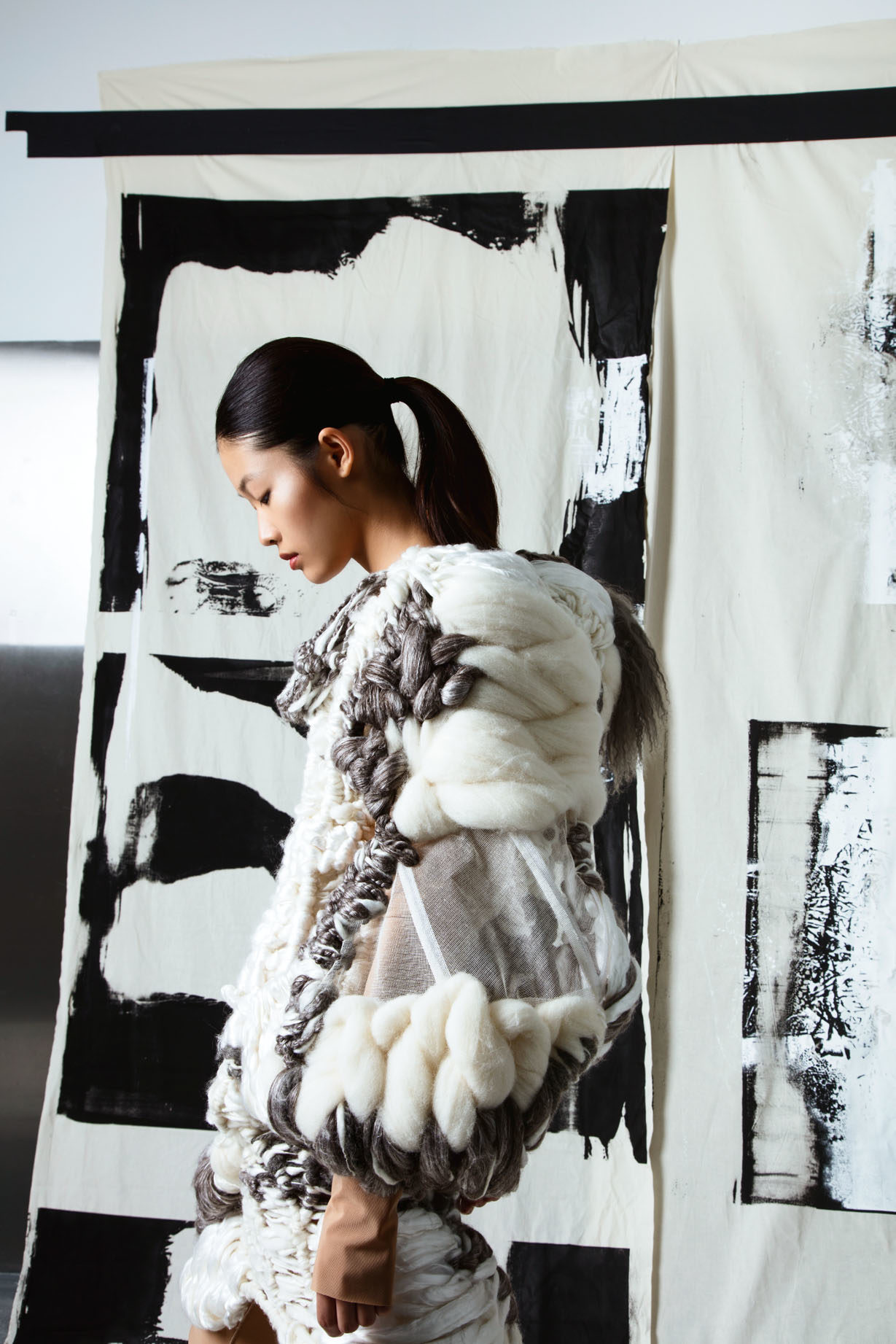 Justing Kong Jiang, MFA Fashion Design
Justing Kong Jiang was born and raised in Guangzhou, China. In 2013, he earned an undergraduate degree in fashion design and engineering from Zhujiang College of South China Agricultural University. Jiang founded the art and design studio and exhibition group, JustOne Studio, and has assistant design experience with brands such as the Hong Kong Float Clothing Trading Co., Calizia Vivian Zhou Design, and LIPPRINT Gentai Apparel.
In 2014, Jiang began his MFA Fashion Design degree program at Academy of Art University. Initially inspired by kinetic art and an appreciation for mechanic structure, Jiang's inspiration evolved to focus more on the artwork of surrealists Oskar Schlemmer and Salvador Dali, and, capturing the 'spirit of surrealism'; "I was drawn to the idea of designing a collection which would challenge the established 'rules' of clothing". Through trial-and-error, Jiang experimented with different fabric manipulation techniques, including the use of boning to create gathers and shape. Jiang's collection incorporates the use of unconventional materials such as insulation paper, reflective materials, and conductive fabric – all sourced from a fabric and material supply company co-founded by Jiang, Hautico. Jiang aims to use the fabrication in the collection to enhance the play of light coming off the garments as they appear on the runway, lending a dynamic and futuristic tone to the collection.
Instagram: justingkong
Website: www.justingkong.com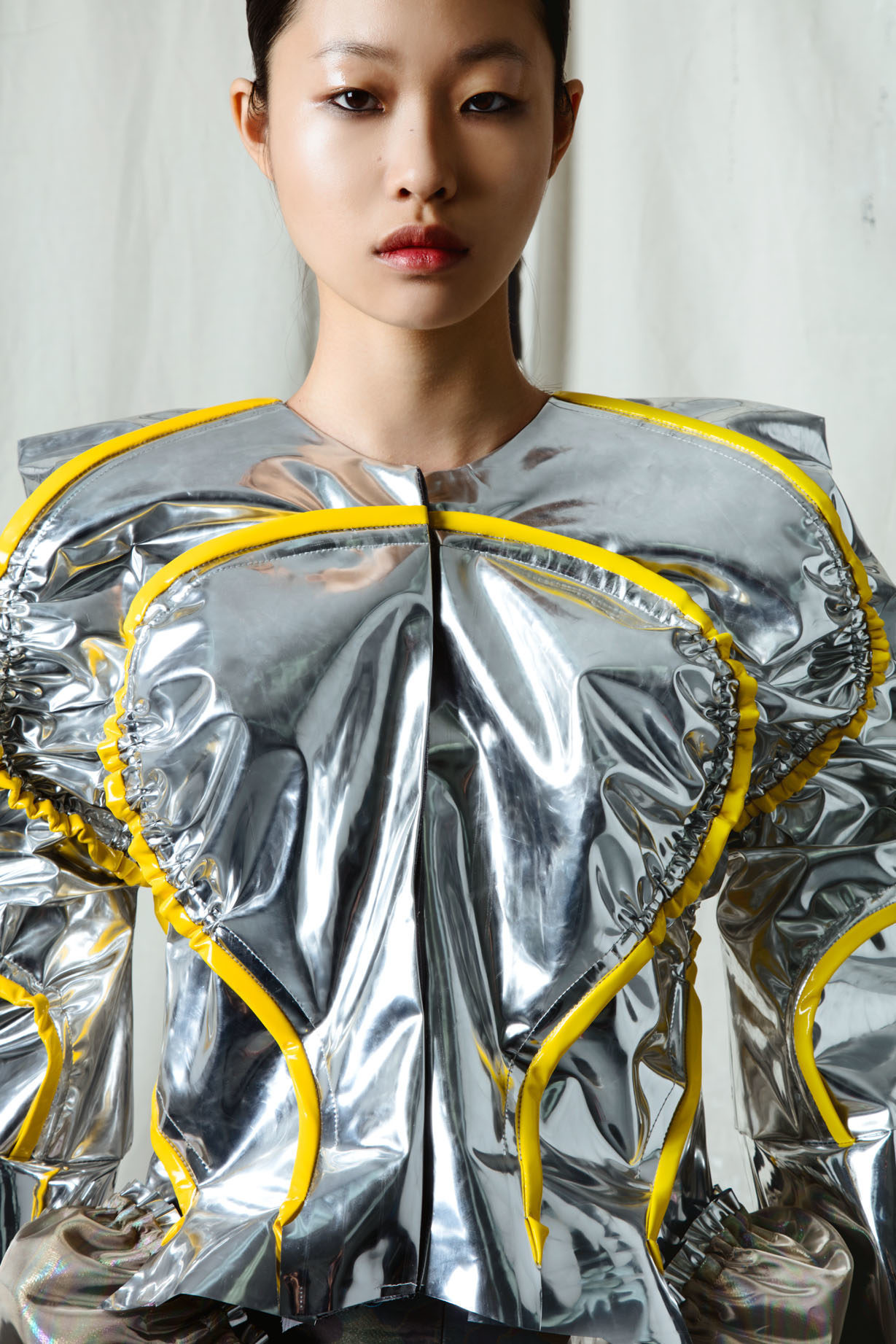 Nicholle Jones, MFA Fashion Design
Nicholle Jones was born and raised in Columbus, Ohio. As a dedicated online student, Jones is demonstrating how one can successfully study and complete a graduate fashion degree remotely.
Jones integrated her millinery background into her collection and outlined a three-part vision: to create an emotional, moving experience through the clothing; to create intelligent construction and patternmaking through advanced and bespoke tailoring; and, to confront limitations of conventional fashion and beauty. For Jones, it was important to have her level of critical thinking and problem solving challenged. Jones' inspiration for the collection were 'masks' and 'the mystery that hides underneath', either a physical mask, an invisible mask, or simply 'an act or behavior' that is an attempt to cover or distract. Jones experimented with unusual materials to create her sculptural garments; her primary material is sinamay, a hat-making fabric, mixed with other lightweight fabrics.
Instagram: carte_blanche_df
Website: www.2187149.com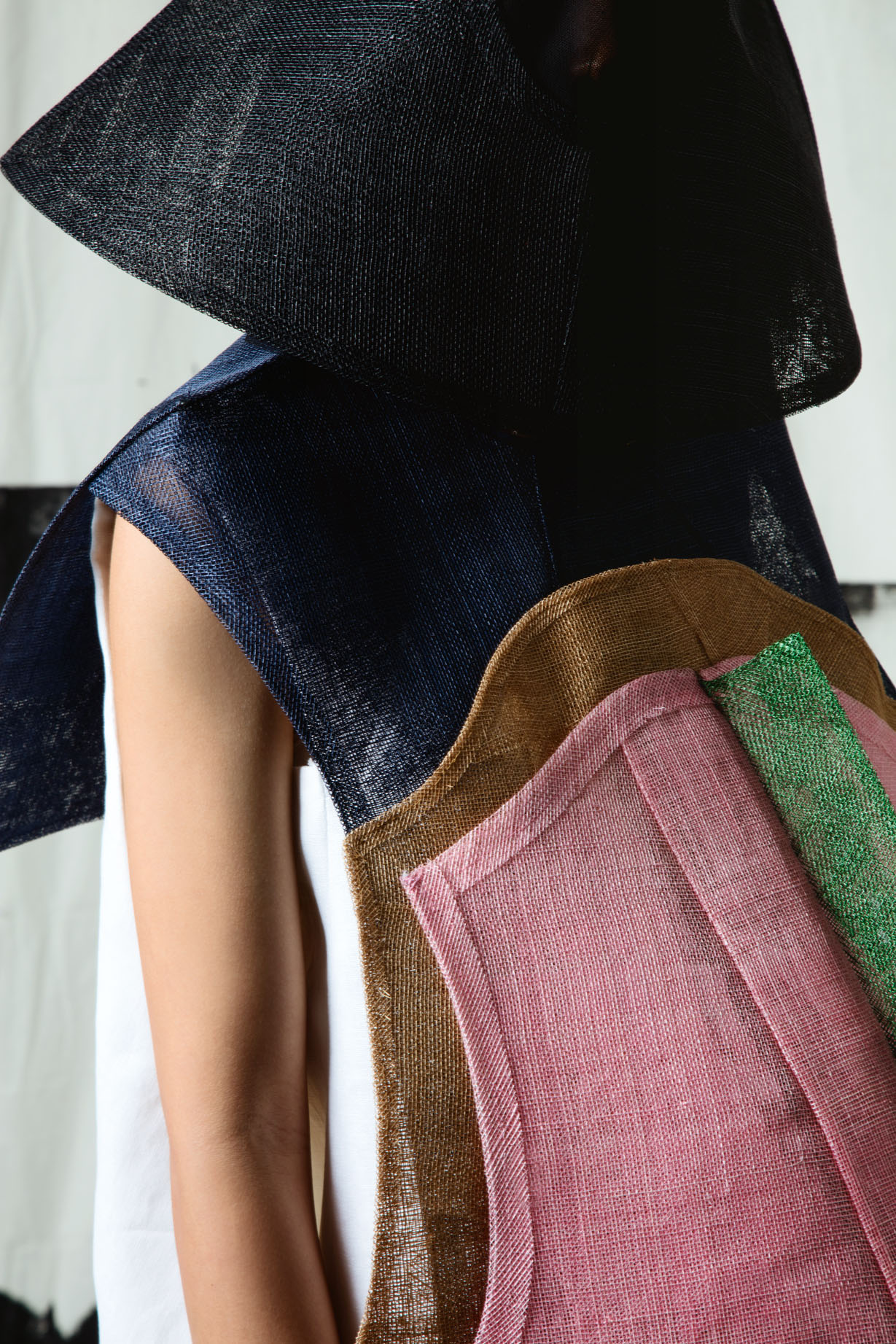 Jessica (Ching Chi) Lai, MFA Fashion Design
Jessica (Ching Chi) Lai, MFA Fashion Design, was born and raised in Taichung, Taiwan, where she finished her BFA in Fashion Design at Shu-Te University. Following, Lai interned at Chia Hiu Uniform in Taiwan where she was responsible for design illustrations, manufacturing processes, and quality inspections. During her MFA education, Lai gained additional experience working as an intern at Julia Jentzsch design studio in New York, where she assisted with design development and photo shoots, managed product deliveries, and researched fabrics. In 2018, Lai was selected to participate in the Council of Fashion Designers of America's (CFDA) Fashion Future Graduate Showcase in New York.
For this collection, Lai focused upon draping and textile development. The silhouettes are inspired by packaging design and advanced 3-D techniques, rather than the human body. Lai also incorporated the full freedom of personal design and creativity by using her own hand-drawn images transferred into digital format, transferred onto the fabrics with silk screening techniques. Inspired by the works of graphic illustrator, Olimpia Zagnoli, Lai created a playful collection with bold 'pop art' colors, textured applique, irregular geometric shapes and improvised, hand-drawn plaid.  The primary fabrics used in her collection are organic cotton and organic wool.
Instagram: jessica_lai320
Website: www.iamjessicalai.com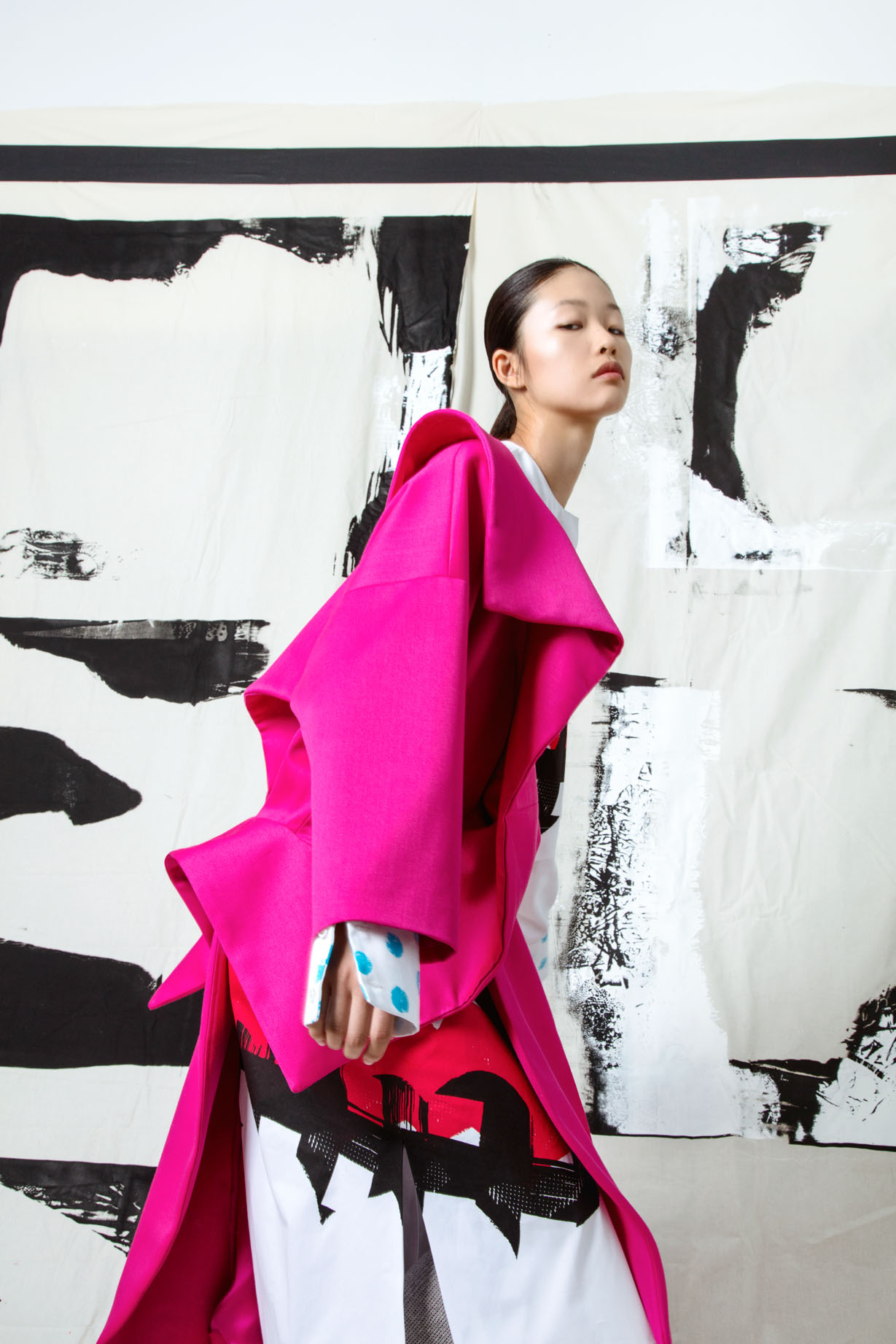 Yoonsuk Lee, MFA Fashion Design
Yoonsuk Lee was born and raised in Seoul, South Korea. He graduated from ESMOD Seoul in 2010, earning his undergraduate degree in menswear design. Since then, Lee has worked for a number of Korean fashion brands including, General Idea, Obzee, and Time Homme.
For his debut collection, Lee combines his education in menswear and womenswear design with visual associations from the 'walk of shame', along with inspirations derived from his grandfather's custom tailored suits, and the surrealist black and white photography of Vivian Maier and Irving Penn. Lee experimented with the collection by merging details of menswear tailoring with elements of womenswear couture, including the use of boning, horsehair facing, and hand-stitching. He also included the process of deconstructing and reconstructing as a nod to "the reinterpretation of objects through fashion" and efforts in sustainable design. Lee scoured vintage stores in the Haight district of San Francisco to source some ideas for the fabrics, and reconstructed vintage garments to develop the silhouettes for the collection. He also created exaggerated houndstooth patterns by hand-weaving surplus black, white, and cream-colored lace trimmings found within the school. In 2017 Lee was a finalist for the Geoffrey Beene Design Scholarship Award annually bestowed by the Council of Fashion Designers of America (CFDA).
Instagram: tailor_boys
Portfolio: www.artsthread.com/profile/yoonsuklee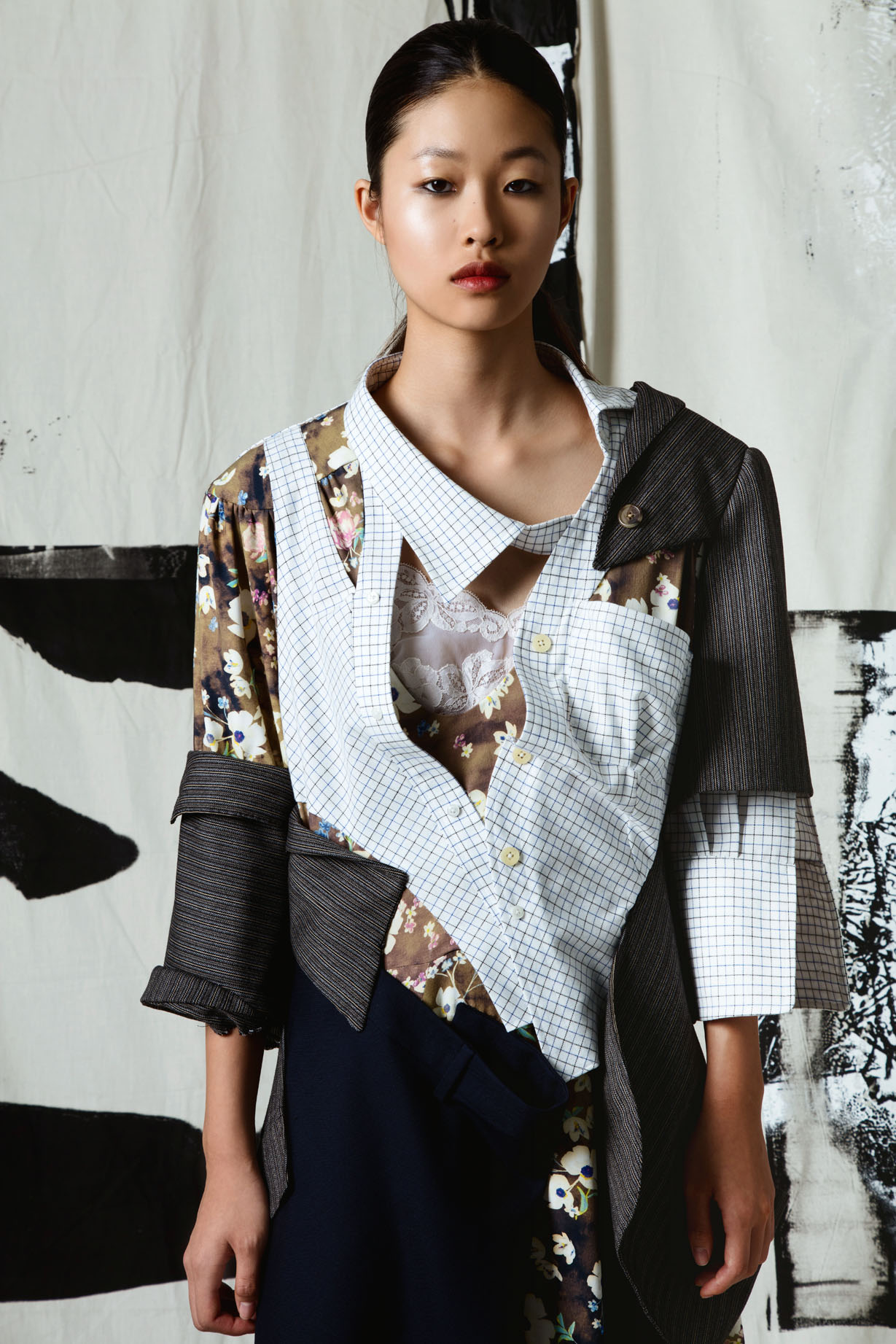 Zhihan Liu, MFA Fashion Design
Zhihan Liu is originally from Jilin, China. In 2013 Liu graduated from Northeast Normal University in China with a BFA in Fashion Design, receiving awards and scholarships during her undergraduate years. Her illustrations were published in Donghua University Press and in the Journal of Literature and Art Forum.  Liu also received the Award of Excellence from The Second Session of Pearl Design (garment and accessories) in Japan in 2014. The following year, Liu transferred from a graduate-level fashion design program at the same university to the MFA Fashion Design at Academy of Art University. In addition to womenswear design, Liu also designs and creates jewelry. During her recent graduate coursework Liu participated in Levi's Made & Crafted contest and was one of the eight finalists selected from more than 500 applicants. In 2018, Liu was selected to participate in the Council of Fashion Designers of America's (CFDA) Fashion Future Graduate Showcase in New York.
For this season's  collection, Liu gleaned inspiration from the movie "Shutter Island",  especially the scene when the main actress is burned to ashes, starting from her backside. As Liu describes it, for her, this scene evoked feelings of "hurt, pain, darkness, austerity and purity"; her aim was to transfer that scene onto the collection as a symbol of those emotions and experiences. Liu's experimentation with texture included burning some of her fabric to get a faded, decomposed effect.
Instagram: zhihan_n
Website: www.zhihanliu.com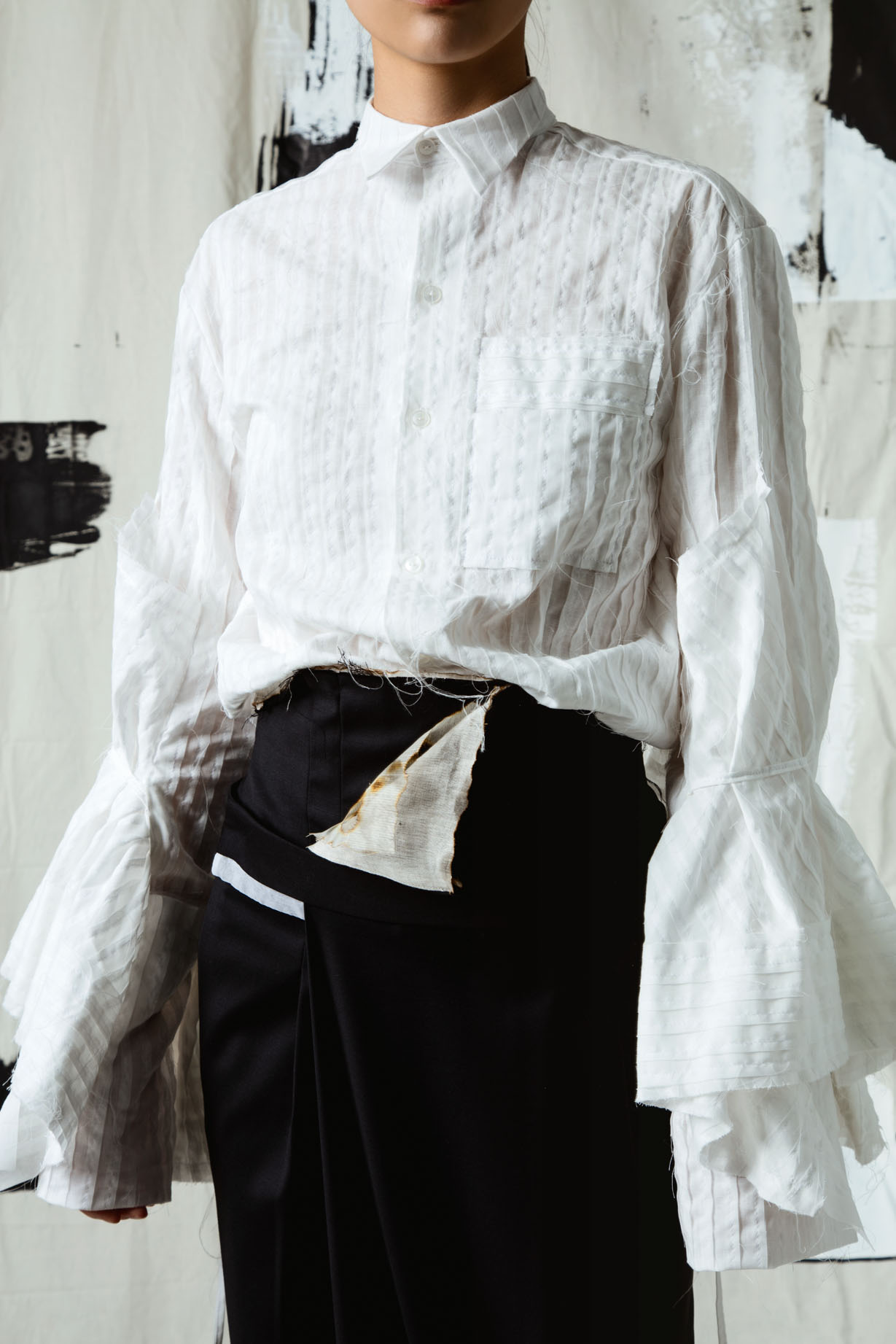 Vivid Yunan Ma, MFA Knitwear Design
Vivid Yunan Ma was born and raised in Taiyuan, China. She attended the Savannah College of Arts and Design (SCAD) in Savannah, Georgia, where she earned a BFA in Fashion Marketing & Management in 2013. Ma also has professional experience in design, development, and packaging for a global leather handbag manufacturer, and, in production, illustration, textile design, and showcase preparations for brands such as Sang A Studio, Georgine, and Danna Degnan. Ma began her MFA Knitwear Design program to further strengthen her skills and versatility as a designer.
Ma's collection is inspired by the photography of Mark Nixon, in particular his series of portraits that appear in the book, "Much Loved", featuring teddy bears and stuffed animals that show all the signs of wear and tear as dearly beloved 'stuffies'. Ma's collection aims to capture the essence of unconditional love and nostalgia, pointing to an overall sense of harmony and serenity that these worn-out toys seem to convey. For Ma, the color choices in her collection are representative of the emotions and memories associated with the subjects in the book; bold colors, like the red and orange, represent 'love', whereas the midnight blue represents 'blurred memories'. Ma sourced her yarns mainly from Italy, using mohair, cashmere, rayon and elastic for the construction of her zero-to-no-waste garments. She demonstrates versatility through the use of single and double bed knitting machines, hand knit and crochet, as well as the Dubied and Stoll machines, experimenting with techniques and stitch, including: cable, ripple, weaving, jacquard and tuck lace. Ma brings these elements together to create depth and dimension to each garment in her collection.
Instagram: yunan_maa 
Website: www.yunanma.com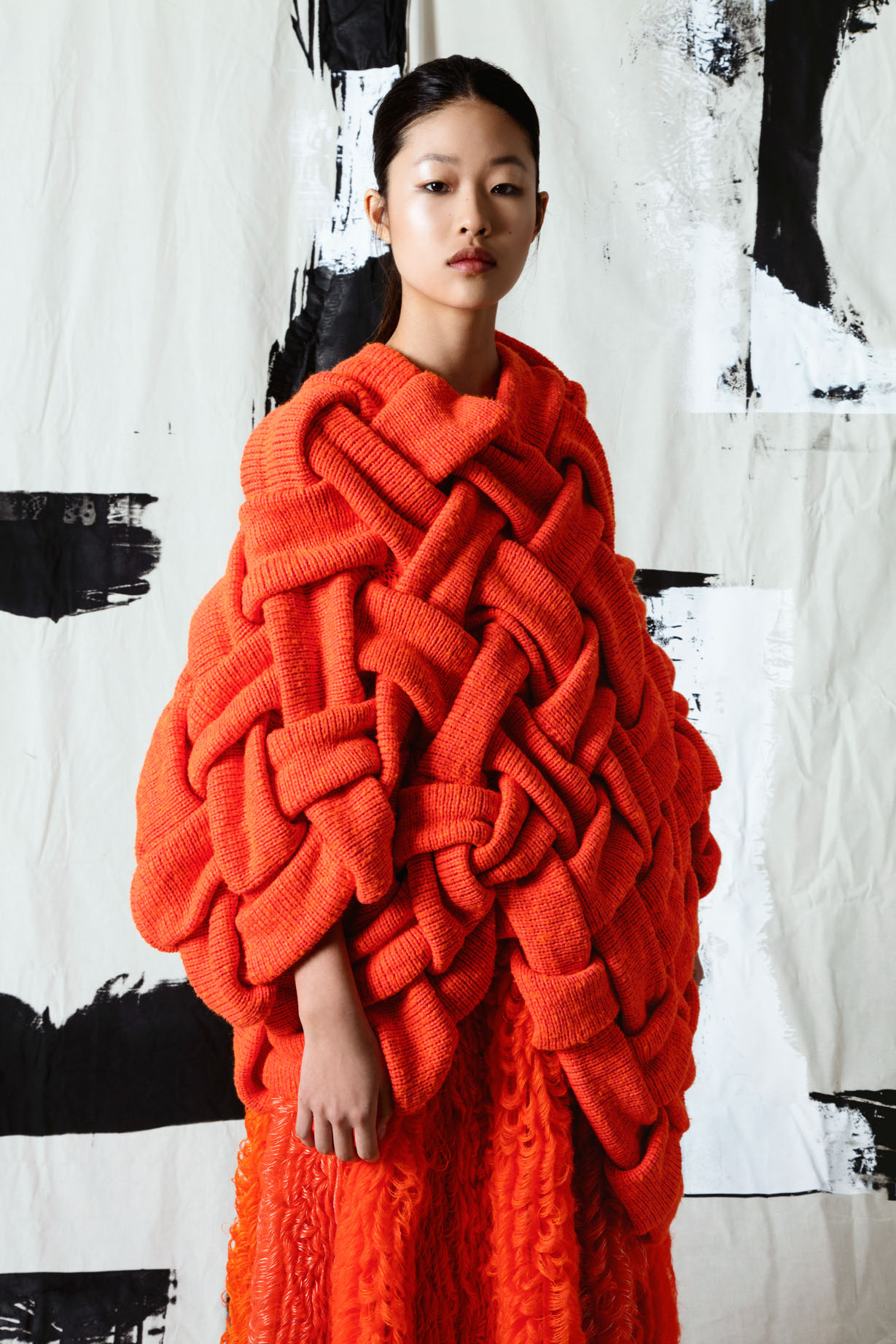 Lusha Wang, MFA Fashion Design
Lusha Wang was born and raised in QingDao, China. She received an undergraduate degree in law from Beijing Gelee University in 2006. During her time as a law student, Wang ran her own brick and mortar clothing store and e-commerce site. Wang's additional professional experiences include online marketing for Samsung Opentide, and, the creation of an online beauty store. In San Francisco, Wang was awarded the Presidential Scholarship for her graduate fashion design degree. While earning her MFA, Wang interned at Novella Bridal as an alterations specialist and at IIMUAHII as a designer assistant. Wang's interest in knitwear led her to take a number of classes in the subject, further rounding out her MFA education.
Inspired by the movie "We Need to Talk About Kevin" and using the film's star, Tilda Swinton, as her muse, Wang aims to use the details in her collection to show the constraints and struggle women face in society. To represent this, Wang hand-wove yarns together and used strategic binding and stitching to constrain her fabric; Wang's loose-fitting silhouettes symbolize an independent and confident woman. Her collection includes: cotton-rayon shirting, virgin wool and bamboo blends, cotton sateen, patent leather, wool and metallic yarns, elastic and ribbon. In 2018, Wang received the San Francisco-Paris Sister City Scholarship Exchange Award, allowing her to study fashion at Studio Berçot in Paris during the academic year ahead, and, she was selected to participate in the Council of Fashion Designers of America's (CFDA) Fashion Future Graduate Showcase in New York during the summer.
Instagram: lushawang
Website: www.lushawang.com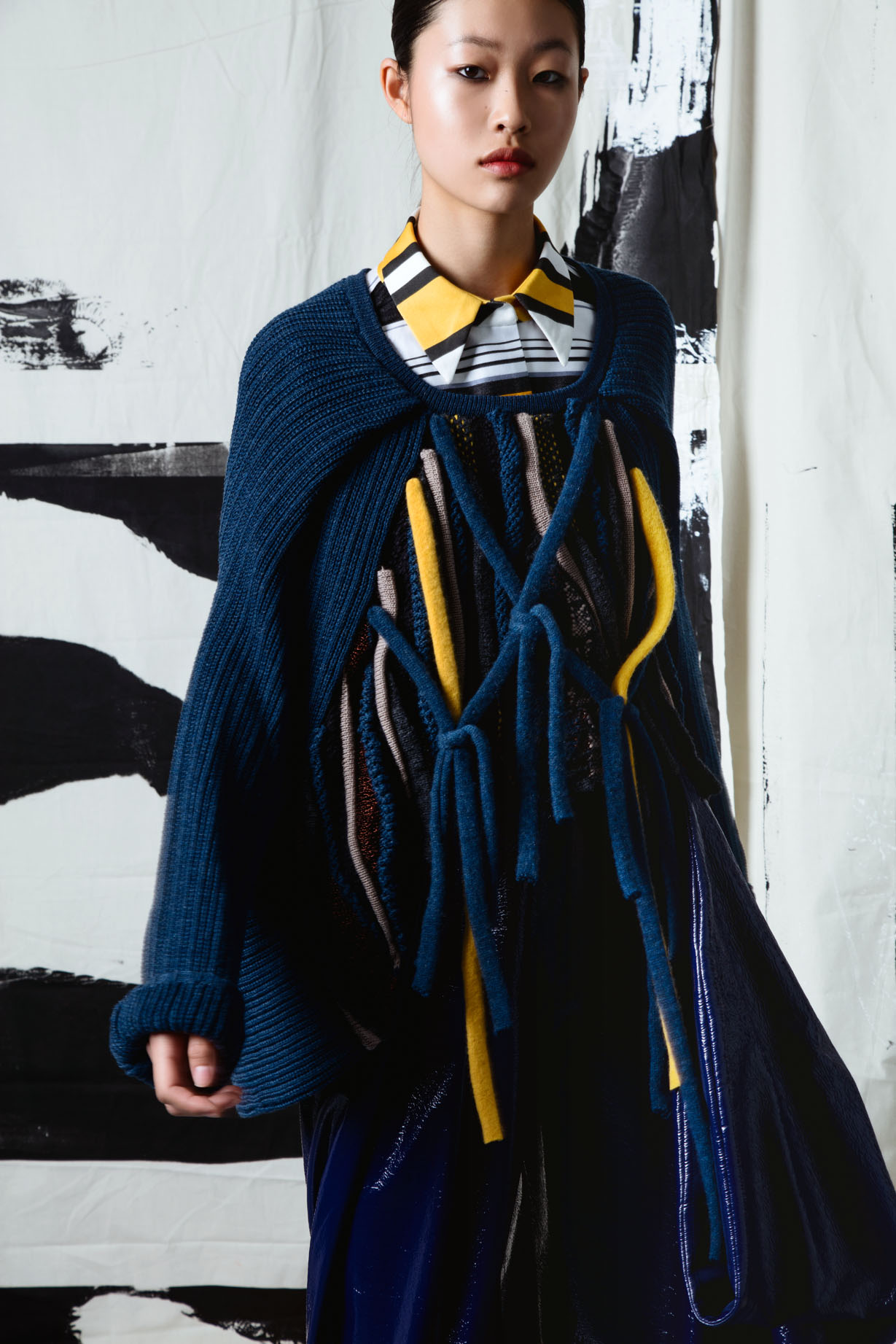 Zibo Wang, MFA Fashion Design
Zibo Wang was born and raised in Beijing, China. In 2015, Wang earned her undergraduate degree in apparel and textiles from Kansas State University. Soon after, she moved to San Francisco to pursue an MFA in Fashion Design. Wang's professional experiences include trend research, creating technical flats, and, brand development. For her debut collection, Wang was inspired by her childhood and her experience of growing up on a military compound. The mixes of fabrics she chose for the collection are related to 'family life'; her machine embroideries reflect both her home and military themes. Wang combines traditional masculine and military details with the womenswear collection, intentionally playing with the notion of gender stereotypes and an emphasis on redefining femininity.
Instagram: z1b0_wang
Portfolio: www.artsthread.com/profile/zibowang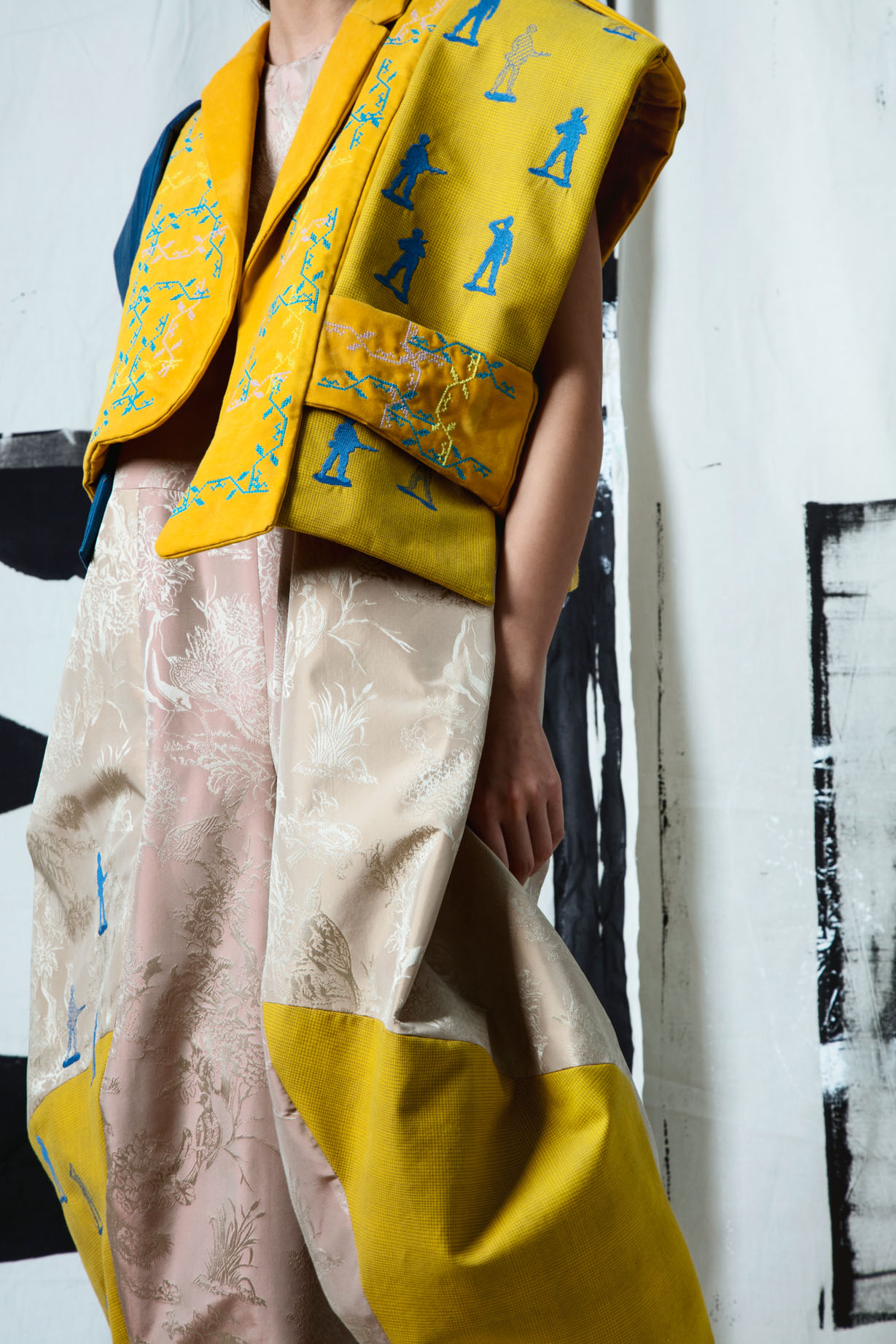 Changsheng Yu, MFA Fashion Design
Changsheng Yu is originally from Changsha, China. Upon receiving his BFA Fashion Design degree at Academy of Art University in 2014, Yu returned to his home country and focused upon industry experience. There, he worked with designer Masha Ma, helping prepare her fashion show at Paris Fashion Week, and, as a manager for Yirantian Guo's studio. In 2015 Yu decided to continue his education in fashion design and returned to Academy of Art University for his MFA. In 2017, Yu was one of the finalists selected to have his garment exhibited at The Metropolitan Museum design competition for Rei Kawakubo of Comme des Garçons; in 2018 he was selected as one of the five finalists considered for the Geoffrey Beene Scholarship Award granted annually by the Council of Fashion Designers of America (CFDA), and participated in the CFDA Fashion Future Graduate Showcase in New York during the summer.
As a designer, Yu finds inspiration in his surroundings and everyday life. For his collection, Yu began analyzing the compositions, contrasts, and shapes created by natural light and shadows in San Francisco. Yu also incorporated his appreciation of photography, turning to the work of Andrés Cañal and Horst P. Horst. Yu aimed to capture the texture conveyed through their images, the play of light and shadow, sculptural shapes, and unexpected elements. In this collection, Yu also honors his mother and her longtime dream of being a dancer. He examined black and white photographs of his mother's youth, as well as long-exposure photographs of dancers to help capture movement and fluid lines that he translated into his silhouettes. Yu's draping, fabric manipulations, and hand-dyed fringes capture his inspirations; his use of a simple black and white color story is a nod to his Chinese heritage as it represents Chinese calligraphy and ink paintings, and, his intent to maintain design that reflects "an Asian soul".
Instagram: changshengyu.design
Portfolio: www.artsthread.com/profile/changshengyu/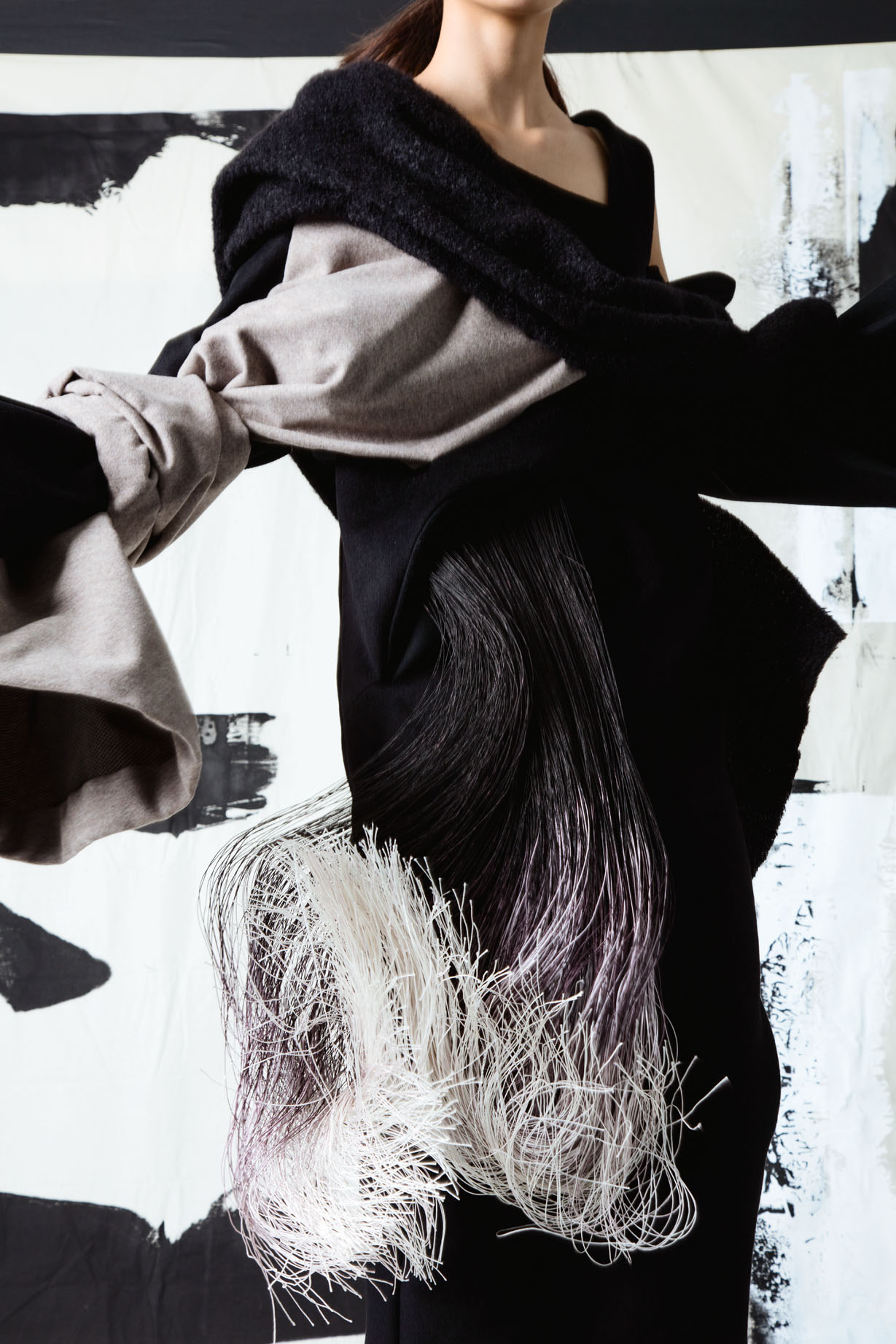 COLLABORATIVE COLLECTIONS
Tingting Cai, MFA Fashion Design
Esther (Tian) Qi, BFA Fashion Design
Tingting Cai grew up in Shanghai, China. She attended the Shanghai University of Engineering Science and graduated with an undergraduate degree in fashion and apparel design in 2015. Cai interned as a fashion design assistant for both Danuo (Italy) Co. in Shanghai and Trendy Intl' Group in Guangzhou; she was in charge of conducting research on current trends, sourcing fabrics and textiles, and, making pattern cards with flats and construction information. From January to June, 2015, Cai participated in a non-degree exchange program in fashion at Nuova Accademia di Belle Arti in Milan, Italy.
For her collaborative collection with Esther (Tian) Qi, Cai identified her point of inspiration in vintage books; specifically, the construction of the books, as well as, the connection between people and books – how they leave traces of their experience of reading throughout a book (dogeared pages, writing, highlights, coffee spills, etc). Cai experimented with fabric layering to reflect the pages of books and to also support the sculptural silhouettes of the collection, which are based upon Qi's inspirations. Cai used a variety of colors and textured fabrics in her layers, as well as hand-sewn details that also represent the manner in which many vintage books are bound. In order to create the three-dimensional look, Cai arranged layers slowly and gradually.
Instagram: tingting_cai61
Portfolio: www.artsthread.com/profile/tingtingcai/
Esther (Tian) Qi was born in Xi'an, China. She attended Konkuk University in Seoul, Korea, where she completed an    undergraduate degree in fashion design in 2014. While in Seoul, Qi served as an assistant to the interior design firm, Trans + Mond Shin Jang Kyoung, where she was responsible for research, illustration, design process, flats, as well as the coordination of fabrics and accessories for clients.
For Qi's collaborative collection with Cai, she sought to incorporate her initial inspiration of Siamese twins and their irregular, connected bodies, specifically, the point of where their bodies merge. Prior to collaborating with Cai, she was also drawing inspiration from books and the connection made between people and books. The fabrics in the collection include worsted wool and flannel, mull, cotton twill, and wool crepe.
Instagram: esther.qi
Portfolio: www.artsthread.com/profile/estherqi/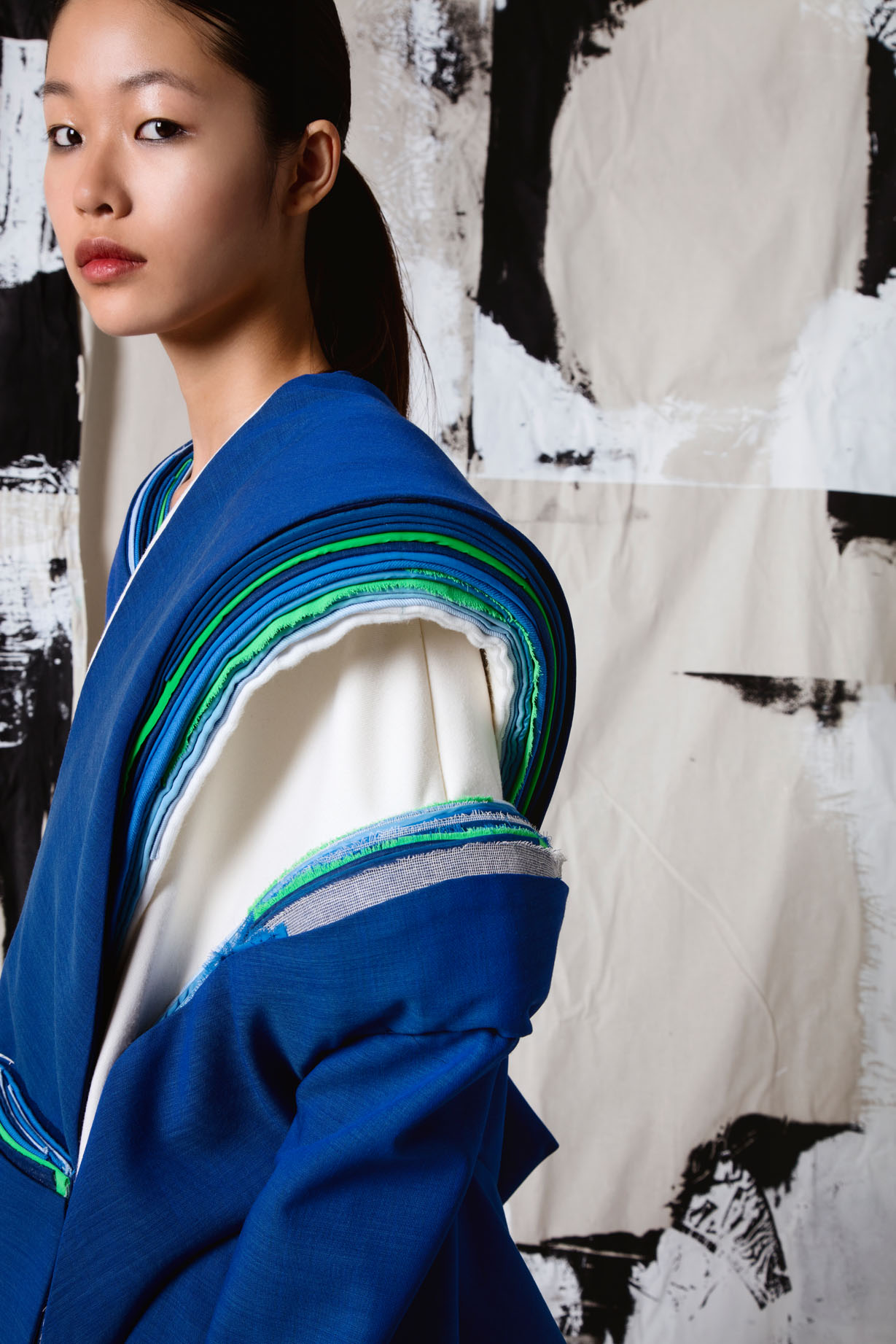 Longwen Li, MFA Fashion Design
Kiwon Kang, MFA Textile Design
Longwen Li, MFA Fashion Design, is originally from Guangzhou, China. Li received his undergraduate degree in footwear design from Guangdong Baiyun University in 2014. Li's collaborative menswear with Kiwon Kang celebrates potential stereotypes and captures a 'modern, nerdy, and futuristic' style, inspired by the movie, "Revenge of the Nerds II: Nerds in Paradise", as well as glitch art (the practice of using digital or analog errors for aesthetic purposes). Li's silhouettes are structural and stiff with large geometric shapes, which were inspired by his photoshop manipulations of stills from the movie and glitch art overlays that resulted in some distinctive shapes emerging. For Li, the unusual menswear silhouettes represent 'functionality'. To create the intended silhouettes, Li improvised by fusing different thicknesses of felt onto his fabrics to maintain shape. The collection includes the use of wool suiting, rayon, corduroy, and the repurposed use of vintage Hawaiian shirts.
Instagram: longwen_liiiiiiii
Portfolio: www.artsthread.com/profile/longwenli/
Kiwon Kang was born in Busan, South Korea. In 2013, he graduated from Ajou University with two bachelor degrees, one in biotechnology and one in international (Japanese) studies. In further pursuit of his design interests, which developed in childhood, Kang entered Academy of Art University in 2014. Kang's signature textiles are full of graphic elements, and, clean and computational parts – reflecting his appreciation for logic and science. For this collection, Kang worked with Longwen Li and Li's inspirations for a 'modern, nerdy, and futuristic' style. Additionally, Kang merged complimentary inspirations for texture from Nam June Paik's video art by focusing on the motif of distorted images and white noise coming from an old CRT TV screen, coupled with his own artistic interpretations. Kang used a variety of colors in his textile design and overlays, as well as techniques to re-create color and patterns on the vintage Hawaiian shirts.
Instagram: textile_kang
Website: www.kwkang11.com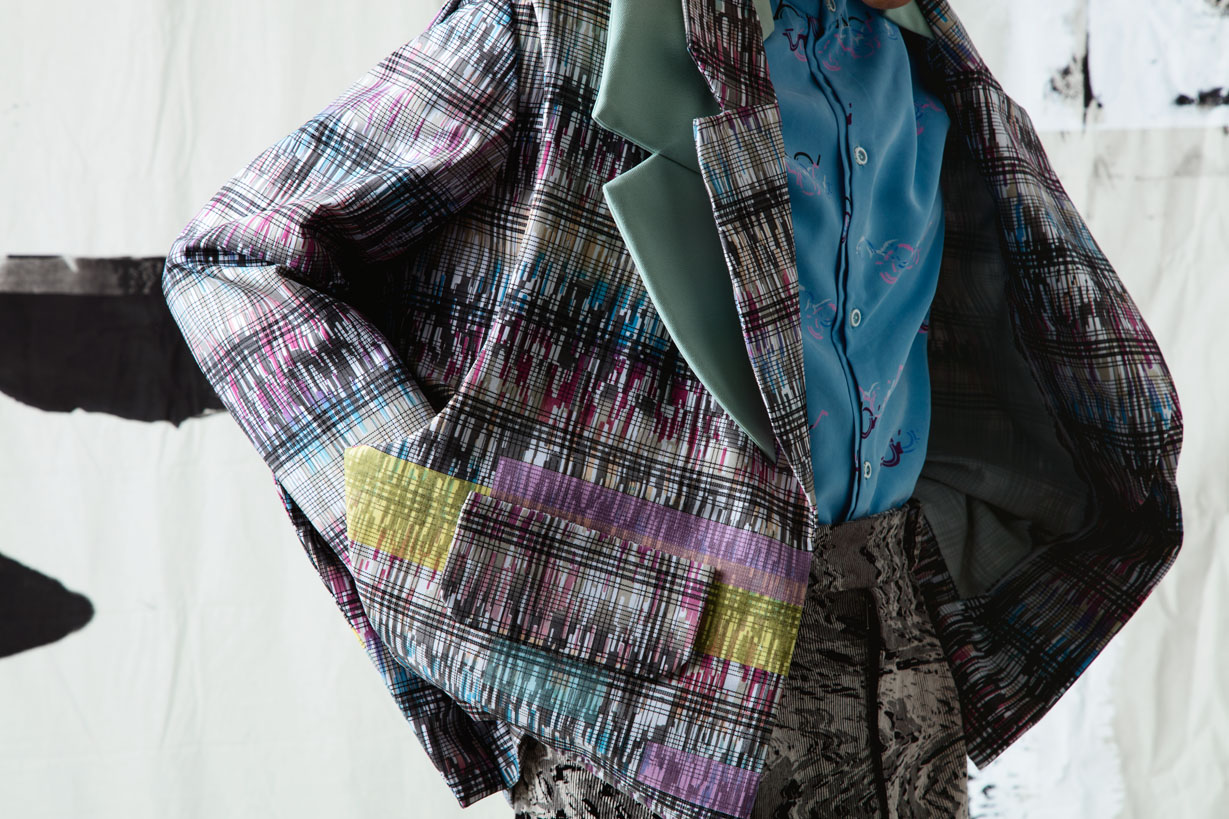 Mark Kazu Mekaru, MFA Fashion Design
Katy Fang Liu, MFA Textile Design
Amo (Yu Ling) Chou, MFA Knitwear Design
Mark Kazu Mekaru is a San Francisco native. He earned a BA in architecture from UC Berkeley in 2005. This season, the inspiration for Mekaru's collaborative menswear collection originated from a Miyako Ishiuchi photograph of a disintegrated garment destroyed during WWII, along with some elements of the Japanese art of origami. Ideas of disintegration, peeling, and falling away are incorporated in the garment shapes as well as textiles and knits. The collection incorporates the use of denim, wool, cotton, twill, oilskin, polyester, waxed cotton canvas and linen, as well as, a combination of layering, draping, details and textures.
Instagram: mkazum
Portfolio: www.artsthread.com/profile/markmekaru
Katy Fang Liu was born in Shanghai, China. In 2010, she received a BFA in fine arts from the Shanghai Institute of Visual Arts. Four years after graduating, Liu's love of drawing and painting influenced her pursuit of an MFA in textile design. Liu's professional experiences include fashion and textile design (internship) with San Francisco-based clothier, Amour Vert, and as a fashion and textile designer for Shanghai Mecoxlane International. Liu's work has been exhibited in a San Francisco gallery and two different galleries in Shanghai. In 2017 Liu was selected by the Council of Fashion Designers of America (CFDA) as one of 41 students (out of 1,000+ entrants) for the CFDA+ 2017 "The Power of We" showcase connecting global student talent with their membership.
Liu always aims to repurpose materials, to create sustainable textiles, and, to incorporate advanced methods of processing natural materials whenever possible. Liu's aesthetic is often inspired by the work of Dries Van Noten; she admires his risky choice of colors and his manipulations that create vivid patterns and 'a wildness'. For this collection, Liu created multi-layered fabrics treated in burn-out, screen printing and discharge techniques, using denim, oilskin and waxed cotton canvas.
Instagram: katytextiles
Website: www.katyfliu.com
Amo (Yu Ling) Chou was born and raised in Taipei, Taiwan. She attended Vanung University and received her undergraduate degree in commercial design in 2012. During this time, Chou placed as one of the top three winners in a national university student photography competition. From 2010 until 2014, Chou worked for Fashion Company LTD in visual merchandising, as well as a representative agent for many well-known brands including Lacoste and Vivienne Westwood, among others. In 2015, Chou attended the extension education center at Shih Chien University, where she studied fashion design. For this collaborative menswear collection, Chou focused upon creating knitwear that mimicked traditional surface textile effects such as burnout and discharge. Her knitwear in this collection is composed of wool, cotton and natural bristle yarns.
Instagram: chou.amo
Portfolio: www.artsthread.com/profile/yulingchou/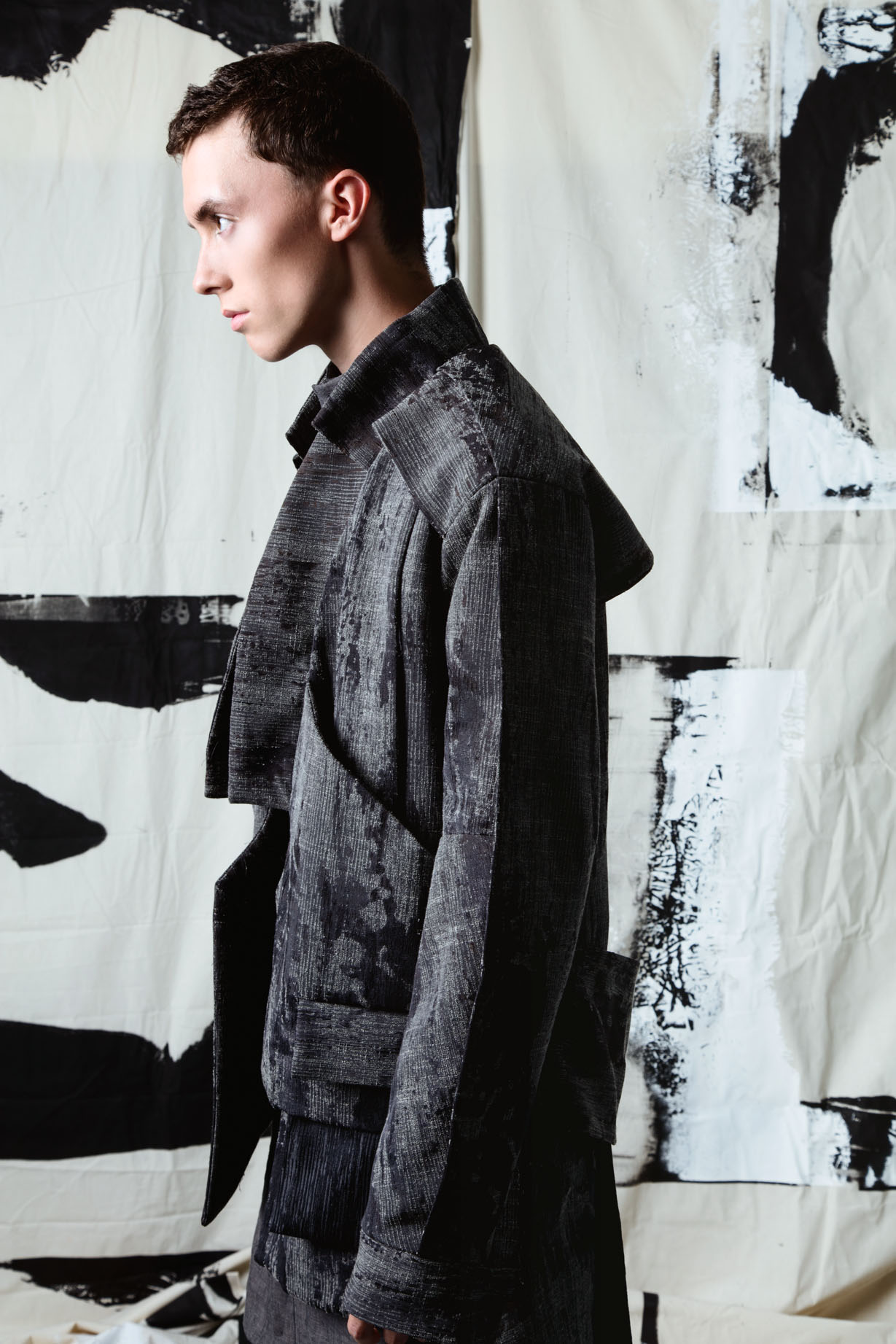 Technical design assistance on several collections: Golnoush (Gia) Falati, MFA Fashion Design
About the School of Fashion
Students pursuing a Fashion Design degree from Academy of Art University learn from the finest creative minds working in fashion today, and have access to the tools and cutting-edge facilities needed for creating collections that garner accolades. Fashion students the world over gain experience designing styles that are the future of the industry the following areas of specialization: Fashion Design for Womenswear, Menswear, and Childrenswear; 3D Design and Pattern Making; Textile Design; Knitwear Design; Footwear and Accessory Design; Costume Design; Fashion Illustration; Fashion Journalism; Fashion Marketing and Brand Management; Fashion Styling; Fashion Merchandising; Fashion Product Development; and Visual Merchandising.
The University works with international brands and recruitment agencies for internships and job placement. Graduates have gone on to such companies as Abercrombie & Fitch, Adidas, Alexander McQueen, Azzedine Alaïa, Banana Republic, BCBG Max Azria, Bill Blass, Blanc de Chine, Burberry, Calvin Klein, Corso Como 10, Chloë, Diane von Fürstenberg, Donna Karan, Gap, Kate Spade, Kiton, L.A.M.B., L'Ecole Lesage Paris–Atelier de Broderie, Liz Claiborne, Louis Vuitton, Marc Jacobs, Martin Margiela, Martine Sitbon, Missoni, Nike, Nordstrom, The North Face, Old Navy, Oscar de la Renta, Phillip Lim, Pottery Barn, Ralph Lauren, Reebok, Roland Mouret, St. John, Threeasfour, Tocca, Viktor & Rolf, and Williams-Sonoma.
Guests to the School of Fashion include Zaid Affas, Azzedine Alaïa, Prosper and Martine Assouline, Max and Lubov Azria of BCBG Max Azria Group, Yigal Azrouël, Geoffrey Beene, Rose Marie Bravo, Alex Brownless of Arts Thread, Sarah Burton OBE, Creative Director for Alexander McQueen, Andrew Buckler, Julie Chaiken, Kenneth Cole, The Honorable Bertrand Delanoë Mayor of Paris, David Downton, Steven Cox and Daniel Silver of Duckie Brown, Patrik Ervell, Loulou de la Falaise, James Galanos, Olya Kuryshchuk and Aya Noël of the publication 1 Granary, Lutz Huelle and David Ballu, the President of Lutz Huelle, Lisa Smilor and Sara Kozlowski, both of the Council of Fashion Designers of America, Joan Kaner, Humberto Leon and Carol Lim of Opening Ceremony, Antonio Lopez, Fern Mallis, Alexander McQueen, Enrique Meixueiro, Executive Editor of Vogue Mexico and Latin America, Rosita and Tai Missoni, Angela Missoni, Margherita Missoni, Isaac Mizrahi, Josie Natori, Ian Hannula and Joe Haller of N.I.C.E. Collective, Elisa Palomino, Laure du Pavillon, Lars Byrresen Petersen of Visionaire, Zac Posen, Oscar de la Renta, Zandra Rhodes CBE, Kate and Laura Mulleavy for Rodarte, Ralph Rucci, Nathalie Rykiel, HRH Princess Reema Bandar Al-Saud, Jeremy Scott, Carla Sozzani, Philip Treacy, Walter Van Beirendonck, Dirk van Saene, Trino Verkade, CEO of Sarabande: The Alexander McQueen Foundation, Andre Walker, and Dame Vivienne Westwood DBE, as well as Christophe Girard Director of Fashion Strategy of LVMH Fashion Group, as well as fashion critics and journalists – Tim Blanks, Mickey Boardman, Alexander Fury, Robin Givhan, Cathy Horyn, Suzy Menkes OBE, Sarah Mower MBE, and Joe Zee.
About School of Fashion Directors
Simon Ungless, Executive Director of the School of Fashion, graduated from Central Saint Martins School of Art and Design in 1992 and was awarded the prestigious M.A. Degree in Fashion with Distinction. He collaborated with Alexander McQueen on the first 10 collections shown in London and New York, and personally introduced Sarah Burton, Creative Director of Alexander McQueen, to the late designer. In 2002, he was named Creative Director of Member Holiday, a Korean-based contemporary brand, launching both men's and women's collections with 37 freestanding stores. His work experience spans fashion design, textile design, forecasting, brand development, and marketing for such clients as Givenchy, Paul Smith, and Versace. In addition to his duties as the Executive Director of the School of Fashion overseeing both M.F.A. and B.F.A. programs, he is the editorial director of the School of Fashion's 180 Magazine, as well as the executive producer of the annual Graduation Fashion Show, Portfolio Review, and Scholarship Award Ceremony, and the biannual New York Fashion Week show. Currently, Ungless operates two artisanal design companies, When Simon Met Ralph, which focuses on apparel, and Blackened, which centers on accessories and home. Both projects reflect Ungless' inspirational developments over his career.
Jayne Foster, Graduate Director of Fashion, graduated from The Royal College of Art with a M.A. in Womenswear. She has designed for a private label that showed in London, Paris, and New York. Her freelance clients included House of Fraser, Urban Outfitters, and Whistles. She created a collection of concept designs for Burton Snowboards the main women's range and the younger B by Burton range, designed textiles for Hop Lun Lingerie, and had her fashion illustration work exhibited in London galleries. Before joining the School of Fashion in 2012, she taught design for eight years in London, and designed for the British brand Monsoon.
 Gary Miller, Director of Fashion, has more than 16 years of experience in New York and London as a fashion director. His design scope encompasses building and maintaining a brand's identity, initiating a start-up concept, reinvigorating an existing line, and nurturing an ongoing successful brand. For many years, he worked as a Design Director for men's sportswear division at Macy's Merchandising Group in New York. Previously, he worked at The Men's Wearhouse, Wilke-Rodriguez, Here and There (now part of The Doneger Group), and Michiko Koshino. He holds a B.A. in Fashion Design with Textiles from Ravensbourne College of Design and Communication in the U.K.
Jinah Oh, Director of Fashion Merchandising, earned her M.B.A. in Marketing at Golden Gate University in San Francisco, as well as a B.S. in Clothing and Textiles and a B.A. in Philosophy from EWHA Women's University in Seoul, Korea. She has extensive experience in international fashion and luxury brands. With Escada Asia, she developed business and market strategies, managed merchandising and buying for multiple brands, pioneered and initiated brick and mortar and e-commerce channel development. Later with Cartier, Richemont Korea Ltd., she oversaw retail operations and all aspects of retail marketing activities for the Korean market.
Iliana Ricketts, was appointed to Director of Online Fashion in 2014, Assistant Director of Online Fashion in 2009, and held the position of Fashion Department Coordinator since 2005.  Prior to arriving to the U.S., Iliana was established as a recognized designer in her country of Bulgaria. She received her M.F.A. in Fashion Design from Academy of Art University. In 2002, she launched 'ILYA,' a designer ready-to-wear label sold nationally in stores such as Henri Bendel. Her line was also seen on the HBO television series, Sex And The City. In 2004, she became head designer of the boutique and golf line GGblue. Under her creative direction, GGblue became one of the most successful and fashion-forward brands in the golf and leisure industry.
Stephan Rabimov, Director of Fashion Journalism & Social Media Center, has ten years of experience in digital and print publishing, journalism, social media, public relations and marketing. He is Publisher/Editor-in-Chief of DEPESHA, and a contributing writer to The Huffington Post and Forbes International. Stephan has lectured at Johns Hopkins University and at The Museum at Fashion Institute of Technology. Stephan was also Executive Fashion Editor for FourTwoNine magazine since May 2011, and Founder of RABIMOV Public Relations Agency since May 2010, successfully launching Thom Browne, Rubin Singer, and Custo Barcelona in Russia. Stephan directly managed the opening of Nicola Formichetti's pop-up store in New York City as well as produced runway shows featuring emerging international designers during New York, St. Petersburg, Toronto, and Vancouver Fashion Weeks. Stephan has been interviewed and published across dozens of publications, including The New York Times, Russia Beyond The Headlines Edition, Women's Wear Daily, L'Officiel Ukraine, Vogue Russia, Wall Street Journal, Forbes, CNN, Yahoo Style, Examiner, and The Huffington Post.
Academy of Art University School of Fashion
79 New Montgomery Street, San Francisco, CA 94105
Call 800.544.2787 (U.S. only) or 415.274.2200
Academy of Art University: http://www.academyart.edu/
School of Fashion: http://www.academyart.edu/academics/fashion
Livestream Broadcast School of Fashion SS2019 and FW2019 on September 8, 2018 at 8:00PM EST
https://www.academyart.edu/runway
Follow the School of Fashion on social media: @AcademyUFashion   #AcademyUFashion
Social Media Channels
Facebook: https://www.facebook.com/academyufashion
Twitter: https://twitter.com/AcademyUFashion
Instagram: https://www.instagram.com/academyufashion
Snapchat: https://www.snapchat.com/add/AcademyUFashion
Flipboard: https://flipboard.com/@AcademyUFashion
Pinterest: https://www.pinterest.com/academyofartuni/
Official Blog
Fashion School Daily: http://www.fashionschooldaily.com/
In-house Press Contacts
Ian MacKintosh / (415) 618-3849 / imackintosh@academyart.edu
Elena Eberhard / (415) 618-3831 / eeberhard@academyart.edu
Edith Mead Barker / (415) 618-3891 / ebarker@academyart.edu
NYFW Events Press Contacts
MODE PR
Amanda Carter / (212) 226-1088  / amanda@modepublicrelations.com
Lindsey Solomon / (212) 226-1088 / lindsey@modepublicrelations.com
Download Designer Lookbook Images and Portraits
Lookbook Images:
High resolution: https://spaces.hightail.com/receive/5E8qomdUM8
Low resolution: https://spaces.hightail.com/receive/ydR1K6GtiL
Lookbook Credits:
Academy of Art University School of Fashion SS2019 & FW2019 Collections
Photographer: Danielle Rueda @danielle_rueda
Art Director:    Simon Ungless @simonungless
Hair:                  Sarah Dean @sarahdeanbeauty
Make-up:          Victor Cembellin @victorcembellin
Models:             Tiffany @itstiffyg at Stars Model Management @starsmanagement
Jovan at Look Model Agency @lookmodelagency
Designer Portraits:
https://spaces.hightail.com/receive/Wv8KO4aLYX
Designer Portrait Credits :
Photographer: Bob Toy
Katy Fang Liu's portrait photographer: Mario Zhang