A favorite character in animated superhero movie "The Incredibles" is Edna Mode, an imperious designer who dresses the cast of superheroes in the same way that a fashion house would dress a celebrity. Inspired by costume extraordinaire, Edith Head, Ms. Mode has to consider many factors: traction, flexibility, protection from outside danger and — her most important rule — no capes!
With superhero movies like "The Incredibles" making waves in pop culture, it's fun to imagine what kind of superhero we would want to be. Last month, a group of Academy of Art University students cultivated their 'inner Ms. Modes' by imagining a new superhero to coincide with Pixar Animation Studio's "The Incredibles 2", a sequel that opened June 15 after a 14-year hiatus.
A month before the movie's opening, Pixar asked the Academy's Costume Design students to create their own superhero, based upon each student's interpretation of what they deemed "heroic", a process that also included researching and developing costume mockups. Nine of the participating students were selected to attend the movie's opening and to visit Pixar's Emeryville studios for a costume design presentation led by the movie's character tailoring lead, Fran Kalal, who has worked on films including "Up," "Brave" and "Coco."
"I am so inspired and proud of these gals," Kalal said about the students. "They're so amazing."
With a goal of learning about designing and tailoring costumes for animated characters, the students brought a variety of sketches, renderings, and 3D samples that showed the design process of their superhero. KTVU's Claudine Wong conducted a live broadcast of the presentation, including an interview with Kalal and a brief review of the students' work.
The ideas behind the superheroes ranged from supernatural abilities such as empathic mimicry (meaning the ability to duplicate the abilities of other humans), environmental concern, and just plain cuteness.
Yunqi Xie designed Static Girl, who can "disturb signal receptions or use static electricity to destroy machines," in addition to numbing and freezing people by touching them. "First, I imagined what power I'd want to have in "The Incredibles", then I researched the science behind static electricity, looking for the fabric and materials for this power. Finally, I analyzed who my hero would be and created a background," Xie said. The process was long and full of revisions.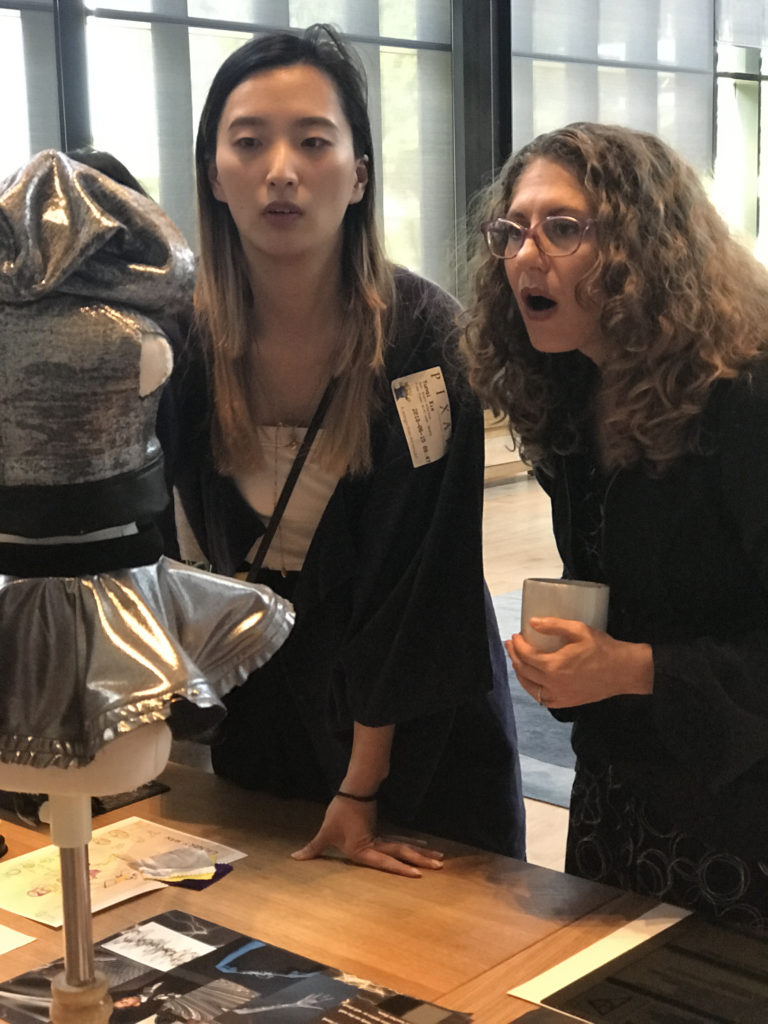 Jessica Schmaus, who invented the character Prysm, a superhero with the ability to manipulate and shape light, walked away from the event feeling empowered by the process. She expressed her delight in seeing where films from her childhood had been made, and was encouraged by the role that costumes play within animation. "I didn't realize how many different types of art mediums are used before the designs even begin getting animated," Schmaus said. "They experiment so much with characters' expressions, costumes and body movements, drawing them in different situations, that aren't even seen in the film, just to get more of a feel for their personalities."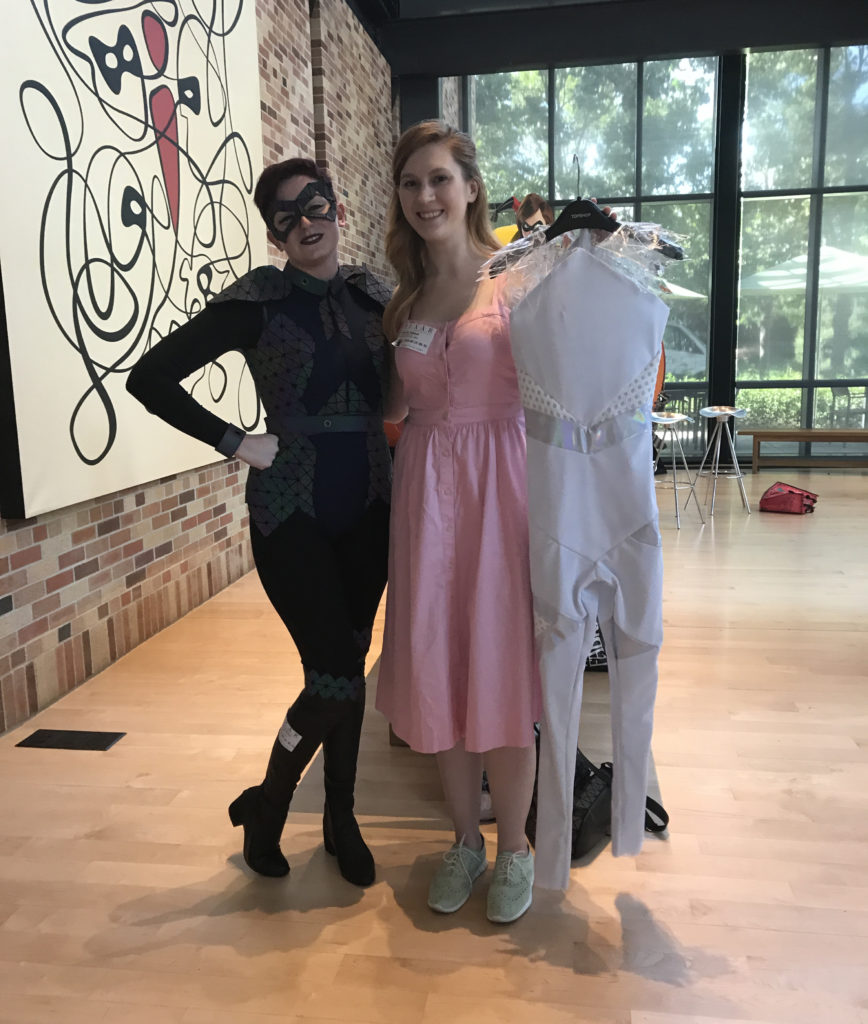 She learned that the costumes can move and change with the characters' different moods, acting like an extension of the character rather than just the garment they are wearing. "Seeing how much the technology has improved over the years was really cool," she added. "The movement and textures of materials have become so much more realistic."
Phoebe Taylor designed Skeptor, whose powers involve manipulating and melting into the shadows. Taylor was inspired by Batgirl and the "go-go dancer" look of old Marvel Girl outfits. After attending the Pixar presentation, Taylor felt re-energized with her future in costume animation.
"The trip to Pixar was marvelous, and seeing all the art that goes into making these movies was truly incredible. They really showed us all the effort these movies require — all the physical, digital, drawing, painting and even sculptural 3D art that goes into it."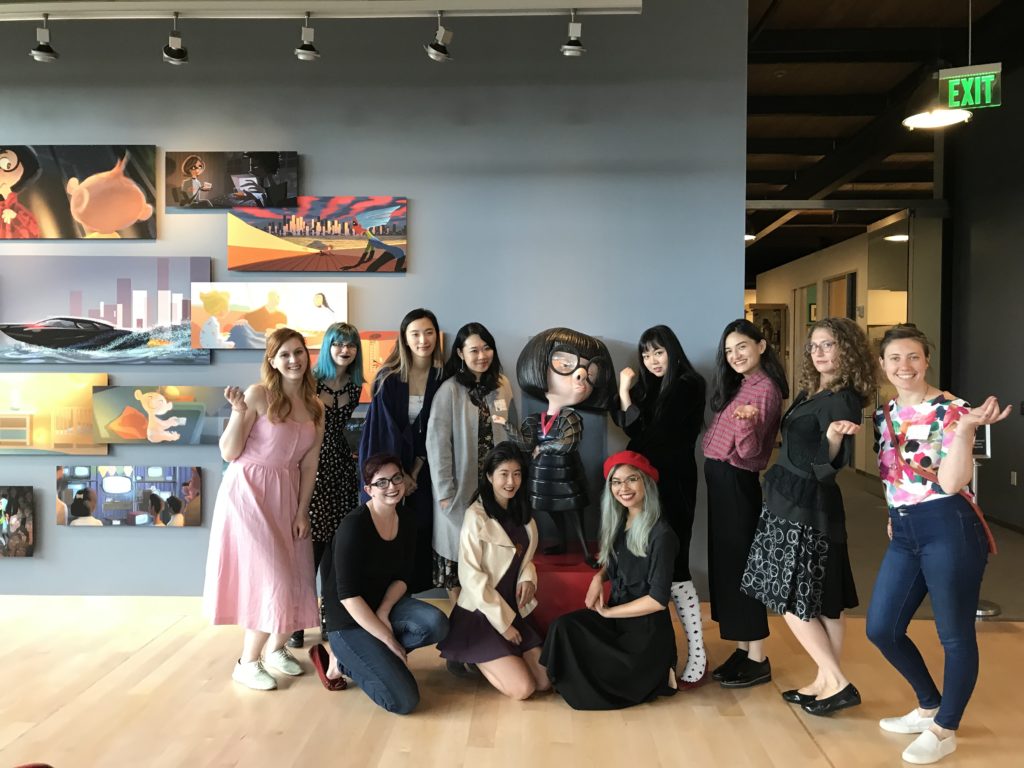 "Designing costumes for Pixar and other animation studios has always been a dream, and after this trip, it just seems that much more tangible," Taylor said.
It's hard to imagine what technological advancements we'll see in another 14 years, but maybe by that time, these costume design students will be able to show us.
Text By: Amy Burke, MA Fashion Journalism