Friday, September 11 at 8 p.m.
The Arc, Skylight at Moynihan Station
San Francisco, CA, Aug. 24, 2015 — The School of Fashion at Academy of Art University has chosen eight students to debut their thesis collections at New York Fashion Week. The Spring 2016 show marks the 10th anniversary of the School of Fashion's first showing at New York Fashion Week.
"In the decade since our first presentation at New York Fashion Week the show has gained momentum, growing in size and in the caliber of fashion professionals, designers, recruiters and media who attend," said Dr. Elisa Stephens, President of Academy of Art University. "We are committed to helping our students launch their careers, and we are honored to give students a platform of this magnitude to present their work as fashion industry professionals."
The School of Fashion first presented collections at New York Fashion Week in September 2005, showing annually from 2005 to 2007. To give more students the opportunity to show their collections in New York, in 2008 the School of Fashion expanded its Fashion Week presence and began showing both Spring and Fall collections, a practice it has continued ever since.
"This season's designers have created collections that are concentrated on minimalism, tending to the contour and structure of the garments," said Simon Ungless, Executive Director of the School of Fashion.­­­"They have shifted their focus away from embellishment and on to the purity of the silhouette by the craft in which they shape and proportion the clothes. This type of constructive tailoring is an inventive way to appreciate the human figure, which elevates the nature and art of their designs."
— Live Broadcast —
The fashion show will be streamed live at:
www.academyart.edu/fashionshow/webcast
— Social Media Channels —
Fashion School Daily: www.fashionschooldaily.com
Facebook: www.facebook.com/academyofartfashion
Twitter: www.twitter.com/aaufashion
Instagram: aaufashion
#AcademyArtFashion
— Designer Portraits and Lineups —
Designer portraits and illustrated lineups are available for download at:
— Designers Presenting Collections —
For the Spring 2016 New York Fashion Week showing, eight designers will present six collections; in total, four womenswear collections and two menswear collections will be shown. 
Liz Li, M.F.A. Fashion Design, was born in Wenzhou, Zhejiang Province, China, and grew up in Shanghai, China. While in Shanghai, Li worked as a design assistant at PCCS Garment Co. Ltd, and as print designer for Zhuang Rong Qipao Co. Ltd. Li's experience in the United States includes working as a fashion designer for San Francisco-based brand the DNA Group, as well as assisting a group of School of Fashion designers with the construction of their Spring 2015 New York Fashion Week collection. For Spring 2016, Li created a collaborative collection with M.F.A. Knitwear Designer Bom Kim. Traditional Chinese painting and the juxtaposition of abstract art and freehand brushwork inspire the collection. A color story inspired by the seasons roots the collection with a natural palette, which is set off by contrasting black details.
Bom Kim, M.F.A. Knitwear Design, was born and raised in Seoul, South Korea. For Spring 2016, Kim collaborated with M.F.A. Fashion Designer Liz Li on a collection that features 1940s-inspired A-line silhouettes. Garments are constructed from linen and transparent fabrics to give the collection a sculptural, airy quality. Their inspiration of abstract art and traditional Chinese painting can be clearly seen in the collection, which features hand painted fabrics, embroidery, and custom knitwear designed by Kim.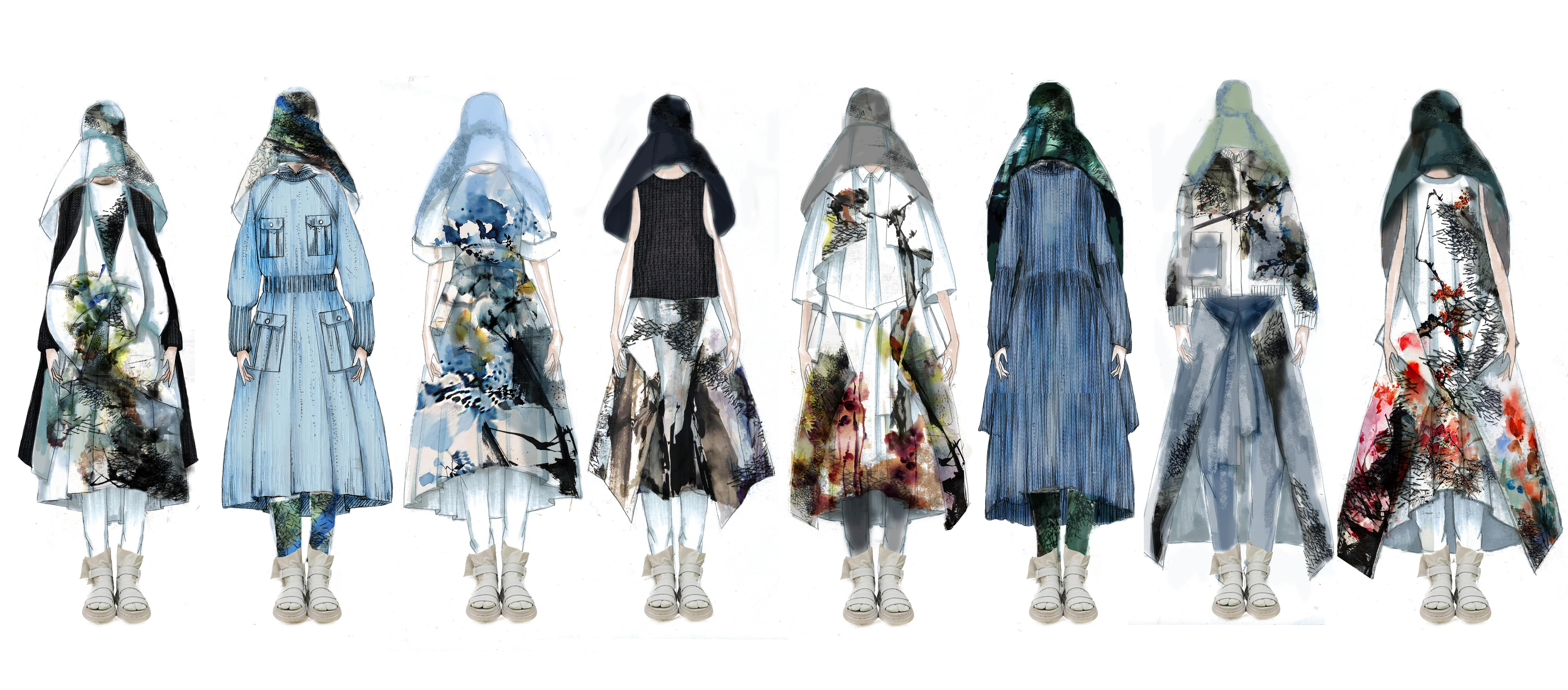 Wenhan Yuan, M.F.A. Fashion Design, was born in Yanji Jinlin, China. After completing her B.F.A. in Fashion Design, she worked as a visual merchandising intern at Yanbian International Department Store. She also has experience working as a freelance fashion designer at creative MPK studio in Yanji, China. Yuan's senior collection was created with a variety of materials like cotton, suit fabrics and paper textured fabrics. In her collection, Wenhan deliberately reflects a sensuous woman in men's clothing, emphasizing fresh style, sex and emotion.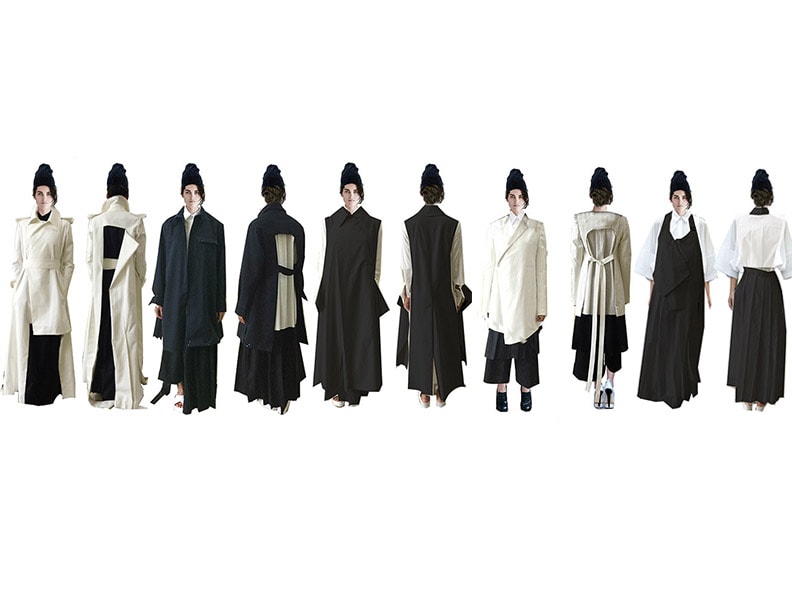 Max Lu, M.F.A. Fashion Design, was born in Taipei, Taiwan and grew up in Taipei City. After he completed his B.F.A. in Fashion Design, he worked as a freelance print pattern designer and fashion stylist assistant. In Taiwan he received an Honorable Mention Award from the Competition of Taiwan Textile Federation and won first prize at Manga Fashion Design Competition. Lu's collection, in collaboration with Jessie Wang M.F.A. Fashion Design, aims to express ambiguous and unclear forms from a blurry dream. The collection features 1950's classic and elegant silhouettes and new edge style. Lu and Wang focused on clear cuts and special shapes to create their designs.
Jingci Jessie Wang, M.F.A. Fashion Design, was born in Hei Long Jiang province, China. Wang completed her B.F.A in Fashion Design in China and worked at Starview Trading Limited where she designed lingerie, underwear and sleepwear collections. She won the second prize for the Bosideng scholarship, the Okawa Textile Company Competition Finalist Award, the 3rd Gunze Fashion Design-China T-shirt Recognition Award and the Triumph Inspiration China National Competition Finalist Award. While working toward her graduate degree, Wang worked at Dan group in San Francisco where she assisted in designing womenswear collections. Wang, in collaboration with Max Lu M.F.A. Fashion Design, uses high quality fabrics and new materials such as lame, metallic, leather, and sequins to present the collection. Wang and Lu sewed 3D samples of leather to test the weight to see if they can sew it onto lighter materials. This was to combine the hardness and softness of fabrics to bring the balance of harmony and express the vagueness and clearness of a blurry dream.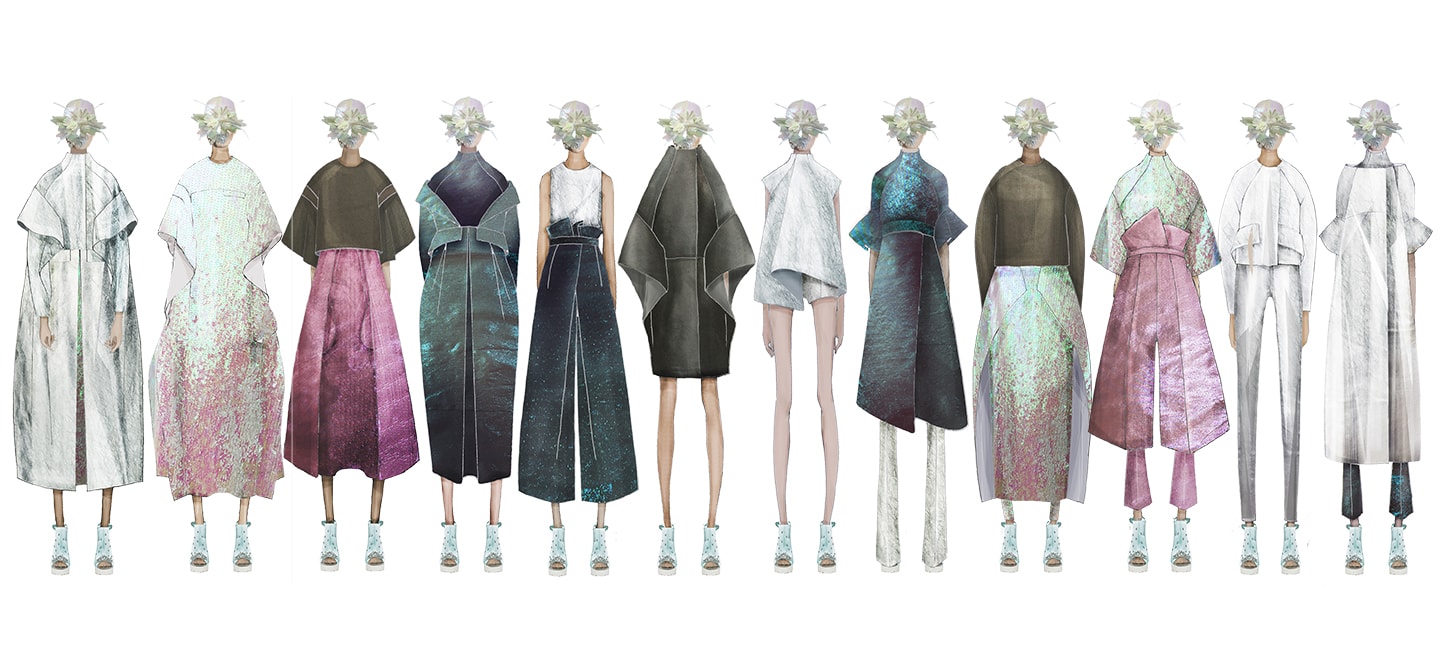 Ruone Yan, B.F.A. Menswear Design, was born and raised in Chongqing, China. As an undergraduate, Yan's work has been shown at the School of Fashion's 2015 Graduation Fashion Show in San Francisco. Yan's menswear collection was inspired by the Cephalotus, also known as the Venus flytrap. For Yan, the Caphalotus raised the question, "Is it better to be safe from external threats, yet be trapped with the promise of a certain, slow death, or to be free but vulnerable to unknown dangers?" Yan's collection shows her inspiration with cocoon-like layers, fabricated from jersey, leather, and beige-toned canvas that she custom dyed with oolong tea.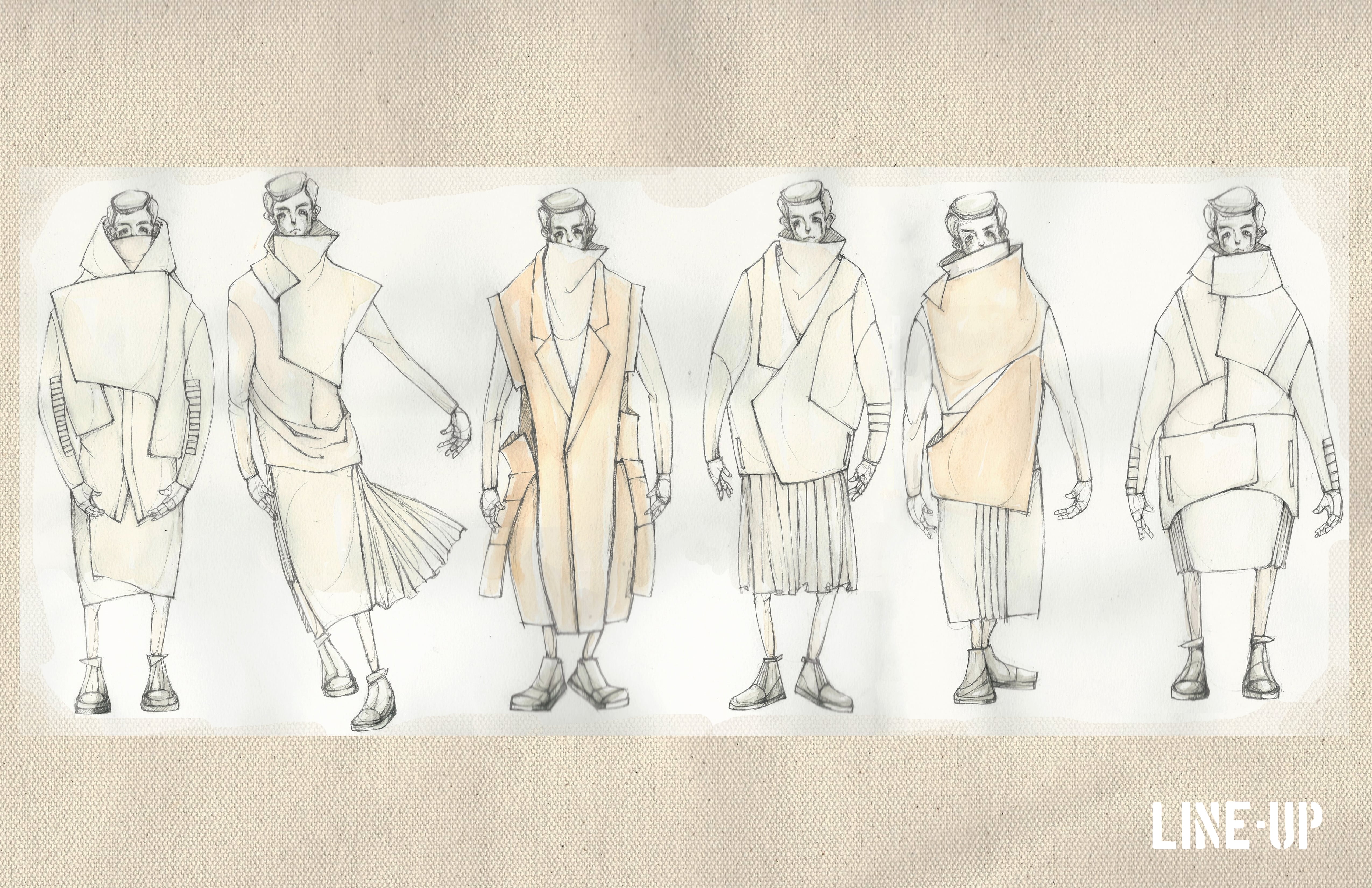 Livia Bianda, B.F.A. Menswear Design, was born and raised in Jakarta, Indonesia. She has immersed herself in the design world, serving as the menswear intern at Alexander Wang in New York, assisting Academy of Art University seniors with their 2014 graduation collections and contributing to the design development process in styling menswear looks as a part of the design team for the Indonesia Day festival in San Francisco. In March of 2014, Bianda's work was chosen by Academy of Art University to participate in the first round of the Joe's Blackbook Design Competition in New York. Bianda's lycra, mesh, pinstripe wool and pinstripe cotton graduation collection was inspired by the uniforms and exaggerated silhouettes seen on football players.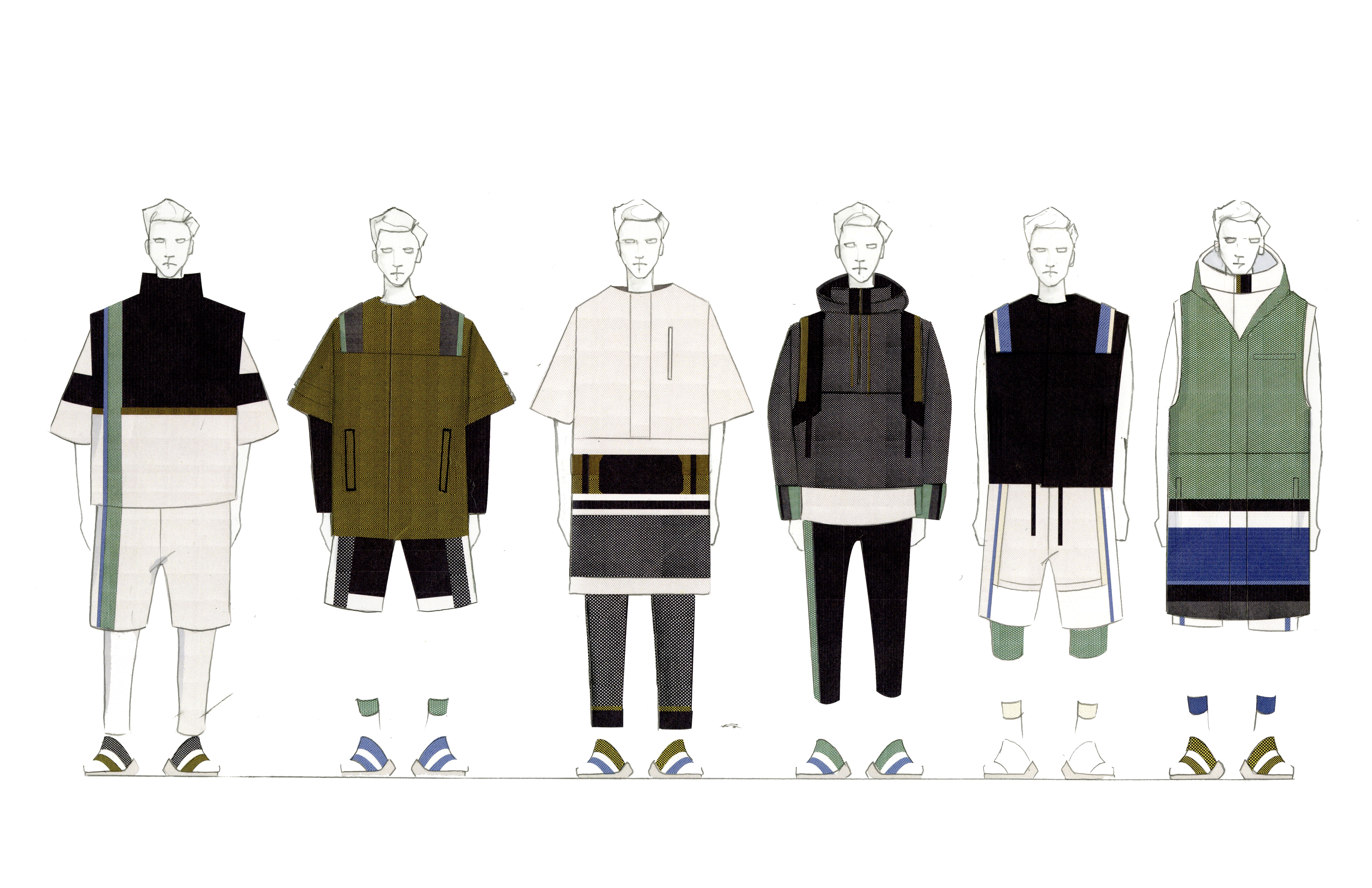 Mehrzad Hemati, M.F.A. Fashion Design, hails from Tehran, Iran. Before coming to Academy of Art University Hemati launched her own women's ready-to-wear label, Mezza, and while pursuing her graduate studies she has interned at Yigal Azrouël in New York. Hemati's Spring 2016 womenswear collection blurs gender lines, incorporating menswear elements into the cotton, silk charmeuse, duchess satin and organza garments. The collection features custom closures, which are designed to look like piercings.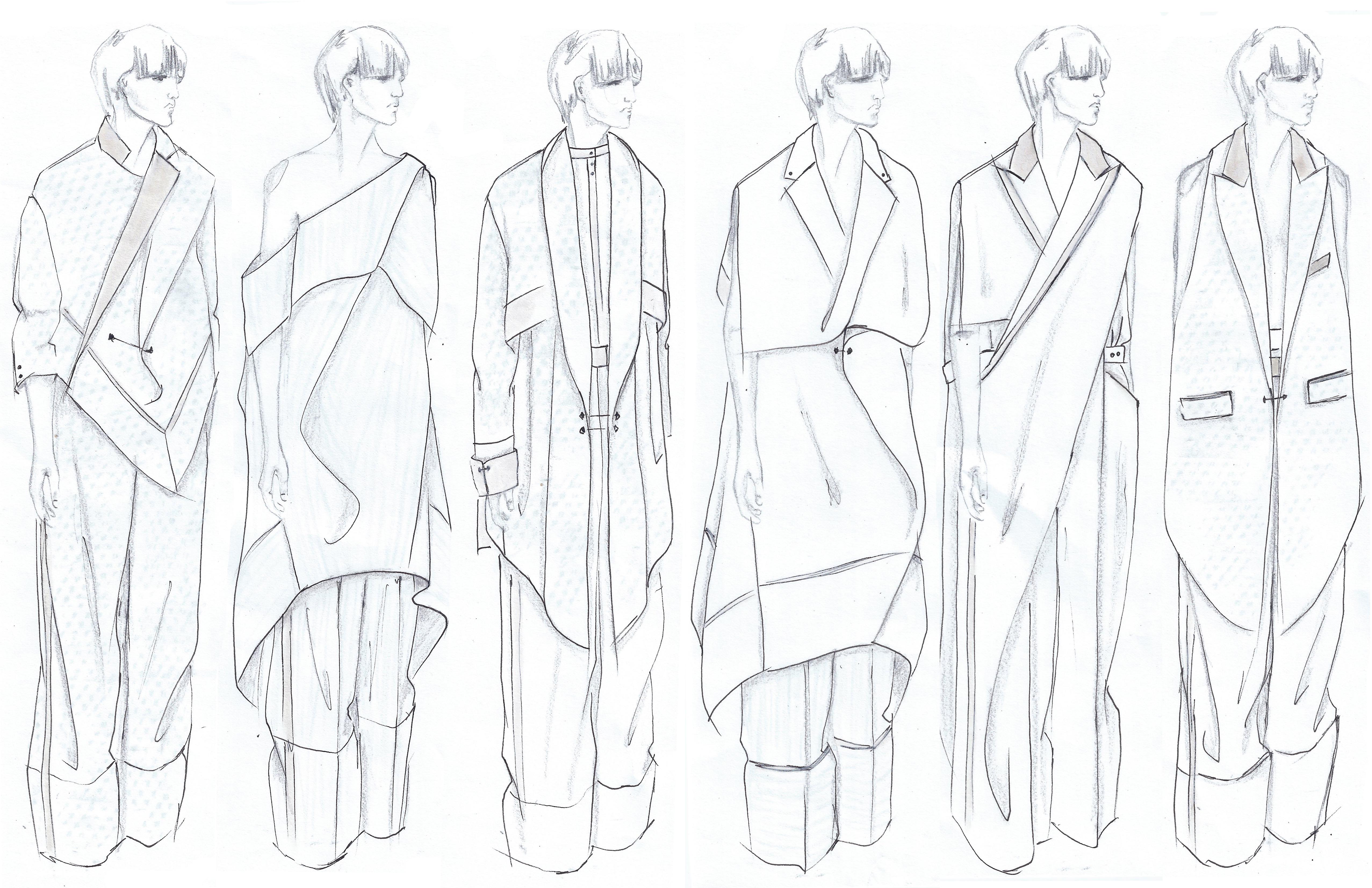 School of Fashion at Academy of Art University
79 New Montgomery Street, San Francisco, CA 94105
Call 800.544.2787 (U.S. only) or 415.274.2200
Academy of Art University: www.academyart.edu
School of Fashion: www.academyart.edu/academics/fashion
About Academy of Art University
Academy of Art University, the largest private university of art and design in the United States, is educating students for the art and design jobs of the 21st century. Established in 1929, the Academy is an output-based higher education model that provides an inclusive admissions policy to all students, but imposes a rigorous curriculum that requires the students to produce a portfolio of work that demonstrates a mastery of their field in order to graduate. Students are taught by a faculty of professionals from the existing marketplace, both online and on campus in San Francisco, who provide them with an understanding of what it takes to succeed in today's business environment. The Academy's hands-on curriculum produces graduates who possess outstanding artistic and design skills—and equally as important, the ability to put those talents to work immediately after graduation. As a result, Academy graduates are ready to compete for and win the jobs of the 21st century in the fields of Acting, Advertising, Animation & Visual Effects, Architecture, Art Education, Art History, Costume Design, Fashion, Fashion Journalism, Fashion Styling, Fine Art, Game Design, Game Programming, Graphic Design, Illustration, Industrial Design, Interior Architecture & Design, Jewelry & Metal Arts, Landscape Architecture, Motion Pictures & Television, Multimedia Communications, Music Production & Sound Design for Visual Media, Photography, Studio Production for Advertising & Design, Visual Development, Web Design & New Media and Art Teaching Credential, and Writing for Film, Television & Digital Media. Academy of Art University is accredited by WASC, NASAD, Council for Interior Design Accreditation (CIDA) (BFA/MFA-IAD), NAAB (B-ARCH*, M-ARCH), and California Commission on Teacher Credentialing (CTC). *B-ARCH program in candidacy status.
About the School of Fashion
Approximately 2,500 fashion students study under the guidance of experienced fashion professionals in the School of Fashion, which houses the following areas of specialization: Fashion Design for Womenswear, Menswear, and Childrenswear; Technical Design; Textile Design; Knitwear Design; Accessory Design; Costume Design; Fashion Illustration; Fashion Journalism; Fashion Marketing; Fashion Styling; Fashion Merchandising; and Visual Merchandising.
The University works with international brands and recruitment agencies on internships and job placement. Graduates have gone on to such companies as Abercrombie & Fitch, Adidas, Alexander McQueen, Azzedine Alaïa, Banana Republic, BCBGMAXAZRIAGROUP, Blanc de Chine, Burberry, Calvin Klein, Corso Como 10, Chloë, Diane von Fürstenberg, Donna Karan, Gap, Kate Spade, Kiton, L.A.M.B., L'Ecole Lesage Paris–Atelier de Broderie, Liz Claiborne, Louis Vuitton, Marc Jacobs, Martin Margiela, Martine Sitbon, Missoni, Nike, Nordstrom, The North Face, Old Navy, Oscar de la Renta, Phillip Lim, Pottery Barn, Ralph Lauren, Reebok, Roland Mouret, St. John, Threeasfour, Tocca, Viktor & Rolf, and Williams-Sonoma.
Guests to the School of Fashion include Azzedine Alaïa, Prosper and Martine Assouline, Max and Lubov Azria of BCBGMAXAZRIAGROUP, Yigal Azrouël, Geoffrey Beene, Rose Marie Bravo, Sarah Burton, Andrew Buckler, Julie Chaiken, The Honorable Bertrand Delanoë Mayor of Paris, David Downton, Steven Cox and Daniel Silver of Duckie Brown, Patrik Ervell, Loulou de la Falaise, James Galanos, Neil Gilks of the CFDA, Joan Kaner, Humberto Leon and Carol Lim of Opening Ceremony, Antonio Lopez, Fern Mallis, Alexander McQueen, Rosita and Tai Missoni, Angela Missoni, Margherita Maccapani Missoni, Isaac Mizrahi, Josie Natori, Christina Neault of IMG Fashion, Ian Hannula and Joe Haller of N.I.C.E. Collective, Elisa Palomino, Laure du Pavillon, Zac Posen, Oscar de la Renta, Zandra Rhodes CBE, Ralph Rucci, Nathalie Rykiel, HRH Princess Reema Bandar Al-Saud, Jeremy Scott, Carla Sozzani, Philip Treacy, Walter Van Beirendonck, Dirk van Saene, and Dame Vivienne Westwood DBE, as well as Christophe Girard Director of Fashion Strategy of LVMH Fashion Group, Robin Givhan, Cathy Horyn, and Suzy Menkes.
About the School of Fashion Executive Director
Simon Ungless, Executive Director of the School of Fashion at Academy of Art University, graduated from Central Saint Martins School of Art and Design in 1992 and was awarded the prestigious M.A. Degree in Fashion with Distinction. He collaborated with Alexander McQueen on the first 10 collections shown in London and New York, and personally introduced Sarah Burton, Creative Director of Alexander McQueen, to the late designer. In 2002, he was named Creative Director of Member Holiday, a Korean-based contemporary brand, launching both men's and women's collections with 37 freestanding stores. His work experience spans fashion design, textile design, forecasting, brand development, and marketing for such clients as Givenchy, Paul Smith, and Versace. In addition to his duties as the Executive Director of the School of Fashion overseeing both M.F.A. and B.F.A. programs, he is the editorial director of the School of Fashion's 180 magazine, as well as the executive producer of the annual Graduation Fashion Show and Awards Ceremony in San Francisco and the biannual fashion shows during Mercedes-Benz Fashion Week at Lincoln Center in New York City. Currently, Ungless operates two artisanal design companies, When Simon Met Ralph, which focuses on apparel, and Blackened, which centers on accessories and home. Both projects are the culmination of Ungless' inspirational development work over his career.