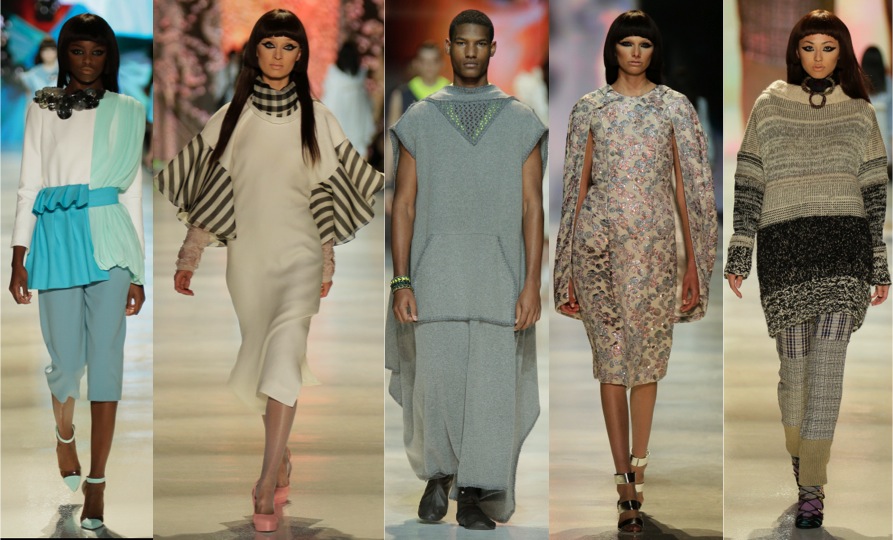 The Academy of Art University Graduation Fashion Show and Awards Ceremony took place on Thursday, May 8, 2014. It was an incredible evening complete with 20 collections created by 29 different students. Collections ranged from Womenswear, Menswear and Childrenswear with collaborations of Jewelry & Metal Arts, Industrial Design, and Animation & Visual Effects students. Recurring trends consisted of high-necklines, soft wovens & knits, monochromatic color palettes, floral details, sparkle and bursts of color.
Prior to the start of the show President Dr. Elisa Stephens welcomed the audience of fashion students, their proud parents and families, San Francisco fashion icons and industry press. Her welcoming was succeeded by the Executive Director of the School of Fashion Gladys Perint Palmer. International Vogue Editor, Suzy Menkes, introduced the guests of honor, Angela Missoni and Margherita Maccapani Missoni.
The packed audience stirred in their seats as the lights went low and a high energy beat blasted from the speakers.
Here is the breakdown of the Graduation Fashion Show presentation.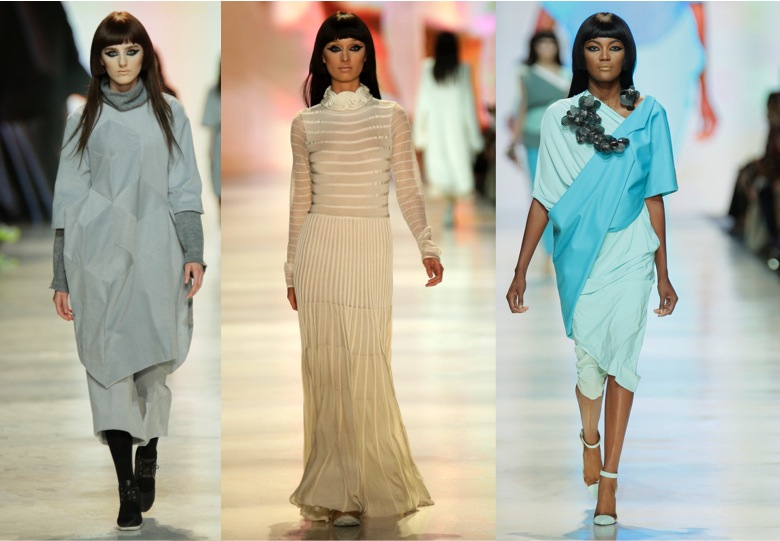 Marcia Amandary, BFA Fashion Design presented angular silhouettes by using geometric seams to create three-dimensional perspectives on a grey monochromatic color scheme. She combined felted and lightweight wool and sweater knits on layered looks with asymmetrical hemlines and oversized short pants.
Kika Knaup, BFA Knitwear Design, followed with delicate knitwear, cut in elegant and intricate drapery. Her sexy body fitted pieces were created on a soft white palette of silk, cashmere, rayon, wool and angora. They were accented with sleek high-neck collars giving a feminine and ethereal presence.
We witnessed Grecian styled drapery in layers and in of all shades of blue in the collection by Bowen Quan, BFA Fashion Design. Added details were made with ruffles, pleating and peplums at the waist. She collaborated with Yucen Wavy Tang, MFA Jewelry & Metal Arts who offered innovative jewelry comprised of grey and black oval shapes that were clustered together. Her asymmetrical pieces were worn wrapped around the shoulder, neck and on the wrist.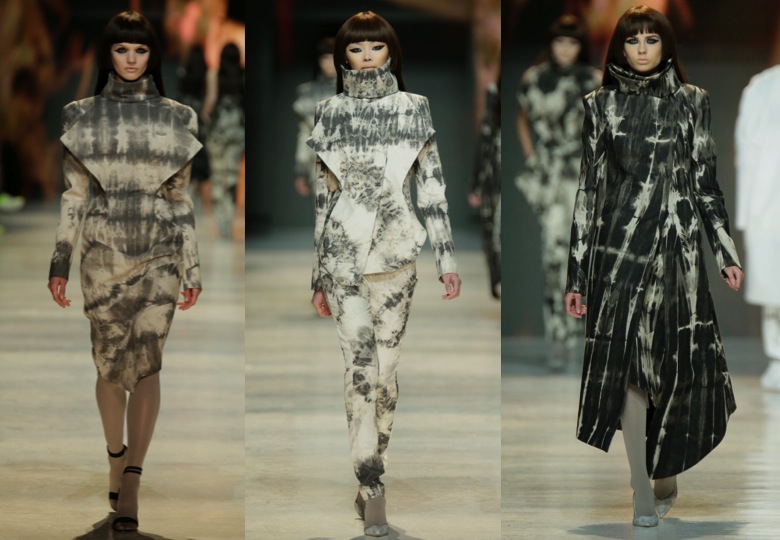 Jenny Hien Hoang, BFA Fashion Design, was selected to participate in the Supima Design Competition at Mercedes-Benz Fashion Week at Lincoln Center in New York City in September 2014. She brought modern and edgy silhouettes on denim fabrics that were comprised of monochromatic prints from top to bottom. Her x-ray resembling prints were created through the use of bleaching techniques. Important details were the extra-high necklines, side pockets and sharp shoulders.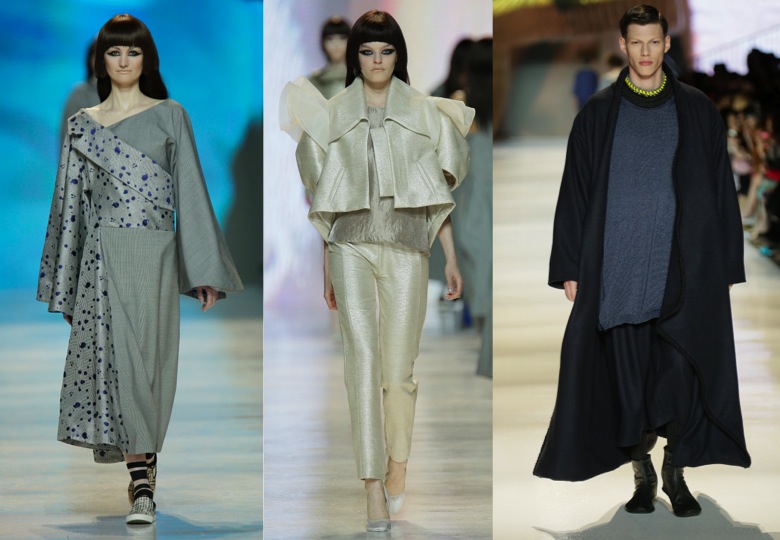 Karen Chuhua Yao, BFA Fashion Design, showed a new take on traditional suiting fabrics using a range of houndstooth and check patterns, contrasted with playful cobalt blue accents. Her asymmetrical designs were combined with heavy use of layering and long hemlines.
Iris Jin, BFA Fashion Design, presented a futuristic and feminine collection complete with exaggerated ruffles, rounded shapes and shimmery fabrics. Her elegant pieces were made out of silk, wool, and linen. They created a grand presence on the runway through the use of exaggerated shoulders and surprising sleeve cutouts.
The menswear collection by Zonic Kwong, BFA Menswear Design, was a successful mix of street wear and traditional Tibetan styles. The wool, polyester and rayon pieces were comprised of long hemlines, flowing capes, detailed knitwear and pops of neon. Other elements included elongated and v-shaped necklines, muscles tee silhouettes, see through knits and layering. She collaborated with José Dojaquez, BFA Knitwear Design, who was awarded the runner up for the San Francisco Paris Sister City Scholarship Exchange in Paris, France to study at Studio Berçot. Their collection was completed with the accessories by Karina Denery, BFA Fashion Design.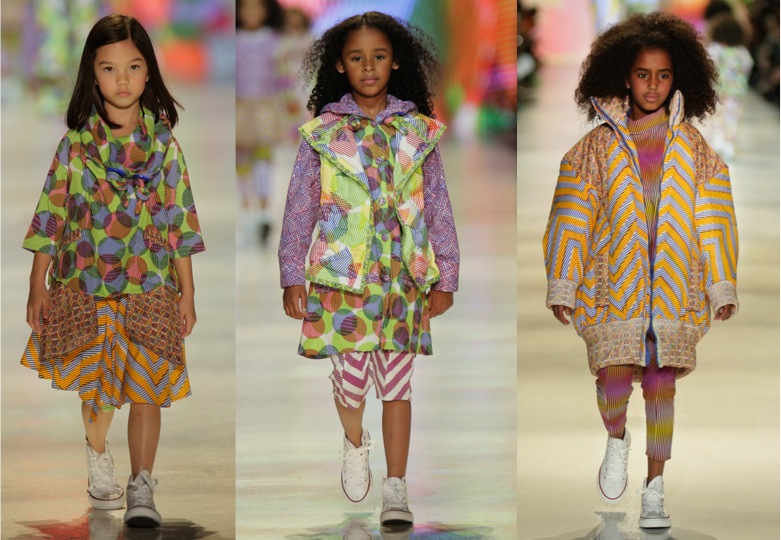 The audience cheered as the little tots in Jordan Rae Epstein's, BFA Childrenswear Design, Childrenswear collection came down the runway. Jordan was awarded the runner up for the San Francisco Paris Sister City Scholarship Exchange in Paris, France to study at L'Ecole de la Chambre Syndicale de la Couture Parisienne. His collection was comprised of sporty styles in the form of hoodies, cropped pants, shorts, a jumpsuit and skirts; that were all complimented by white Chuck Tailors. The chic looks were worn by all girls but could easily pass as androgynous styles. This collection was created in collaboration with the vibrant mix and match layered prints by Sheni Moshabesha, BFA Textile Design.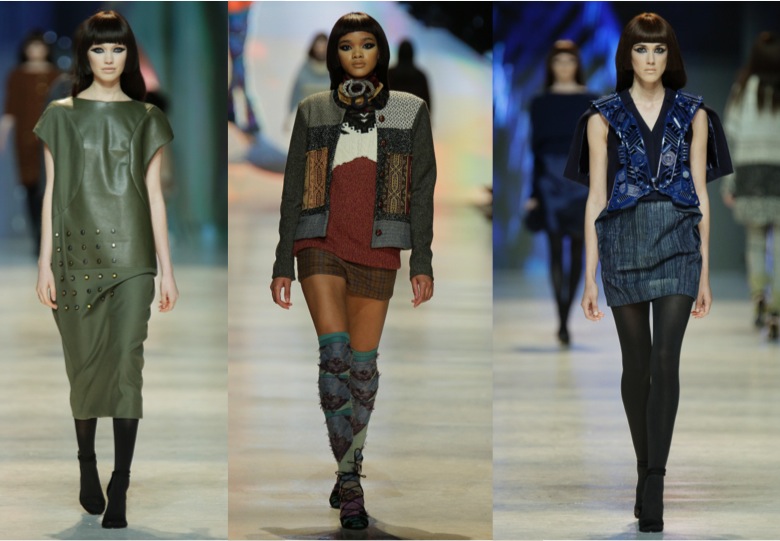 Leo Lee, BFA Fashion Design, presented über chic all leather and wool frocks with added elements of sparkle using metal and rhinestone patchwork. His pieces were created with rounded shoulders, sleek lines and deep rivets.
Annie Abbey, BFA Fashion Design, showed us an eco-responsible collection that is comprised of 100% recycled materials including garments, curtains, tablecloths and remnant fabrics. She presented patchwork detailing on all of her garments. Most of the fabric remnants were a gift from the company Indigo Handloom. Annie was offered a full time job with Abercrombie & Fitch. Student designers Xingyu Hu and Ghazaleh Khalifeh provided additional knitwear.
Morgan Truong, BFA Fashion Design, showed chic capes and miniskirts made of navy blue Napa metallic leather, wool melton, hand-dyed Hmong cotton, silk, Lycra and wool. She collaborated with Han Huynh, BFA Industrial Design, to create futuristic looking accessories. This machine like structures were created from 3D printing; the silhouettes emulated the angular and rounded lines in the engine parts.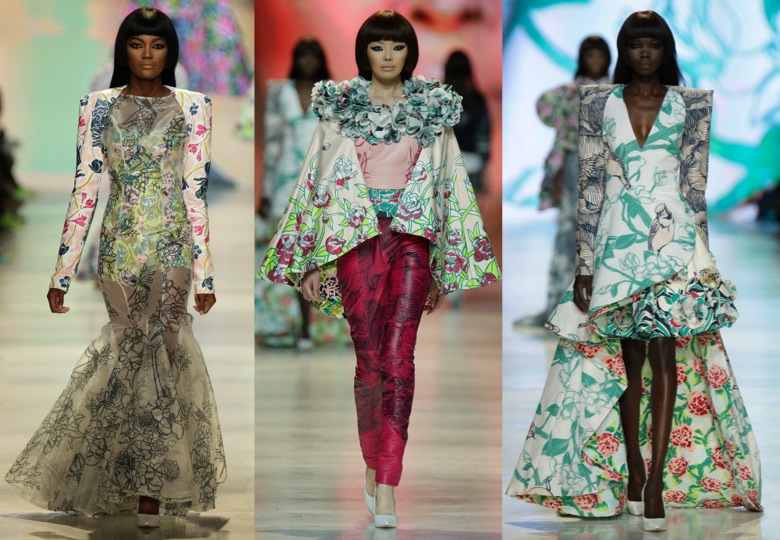 The collection by Nicole Bell, BFA Fashion Design, was a full floral takeover. She presented long gowns made in feminine shapes with deep v-necks, structured shoulders and ruffled trains. Each look was created with a mix of both soft and hard fabrics, including white organza, cotton organdie, gazar, eyelet, furnishing satin, canvas, silk, feola cotton, coutil cotton/viscose and leather. The garments had a variety of floral textiles and multicolored prints that were created in collaboration with Holly Hapka, BFA Textile Design.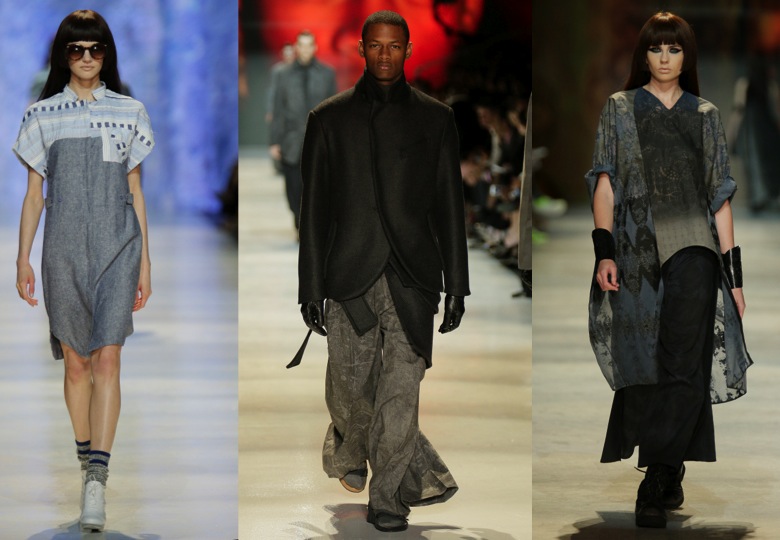 Tony Wloch, BFA Fashion Design, used recycled denim and shirts to present a look of luxury without the cost. He offered dresses, jumpsuits, shorts and a jacket all with patchwork detailing, and made out of an assortment of different denim washes. Many of the garments had a strong emphasis on the shoulder area. A highlight of his collection was the denim-striped jacket, which was paired with suspenders and denim patchwork shorts.
The menswear collection by Esther Shim, BFA Menswear Design, showed edgy masculine styles that brought back baggy pants and wide shoulder coats. She used twill and cotton fabrics in various weights, loose weave wool, wool crepe suiting, wool suiting, 2-ply jersey and cotton shirting fabrics while sticking to a color palate of charcoaled greys and black. She hand-painted some of her pieces to give them a naturally aged appeal.
Jaide Folger, BFA Fashion Design, presented a womeswear collection of a tribal inspired nature. Her garments were comprised of draped fabrics, flowy bohemian tops and loose dresses. These relaxed styles were created with layering and a mix of soft fabrics. She collaborated with Lisa Voong, BFA Textile Design, whose her textiles were created on black Borsalini cotton and white Devore poly/viscose. The large jewelry pieces created by Zoe Cope, BFA Jewelry & Metal Arts, completed the look. Her pieces were made out of etched copper, laser cut acrylic, spray enamel, and leather straps. She described her collection as being inspired by, "Sacred geometry, ethnic armor and modern shapes." She offered a mix of polished and matte designs, our favorite were the thick black arm cuffs.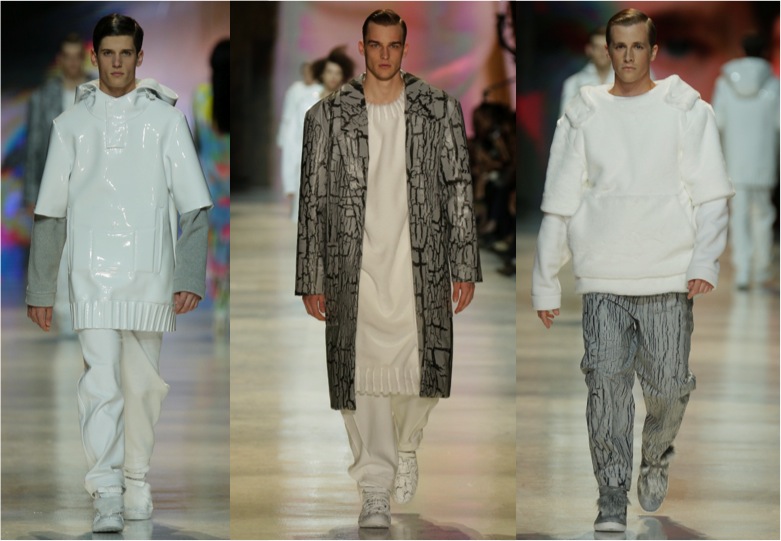 The menswear collection by Seth C. Olson, BFA Menswear Design, was nothing but original. He took a refreshing twist on outerwear by creating overcoats, ponchos, and sweaters out of waterproof materials (waxed denim and vinyl) and fuzzy knits (faux fur and Polartec 300 fleece). Important elements included distressed detailing, baggy pants, high necklines, and layering. He developed and printed is own cracked textile fabric that is used in four of the looks of his collection. Seth was offered a full time job with Abercrombie & Fitch.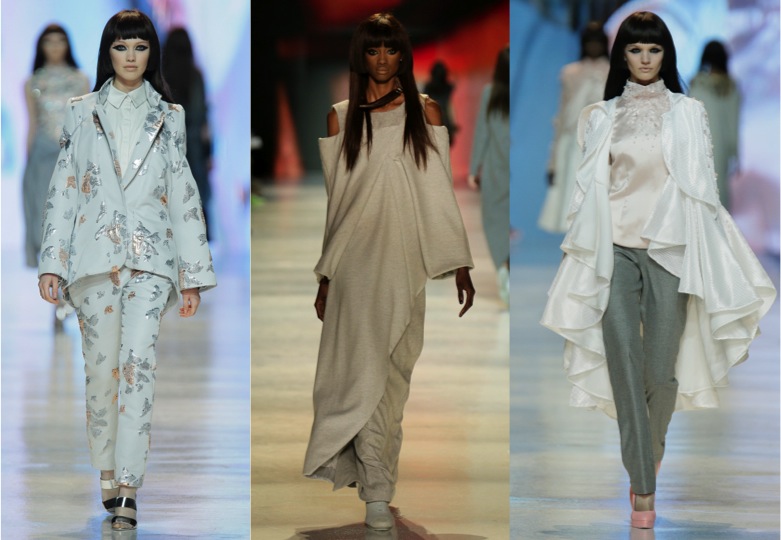 We were blown away by the beauty of Taylor Carr's, (BFA Fashion Design), sparkling collection. He implemented Swarovski crystals in floral shapes on chic Womeswear styles. His first look to come down the runway was a glamorous powder blue suit; the elongated sleeves and back of the jacket gave it a casual and comfortable look. He created unique pieces that intertwined tailoring with disproportion including a top that resembled a jacket worn backwards.
Vivian Mazuki, BFA Fashion Design, presented relaxed styles comprised of soft fabrics in neutral colors. She designed long sheath gowns, trousers and pants; with the use of cashmere, suiting wool, pin-stripe wool and silk wool blend fabrics. Her luxurious monochromatic looks were accented by jewelry pieces created by Dale Beevers, BFA Jewelry & Metal Arts. Dale created necklaces, armbands, and a back piece out of wood and bone. We wont forget to mention that Rosita Missoni purchased Dale's bracelets at the portfolio review before the fashion show!
Aile Hua, BFA Fashion Design, was awarded the San Francisco Paris Sister City Scholarship Exchange in Paris, France to study at L'Ecole de la Chambre Syndicale de la Couture Parisienne. Her Womenswear collection was inspired by the space age, and made glamorous with larger than life white and pink crystals (rose quartz) that were placed all over the sleeves and backs of her silk garments. Some of the crystals were placed randomly while others are placed according to constellations. She used a soft color palette of lunar white, cream, blush pink, grey and black. These feminine styles offered plenty of ruffles, sleek shapes and high necklines.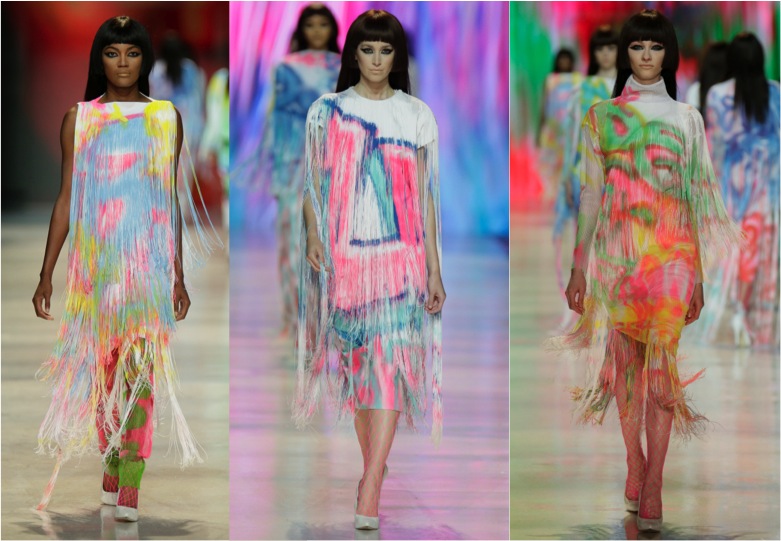 The design stunner Yuko Okudaira, BFA Fashion Design, was awarded a coveted design internship for Missoni in Italy, as well as the San Francisco Paris Sister City Scholarship Exchange in Paris, France to study at Studio Berçot, and an internship with BCBG! Her collection was created with the skate culture in mind. She presented short and long frocks made out of solely white cotton twill, polyester mesh, and Lycra knit jersey; with elongated fringe detailing in bold bright prints and colors. Liang Huo, BFA Animation & Visual Effects and graffiti artist, spray-painted all of the pieces in Yuko's collection.
Written by Ashley Castanos and Sarah Lemp.