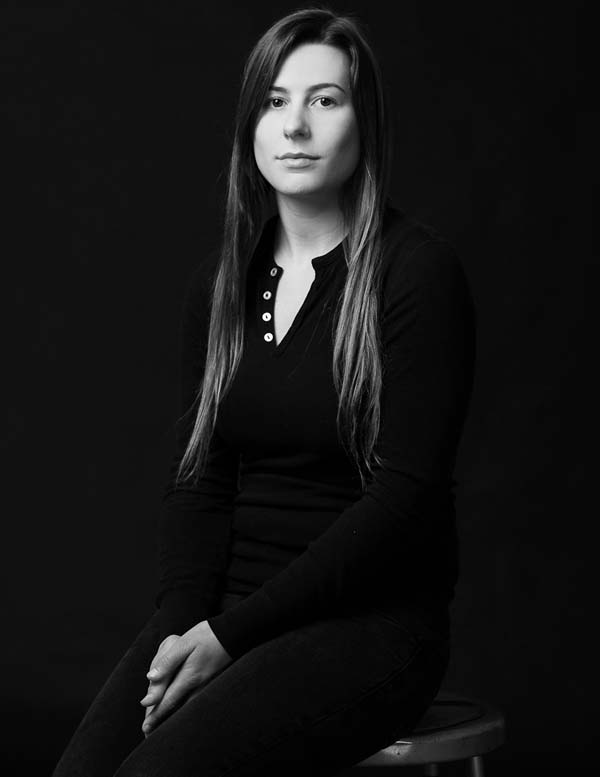 Photo by Aldo Carrera. 
Leah Aripotch moved to San Francisco from the East Coast, having grown up in Montauk, New York. She enrolled in the School of Fine Art Sculpture, specializing in metal fabrication for both sculpture and jewelry. She first became interested in sculpture after a high school trip to the Whitney Museum in New York. After a brief stint at another school studying painting, Leah came to the Academy of Art University to try her hand at sculpture. Her work has earned her the distinction of Best Emerging Artist, and she also won the award for Best Fabricated Sculpture at the 2012 Spring Show.
When designing accessories for Mercedes-Benz Fashion Week, Leah was inspired by the work of her collaborators Teresa Field and James Thai, incorporating themes from their work into her own. She was particularly interested in the mixture of structural geometric shapes with more organic elements, and focused her collection on the figure of the snake–a beautifully sinister addition. She cast her pieces in bronze, brass, and copper metals.
When did you first become interested in sculpture?
I think the first time I became interested in Sculpture was on a field trip when I was a senior in high school. We went to the Whitney Museum of Art in New York and they were having a Tim Hawkinson solo exhibition. I remember being completely enamored by his work; it was interactive and just brilliant. I had never heard of him, and it was all something I had never seen before. But it was good, excellent, in fact. It moved me like no other art ever had. I know that sounds cliché, but it had a paramount impact on my personal expectations.
What do you love most about it?
What I love most about sculpture, and this extends to jewelry because I believe jewelry to be miniature wearable sculptures, is that extra dimension, the way it occupies space. And this probably accounts for my appreciation for fashion as well. It's not a representation of something; it is something. It exists in the same space as we do, and it demands our attention.
Can you explain your creative process?
Once I decide on a design, it basically poses a problem that needs to be solved. Every technique and process that follows is effectively another step towards solving that problem, until it is complete.
What are your feelings, hopes, dreams as you prepare for Mercedes-Benz Fashion Week?
I certainly feel lucky to have been a part of this experience. It's an incredible venue, and the opportunity to display my jewelry on the runway is just tremendous. I hope that people like it. I hope that my jewelry does justice to the beautiful garments Teresa and Andy have been working so hard on.
What is the most important thing people should know about you?
It has been said to me that when it comes to my art, I am tenacious.
For more on the Academy of Art University Fall '13 Fashion Show, click here.