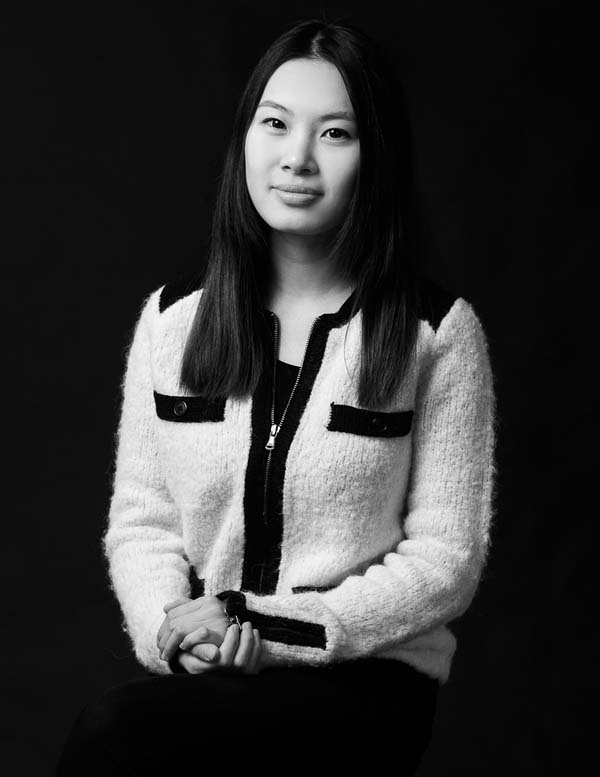 Photo by Aldo Carrera. 
Chenxi Li is from Zhengzhou City in the Henan Province of China, a long way from our city of San Francisco. Before coming to the Academy of Art University School of Fashion, she attended the Nanjing Arts Institute, earning her undergraduate degree in Animation. She began focusing more and more on designing the costumes of her animated characters, and realized the importance of clothing when forming an identity and a perception of person. And so began her interest in fashion.
For her Fall '13 collection, Chenxi took inspiration from a number of sources. The oversized silhouettes and voluminous shoulders and sleeves were inspired by garments from the 1950s, while her knitwear pieces were modeled after traditional Chinese armor. She selected her color pallete–ranging from soft teal to midnight navy–after looking at photos from the deepest parts of the ocean. Her sumptuous collection features several types of wool, cashmere knits, and rabbit fur.
Can you describe your experience as a fashion student?
Since I began pursuing a graduate degree in fashion three years ago, I have been so busy! It is definitely an intense program–and even though I'm often tired, I have a real sense of accomplishment and satisfaction as well.
What have been the most valuable lessons you've learned?
The design classes, as far as I'm concerned, have taught me my most valuable lessons. The instructors helped me figure out my design aesthetic, how to translate it into the clothing I make, and how to market it.
What are your feelings, hopes, dreams as you prepare for Mercedes-Benz Fashion Week?
It is a dream come true to show my work at Mercedes-Benz Fashion Week – I am so excited. It will be such an amazing experience, and a wonderful starting point for my career.
Who are some other designers you admire and why?
Alexander McQueen, Yohji Yamamoto, and Cristobal Balenciaga are some great designers that I admire. Their work is so different from anyone else and they each have their own signatures. Their designs are works of art.
For more on the Academy of Art University Fall '13 Fashion Show, click here.