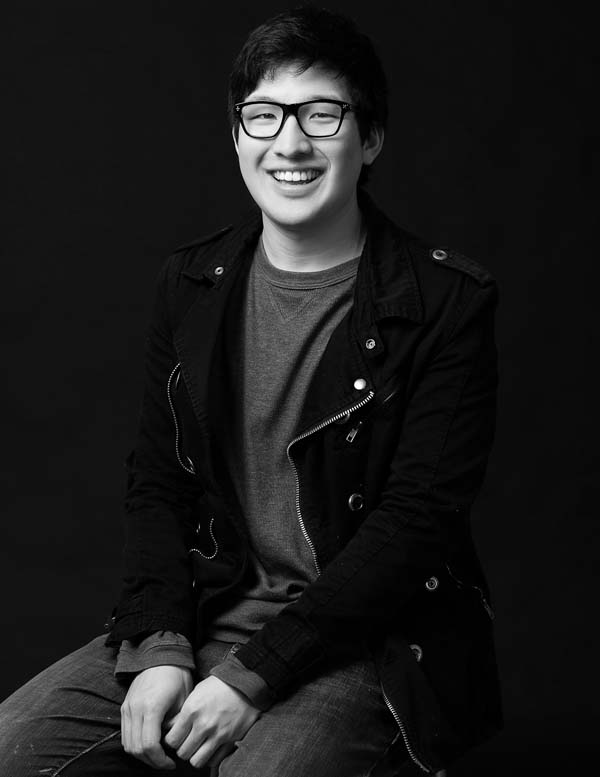 Photo by Aldo Carrera.
James Thai is another Bay Area local who grew up in Danville, California. He attended the Academy of Art University's Art Experience Program for high school students and won the Sam Ramon Valley Unified School District Art Competition before enrolling in the University's undergraduate Textile Design program.  During the summer of 2011, he worked as a product development intern at Ralph Lauren in New York City, where his Creative Intern Project was selected for presentation to the company's senior board members.
James collaborated with Teresa Field, creating custom textiles for her collection. His work was also inspired by animal anatomy and the work of H.R. Giger. To create the patterns, he first printed the art onto the leather, and then used a special burning technique to etch the flora and fauna into the leather–it's absolutely beautiful.
When did you first become interested in fashion?
When I was 16, I watched an Alexander McQueen runway video on style.com. I was always interested in the arts and the fashion world, but his unique take on fashion captivated my interests, and I have been focused on fashion ever since.
What do you love most about it?
What I love about fashion is how it can change a person's identity, allowing us to be transient, and for the clothes to express the wearers intent/mood/etc in an ever-changing fluid manner.
Can you describe your experience as a student?
Those scenes in Quentin Tarantino's Kill Bill where the main character is learning to punch through a wall with her martial arts master and in the end is able to punch through a wall about 3 inches in front of her. That sums up my experience as a student, just less intense.
What are your feelings, hopes, dreams as you prepare for Mercedes-Benz Fashion Week?
I feel both shock and excitement. This is something that I've only dreamed about as a teenager and for it to actually happen feels a bit surreal.