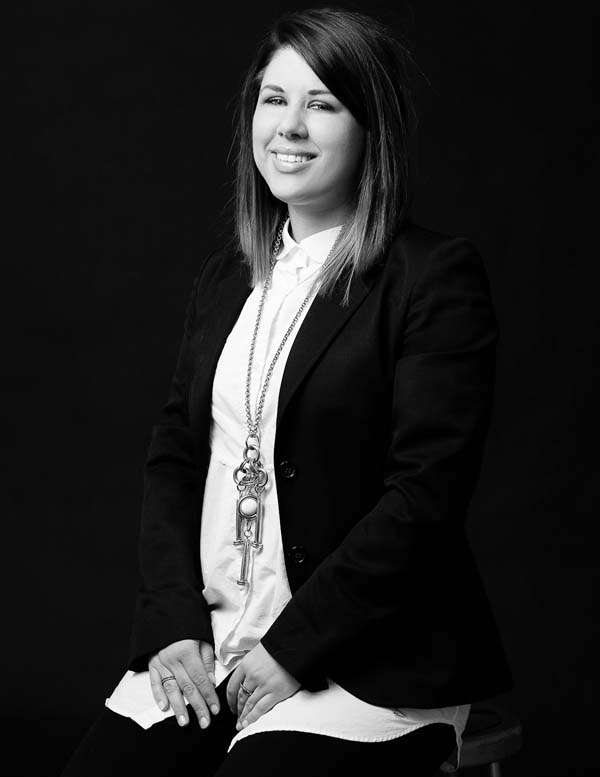 Photo by Aldo Carrera. 
Janine M. Villa was born and raised in Toms River, New Jersey, and attended Boston University for her undergraduate degree in Graphic Design with minors in Business and Art History. Having always had an interest in fashion, she began looking at jobs that combined her graphic design experience with fashion, but realized that nearly all of them required a design degree. Having always wanted to live in California, she packed her bags and enrolled in the School of Fashion's graduate Fashion Design program. During her time as a student, Janine also worked as an Apparel Design Intern with fashion-favorite Rebecca Minkoff and as a Product Development Coordinator with Inspirare in San Francisco.
For her Fall '13 collection, Janine wanted to make a state through color and fabric. Over the years, she had acquired a number of vintage Welsh blankets, amazed by the beauty of the woven textures, and decided to build her collection around them. Her color palette was inspired by the paintings of Josef Albers, known for his bold use of color. She kept the silhouettes simple, looking to tailored menswear and school uniforms, allowing the colors and fabrics to take the spotlight. She also collaborated with Amanda Nervig, who designed knitwear for the collection.
When did you first become interested in fashion?
It has always been an interest as an outlet of self-expression, but I remember first becoming really aware of it around 10 or 11. I used to watch "Clarissa Explains It All," and thought she was the coolest person I'd ever seen just because of the way she dressed. I also wore a uniform to school for fifteen years, so wearing clothes of your own choosing and styling yourself became this sort of special thing for me.
Follow the jump to read more!
What have been the most valuable lessons you've learned as a fashion student?
Work your *ss off. Never be afraid to ask for help and ask questions. And just to never give up.
There's a story I love to tell people about first coming to AAU. I had never sewn a thing in my life, and my first 3D assignment was to construct a simple pencil skirt. I thought it was the most amazing thing I'd ever done, and really patted myself on the back for it. Turns out it was so bad, my instructor couldn't even give me a passing grade on it. I was so discouraged, and had to redo it for a C. Three years later, I'm creating a collection for Mercedes-Benz Fashion Week. I got here by working hard, asking for help, and never giving up.
What are your feelings, hopes, dreams as you prepare for Mercedes-Benz Fashion Week?
The reality of it hasn't really sunk in for me yet. I think I'm starting to just get really excited. I'm from outside of NYC, and haven't been home much since moving to SF, so it feels like a bit of a homecoming for me. There are so many talented students participating in collection this season, and I just feel really honored to be working through this process with them and presenting alongside them. I'm just really, really proud of all my friends. The camaraderie has made this time much less stressful. I'm really grateful to have them by my side.
What is the most important thing people should know about you?
I am relentless when pursuing what I want. I will hustle for the dreams, people and things important to me everyday for the rest of my life.
For more on the Academy of Art University Fall '13 Fashion Show, click here.