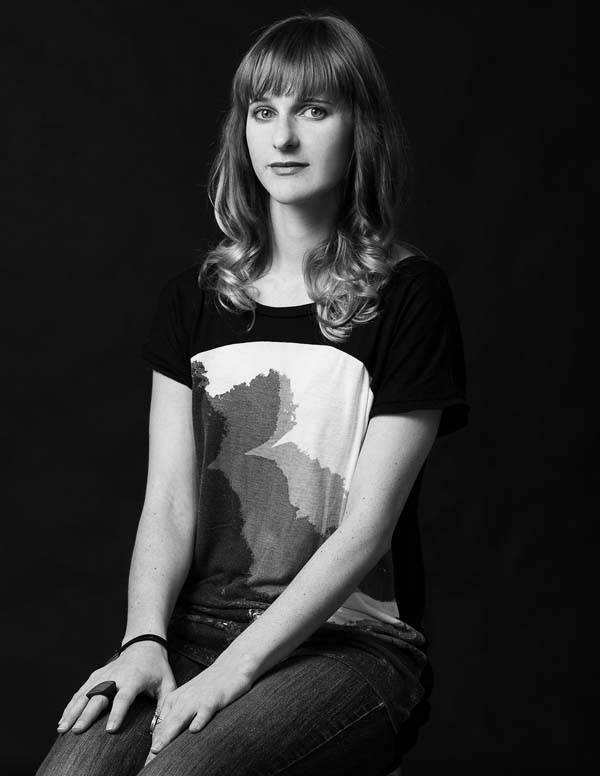 Photo by Aldo Carrera.
Amanda Nervig grew up in Des Moines, Iowa, and attended the Kansas City Art Institute as an undergrad, earning her fine arts degree in Fiber. She first began knitting at the age of nineteen after being taught by her mother, and quickly became obsessed with the craft. She enrolled in a machine-knitting elective to further explore the skill, and was hooked. After balancing a job and knitting garments on the side, she decided to devote herself to knitting full-time and enrolled in the School of Fashion's MFA Knitwear Design program. Looking to test her skills in the real world, she took a summer internship with Donna Karan in New York, assisting in the design and development of sweaters for several for the Collection, Cashmere, and Casual lines.
For Fall '13, Amanda collaborated with Janine M. Villa, designing and creating knitwear for her womenswear collection. Taking Janine's lead, Amanda was inspired by the colors and patterns found in the vintage Welsh blankets, and sought to add depth to the collection as a whole with her chunky knits and unexpected embellishments. She used both wool and acrylic yarns, and even some shredded plastic. We have to say, the plastic looks pretty awesome.
What do you love most about fashion and knitwear?
I love that I can engineer textile and generate garment shapes simultaneously. It gives me total control as a designer over the end result.
Can you describe your experience as a student?
It has been great to be in school and have the time to devote to development of new ideas. I have met a lot of wonderful people and grown a lot as a designer.
What are your feelings, hopes, dreams as you prepare for Mercedes-Benz Fashion Week?
I am so excited about Fashion Week. This is a great opportunity for me, but I also need to stay focused because I will be developing my own collection for the Academy of Art University fashion show in September as soon as I get back (fingers crossed)!
Why do you love being a knitwear designer?
I love making things.  The best part is when the final designs are completely different from and much better than what I had originally envisioned.
For more on the Academy of Art University Fall '13 Fashion Show, click here.