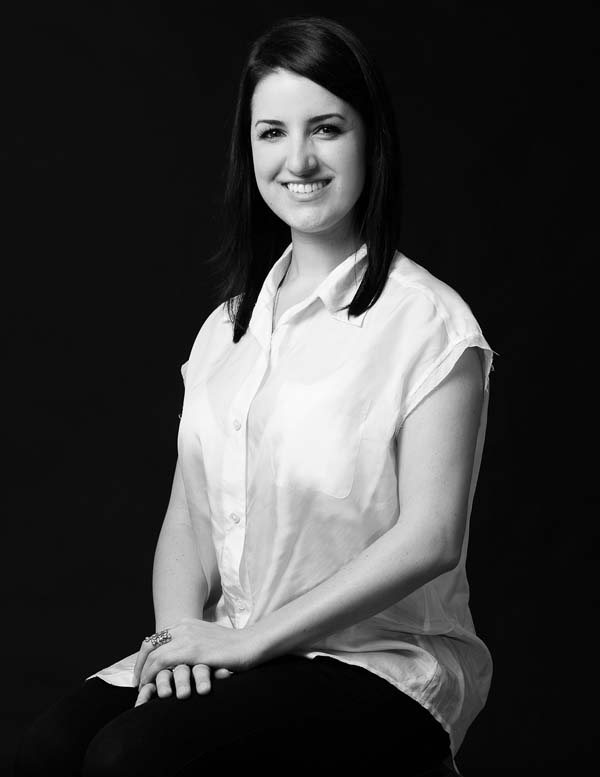 Photo by Aldo Carrera. 
Teresa Field is a Bay Area native through and through. She was born and raised in Los Altos, California and attended Stanford University where she earned her undergraduate in Art History. Art has always played an integral role in her life, providing a space where she could express her thoughts, feelings, and dreams without inhibition. At the age of twelve her mother introduced her to the sewing machine, and she was hooked, "I had such a clear vision of what I wanted to create–and if I could dream it, I could make it," she recalls. She chose the Academy of Art University for MFA degree after researching various programs, and also spent a year working in the design studio at Diane von Furstenberg in New York–pretty awesome if you ask us.
When designing her Fall '13 collection, Teresa was originally inspired by an elk skeleton she found while hiking. She began to research further, finding similarly dark yet beautiful images including graphic illustrations of anatomy and musculature, process sketches from H.R. Giger's "Alien," and various other natural elements.  She collaborated with Textile Designer James Thai, who created custom leather textiles for the collection, and jewelry designer Leah Aripotch.
What do you love most about fashion?
I have always been interested in fashion as a means of expressing individuality and presenting a curated self to the world.  For my undergraduate degree at Stanford I majored in Art History, with my thesis focusing on representations of women in modern art, specifically 1907 to 1917 in Paris and New York.  It encompassed both art historical study as well as classes in clothing and body psychology, anthropological studies on representations of women in culture throughout history, and gender studies.  I was then driven to pursue a career in Fashion Design, a practical application of my previous studies, allowing me to not simply observe, but to actively work to reinvent and re-imagine the representation of the body through fashion.
When I was 14 I was wearing…
My mom had an old pair of Frye boots in her closet from when she was in college, and I used to sneak in and take them.  Eventually she got so tired of this that she bought me my own pair—the same collegiate style that she had.  I absolutely loved them—but I was terrified to wear them to school.  No one I knew wore anything like that.  I remember the first day of high school that I worked up the courage to wear them, and since then I've barely taken them off.  I'm now on my fourth pair.
What has been the hardest part about designing your collection?
The whole crux of this collection was juxtaposing style lines with an overall aesthetic of minimalism.  The hardest part was analyzing every line of every sketch, evaluating it's necessity and significance.  Creating a collection that was extremely tailored but involved as few seams and darts as possible was the greatest challenge in both design and construction.
What are your feelings, hopes, dreams as you prepare for Mercedes-Benz Fashion Week?
The overwhelming feeling is anticipation.  I'm collaborating with two amazingly talented BFA students—a textile designer and sculptor/jewelry designer, and I can't wait to see everything come together.
For more on the Academy of Art University Fall '13 Fashion Show, click here.