Academy of Art University
Spring 2018 & Fall 2018
Menswear and Womenswear Collections
New York Fashion Week: The Shows
San Francisco, CA, September 10, 2017 — The School of Fashion at Academy of Art University premiered the Spring 2018 and Fall 2018 collections of ten recent BFA and MFA graduates at New York Fashion Week: The Shows. Ten designers presented a total of five womenswear and two menswear collections with two of the collections being collaborative efforts. "Working with the designers has been an honor for me," said Simon Ungless, Executive Director of the School of Fashion at Academy of Art University. "A group like this does not come along often enough. They have built solid friendships through the process of collection development and have become a team. Each collection has an individual spirit yet the process has been executed as a collective. The craftsmanship and techniques are couture and warrant a trip down the runway. Each designer has already achieved a level of success while maintaining maturity and humility that is rarely seen."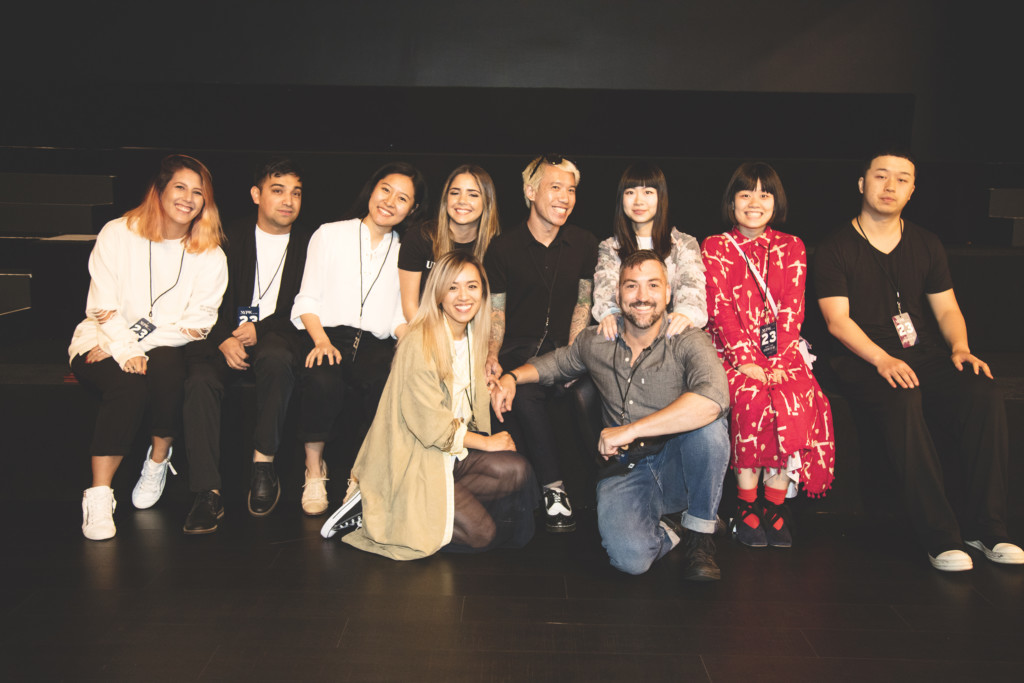 "We viewed the first New York Fashion Week (NYFW) show in September 2005 as a great platform to debut the collections of recent graduates who had received their MFA in fashion design," said Dr. Elisa Stephens, President of Academy of Art University. "The accredited MFA degree program in fashion design was well-established, and the high caliber of work from students enrolled warranted an exceptional stage to introduce them to the industry. In 1996, the curriculum was rewritten by Bobby Hillson who is the founder of the MA at Central St Martins, Ike Rust the current MA Menswear Course Director at Westminster, and Simon Ungless who has cultivated the program of studies ever since as Executive Director of the School of Fashion. The Academy is honored to have a platform of this magnitude at NYFW: The Shows to present the work of graduates from both the BFA and MFA degree programs."
"Every year our designers have shown an amazing showcase of their talent and this year is no exception. This group has crafted each collection, and every piece within their collection has its own unique identity," comments Jayne Foster, Graduate Director of Fashion. "They have stayed true to their vision and pushed their creative process into collections that show exploration of silhouette and textile techniques. These are the designers who will inspire and lead the next generation of new creatives. It has been a privilege to work with them."
Earlier in the year, four of the designers, Hailun Zhou, Eden Slezin, Dina Marie Lam, and Rheanna Oliver-Palanca, were selected to showcase their work on another amazing platform: Fashion Future Graduate Showcase (FFGS) launched by the Council of Fashion Designers of America (CFDA) and the New York City Economic Development Corporation (NYCEDC) in response to the vital need to support fashion graduates during their transition from education to career development. Academy of Art University was honored to join the inaugural showcase along with four other schools. In total, 85 graduates were invited to participate with 23 of them from Academy of Art University. They were each provided a booth at the curated exhibition that took place on May 23rd and 24th at Center 415, an AES NYC Event Space, in Manhattan. A bespoke section of the CFDA's website was created to provide a high-profile platform in which to market their work. Their profiles and lookbooks will remain on the site for an entire year, giving them exposure during this important next step in their careers.
"I am thrilled that this showcase for fashion graduates has been created," said Simon Ungless, Executive Director of the School of Fashion at Academy of Art University. "This type of venue has been missing from the U.S. fashion education cycle for way too long, and it feels to be completely the right time to happen, and for Academy of Art University graduates to participate. It is deeply important for graduates from different schools to meet each other, share their work, and introduce themselves to industry as the next step to moving into their careers. The commitment to the industry and education shown by the CFDA and NYCEDC is what will lead us into the future."
Designers Presenting Collections
Hailun Zhou @hailunzhou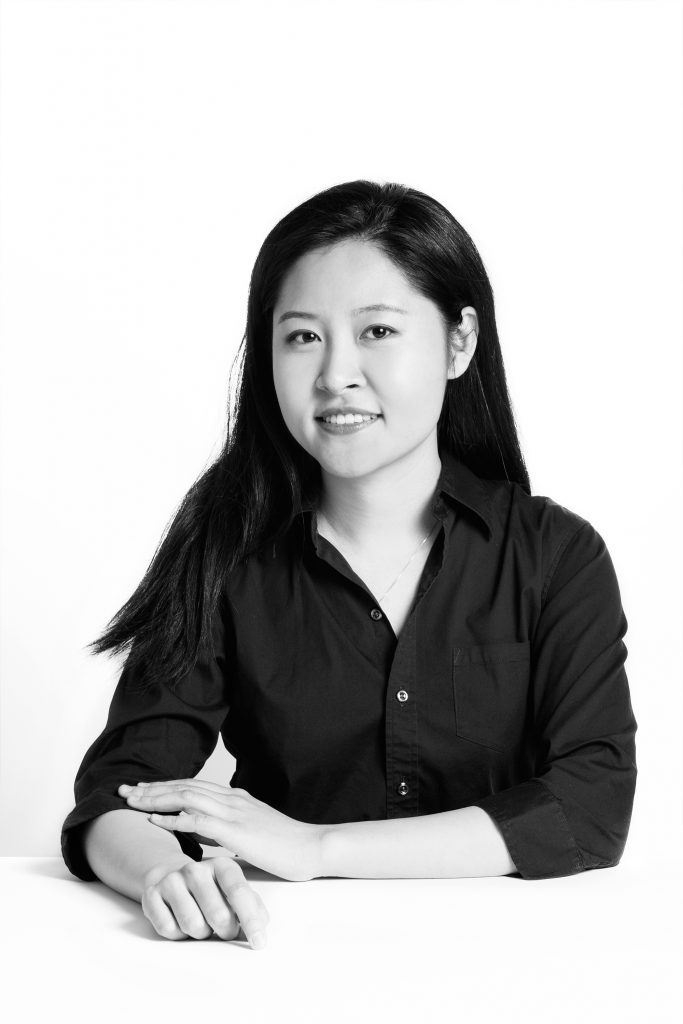 Hailun Zhou, MFA Fashion Design, was born and raised in Qing Dao, China. For this collection, Zhou was inspired by her observations and the photographs she took while "on a journey" from San Francisco to the Oakland Museum of California @oaklandmuseumca, as well as the abstract sculpture "Volume and Space Organization" by artist Knud Merrild.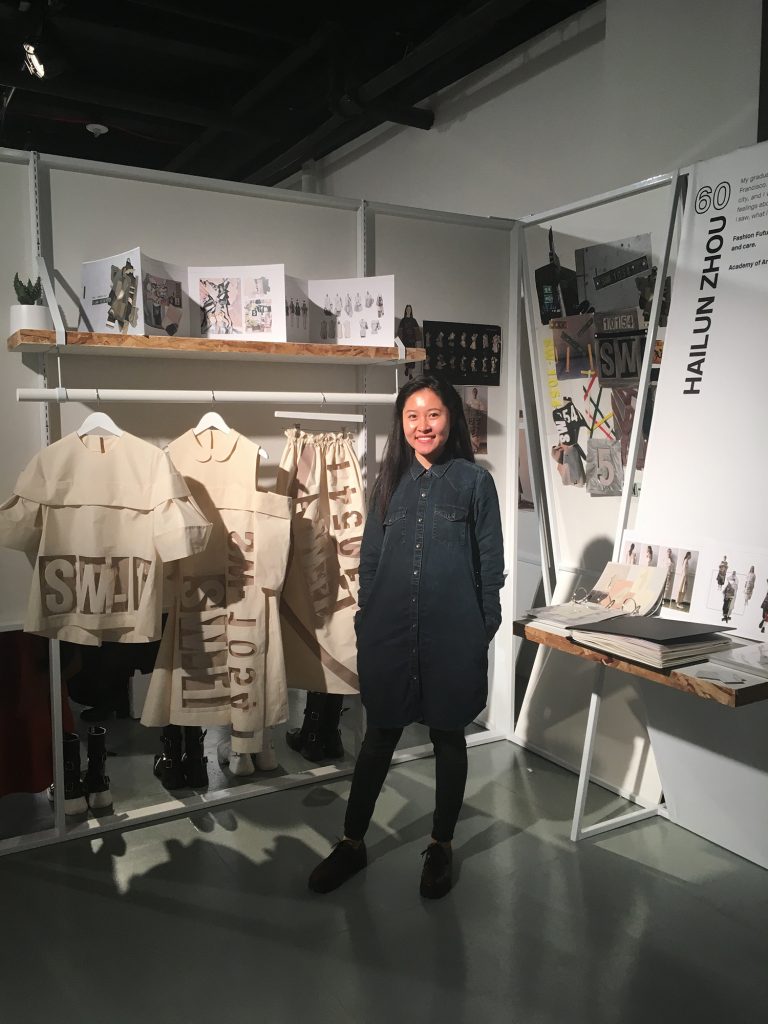 "The combination of transparency and the use of letters are what I find most interesting," said Zhou, who even incorporated the geographical location of the museum into her designs. Materials for her collection include vinyl and PVC, as well as fabrics she created by fusing different materials together. View Hailun Zhou's Online Portfolio, and Fashion Future Graduate Showcase Portfolio.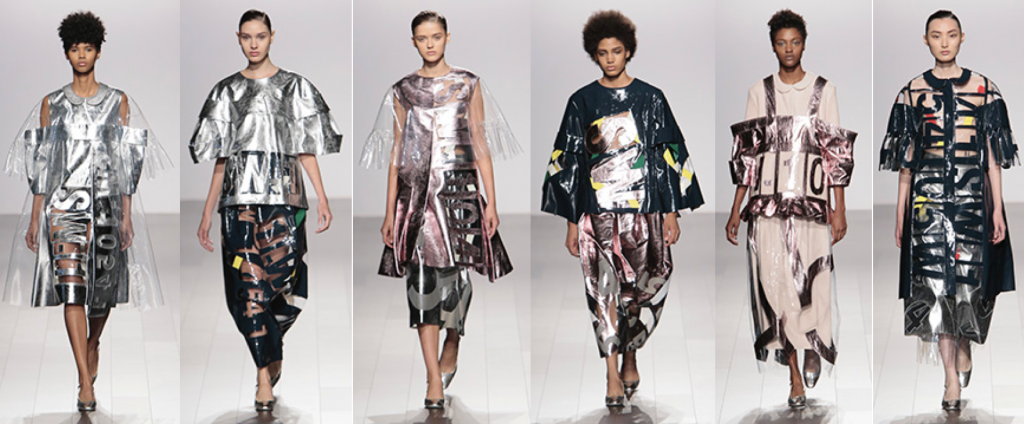 Look 1: Richie: Silver Peter Pan color dress with clear raincoat
Look 2: Militsa: Silver top with blue skirt
Look 3: Anastasia: Pink sleeveless vest with clear cape and silver pants
Look 4: Chanel: Blue top and pink skirt
Look 5: Dominique: Pink Peter Pan color double layered top with double layered skirt
Look 6: Bongjoo: Blue Peter Pan color jacket with silver pants

Eden Slezin @designereden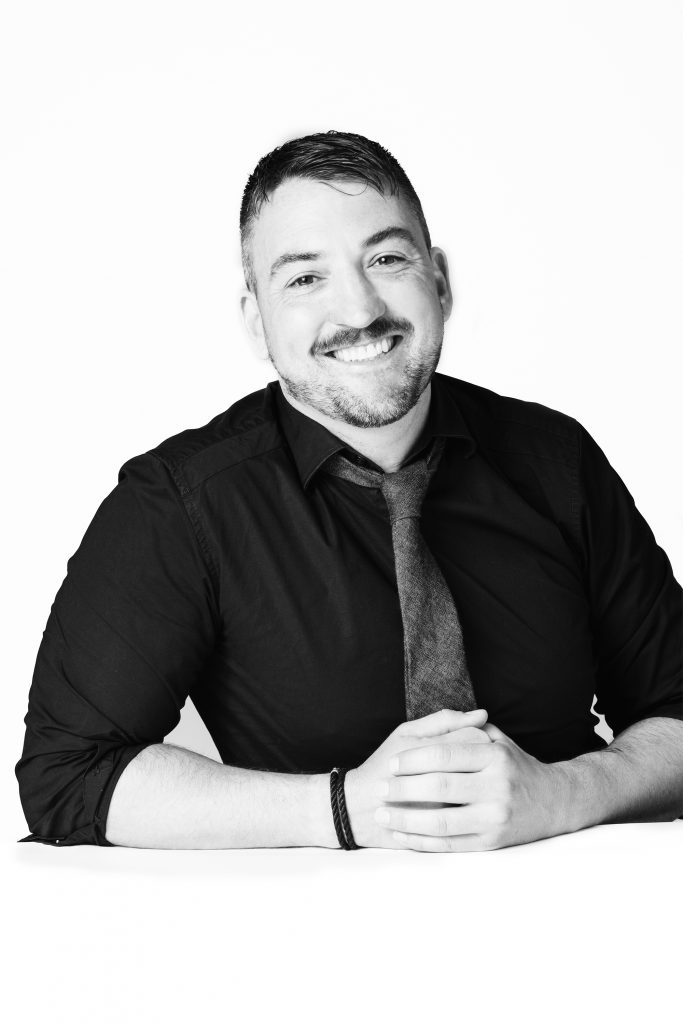 Eden Slezin, MFA Fashion Design, was born and raised in the Bay Area. Slezin was inspired by his "life and loves" for his sustainable menswear collection that he created with locally sourced organic fabrics and recycled materials including organic twill, organic denim, recycled cotton, and recycled rubber. The use of denim represents his working-class upbringing and favorite denim piece which is a1940s U.S. Navy uniform jacket replica.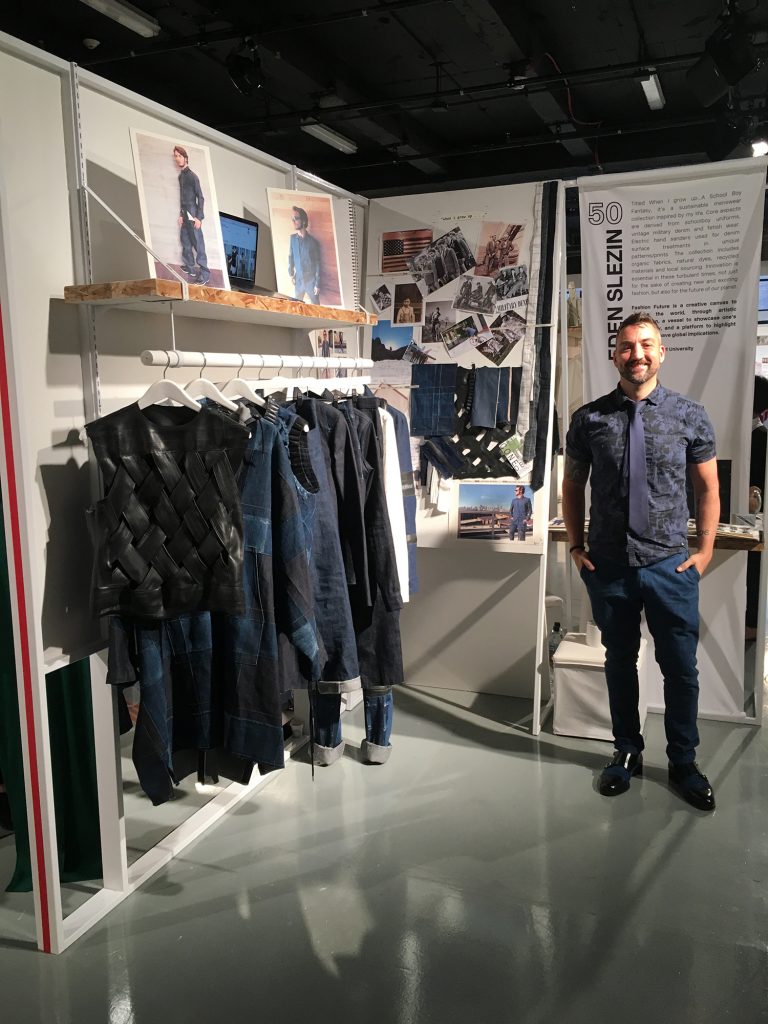 He used natural dyes with no chemicals and electric hand sanders for the denim plaid, argyle and stripe surface prints. Other noticeable influences throughout his collection include school uniforms as a nod to his age and his celebration of eternal youth, fetish wear due to being a gay man in San Francisco and for his commitment to individuality, and the military because "I was a U.S. Marine Corps Officer for six years, and served in Operation Iraqi Freedom," said Slezin. Three companies sponsored his collection by donating fabric: @ConeDenim for organic denim, @AmourVert for white stripe and white check shirting, and @SportsBasement for recycled rubber bike tubes. While a student at the Academy, Slezin was a finalist in the Old Navy Design competition (2016), and the CFDA Elaine Gold Launch Pad (2017). View Eden Slezin's Online Portfolio, Arts Thread Portfolio, and Fashion Future Graduate Showcase Portfolio.

Look 7: Eli: White check shirt with weaved rubber tank top and with white denim shorts and rubber gaiters
Look 8: Max: White denim dungarees and short sleeved white shirt and tie
Look 9: Lukas: Dark denim shirt with dark denim jacket and shorts with sanded treatment and rubber gaiters
Look 10: Tay: Dark denim shirt and tie with flap fronted dark denim pants
Look 11: Cesar: Gray checked overalls
Look 12: Oumar: Denim overall with sanded treatment and rubber inserts
Look 13: Youssouf: Large checked poncho with sanded treatment white shirt and denim pants
Look 14: Serge: Argyle denim tank top with rubber shorts and rubber gaiters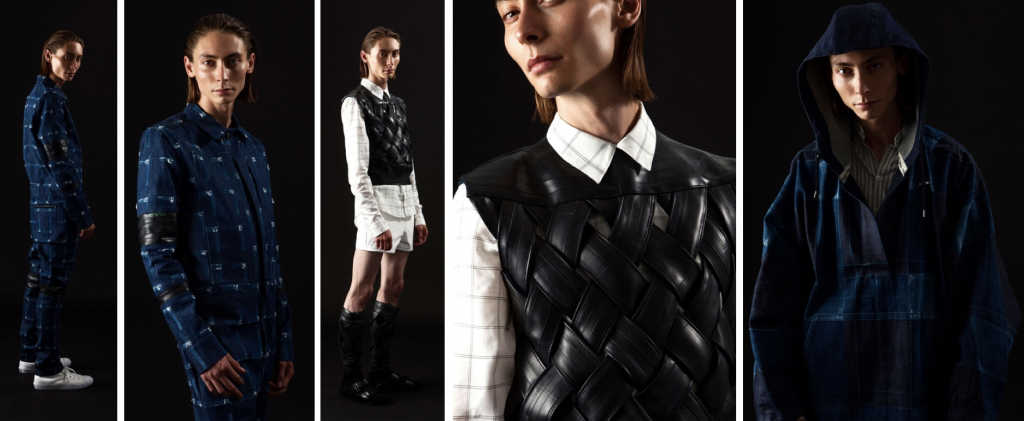 Additional information on the sponsors of Eden Slezin's collection:
 Organic denim from @ConeDenim. With showrooms in New York and San Francisco, Cone Denim has been a leading supplier of denim fabrics to apparel brands since 1891. Formed out of the entrepreneurial spirit of brothers Moses and Ceasar Cone and grounded in American heritage, Cone Denim has been synonymous with authenticity and innovation. Cone Denim's collections include denim created on vintage looms, denim made with 100% natural plant indigo, performance denim, and sustainable denim made with EarthSpun® recycled yarns.
 White stripe and white check shirting from @AmourVert, one of San Francisco's ardent supporters of sustainability. Meaning 'green love' in French, the design house was founded on the belief that great fashion and social responsibility can coexist. In fact, Amour Vert practices their philosophy giving directly back to nature with their 'tee to tree' program; for every purchase of a tee (t-shirt), Amour Vert plants a tree in North America through their partner American Forest®. As a design intern for the retailer, Slezin expanded his education of sustainable design; Amour Vert supported Slezin's vision with the donation of extra shirting yardage for his collection.
 Recycled rubber bike tubes from @SportsBasement. Founded in 1998 in a warehouse located in San Francisco's Mission Bay neighborhood, Sports Basement has since grown to eight huge stores throughout the Bay Area. A spokesperson for the company stated that they are "thrilled that one of their favorite general managers [Eden Slezin] has found such an inspiring way to support sustainability, and even more thrilled to be his source for materials!" Slezin integrated the company's recycled bicycle tire tubes into his collection, weaving them together to enhance the garments and accessories. A supporter of sustainability, Sports Basement collect shoes for the needy, provides free refills for their re-useable propane canisters, and, collects energy bar wrappers, climbing ropes, and yoga mats for various new uses.
Dina Marie Lam @f.r.o.m_dinamarie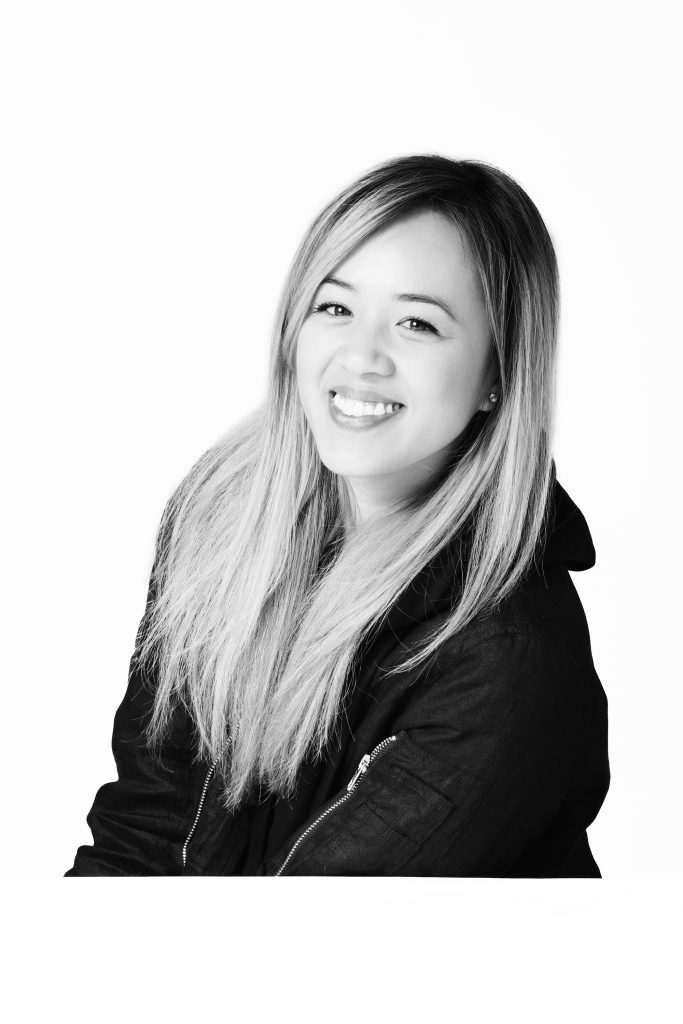 Carlos Rodriguez @carlos.rodgz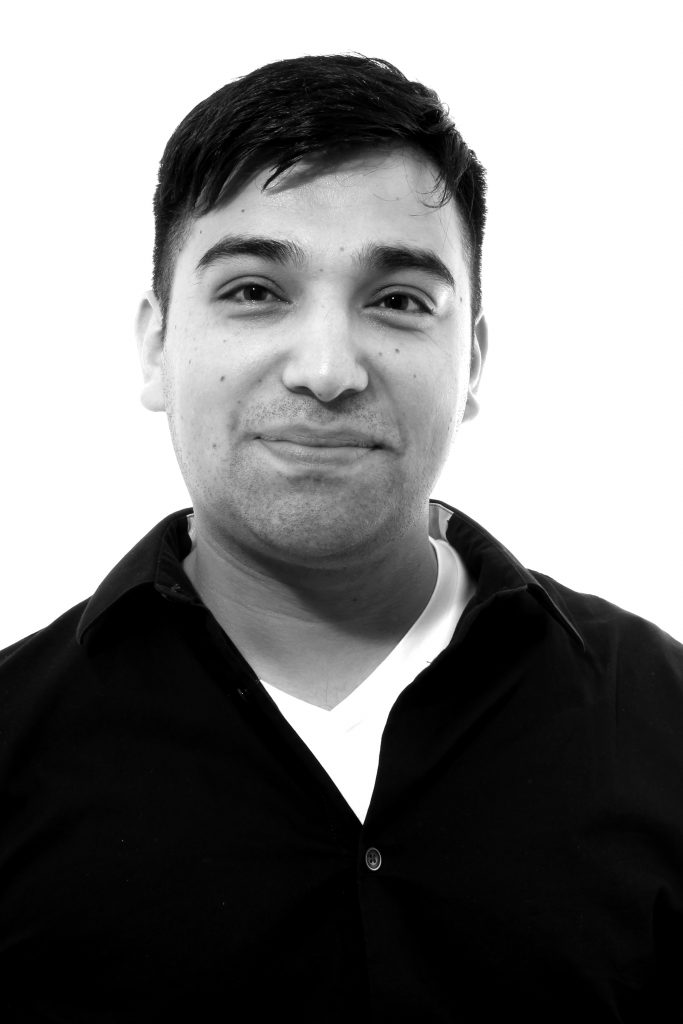 Rheanna Oliver-Palanca @ropalanca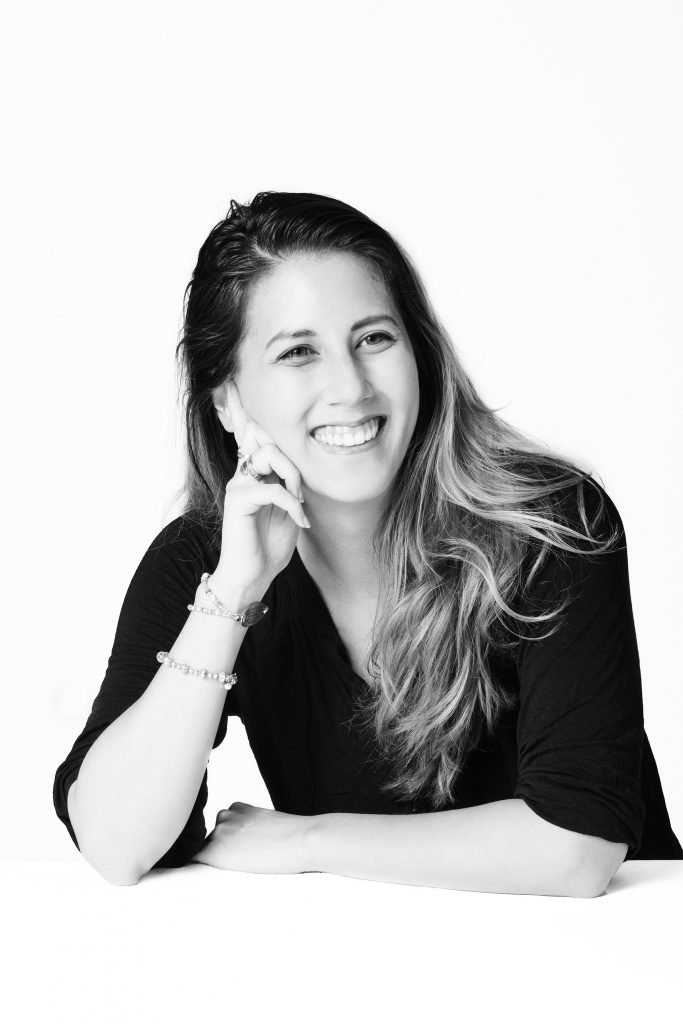 Dina Marie Lam, MFA Fashion Design, was born and raised in Los Angeles, California. Inspired by the myriad of emotions surrounding the passing of her aunt, Lam wanted to convey a feeling of transition in her collection. She selected soft and luxurious materials to evoke warmth and comfort. Lam was honored with the BCBG Max Azria Super Intern (2017) recognition, presented annually one outstanding intern across the entire company. Visit Dina Marie Lam's Online Portfolio, Arts Thread Portfolio, and Fashion Future Graduate Showcase Portfolio.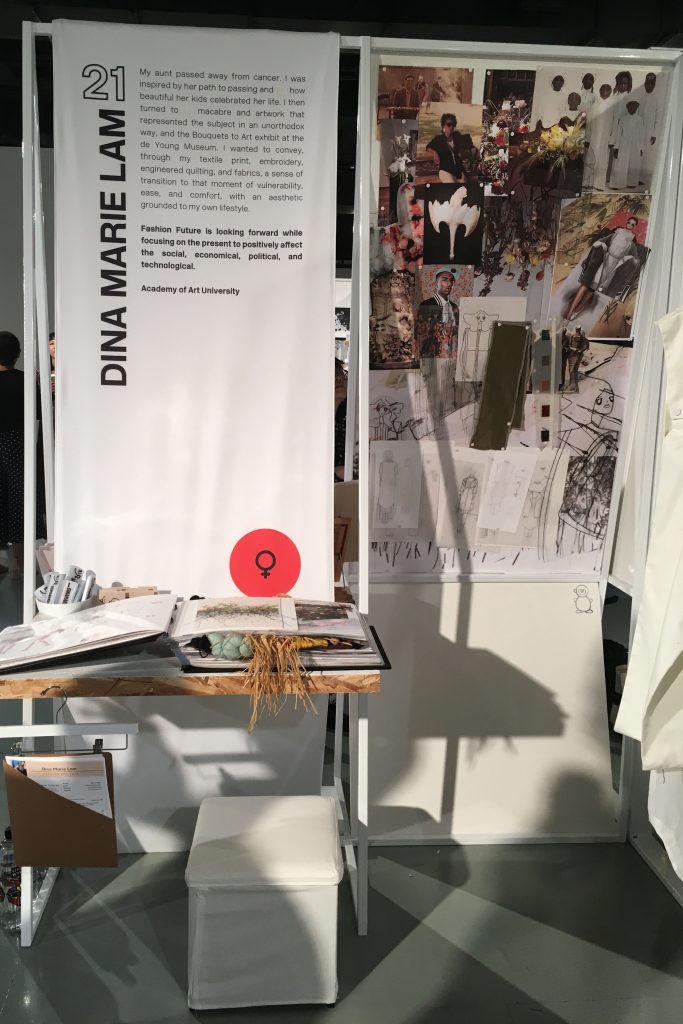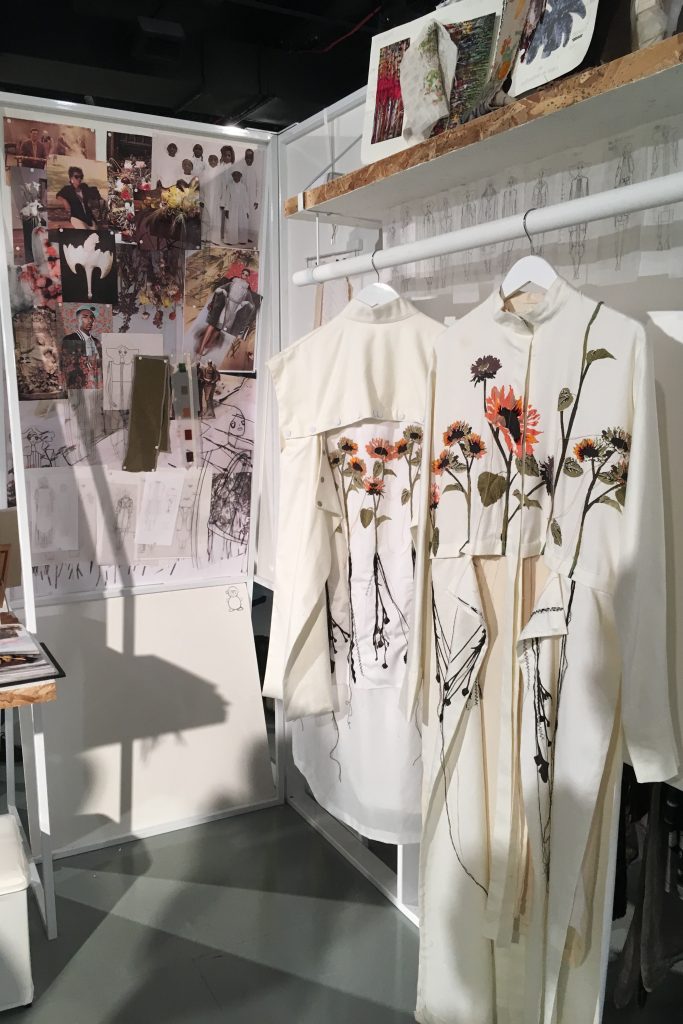 Carlos Rodriguez, BFA Fashion Design, was born in Mexico City, Mexico and grew up in Clarksburg, California. He created the embroidery using a mixture of traditional hand and machine embroidery techniques to enhance the contemporary feel of Dina Marie's collection. Recently, Rodriguez interned at fashion tech startup Savitude. Visit Carlos Rodriguez's Online Portfolio, Arts Thread Portfolio, Behance Portfolio.
Rheanna Oliver-Palanca, MFA Fashion Design, was born and raised in Kennebunk, Maine. Her wool blend knitwear mimicked Rodriguez's embroidery and was worn by Oumie in look 17. View Rheanna Oliver-Palanca's Arts Thread Portfolio, and Fashion Future Graduate Showcase Portfolio.

Look 15: Adela: Long embodied coat with shirt and pants
Look 16: Shiyi: White shirt with embroidery/printed long vest and pants
Look 17: Oumie: White shirt with dungarees and hanging jacket and embroidered knit sweater
Look 18: Anett: White shirt with pants and quilted tunic jumpsuit with quilted coat
Look 19: Nova: Shirt with printed/embroidered tunic with split pants
Look 20: Nicole: Long shirt with quilted top with hanging jacket and short split pants
Look 21: Darina: Long quilted coat with jumpsuit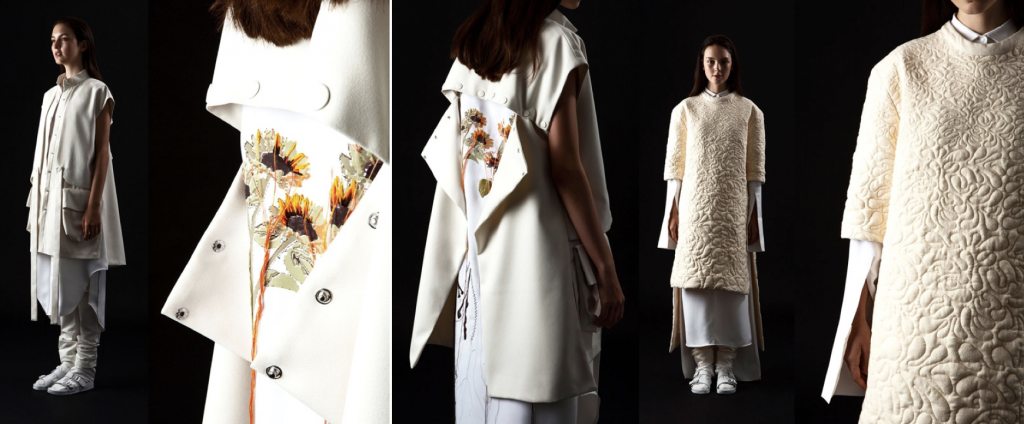 Saya Shen @Shiin_Shen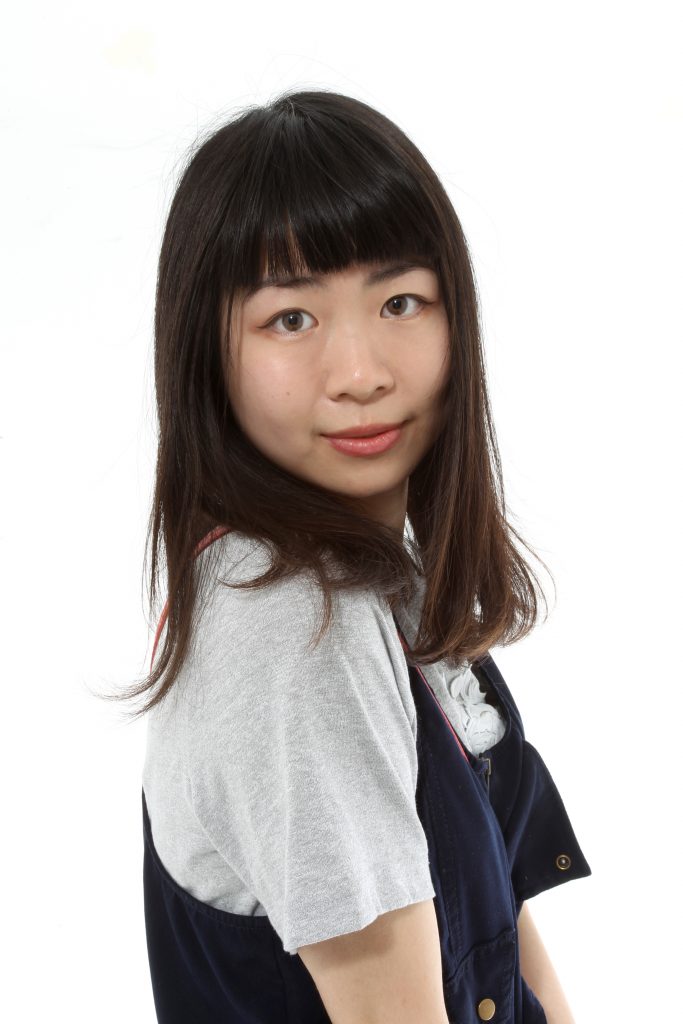 Saya Shen, MFA Fashion Design, was born and raised in Beijing, China. For her debut collection, she was inspired by the black and white photography of Michael Kenna for her own personal photographs that she took of scenes in nature such as landscapes, trees, ocean waves, and the topography of San Francisco. The snow forms she saw when visiting Hokkaido, Japan last winter were the inspiration for the oversized silhouette seen throughout her collection. "We were in the mountains where everything was completely covered in snow. We were surrounded by nature and the snow was untouched and beautiful. I designed the collection to be oversized like the snow forms, and to be comfortable as the scene was so peaceful," says Saya in reference to her voluminous garments that wrapped around each of the show models like fluffy hills of snow. Visit Saya Shen's Online Portfolio.
"When Simon Ungless first contacted me about Saya's collection, I knew immediately that I, and Kornit, would do whatever needed to contribute to Saya's work," explains Erin Ormsby, Art Director of Kornit Digital North America. "Our first conversations were vague and all I understood was that Saya would be working in black and white.  After having seen her print files, the high caliber, breathtaking landscapes, detailing them as 'black and white' doesn't nearly capture the depth of Saya's digital work. It was clear to me as I printed Saya's collection that this was a perfect example of design prowess evenly matched with technology. I know of no other technology that could have sustainably printed and captured the detail, subtle color range or breadth of Saya's work as the Kornit Allegro roll-to-roll printer did in a very short window of time. From the crisp edge of the rocky shores, to the delicate color gradients in images of seafoam; I think that the Allegro was the best choice to bring Saya's collection to life. Of course, nothing could compare to the stunning transformation from printed fabric to masterfully designed tailored garment; seeing Saya's digitally printed collection was awe-inspiring. I am very proud to have helped Saya bring her digital vision to the runway."
Saya worked with Kornit Digital @kornitdigital to digitally print the fabric used in her collection with her landscape photographs. Kornit Digital develops, manufactures and markets industrial and commercial solutions for the garment, apparel and fabric industry. Leading the digital textile industry with its integrated pretreatment solution and its NeoPigment™ inks, it directly caters to the needs of both designers and manufacturers. Kornit is revolutionizing the roll fabric industry by enabling printing with one ink set on all kinds of fabrics.

Look 22: Giedre: Printed quilted puff dress with Ocean beach print
Look 23: Danielle: Printed quilted puff jacket with one tree print and layered print pants
Look 24: Mame: Printed quilted coat with blurred and one tree print and repeat print dress
Look 25: Joony: Printed side split coat with hood and printed skirt and top
Look 26: Richie: Printed puff collar jacket with printed wide leg pants and printed top
Look 27: Chanel: Printed A-Line Quilted puff coat and printed dress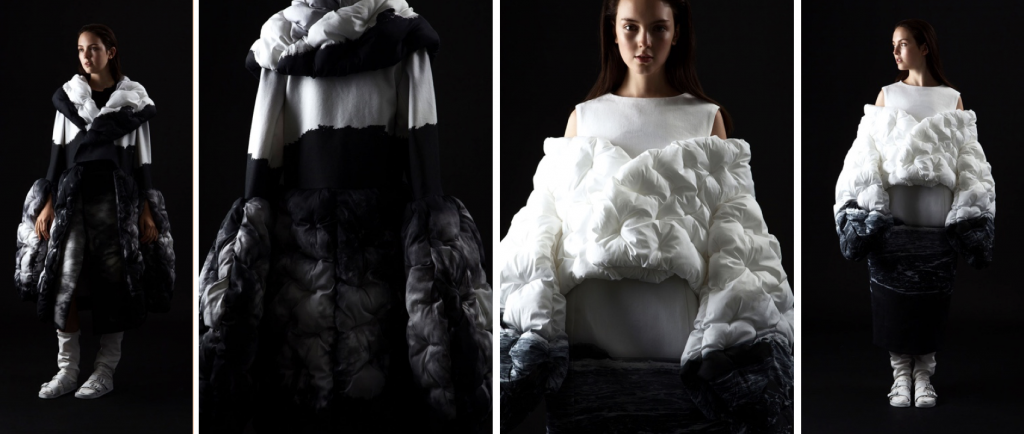 Joanna Jadallah @joannajadallah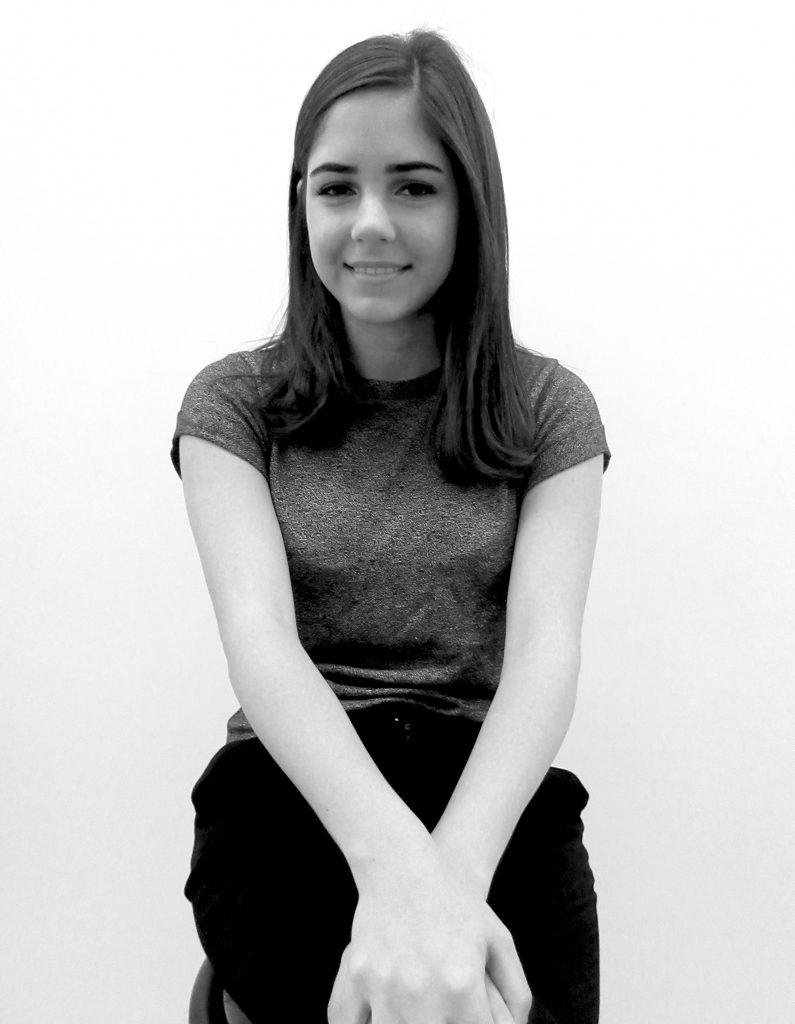 Joanna Jadallah, BFA Fashion Design, was born in Chicago, Illinois and grew up in Orange County of California. For this collection, Jadallah was inspired by the strength of her ancestors who were forced to flee Palestine leaving their belongings and everything familiar behind. This collection captures the beauty of her culture and conveys elements of her ancestor's story. The collection includes the use of light weight wool, suiting fabrics, lambskin leather, cashmere knits, and brocades. Visit Joanna Jadallah's Online Portfolio, and Arts Thread Portfolio.
Cana Klebanoff @cana_klebanoff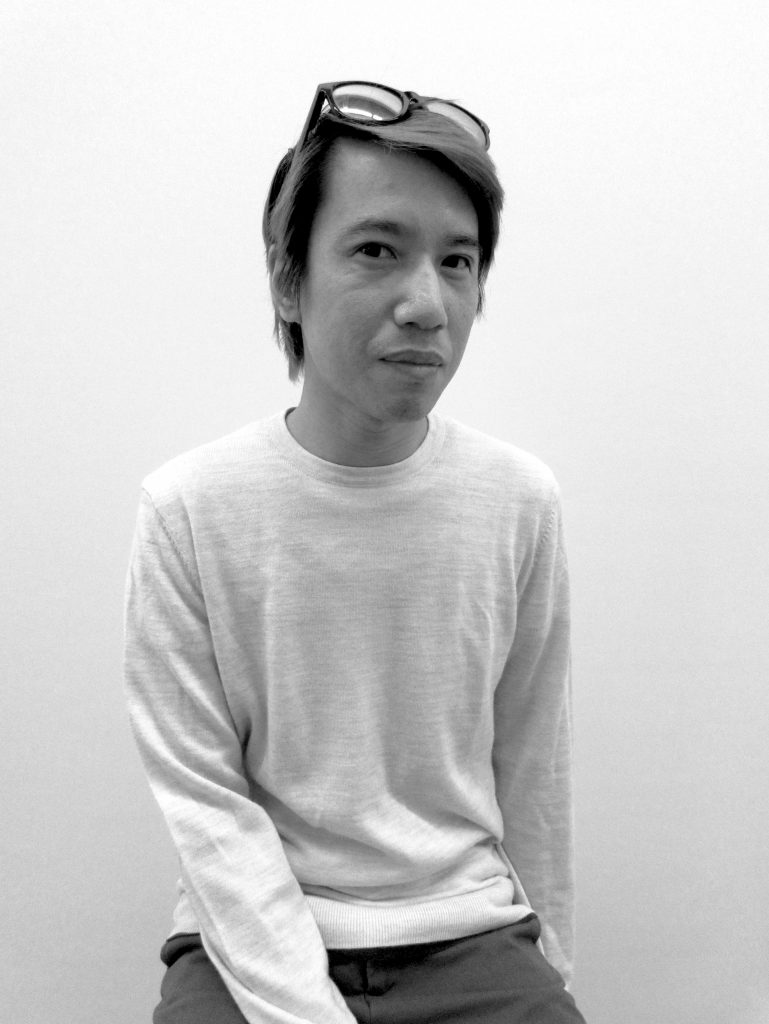 Cana Klebanoff, BFA Knitwear Design, was born in Queens, New York and grew up in Monmouth County, New Jersey. Inspired by the armor of a Japanese culture, samurai armor, as well as nature and the architecture of castles. His pieces communicate wearable comfort alongside a sense of pride and strength. Klebanoff interned for San Francisco-based designer, Joseph Domingo (2011-2014), and was awarded the San Francisco-Paris Sister City Scholarship Exchange to study for a full academic year in Paris, France at Studio Berçot (2017-2018).  Visit Cana Klebanoff's Arts Thread Portfolio, and Behance Portfolio.
Joanna and Cana combined their passions to create a menswear collection of interesting silhouettes and surprising textures. "While our inspirations were different, our silhouettes were similar," said Joanna. "We bring complementary perspectives to the table," added Cana who had flown in from Paris a few days before the Saturday show, flew back on Sunday in order to begin classes at Studio Berçot on Monday.

Look 28: Eli: Patterned pants with leather top long cardigan and leather belt strap
Look 29: Max: Gray sweater with leather T-shirt and navy pants
Look 30: Lukas: Large cable knit sweater with woven top and wide leg pants
Look 31: Tay: Ladder knit sweater with leather pant and woven top
Look 32: Cesar: Long purple sweater with knit pants and leather belt strap
Look 33: Oumar: Ruched sleeved top with knitted pants
Look 34: Youssouf: Patterned knit top with leather T-shirt and ruffle wide leg pants
Look 35: Serge: Leather T-shirt with wide leg navy pant and leather belt strap

Ryan Yu @zynewyork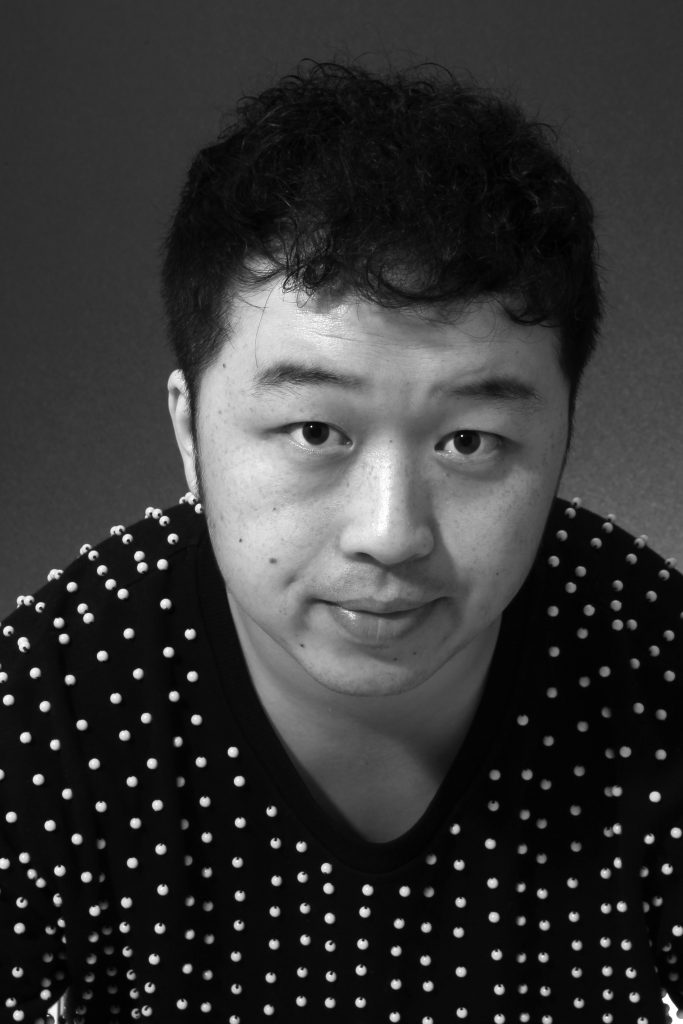 Ryan Yu, MFA Fashion Design, was born and raised in Shenyang, Liaoning, China. For his collection, Yu was inspired by the expression of light and the philosophy of how it leads us from darkness which came about while listening to his favorite song, "In the Light" by Led Zeppelin. He felt that the concept of darkness versus light would be "a good starting point for my collection" and conveyed this through the bold contrast of black and white in patent leather, jersey, and wool that he locally sourced in the Bay Area. Yu believes that construction is the foundation of fashion. To achieve the clean lines, shapes and silhouette, he focused on the construction of his garments. While some in the audience at NYFW: The Shows commented on the futuristic silhouette of his debut collection, others saw references to the 1980s. Both may be correct but one thing is for sure, he was correct. Construction is the foundation of fashion. Visit Ryan Yu's Arts Thread Portfolio.
A few hours before the show, Sarah Mower, chief critic for Vogue.com and guest of honor at the 2017 Graduation Fashion Show, stopped by the studio to wish the designers luck. Sarah posted look #36 on Instagram and wrote "had the good fortune to meet the 2017 grads of @academyufashion in their San Francisco studios in May..picked out Zhen [Ryan] Zu's @zynewyork work for his classmate @f.r.o.m_dinamarie to wear- now they're showing tonight in NYFW at 9pm. Good luck! And congratulations to brilliant professor of fashion @simonungless #nyfashionweek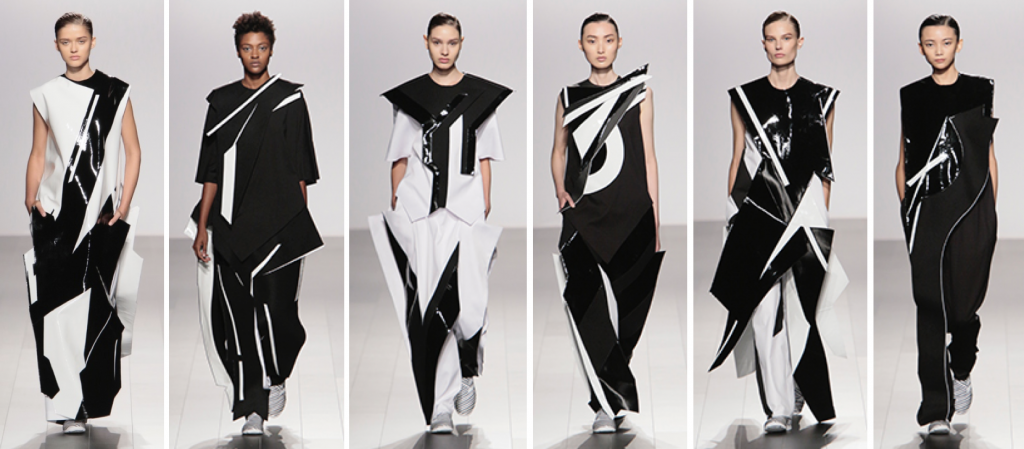 Look 36: Anastasia: Black and white long tunic with pant
Look 37: Dominique: Black and white graphic top with black and white graphic pants
Look 38: Militsa: White top with black neck graphic and white pants with black graphic
Look 39: Bongjoo: Jersey black top with black and white graphic with black and white pants
Look 40: Adela: Black and white graphic tunic with black and white graphic jumpsuit
Look 41: Shiyi: Black jumpsuit with white graphic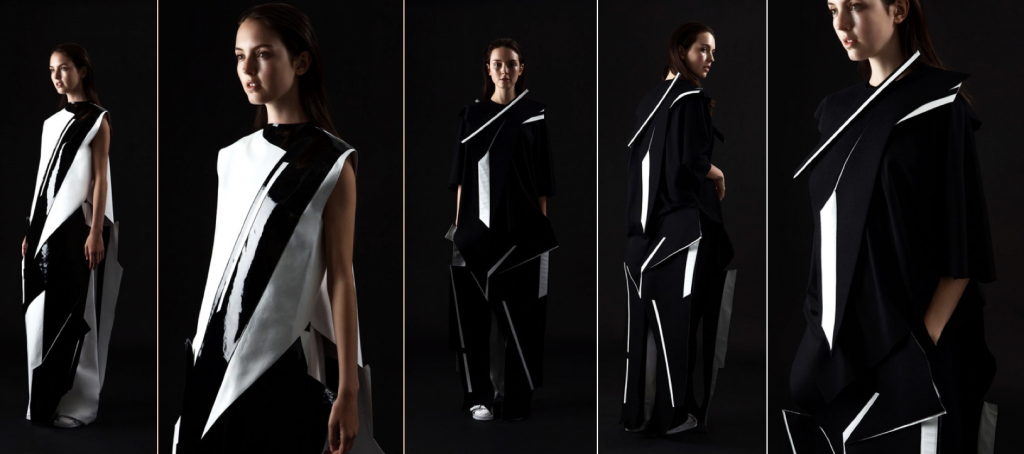 Jelly Shan @jellysss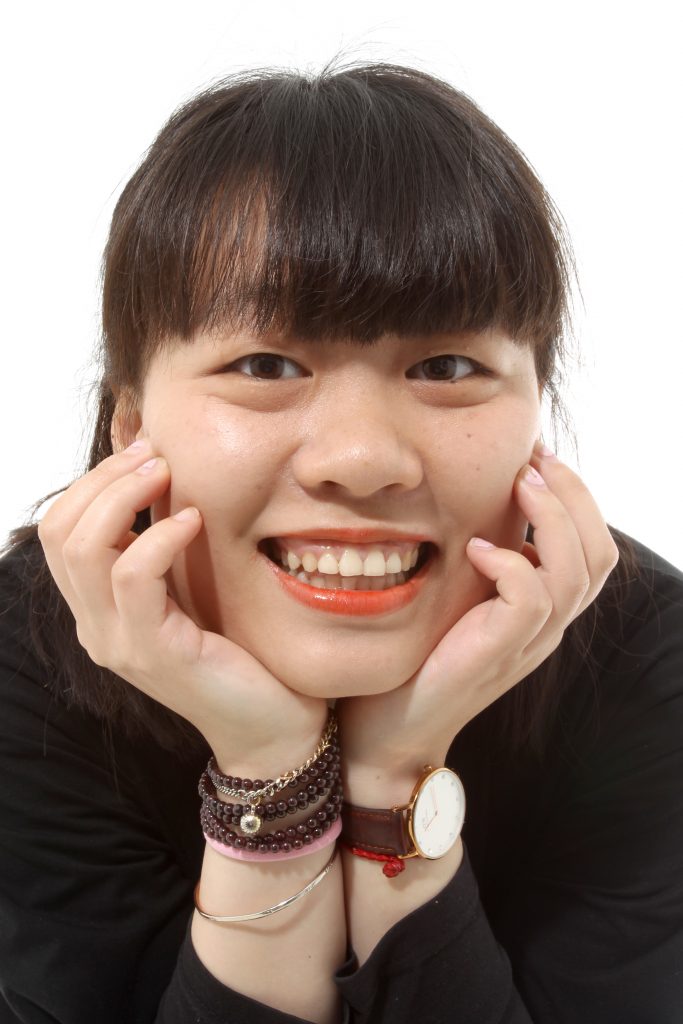 Jelly Shan, MFA Fashion Design, was born and raised in Hangzhou, Zhejiang, China. Her collection was inspired by the sense of peace and joy she experienced while visiting Northwest China. The religious environment such as the monks, temples, and clothing were especially interesting to her. The prayer flags that covered the mountain sides and were faded by years in the wind and sun inspired her to try different techniques on her cotton fabrics so achieve the faded colors. "When people would pray, they prayed for goodness and for others," said Shan. "I want my collection to make people feel peaceful and full of joy." Shan has interned as a designer at the Shanghai-based womenswear label Shushu/Tong, and at Max Studio by Russian-American fashion designer and retailer Leon Max. Visit Jelly Shan's Online Portfolio.

Look 42: Oumie: Yellow rope detailed dress over pant
Look 43: Nova: Blue long sleeve dress with long rope detailed vest
Look 44: Nicole: Blue double layered top with rope detailed pant
Look 45: Darina: Pink rope top with pink dot skirt
Look 46: Anett: Pink rope dot top with long rope and ruffle skirt
Look 47: Joony: Yellow slashed sleeve top with yellow rope dress
Look 48: Danielle: Pink rope jacket with pink long dress
Look 49: Mame: Rope skirt with top and pink ruffle slashed sleeved jacket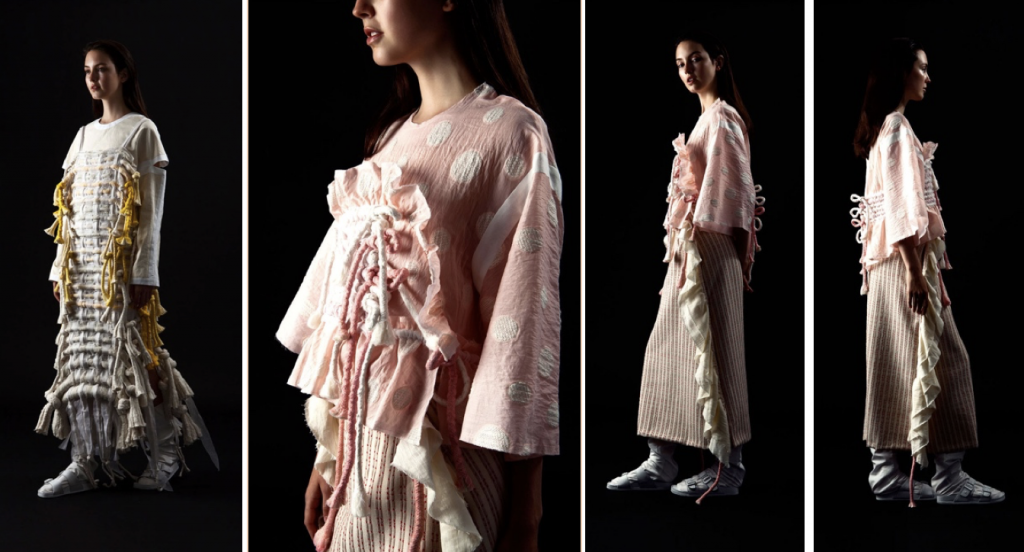 End of Show
About Academy of Art University
Academy of Art University, the largest private university of art and design in the United States, is educating students to excel in the jobs of the 21st century. Established in 1929, the Academy offers accredited degree programs in more than 30 areas of study, as well as continuing art education, pre-college art experience programs, professional development, certificates, and teacher grants. Students are taught by a faculty of professionals from the existing marketplace, both online and on campus in San Francisco, who provide them with an understanding of what it takes to succeed in today's business environment. The Academy's hands-on curriculum produces graduates who possess outstanding artistic and design skills, the ability to put those tools to work immediately after graduation, and an entrepreneurial spirit that tends to stick with them for life. AA, BA, BFA, BS, B.Arch, MA, MFA, and M.Arch degree programs are available in Acting, Advertising, Animation & Visual Effects, Architecture, Art Education, Art History, Art Teaching Credential, Automotive Restoration, Costume Design, Drone Production, Fashion, Fashion Journalism, Fashion Marketing, Fashion Merchandising, Fashion Product Development, Fashion Styling, Fashion Visual Merchandising, Fine Art, Game Development, Game Programming, Graphic Design, Illustration, Industrial Design (Transportation, Toy, & Product Design), Interior Architecture & Design, Jewelry & Metal Arts, Landscape Architecture, Motion Pictures & Television, Multimedia Communications, Music Production & Sound Design for Visual Media, Photography, Social Media, Studio Production for Advertising & Design, Virtual Reality, Visual Development, Web Design & New Media, Web Development, and Writing for Film, Television & Digital Media. Students can also enroll in flexible online degree programs in most areas of study. Academy of Art University is an accredited member of WSCUC, NASAD, CIDA (BFA-IAD, MFA-IAD), NAAB (B.ARCH., M.ARCH.) and CTC (California Teacher Credential).
About the School of Fashion
Students pursuing a Fashion Design degree from Academy of Art University learn from the finest creative minds working in fashion today, and have access to the tools and cutting-edge facilities needed for creating collections that garner accolades. Fashion students the world over gain experience designing styles that are the future of the industry the following areas of specialization: Fashion Design for Womenswear, Menswear, and Childrenswear; Technical Design; Textile Design; Knitwear Design; Accessory Design; Costume Design; Fashion Illustration; Fashion Journalism; Fashion Marketing and Brand Management; Fashion Styling; Fashion Merchandising; Fashion Product Development; and Visual Merchandising.
The University works with international brands and recruitment agencies on internships and job placement. Graduates have gone on to such companies as Abercrombie & Fitch, Adidas, Alexander McQueen, Azzedine Alaïa, Banana Republic, BCBG Max Azria, Bill Blass, Blanc de Chine, Burberry, Calvin Klein, Corso Como 10, Chloë, Diane von Fürstenberg, Donna Karan, Gap, Kate Spade, Kiton, L.A.M.B., L'Ecole Lesage Paris–Atelier de Broderie, Liz Claiborne, Louis Vuitton, Marc Jacobs, Martin Margiela, Martine Sitbon, Missoni, Nike, Nordstrom, The North Face, Old Navy, Oscar de la Renta, Phillip Lim, Pottery Barn, Ralph Lauren, Reebok, Roland Mouret, St. John, Threeasfour, Tocca, Viktor & Rolf, and Williams-Sonoma.
Guests to the School of Fashion include Zaid Affas, Azzedine Alaïa, Prosper and Martine Assouline, Max and Lubov Azria of BCBG Max Azria Group, Yigal Azrouël, Geoffrey Beene, Mickey Boardman of Paper Magazine, Rose Marie Bravo, Alex Brownless of Arts Thread, Sarah Jane Burton OBE for Alexander McQueen, Andrew Buckler, Julie Chaiken, Kenneth Cole, The Honorable Bertrand Delanoë Mayor of Paris, David Downton, Steven Cox and Daniel Silver of Duckie Brown, Patrik Ervell, Loulou de la Falaise, James Galanos, Lisa Smilor and Sara Kozlowski of the Council of Fashion Designers of America, Joan Kaner, Humberto Leon and Carol Lim of Opening Ceremony, Antonio Lopez, Fern Mallis, Alexander McQueen, Rosita and Tai Missoni, Angela Missoni, Margherita Maccapani Missoni, Isaac Mizrahi, Josie Natori, Ian Hannula and Joe Haller of N.I.C.E. Collective, Elisa Palomino, Laure du Pavillon, Lars Byrresen Petersen of Visionaire, Zac Posen, Oscar de la Renta, Zandra Rhodes CBE, Kate and Laura Mulleavy for Rodarte, Ralph Rucci, Nathalie Rykiel, HRH Princess Reema Bandar Al-Saud, Jeremy Scott, Carla Sozzani, Philip Treacy, Walter Van Beirendonck, Dirk van Saene, and Dame Vivienne Westwood DBE, as well as Christophe Girard Director of Fashion Strategy of LVMH Fashion Group, Tim Blanks, Robin Givhan, Cathy Horyn, Suzy Peta Menkes OBE, Sarah Mower MBE, and Joe Zee.
About School of Fashion Directors
Simon Ungless, Executive Director of the School of Fashion, graduated from Central Saint Martins School of Art and Design in 1992 and was awarded the prestigious M.A. Degree in Fashion with Distinction. He collaborated with Alexander McQueen on the first 10 collections shown in London and New York, and personally introduced Sarah Burton, Creative Director of Alexander McQueen, to the late designer. In 2002, he was named Creative Director of Member Holiday, a Korean-based contemporary brand, launching both men's and women's collections with 37 freestanding stores. His work experience spans fashion design, textile design, forecasting, brand development, and marketing for such clients as Givenchy, Paul Smith, and Versace. In addition to his duties as the Executive Director of the School of Fashion overseeing both M.F.A. and B.F.A. programs, he is the editorial director of the School of Fashion's 180 Magazine, as well as the executive producer of the annual Graduation Fashion Show, Portfolio Review, and Scholarship Award Ceremony, and the biannual New York Fashion Week show. Currently, Ungless operates two artisanal design companies, When Simon Met Ralph, which focuses on apparel, and Blackened, which centers on accessories and home. Both projects are the culmination of Ungless' inspirational development work over his career.
Jayne Foster, Graduate Director of Fashion, graduated from The Royal College of Art with a M.A. in Womenswear. She has designed for a private label that showed in London, Paris, and New York. Her freelance clients included House of Fraser, Urban Outfitters, and Whistles. She created a collection of concept designs for Burton Snowboards the main women's range and the younger B by Burton range, designed textiles for Hop Lun Lingerie, and had her fashion illustration work exhibited in London galleries. Before joining the School of Fashion in 2012, she taught design for eight years in London, and designed for the British brand Monsoon.
Gary Miller, Director of Fashion, has more than 16 years of experience in New York and London as a fashion director. His design scope encompasses building and maintaining a brand's identity, initiating a start-up concept, reinvigorating an existing line, and nurturing an ongoing successful brand. For many years, he worked as a Design Director for men's sportswear division at Macy's Merchandising Group in New York. Previously, he worked at The Men's Wearhouse, Wilke-Rodriguez, Here and There (now part of The Doneger Group), and Michiko Koshino. He holds a B.A. in Fashion Design with Textiles from Ravensbourne College of Design and Communication in the U.K.
Sharon Murphy, Graduate Director of Fashion Merchandising, graduated with a B.A. from Ohio State University, and has held management positions in product development, sourcing, manufacturing, and fashion retailing. She worked for Esprit de Corp on domestic and international levels with a focus on the development of fabrics and apparel for contemporary, junior, and children's markets. Murphy joined the School of Fashion as an instructor in 2001. She continues to work with Venice Collaborative, sourcing textiles and related materials for the group's architecturally and artistically expressive residential projects in Venice, California.
Jinah Oh, Director of Fashion Merchandising, earned her M.B.A. in Marketing at Golden Gate University in San Francisco, as well as a B.S. in Clothing and Textiles and a B.A. in Philosophy from EWHA Women's University in Seoul, Korea. She has extensive experience in international fashion and luxury brands. With Escada Asia, she developed business and market strategies, managed merchandising and buying for multiple brands, pioneered and initiated brick and mortar and e-commerce channel development. Later with Cartier, Richemont Korea Ltd., she oversaw retail operations and all aspects of retail marketing activities for the Korean market.
Iliana Ricketts, was appointed to Director of Online Fashion in 2014, Assistant Director of Online Fashion in 2009, and held the position of Fashion Department Coordinator since 2005. Prior to arriving to the U.S., Iliana was established as a recognized designer in her country of Bulgaria. She received her M.F.A. in Fashion Design from Academy of Art University. In 2002, she launched 'ILYA,' a designer ready-to-wear label sold nationally in stores such as Henri Bendel. Her line was also seen on the HBO television series, Sex And The City. In 2004, she became head designer of the boutique and golf line GGblue. Under her creative direction, GGblue became one of the most successful and fashion-forward brands in the golf and leisure industry.
Stephan Rabimov, Director of Fashion Journalism & Social Media Center, has ten years of experience in digital and print publishing, journalism, social media, public relations and marketing. He is Publisher/Editor-in-Chief of DEPESHA, and a contributing writer to The Huffington Post and Forbes International. Stephan has lectured at Johns Hopkins University and at The Museum at Fashion Institute of Technology. Stephan was also Executive Fashion Editor for FourTwoNine magazine since May 2011, and Founder of RABIMOV Public Relations Agency since May 2010, successfully launching Thom Browne, Rubin Singer, and Custo Barcelona in Russia. Stephan directly managed the opening of Nicola Formichetti's pop-up store in New York City as well as produced runway shows featuring emerging international designers during New York, St. Petersburg, Toronto, and Vancouver Fashion Weeks. Stephan has been interviewed and published across dozens of publications, including The New York Times, Russia Beyond The Headlines Edition, Women's Wear Daily, L'Officiel Ukraine, Vogue Russia, Wall Street Journal, Forbes, CNN, Yahoo Style, Examiner, and The Huffington Post.
Academy of Art University School of Fashion
79 New Montgomery Street, San Francisco, CA 94105
Call 1-800-544-2787 (U.S. only) or (415) 274-2222
Academy of Art University: http://www.academyart.edu/
School of Fashion: http://www.academyart.edu/academics/fashion
In-house Press Contacts:
Ian MacKintosh / (415) 618-3849 / imackintosh@academyart.edu
Edith Mead Barker / (415) 618-3891 / ebarker@academyart.edu
Elena Eberhard / (415) 618-3831 / eeberhard@academyart.edu
Follow the School of Fashion on Social Media
#AcademyUFashion
@AcademyUFashion on Facebook, Twitter, and Instagram
Official Blog
https://fashionschooldaily.com
Official Flipboard Channel
http://www.flipboard.com/@academyufashion
— Credits —
Executive Producer – Simon Ungless, Executive Director of the School of Fashion
Casting – Zan Ludlum Casting / zanludlum.com
Stylist – Marcell Rocha for Workgroup / workgroup-ltd.com
Production – LDJ Productions / ldjproductions.com
Front-of-House Production – ProjectG Productions
Show Press – Jono Waks / jono.waks@gmail.com
Models
FUSION / IMG / INDUSTRY / MARILYN / MC2 / MUSE / NEXT
ONE / THE SOCIETY / SUPREME / WILHELMINA / RED / ST. CLAIRE
Music – Scott Ewalt
Production Assistant – Katelyn Johnson
Dressers – Audrey Smaltz Inc. The Ground Crew
Hair by Jon Reyman for Aveda
@JonReymanHair @Aveda
Tools Provided by Dyson & Olivia Garden
@DysonHair @OliviaGardenInt @SalonProRx #DysonHair
Make-up by Victor Cembellin and the M•A•C PRO team
Makeup by @VictorCembellin @MAC_Victor_C and @MACcosmetic
Nails by Pattie Yankee for Patricia Nail Lacquers
@pattieyankee
Academy of Art University
Spring 2018 & Fall 2018
Menswear and Womenswear Collections
NYFW: The Shows
Gallery I at Skylight Clarkson Sq
Download Runway Video with Original Music or Runway Video with Replacement Music
Academy of Art University YouTube Channel Runway Video with Original Music
Runway Images, Lookbook Images, & Designer Portraits in High Resolution.
Runway Images in High Resolution or Low Resolution.
Photo Credit: John Perez
MP4 Slideshow of Runway Images in 1080 (40.7 MB) / 720 (32.7 MB) / 480 (11 MB).
Photo Credit: John Perez
Portrait photography by Danielle Rueda, Bob Toy, and Robert Curry.
Runway photography by John Perez.
Credits for Lookbook / Studio Images:
Photographer: Danielle Rueda @ danielle_rueda
Art Director:       Simon Ungless @simonungless
Hair and Make-up:  Hether Beckrest at Workgroup @wkgpcrew
Models:                Kalyn Joy Waide at Stars, The Agency @starstheagency
Keanu Cohen @keanucohen at Look Model Agency @lookmodelagency
For additional information, please contact:
Ian MacKintosh / (415) 618-3849 / imackintosh@academyart.edu
Elena Eberhard / (415) 618-3831 / eeberhard@academyart.edu
Edith Mead Barker / (415) 618-3891 / ebarker@academyart.edu