How Carrie Childs Went from an Art History Graduate to a Design Director at Patagonia
By Prachedes Germano, MA Fashion Journalism
Ever since she was a child, traveling around the country with her parents on their climbing trips, Carrie Childs knew her calling. "I loved clothing from a really young age. The tricky part for me is that I was also an environmentalist," says Childs, design director of Patagonia, from her home office – a converted garage that feels more like a Scandinavian cabin than a 1940s carpark.
While she clearly grew up with a passion, it was hard for her to imagine a future in fashion that fit her values "around taking care of the earth." She opens her heart, stating, "The earth has always been my number one love."
Childs studied Art History — not design — as an undergraduate. She was working for an adventure travel company in San Francisco and was happy but not completely fulfilled. Everything changed when she read Steve Jobs' 2005 Stanford Commencement Address. Childs highlights that the main message was "to have the courage to follow your heart and intuition." It resonated with her deeply.
That same night, Childs started her application for her MFA at the Academy of Art University, knowing that it was something she "wanted to do forever and had loved forever." She explains that she "just had to go do it and figure it out," intending to find a way to create beautiful clothing with minimal impact on the earth.
Sustainable clothing was at Childs' heart throughout her MFA program and what helped her land an internship with Susan Cianciolo in New York, a designer and artist known for her upcycling and sustainability approach even before it became a terminology. Childs has some exciting experiences to share, including how she became a Design Director for Patagonia.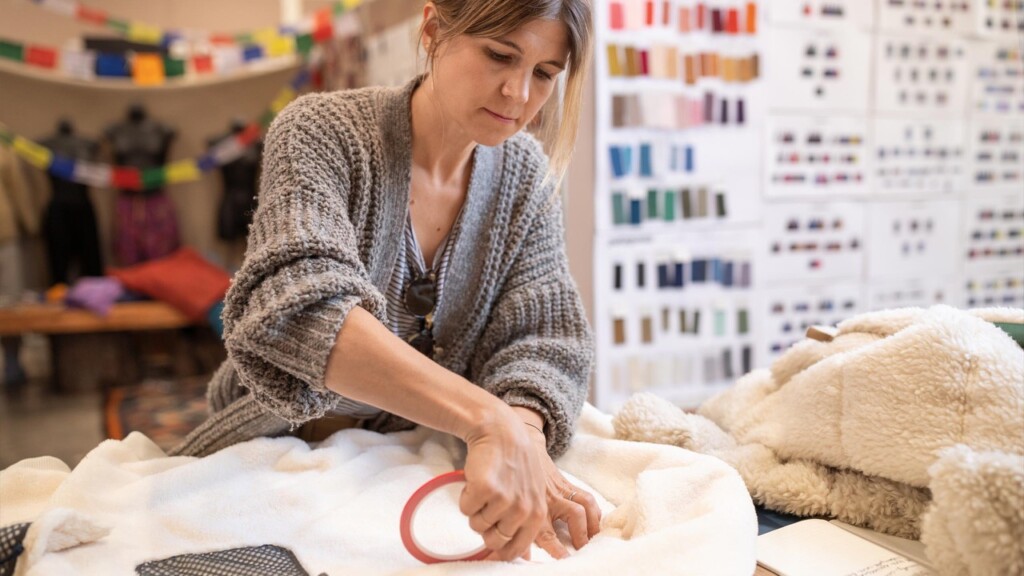 What changed for you after your graduation? Were you able to find a job in the field you wanted?
Everything! I had a baby (she was pregnant while completing her degree), and my husband and I had to rethink our lives. We decided to take a long road trip through the southwest with our baby, camping on the land and trying to figure it out along the way. We went up to Portland, Oregon, where we had met and done our undergrad, and decided that it was a perfect place to return to and raise our baby. In Portland, I was hired at Hanna Andersson, a children's clothing company based on Scandinavian principles of happiness, play, and letting kids be kids. My first position was reviewing lab dips – and they had really high standards on matching colors! But, from there, I was hired on to be their assistant women's designer, followed by a position designing and directing their baby and toddler's line – I was managing a team at that time.
Did you plan to be a kid's designer?
People ask me that a lot, but no. I hadn't ever thought I would design kids' clothes, but it turned out designing kids' clothes is so much fun! It was REALLY great, and it was a wonderful time at Hanna too. We were revisiting the company's roots, and we were in the process of rebranding, connecting creatively with the Swedish heritage, which is also my heritage. It was an enriching and fun process.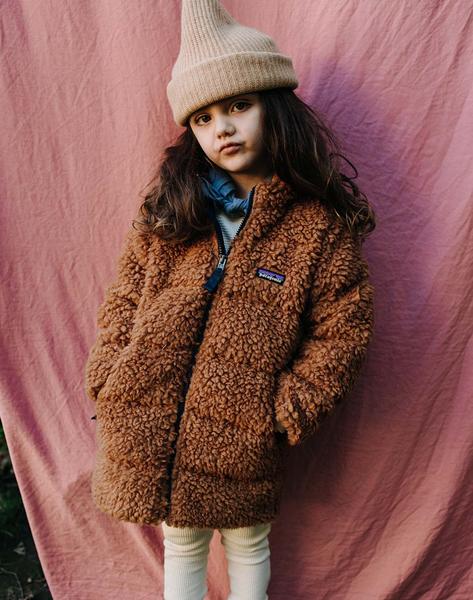 How did you come upon the opportunity to work at Patagonia?
I would say it was a bit manifestation, a bit synchronicity and the stars completely aligning. I wasn't looking for a job, and as I said, my position at Hanna was super fun, creative and fulfilling. However, a friend and mutual Patagonia admirer had sent me a posting for a kids' designer position at Patagonia. I saw it, and I was like, "That's my job." I just felt so deeply that it was my job. When I was interviewing, I didn't feel any pressure because I thought I was probably not a strong contender. It was a joyful process, to have the opportunity to go to Patagonia's headquarters and meet everyone. I was on a family vacation in Hawaii when I got the call that I got the job. A month and a half later, we moved back to California.
How would you describe your experience at Patagonia?
My first experience there was amazing. My first day of work coincided with a team offsite – camping in the Eastern Sierra – so, basically, I showed up with my duffel bag, hopped in the van and headed out camping with a group of 26 people. It was my whole design team plus product line managers and developers – it was a big team meeting. After three days in the wilderness, I felt like I was among life-long friends. I mean, I couldn't have wished or even dreamt of a better way to start my job there. It really set the stage for an extraordinary and unique work experience. Patagonia is an unconventional company! I've had incredible, deeply fulfilling travel experiences. However, when I think about what's most meaningful about my time there, it's the people. I really value my relationships, my friendships there. It feels like coming home, like family.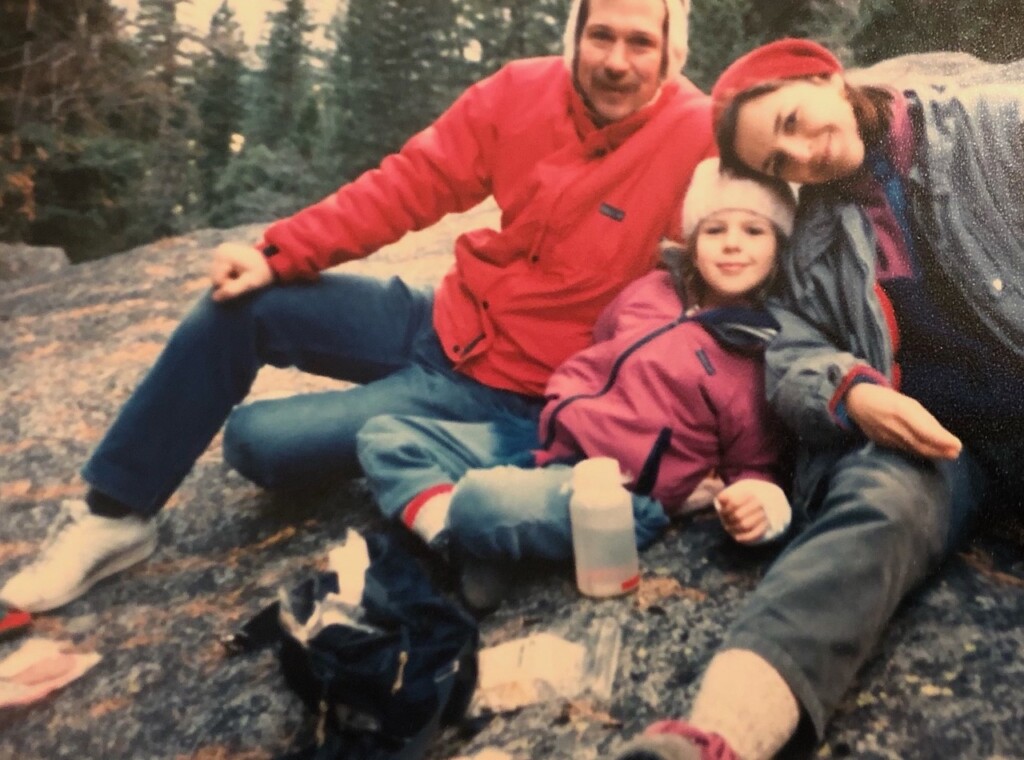 How did you get to the point of becoming a design director at Patagonia?
We have a robust kids' line, from ages 0-18, and when I started there it was just me designing all the kids' product and coloring the line, and helping to steer the textile direction. In essence, I was already doing a large part of the job; and so the title changed, extending the product categories I was covering. I now oversee the kids' line, men's and women's sportswear, fleece, workwear, Pataloha and logo silhouettes. When our former creative director, the illustrious Miles Johnson decided to move home to England, we restructured our design team under three design directors: Performance, Outerwear, and what we are now calling Life Outdoors, which encompasses the categories I head up. Our current creative director Claire Chouinard really sets the tone for inspiring us to whole-heartedly embrace our company's statement of purpose: We are in business to save our home planet. Every creative decision, every design choice is filtered through that overarching purpose.
What are some of the exciting practices or techniques that Patagonia uses in its sustainable efforts?
We have a fantastic materials team of fabric developers, researchers and scientists that work in the most innovative ways to enable our product to have minimal impact on the earth, or better yet, to improve the state of things. One of the projects I am most passionate about is a regenerative organic certification, which is the highest organic standard. It rehabilitates soil and respects animal welfare, improving the lives of the farmers and increasing biodiversity. And since healthy soil traps carbon, it is a way of growing that could potentially help reverse climate change.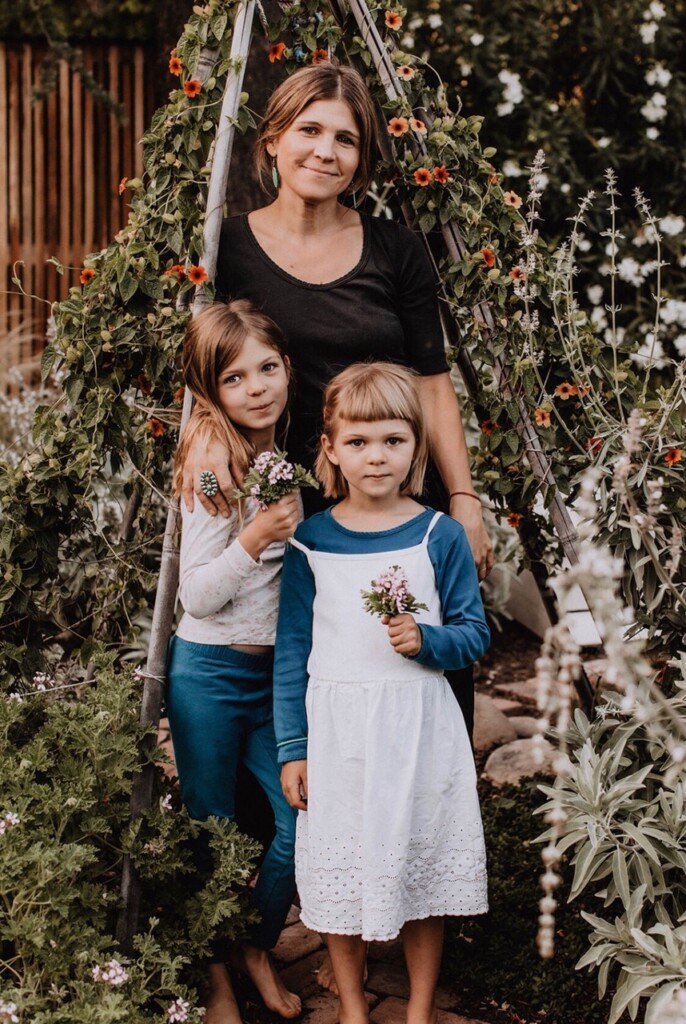 What qualities do you feel led you to become a design director?
That's a hard question to answer, but I would say humility – I have such an incredibly talented, creative team that I really see myself as a support system and advocate for them. I guess I'd add that every experience I've had in my life has set me up for this role. My parents were climbers, and they were buying Chouinard equipment before it was even Patagonia and loved it. I really knew the company so intimately from a customer perspective. It resonates with me, who I am and, what I believe in. I also have to say that my experience at the Academy set me up so well to succeed in the industry. I'm so grateful for the portfolio I built during my MFA, and how I learned how to create a collection and do visual research, participate in creative critiques, and humbly receive feedback. I really believe it helped me get my job.
I think it takes being grounded and having kindness and compassion, excellent interpersonal skills, self-care, and knowing how to laugh at oneself, to be a great leader – I would say I'm aspiring to those qualities. It's a work in progress.
Do you have any advice for recent graduates, especially those who are seeking a job?
Be true to your heart. Live in harmony with the earth. Be yourself. Seek joy. And I want to share a quote from my favorite Dharma teacher, Jack Kornfield – his wisdom has really supported me throughout my career: " As we move through this beautiful and troubled world, may we vow to be a beacon of peace, a fearless carrier of respect and lovingkindness for all life, a teller of truth, a voice for justice, a protector of those who are vulnerable or targeted. May the power of wisdom, integrity and compassion be our guide."
This interview has been edited and condensed.