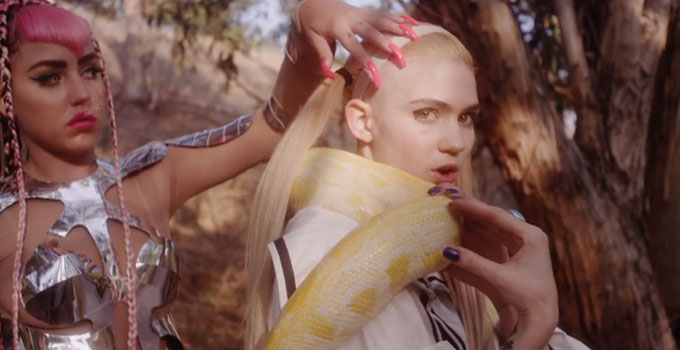 Ready for the weekend? We definitely are – and we're going to have this song on repeat. In today's edition of A Little Music for Your Friday, we're featuring Grimes' just released music video for her single "Genesis". If you're not yet familiar with the Canadian sensation, it's high time you were introduced. Grimes' experimental music has a unique, ethereal sound, seamlessly blending elements of electronic, industrial, pop, R&B, and even medieval music.
Her just-released music video is equally as eclectic. The film, which she directed, features Grimes and friends in remote beach and desert locations, dancing, swinging swords, and dressing like characters from Sailor moon. A large yellow snake also makes an appearance. The song is beautiful, and the video completely enthralling (if only for its weirdness).
Follow the jump to watch the video and join Grimes on her mystical journey!