What started with a piece of circular fabric from Goodwill ended up becoming a collection that explores the uncomfortable and strenuous feeling of self-doubt. B.F.A. Fashion Design student Anna Yepes Tucker would constantly compare her work to others and minimize her ability to create compelling designs. Her journey towards this collection has to do with expressing imperfection, and, manifesting her struggle with confidence and perseverance. With her mind continually drifting to thoughts about not doing enough and, in her own words, "weird feelings," Tucker came to discover the Japanese technique of Shibori.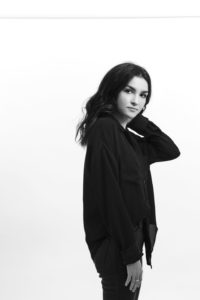 This dyeing technique involves indigo dye and white fabric. After tieing and wrapping fabric on circular objects, different patterns and volume emerge once the fabric is unveiled. Tucker was intrigued by the unusual forms that the technique creates. Out of control and disproportionate, each shape alludes to the uncontrollable feeling which Yepes compares to an infectious disease.
The neon colors of Tucker's garments add life into what appears to be a chaotic explosion. Yellow-green, neon pink, orange, indigo, and dark green bring a sense of exuberance to the collection, showing that darkness also has a bright side. A Shibori strapless jumpsuit and an asymmetrical Shibori-dyed blouse with angled pants are a representation of the designer's sassy attitude, which she also observes is "…a contradiction to [her] lack of confidence." A baking container and several dome-shaped items became part of the process, being wrapped in wool, silk haboti, and crepe, and later boiled in a pot. Sewing the fabric together was the final step to ensure deliberate imperfection.
Just like a disease, questioning herself became a way of life, an inherent part of her. Aiming to showcase this feeling through her collection, Tucker wanted her shapes to make a statement, and Shibori was the perfect ally. The collection outlines the daily struggle designers go through in today's competitive fashion world, and honors the emotional journey that's hidden from the eye, yet ever so present.
Follow Anna Yepes Tucker on Instagram: @aniitayepes
Words by Camila Encomendero, BA Fashion Journalism