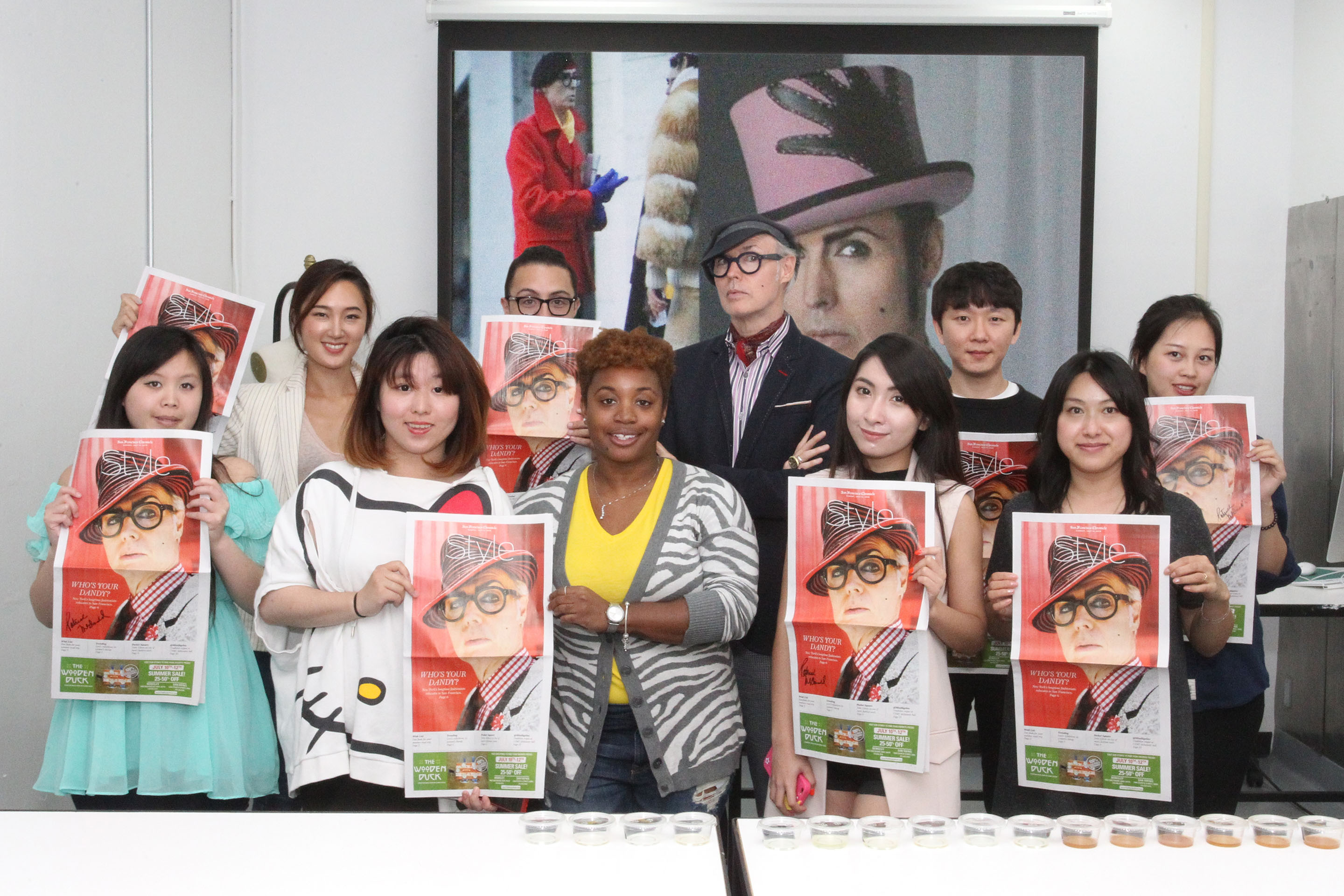 On Monday, July 13th, famed dandy and fashion industry veteran Patrick McDonald came to The School of Fashion to give a brief lecture to merchandising students. Just the day before he visited the School of Fashion, McDonald– and his recent relocation from New York to San Francisco– had the honor of gracing the cover of the San Francisco Chronicle's Style Section.
McDonald began with a brief history of his involvement in the fashion industry, filling students in on how his passion for fashion and self expression shaped his career in the industry. It comes as no surprise that McDonald's love of fashion, which he said had begun in early childhood, influenced his choice of university. "I grew up in San Luis Obispo, and when it came time to choose a college Pepperdine University in Los Angeles was an obvious choice. It was the closest to great shopping," said McDonald.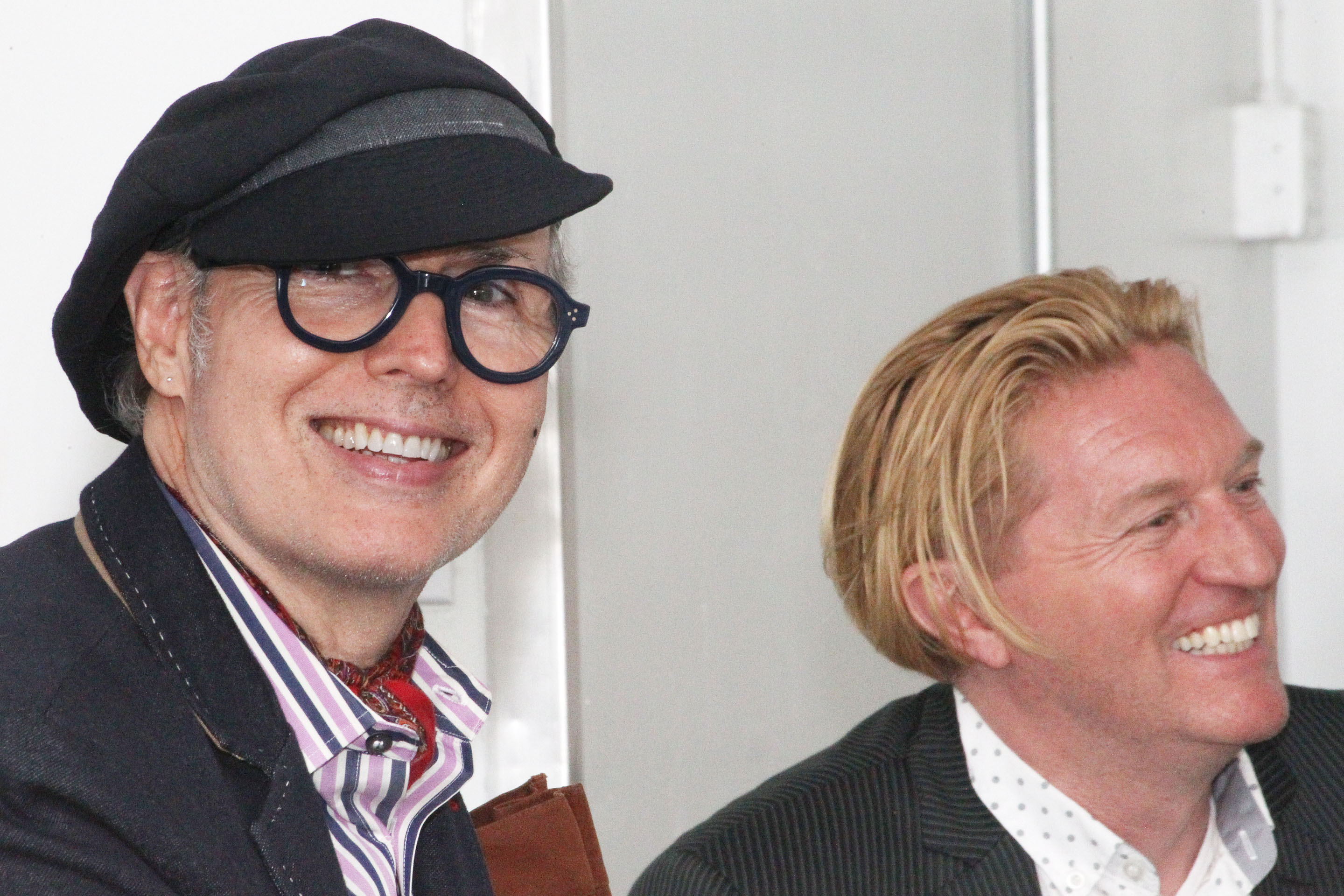 While in college McDonald had an experience that would shape the next several years of his life. When he and a few friends heard that Andy Warhol was in town they called every hotel asking for him and were eventually able to track him down. When McDonald and his friends met Warhol, the artist recommended that McDonald consider a move to New York to further pursue his passion for art and fashion.
Not one to shy away from advice from an artist and idol, McDonald moved to New York. His first job was atItalian fashion label Fiorucci's  boutique, which was often called "the daytime Studio 54." McDonald would eventually go on to work in the buying department at Barney's.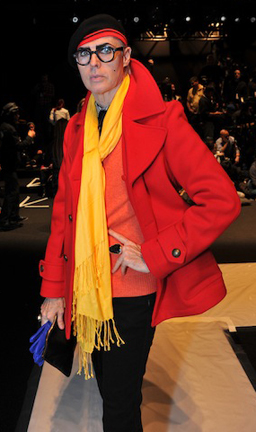 As a New York City veteran, McDonald was able to give the class some insight into how the city has changed over the past couple of decades. "Fashion shows used to be very different; they weren't in big venues, but instead were held in hotels and ballrooms. Now it's all about shock value and being noticed." In response to a student's question about his feelings on shock value, the always fastidiously dressed McDonald replied, "Well, for me to have shock value I would have to wear a plain white T-shirt. That would probably get the cover of the Post. But for me, I don't really like to dress for shock value. I dress for myself."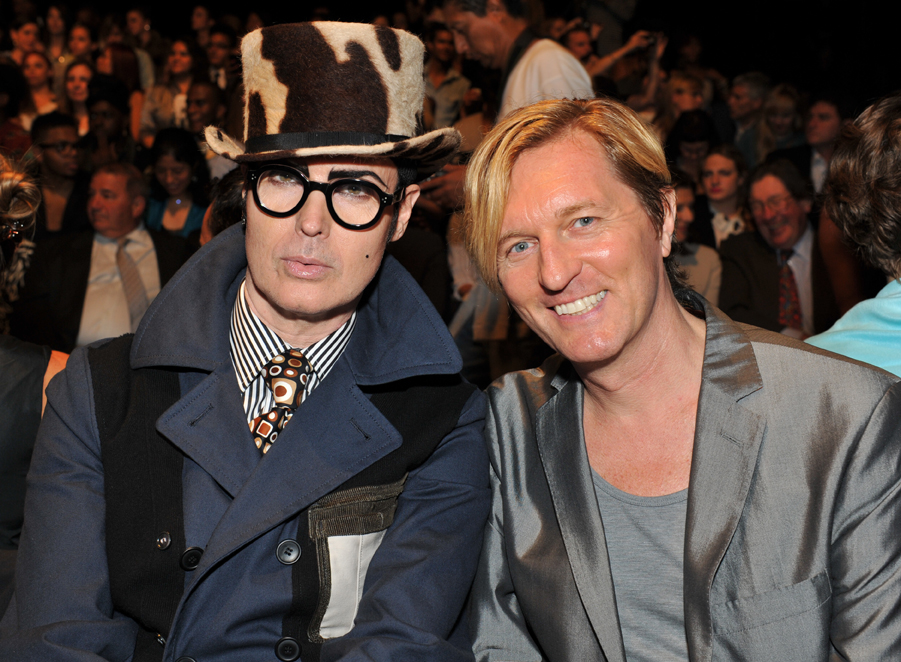 And dress for himself he does. With inspiration spanning classics like James Cagney, Fred Astaire and Elizabeth Taylor, McDonald infuses tailored looks with an edginess and glam reminiscent of David Bowie and Studio 54 darlings. "My style has always been influenced by my surroundings, and what I make my surroundings. I'm inspired by classic movies, but also by a man on the street wearing a skirt."
McDonald, who has been on both the best and worst dressed fashion lists (a fact he laughingly explained to the class), was sure to point out that expensive clothing and high-end labels are not the be all end all. "You know what I believe makes good fashion? A mix. It can be high and it can be low, it doesn't matter as long as it looks good."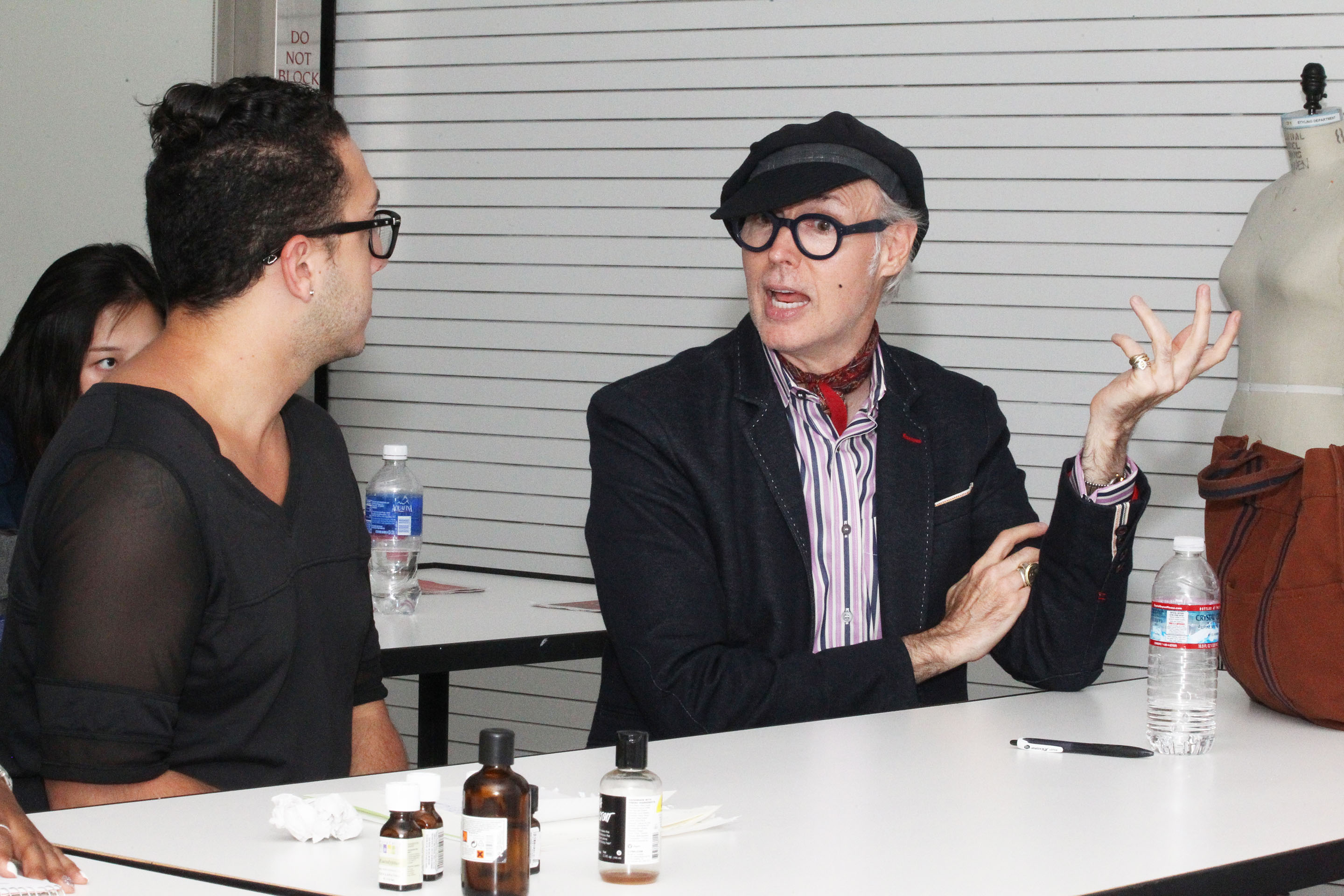 After the lecture and Q&A drew to a close, McDonald reviewed the MFA FSH 632 Trend Analysis & Product Development group project. Instructor and Senior Director of Fashion Merchandising Keanan Duffty said of the project, "The challenge is for the class to work as a team, with a corporate structure of design, marketing, sales and 'The Nose,' all led by a CEO who schedules the timetable and deliverables on a class by class basis."
For the project, the team created a fragrance called 'Wild & Nature.' In addition to developing the scent, students created a marketing plan, researched points of sale in the Bay Area and rendered a digital design of a bottle.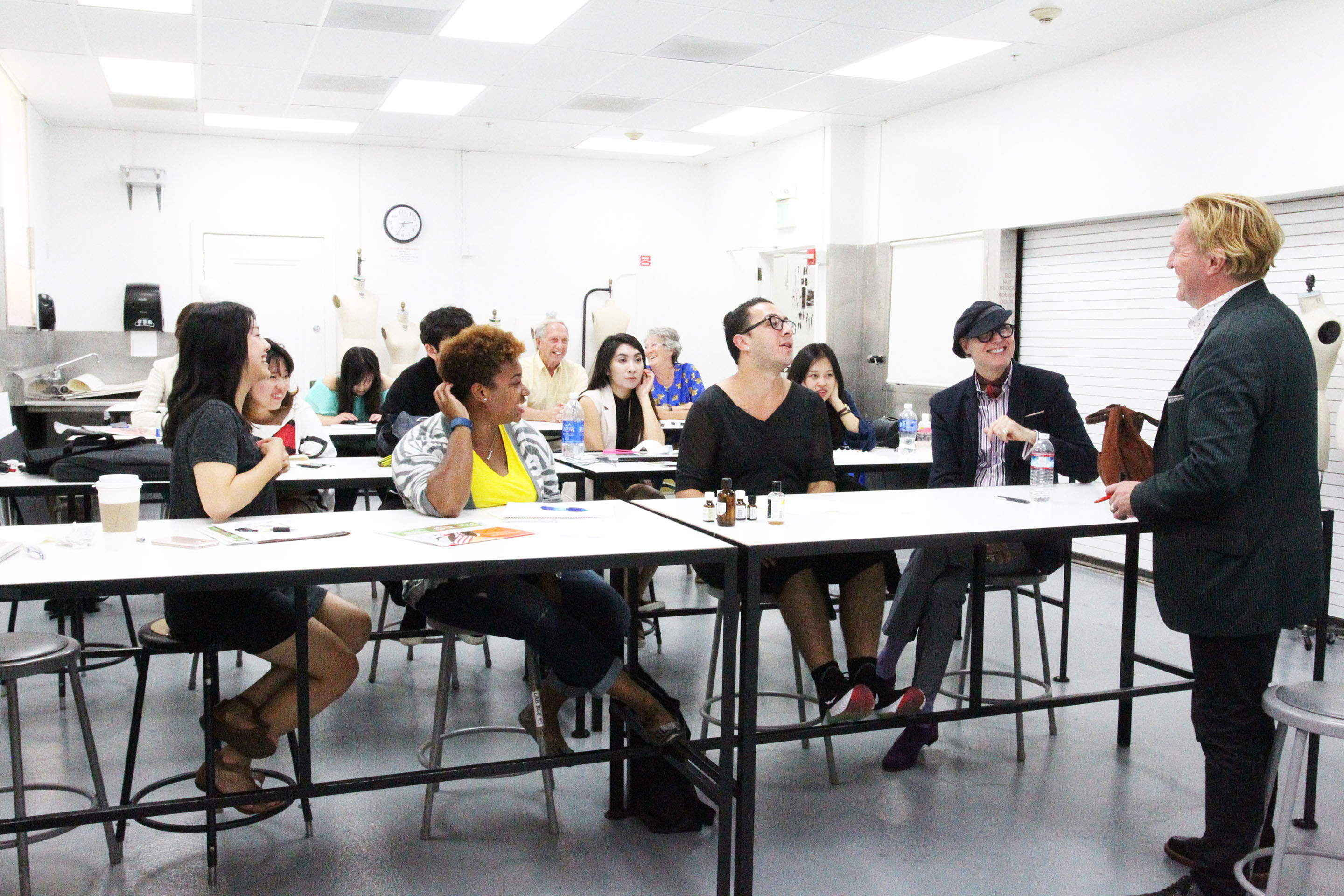 McDonald gave an early review of the project, which will be completed by the end of the Summer semester. McDonald had positive feedback, but urged students to be more wild and take full advantage of the name and DNA of the scent. Team leader Felicia Gillis said of McDonald's input, "I think as a group we were all very grateful that he even took the time to talk to us and then go a step further to hear about our project. His main input was in regards to the group name, name, promotion and fragrance. The most impactful information was about our fragrance name 'Wild & Nature.' He told us that we weren't representing the "wild" side of our fragrance. We all agreed that he was right. He pointed out the imbalance in between our name and promotion. He definitely influenced us to tap in to our more creative side and draw out a 'sexier wild side.' This was one of those rare experiences that we were fortunate to have even if they are only for a faux fragrance."