San Francisco, CA, May 1, 2018 – The School of Fashion at Academy of Art University hosted its annual Graduation Fashion Show and Awards Ceremony on Thursday, April 26, 2018. The invitation-only event began with select graduating students from the M.F.A. and B.F.A. programs presenting their work to industry professionals. The degree programs include: fashion design, textile design, knitwear design, 3D design and pattern making, costume design, journalism, styling, product development, visual merchandising, fashion merchandising, and, fashion marketing. The fashion show portion of the event included womenswear, menswear, and childrenswear collections; several of the collections were created through collaboration by students within the fashion, knitwear, and textile design programs.
 "When fashion design students from different cultures and backgrounds collaborate – their diverse spirit, ideas, and passions are reflected. Collaboration is a crucial aspect of the professional world and we encourage students to work together because it mimics the collaborate work that they will do in their professional careers." – said Elisa Stephens, President of the Academy of Art University, in her welcoming speech at the Awards Ceremony.
Simon Ungless, Executive Director of the School of Fashion, stated, "It's been a great experience to see this years' guests interact with the students – to view their work, offer feedback, and take a genuine interest in the programs, as well as the industry projects our students are participating in."
The School of Fashion is pleased to announce that Academy of Art University honored three outstanding industry professionals with the University President, Elisa Stephens, bestowing honorary doctorates to: 
Alexander Fury: fashion journalist, author, and critic. He is the Chief Fashion Correspondent of T: The New York Times Style Magazine and Editor of AnOther magazine. Fury was awarded the inaugural Editorial Intelligence Award for Fashion Commentator of the Year in 2014, named one of InStyle magazine's 20 most powerful people in fashion in 2015, and is a member of The Business of Fashion: BoF 500.
Andre Walker: New York-based fashion designer who was, at the time,  the youngest designer to show at New York Fashion Week at age 15. Walker worked as a creative consultant for Marc Jacobs and Kim Jones while at LVMH. His recent collection was noted as one of the ten best highlights of Paris Fashion Week. He also collaborates with Dover Street Market, the multi-brand retailer created by Rei Kawakubo of Comme des Garçons.
Lutz Huelle: Paris-based fashion designer who began his career working with Martin Margiela on the Artisanal and Knitwear Collections. Huelle launched his eponymous label in 2000 and has been a senior consultant at MaxMara Fashion Group since 2000, and at Brioni since 2017.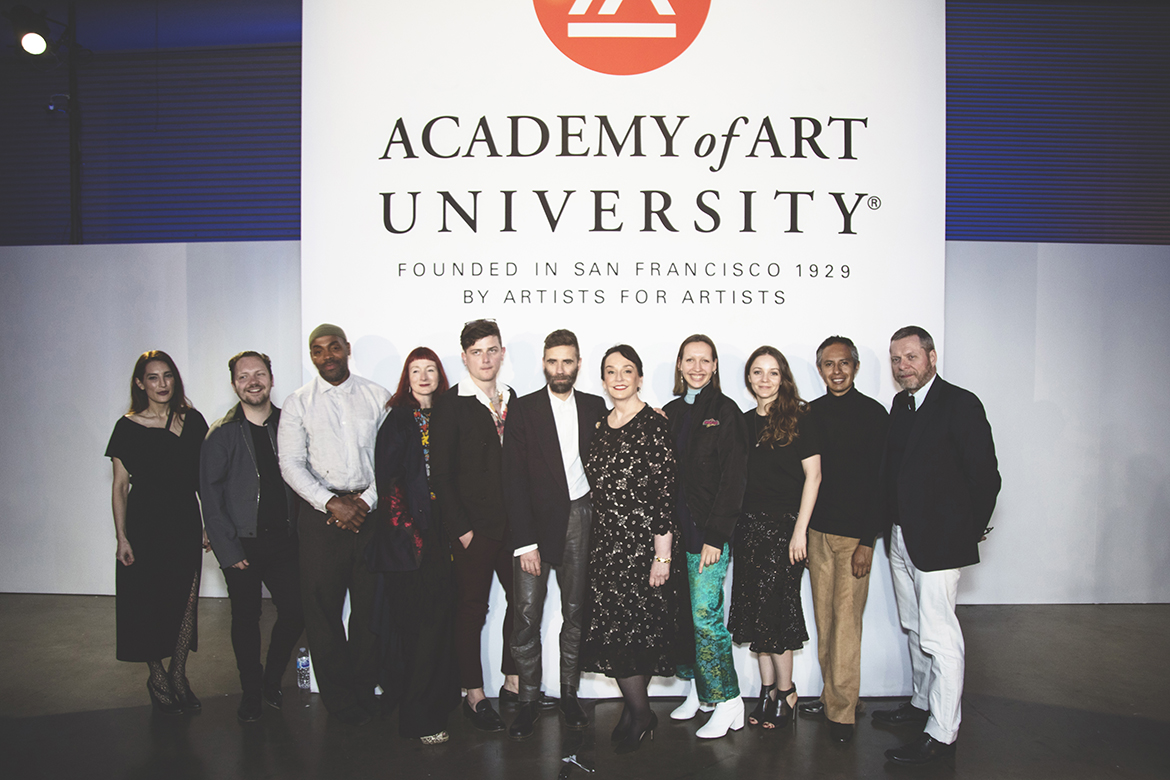 2018 Graduation Fashion Show Designer Biographies
1. Digital Print and Design Collaborative Collection
This collaborative collection was created by a group of Fashion Design students who used digitally printed fabrics designed by BFA Textile Design student Mario Chinchilla. A native of Santa Barbara, Honduras, Chinchilla interned at Old Navy and participated in a competition organized by Kornit Digital while studying at Academy of Art University. His textile designs were inspired by an observation of the daily life of one of his friends around San Francisco. The combination of a feeling of 'being incognito' and the challenge to 'be true to ourselves' represent the dualism between emptiness and fulfillment, distortion and clarity. Chinchilla's cinematographic digital prints were transformed into a womenswear collection by MFA Fashion Design students: Diane Dickey, Danni Huang, Shamonica Jones, Qiaochu Li, Xiaomo Liu, Muhammad Ahsan Nazir, Chenqi Xie and Meijun Lu.
1. Folded drape cotton dress
2. Printed vest over maroon jersey t-shirt with print detail cotton draped pant
3. Printed cotton shift dress
4. Printed vest over draped dress with print detail
5. Printed cotton dress with layered bell sleeves and yoke top
6. Oversized printed cotton dress with ruffles
7. Printed cotton jumpsuit with white stripe details
8. Printed cocoon wrap coat with cotton shift dress
9. Printed oversized cotton coat with shift dress
10. Printed short sleeve jumpsuit with black neoprene turtleneck
11. Printed coat with cape detail and elongated sleeves and jersey dress
12. Long printed canvas vest with white cotton tail shirt and white twill pants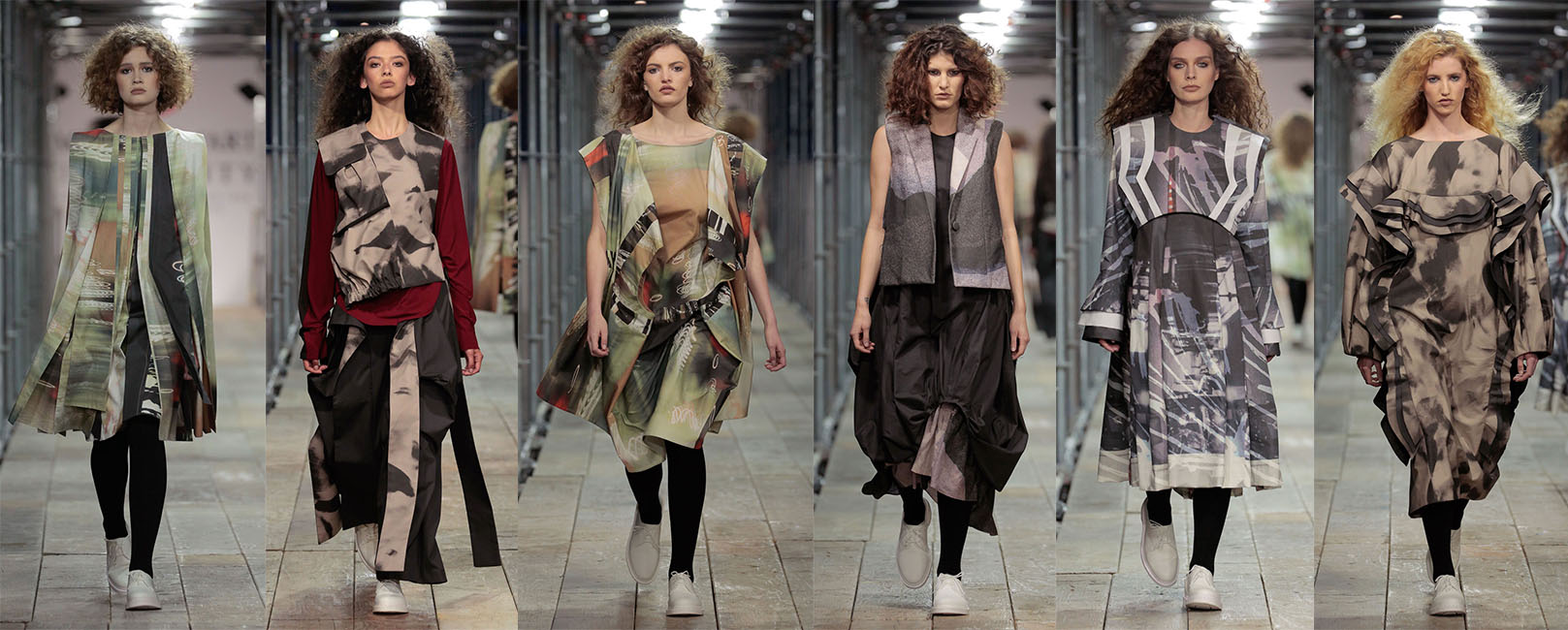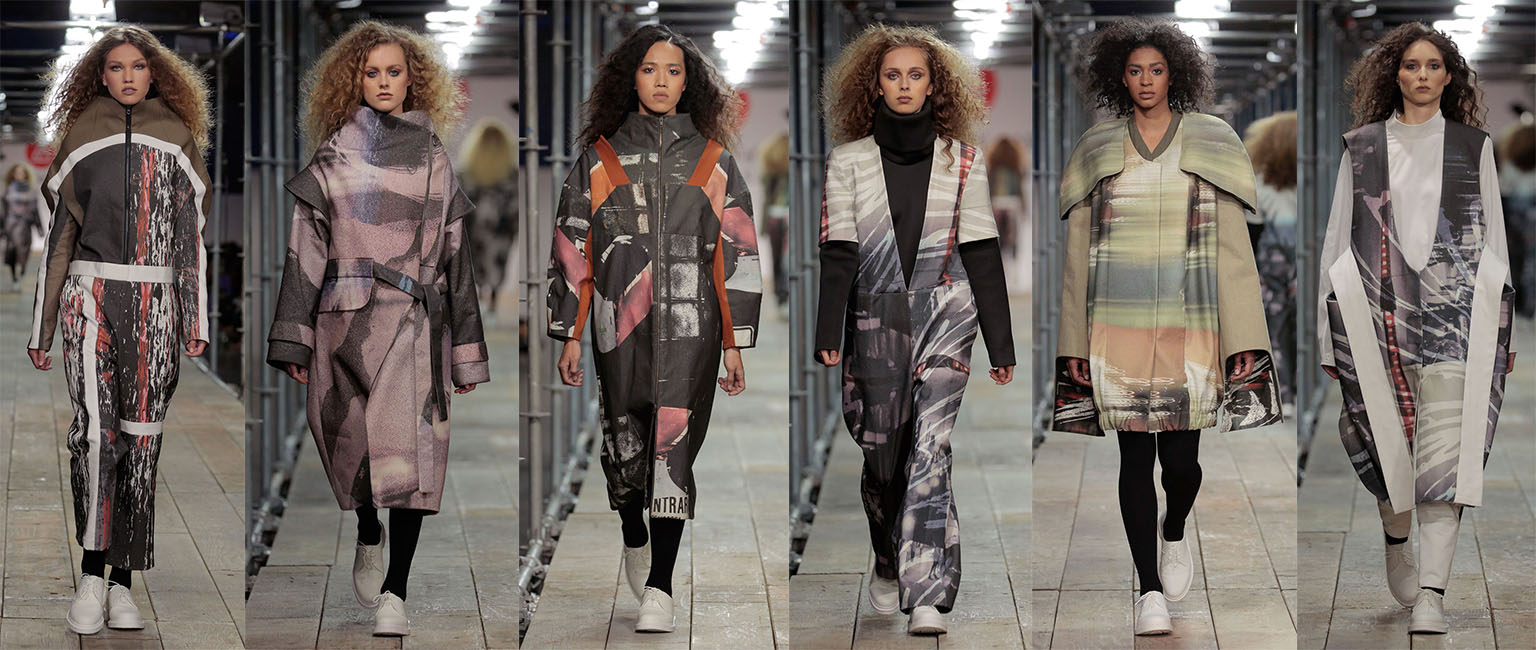 2. Julie Eunju Kim, BFA Knitwear Design, is originally from South Korea. Her collection is inspired by her favorite abstraction artist, Paul Klee, and his play with shapes and colors. The entire collection was created using fine Italian yarns to which Kim applied her own experimentation, as well as weaving methods and traditional knitting, to create distinctive silhouettes. 
13. Tomato-red Italian mohair wrapped organza knitted into long gilet with pleated dress
14. Black mohair shaggy fringe top with sheared base and strap skirt
15. Off-white and light grey chunky mohair dress
16. White and grey mixed chunky yarn wrapped organza top with black mohair fringe dress
17. Deep-red Italian mohair macramé top with orange striped pleat skirt
18. White Italian mohair ladder knit dress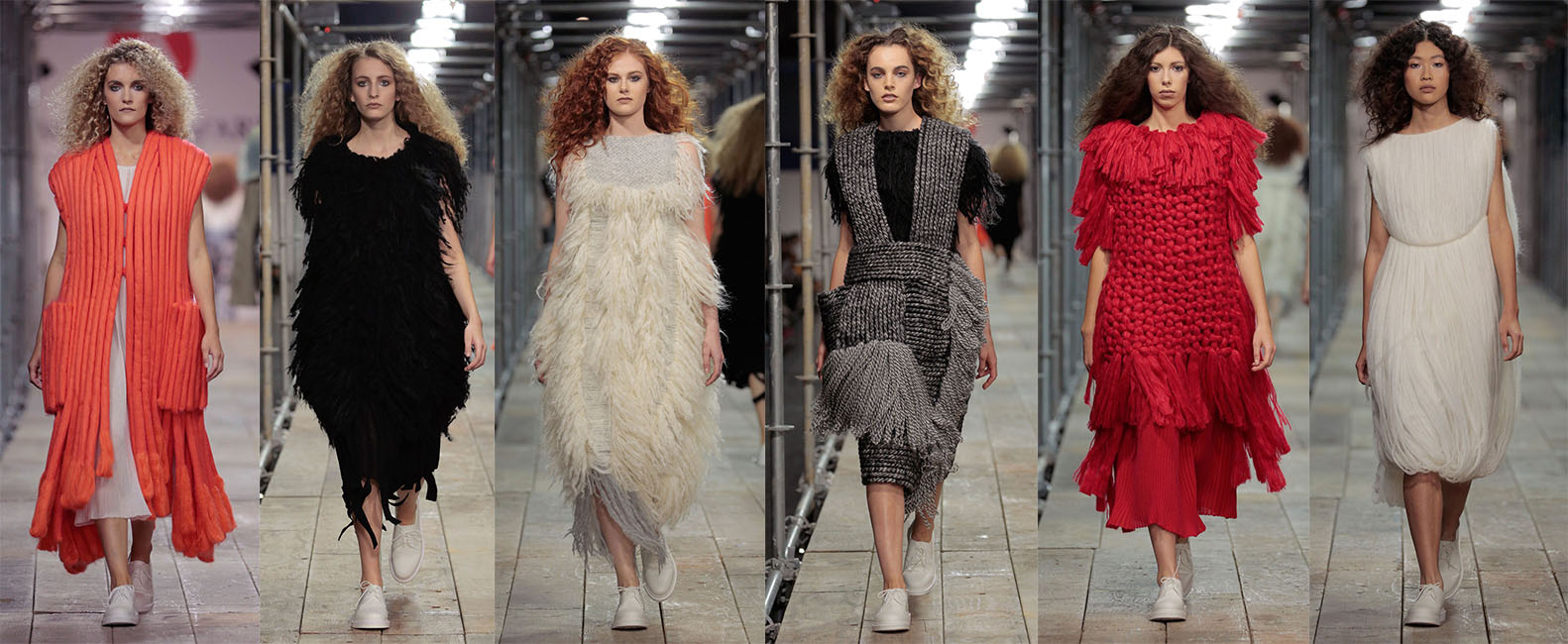 3. Brianna Toomer, BFA Fashion Design, was born and raised in Anchorage, Alaska. Inspired by the strength of women during WWII, her graduate collection "Nobody's Housewife" examines the balance between masculinity and femininity through soft, sporty tailoring. It juxtaposes the silhouettes of women and men from that era and introduces an athletic twist with zippers replacing seam lines and exposed side seams with multi-layer bias binding.
19. Chartreuse tailored 'track suit'
20. Pink silk satin floor length coat with teal suit
21. Chartreuse jump suit with seam bindings
22. Pink silk satin folded jacket and skirt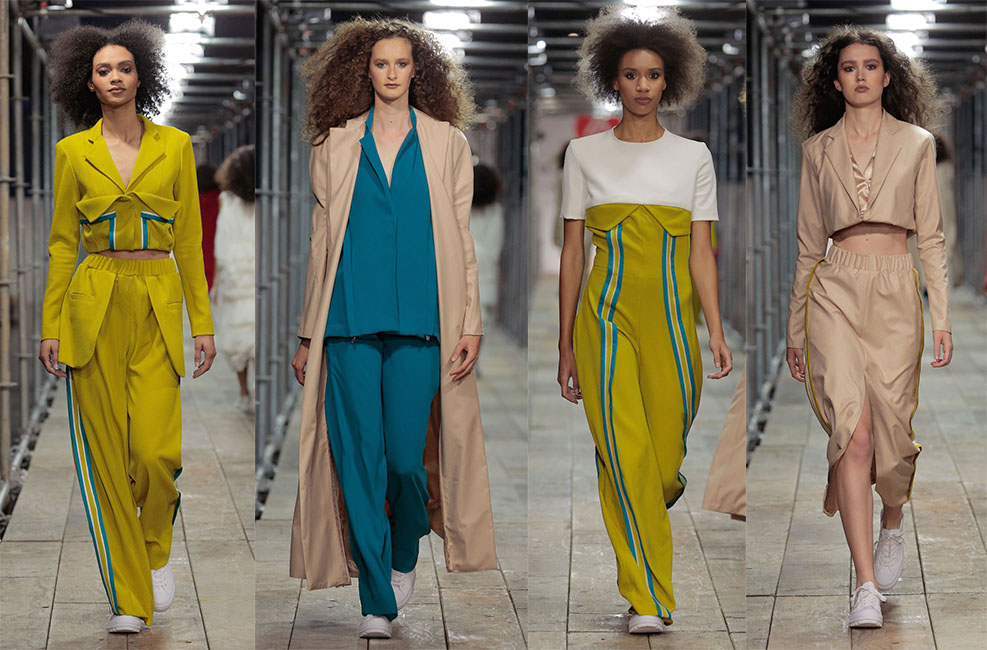 4. Susan Zienty, BFA Fashion Design, was born and raised in Scottsdale, Arizona. In 2017, she was awarded the prestigious CFDA Liz Claiborne Design Scholarship Award for $25,000.00. Zienty's professional experience includes internships with DKNY, G-III Apparel Group, Area NYC, and styling at INTERMIX. She describes the inspiration of her collection as "Anti-dress" which is a clash between the etiquette of the past and the standards of the future as well as dressing for oneself without regard for others. Her collection challenges the form while simultaneously working in harmony with the female body. Zienty used locally sourced fabrics from small businesses including washed silk, silk charmeuse, and viscose.
23. Rose and white charmeuse suspended shirt with rose skirt
24. Blush charmeuse top with white pants
25. White sleeveless tuxedo jacket with exposed blush charmeuse layer
26. Ivory silk shirt with silk boudoir slacks and inverted lingerie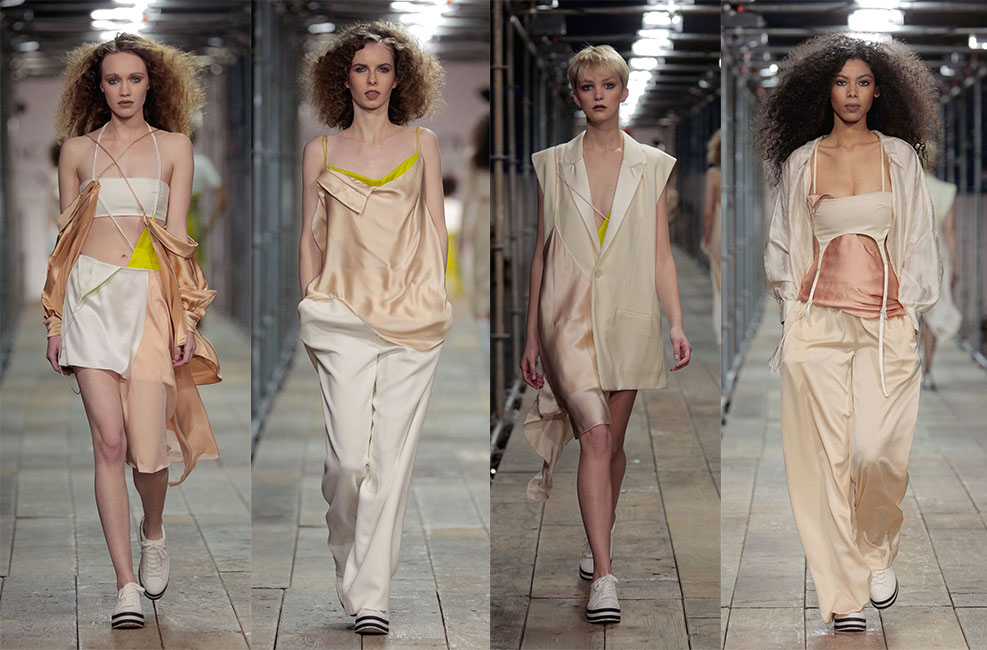 5. Fashion Design and Textile Design collaboration:
Sam Shan, BFA Fashion Design, grew up in a small farming village in the Shan Provence of Burma. He lived with his grandmother who was a seamstress and taught him how to make patterns and sew. At the age of 14, he fled Burma on his own as a political refugee, began a new life in Kuala Lumpur, Malaysia, came to the U.S. at age 20, and today is a U.S. citizen. Each year Academy of Art University awards a full Presidential Scholarship to a graduating fashion student from City College of San Francisco (CCSF) and in 2014, President Elisa Stephens selected Shan for the scholarship. While at CCSF, he received a scholarship from the I. Magnin Scholarship Fund. In addition to designing children's clothing for both boys and girls, he illustrates children's books. Shan's childrenswear collection was inspired by the playful colors and whimsical shapes found in the work of artist Paul Klee. He incorporates sustainable practices through the use of 100% natural fibers and eco-friendly dyes. To make each piece both functional and fun, he created the buttons and collars in Geometric shapes with multiple pockets and whimsical patches.
Marisa Chentakul, BFA Textile Design, was born and raised in Bankok, Thailand. Chentakul has experience working in textiles for brands like Teaspoon Studio, Sarin Tgamol Textile Designs, and for Academy Alumna, Maria Korovilas. Her aim was to challenge the textile side of childrenswear for this collection. She designed refined and unique repeats, and engineered prints with children's ink stamping, playful images, and collages of daring colors and textures.
27. Gathered waist ¾ length skirt with asymmetric shirt and orange t-shirt
28. Sleeveless romper with cobalt t-shirt
29. Children's hooded trench with orange t-shirt and printed leggings
30. Oversized hooded trench with white t-shirt and printed pant
31. Pleated peplum dress with shirt and printed leggings
32. ¾ length pant with oversized shirt and white t-shirt

6. Stefanie Jessica, BFA Fashion Design, is originally from Yogyakarta, Indonesia where her past design work was featured in the Indonesian editions of Harper's Bazaar, Nylon, and Elle. In 2017, she was one of the 20 students shortlisted out of 500 entries from over 80 design schools worldwide for Levi's Made and Crafted x Artsthread Worldwide Competition, and participated in Joe's Blackbook Competition. Her collection derives inspiration from anxiety, tailoring and asymmetrical shapes. To underscore the concept of tailoring, she used wool as the main material, cotton, organza, and surprisingly adds bubble wrap to provide contrast.
33. Asymmetric white cotton and bubble wrap shirt with asymmetric skirt
34. Asymmetric white shawl collar bubble wrap jacket with black rib and bubble wrap dress
35. Asymmetric black jacket and pants with white bubble wrap top
36. Asymmetric black and white bubble wrap coat with white cotton shirt and charcoal pant
37. Asymmetric charcoal jacket with black bubble wrap pant with white rib and bubble wrap tank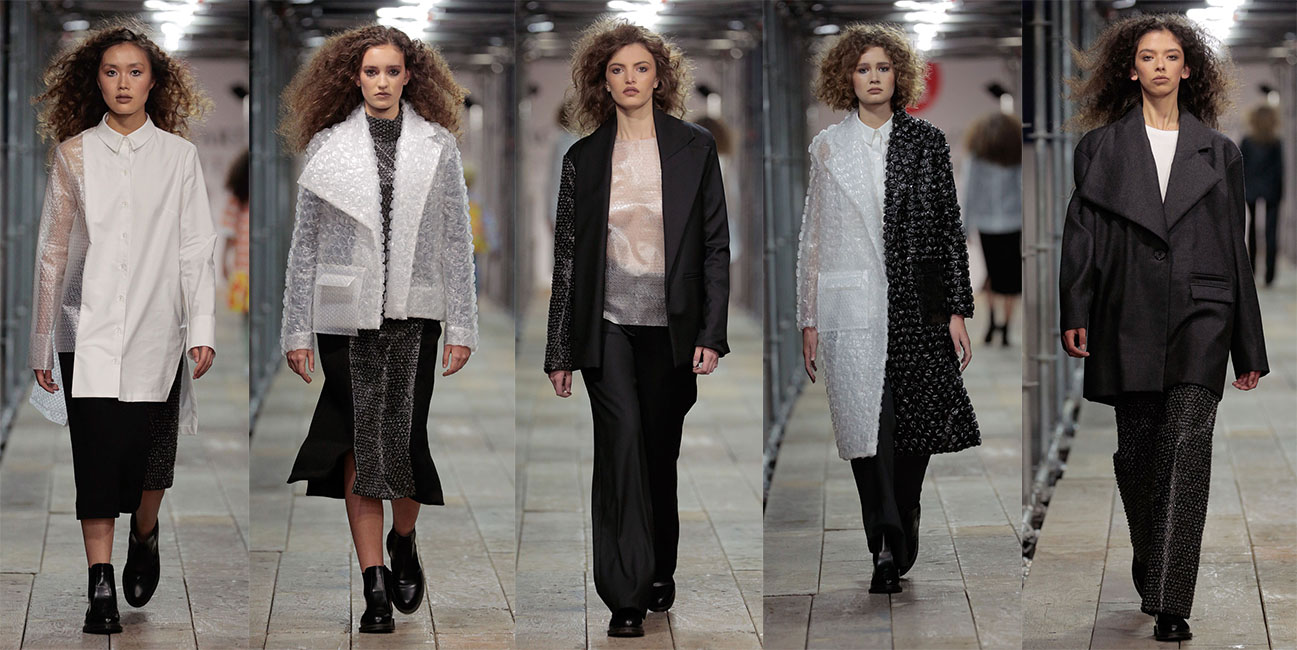 7. Fashion Design and Knitwear Design collaboration:
Zixuan (Stella) Quan, BFA Fashion Design, is from the city of Xi'an in China. Her inspiration is drawn from the historical importance of her city as the starting point of the Silk Road, and home of the ancient Terracotta Warriors. Quan aimed to capture the spirit of the creators of the Terracotta Warriors, as well as the detailing of their garments.  She aimed to create a collection that combines classic, historical armor with modern fashion, using a combination of materials: textured composite polyester, fleece, boll denim, double-sided knit, waterproof cotton, and neoprene. Quan's collection features embroidered long dresses, fleece jackets with mesh-knit, and oversized coats.
Lulu Hui-Ju Tsai, BFA Knitwear Design, was born in YunNan, China and grew up in Taipei, Taiwan. The inspiration behind her knitwear collection is the 'concrete jungle' of the financial district in New York City. Tsai used knitted cord to embroider mesh fabrics throughout the collection. She has interned at Mute by JL, a San Francisco-based company founded by Academy alumna Joanne Lu.
38. Long sleeve neoprene mesh and knit mini dress
39. Long sleeve ¾ grey and white stripe fleece and knit dress
40. Grey wool knit with hand-embroidery sleeve top with white canvas skirt
41. Short sleeve knit and fleece grey white dress
42. White wool knit dress with front hand-embroidery panel
43. Grey fleece and knit sweatshirt with mesh and knit knee length dress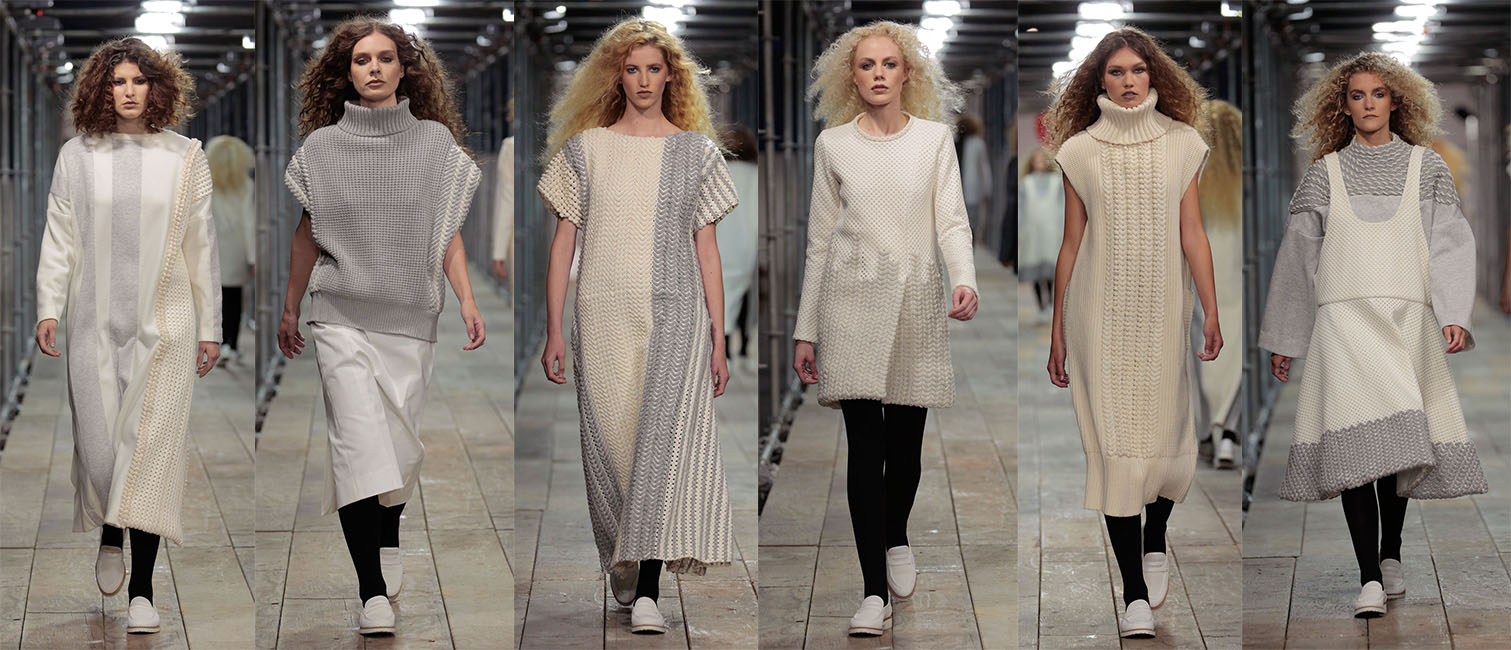 8. Luis Guillen G., BFA Fashion Design (Menswear), was born in Puruándiro, Michoacán Mexico and grew up in Santa Cruz, California. Guillen sought out to create a collection to empower men and their feminine side. He was inspired by the gay subculture of pups and the 18th century romantic period which created a shift in the style of men's clothing. The collection features embroidered flowers with flossed and latex fringe, high neck collars and shirt dresses for men. He used wools from Lanificio Zignone, custom jacquard from Brunello, and lamb leather custom dyed in Italy.   Credit: embroideries for this collection were created by Anastasia Smith and Christina Cundari
44. Man's dress with pink latex fringe and high collar jacket
45. Sleeveless man's dress with appliquéd, bead, and fringe flowers
46. Blue tudor-ruffled jacket with city shorts
47. Blue double-layered bolero leather jacket with matching top and pant
48. ¾ length jacket with white cotton high-collar shirt and pink leather trousers
49. White cotton oversized dress shirt with blue tudor-ruffle cape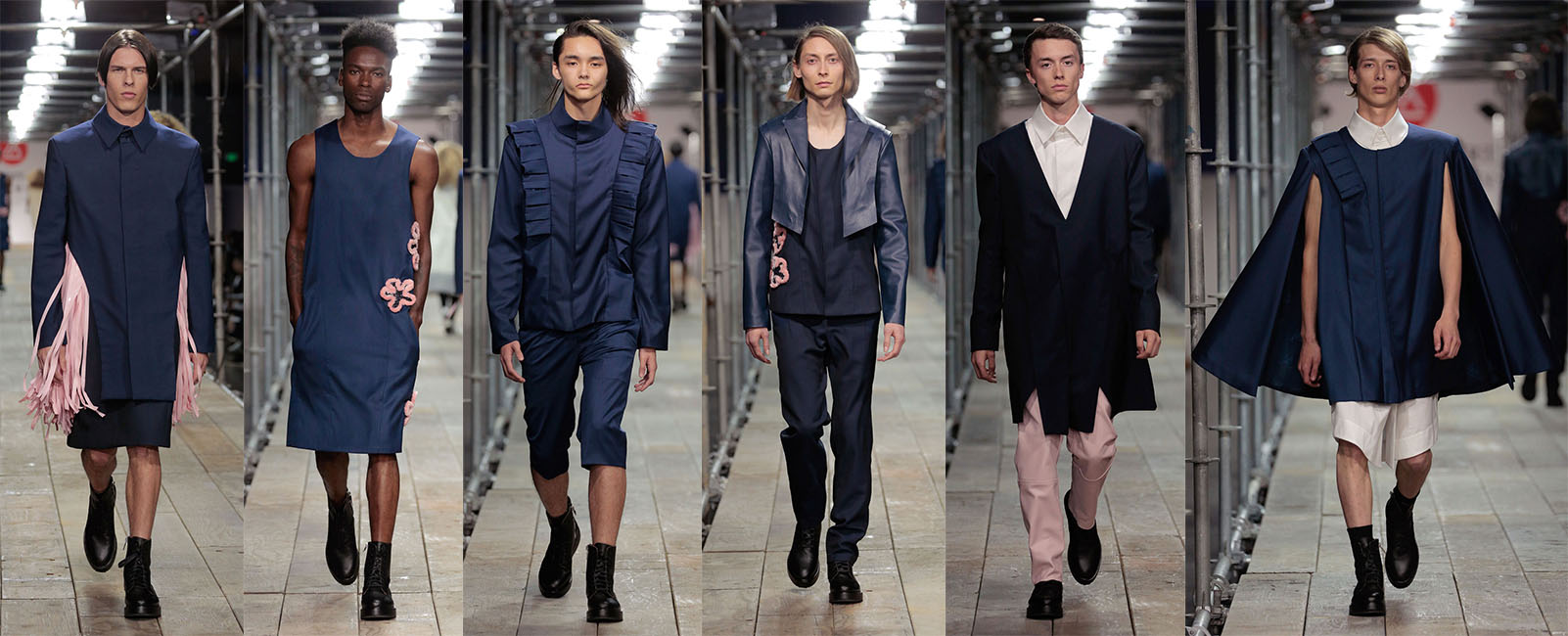 9. Fashion Design and Textile Design collaboration:
Uchechi Anigbogu, BFA Fashion Design, is originally from Lagos, Nigeria, and grew up in San Diego, California. Her collection was inspired by the past, through personal and impersonal experiences; and, in a colorful way, such as her grandmother's style, the designer's African roots, and American style in the 1950s. The collection utilizes vibrant Ankara print fabrics that her grandmother had, as well as fabrics that were purchased on a recent trip back to Nigeria. Two of the featured prints are very popular in West African culture.
Jie Ren, BFA Textile Design, is from China and grew up in Bejing before moving to San Francisco to study at the Academy. In addition to fashion, Ren's educational background includes graphic design and interior design. His textile collaboration draws inspiration from an 'East meets West' cultural fusion and focuses on provocative shapes. Ren manipulated the original Ankara print fabrics by changing some of the original colors and by applying his own prints over the original ones to create new prints.
50. Asymmetric jacket with shoulder rise and matching trouser
51. Asymmetric dress with exaggerated leg of mutton sleeve over cage foundation skirt
52. Asymmetric back-opening top and asymmetric pant
53. Asymmetric peplum jacket with capri pant
54. Asymmetric jacket with cage foundation skirt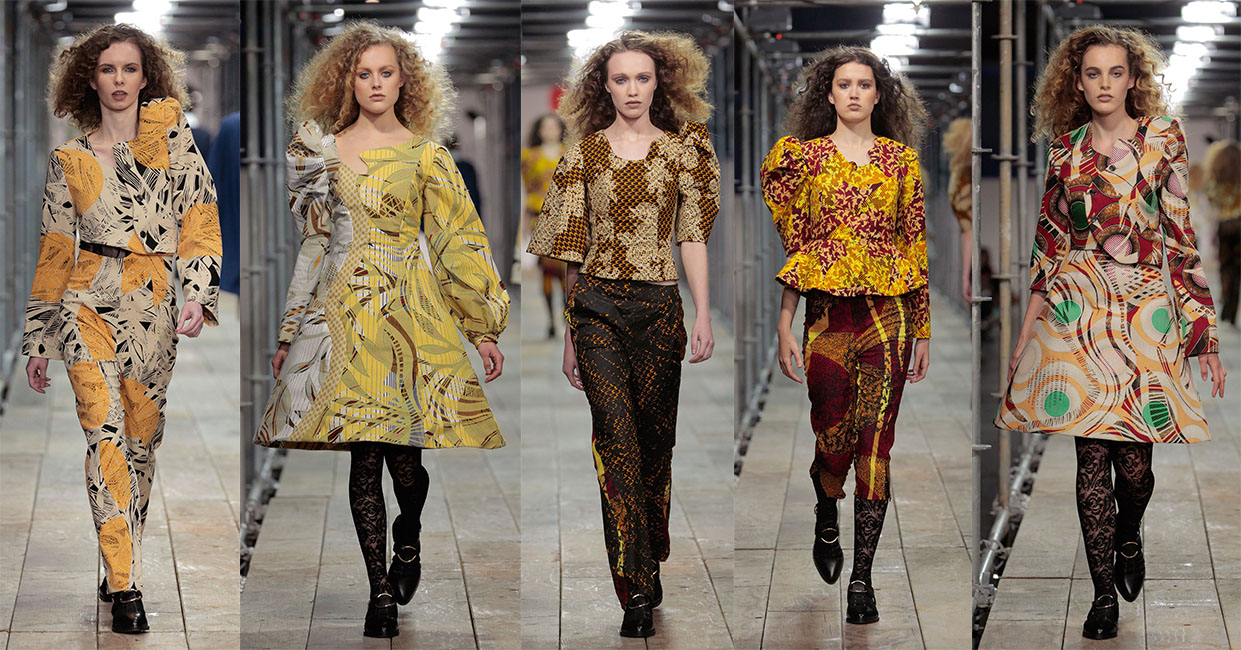 10. Minghan Xue, BFA Fashion Design was born and raised in Urumqi, Xinjiang, China. She describes the inspiration of her collection as "…a story, a transition, where the globally recognized 'Made in China' label becomes the 'Designed in China' label." Xue leaned on her multicultural background and appreciation for mixing things up to enhance her collection. She experimented with different kinds of fabrics, repositioning garments and repurposing material to create new textures and patterns.
Credit: knots and embroideries for this collection were created by Mojtaba Katiraei
55. Suspended oversize putty grey jacket skirt with sage jersey top and manipulated rouleaux accessory
56. Sage brocade jumpsuit with tied sleeve-pockets
57. Asymmetric sleeved dress with cut out and rouleaux appliqué
58. Putty grey pencil skirt with baby blue contrast silk godets with rouleaux suspended peplum and olive jersey top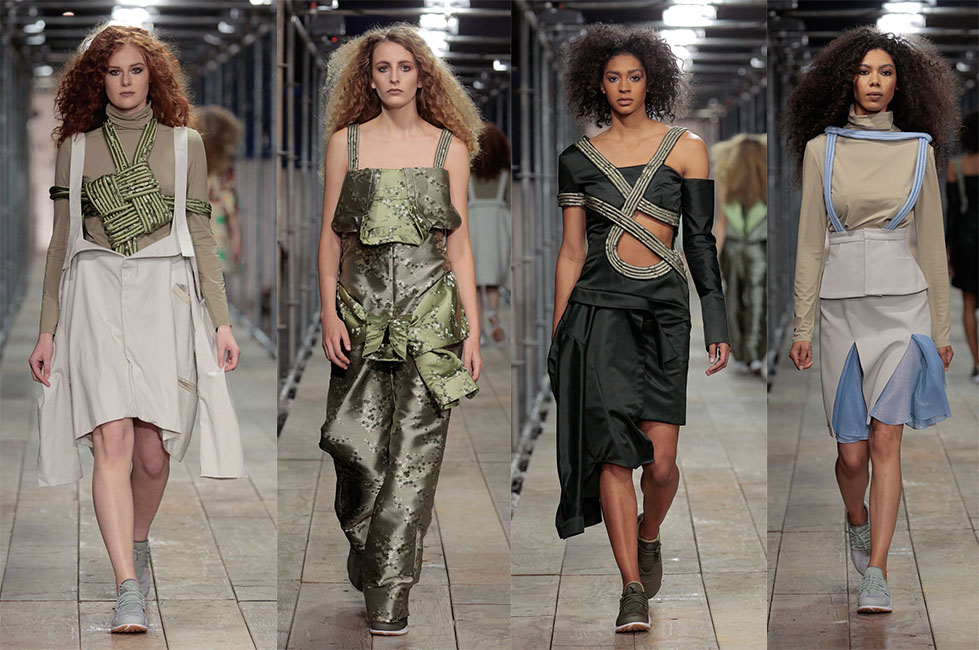 11. Fashion Design and Textile Design collaboration:
Denise Ramos, BFA Fashion Design, is a Bay Area native from Hayward, California, who has honed her tailoring skills working with menswear designer Cecilia Aragon (2008 BFA Fashion Design Alumna) as well as San Francisco-based bespoke men's suiting companies Tailor's Keep, and Josh's Tailoring & Design. She drew inspiration from her trips to Savile Row and to Girona, Spain (one of the filming locations of HBO's Game of Thrones). For this collaborative collection, Ramos included traditional men's tailoring techniques and created a strong silhouette based on the powerful female characters portrayed on Game of Thrones. The textiles were designed to represent "the armor that a woman wears day-to-day while growing older beautifully and gracefully knowing that she does not need to look like a man in order to feel confident."
Jorge Iglesias, BFA Textile Design, was born in Mexicali, Mexico and grew up in San Jose, California. He has worked with San Francisco-based designer Estrella Tadeo, Mexican-born menswear designer Bàrbara Sànchez-Kane, and Peter Cassara Clothiers in Sunnyvale, California. He used gold leaf foil to apply pulled threads on repurposed denim for his textile designs.
59. Black and gold foil shirt with silver thread print pant
60. Grey wool gilet with gold foil print over white cotton shirt dress
61. Navy blue v-neck trouser suit with silver print-on-thread appliqué
62. Navy sandwich board gilet with gold print-on-thread appliqué
63. Back opening gold foil print column dress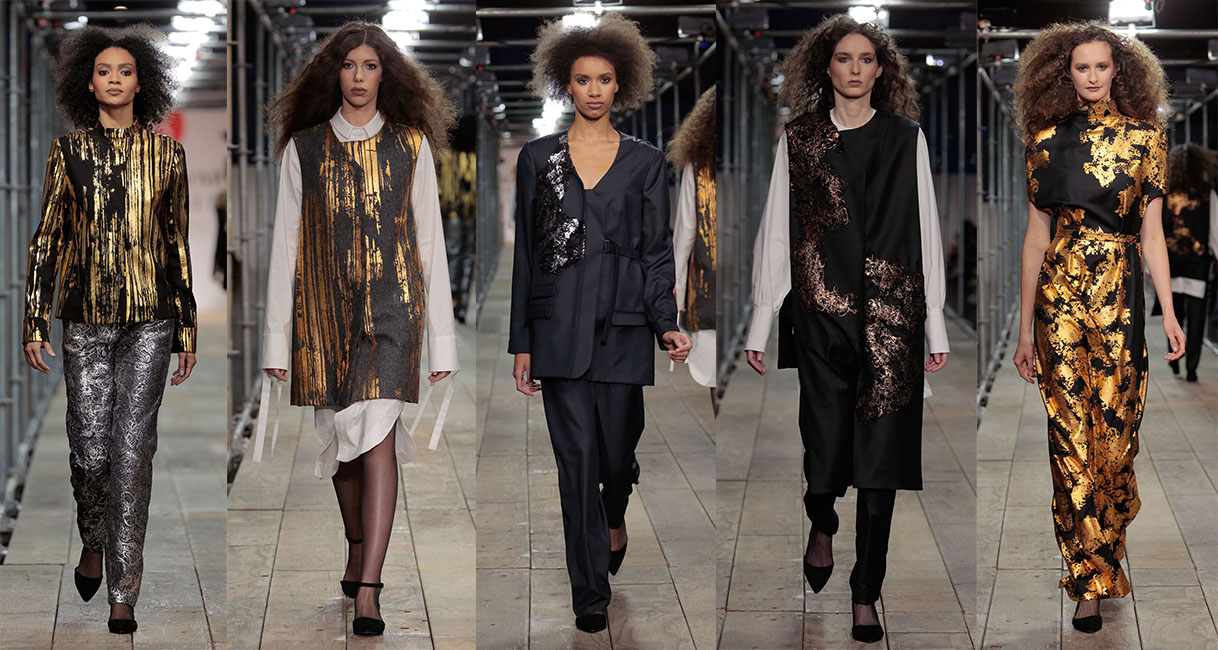 12. Justin Ho, BFA Fashion Design, was born in Ohio (U.S.A.) and raised in Chupei, Taiwan. His menswear collection was inspired by the crackled paint from artworks of Gerhard Richter, along with the images and texture of wasted wires. Ho desires to inspire an appreciation for modern art through his clothing that represents its inspiration. He translates classic menswear into minimalist contemporary design by combining tailored garments with oversized, draping silhouettes.
64. Sleeveless painted gilet with pant
65. Painted half-sleeve hoodie with knee length shorts
66. Painted side-buttoned sweat shirt with navy pant
67. Waistcoat with painted leather and rubber holster and pant
68. Painted sleeveless jumpsuit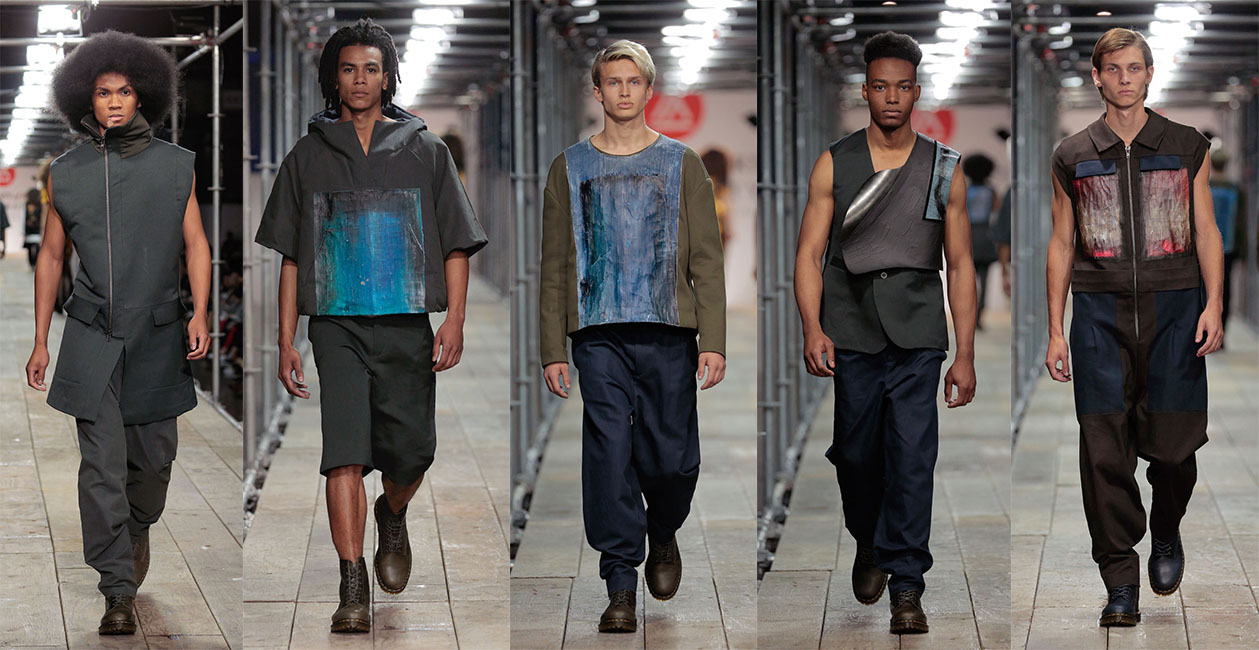 13. Jeannifer Tirtamarta, BFA Fashion Design, is from Jakarta, Indonesia. For her collection, Tirtamarta was inspired by the gritty construction areas and the streets of San Francisco. Continuous seam lines and the geometric shapes of her silhouettes reference the on-going building of structures around her. In addition to cotton canvas and denim, Tirtamarta used recycled billboard tarp as the main material for her garments, in an attempt to help overcome the abundant amount of waste in the fashion industry.
69. Recycled tarpaulin oversized gilet with canvas and tarpaulin top, and canvas and denim shorts
70. Recycled hooded print tarpaulin jacket and denim/tarp pant with canvas and tarpaulin vest
71. Denim and recycled tarp dress
72. Recycled hooded poncho with cut out denim half-pant
73. Denim and recycled tarpaulin jump suit
74. Denim romper with oversized recycled coat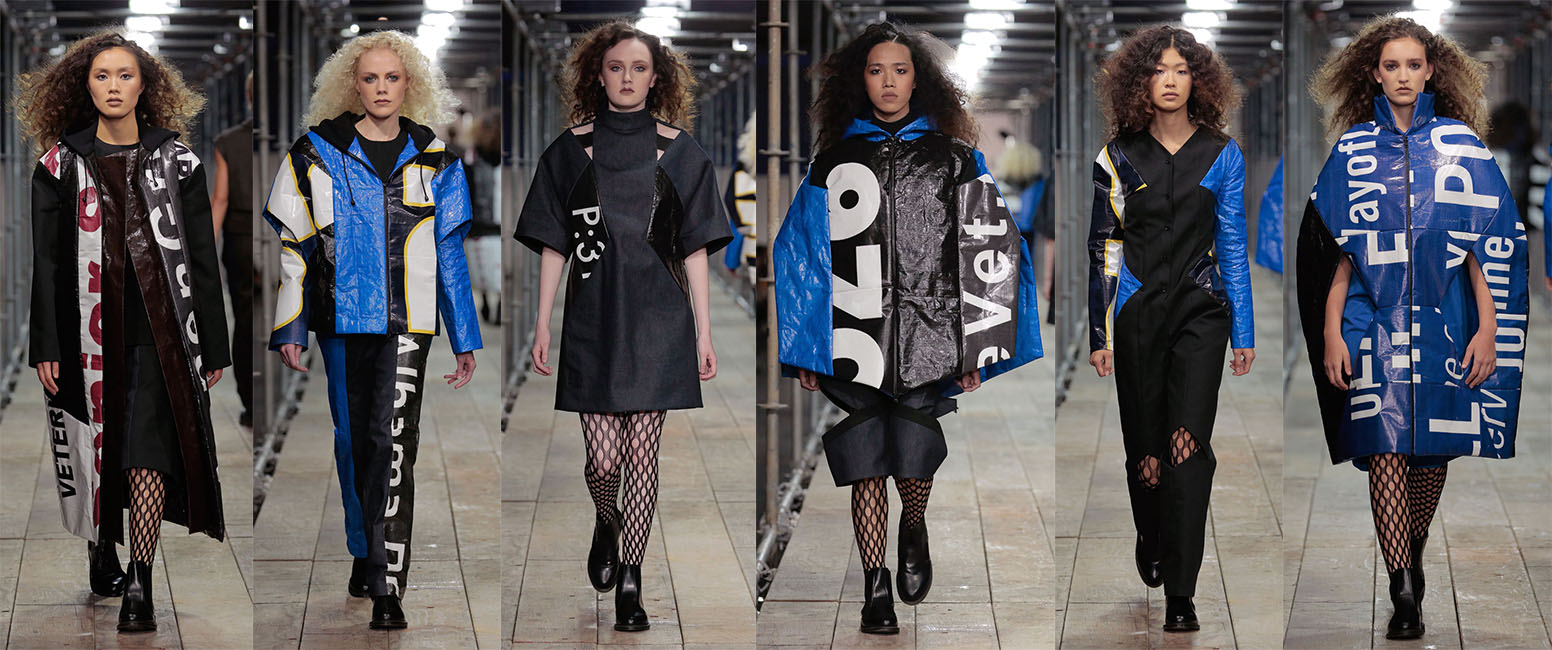 14. Fashion Design and Textile Design collaboration:
Hanh Nguyen, BFA Fashion Design, was born and raised in Vietnam. She drew inspiration from the work of two abstract artists thus combining two seemingly opposite aesthetics, minimalism and maximalism. Nguyen used organic cotton in canvas, twill, and organdy for her womenswear designs, and drew inspiration from Paul Kremer's minimalist Color Field paintings for the silhouette. For her jewelry, she used heat to soften and shape straight acrylic rods into curvy designs, and was inspired by the paintings of maximalism artist Trudy Benson that burst with color in large strokes and shapes.
Emily McCarty, BFA Textile Design, was born and raised in the greater Los Angeles, CA area. In 2017, she was awarded the Academy of Art University Study Abroad Italy Printmaking Scholarship. McCarty drew inspiration for her print collection while listening to King Krule's new album The Ooz. She wanted to "construct a visual ode to modern art, with a hint of satire." The collection became a physical representation of how McCarty sees a theme of balance between harmony and chaos in the modern art world. She sought to emphasize an appreciation for composition within the messes that humans make, rather than seeing something that needs to be cleaned up.
75. Printed dress with asymmetric one-sleeved 'board' jacket
76. Box pant with asymmetric canvas and organdy top
77. Asymmetric sleeveless top with print pant
78. Asymmetric one-arm box dress
79. Asymmetric one-arm box cape with sleeveless top and pant
80. Asymmetric one-sleeved box dress with bib overlay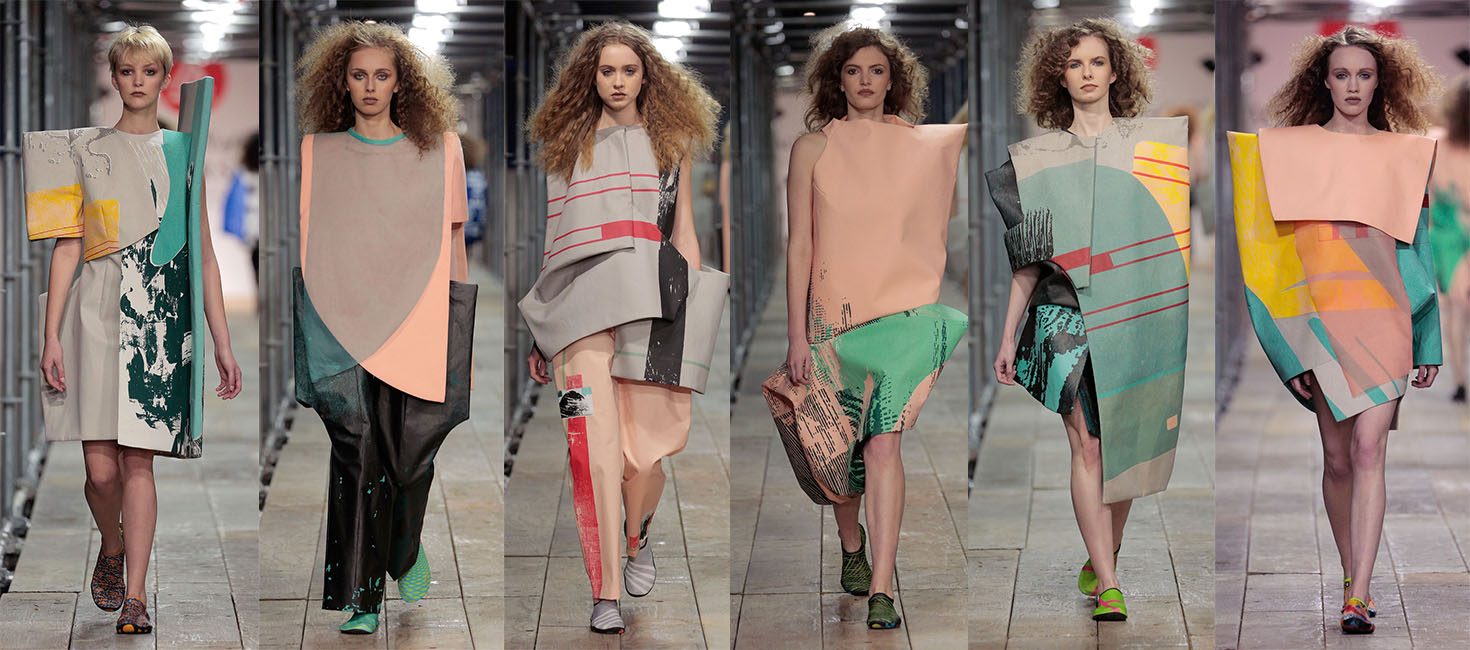 15. Jerry Lee, BFA Fashion Design grew up in Seoul, South Korea, and moved to America after he finished military service. Lee's artwork was selected for the Exhibition of Visual Design at Seoul Design Olympiad Media Art Exhibition in 2009.  He worked in the luxury retail boutique Louis Vuitton and was a design intern at Elie Tahari. Lee's collection reflects his nostalgia for his home country and memories of his family. Lee used stiff fabrics to create volume which represents an element of traditional Korean clothing and the clean lines of Korean architecture. He also referenced old family photographs for inspiration and mimicked some of the silhouettes and draping of the clothing worn by his relatives.
81. Forest green velveteen bolero jacket with matching asymmetric skirt with light beige tank top
82. Beige oversized belted top with beige twill skirt
83. Navy blue sleeveless dress with beige collar
84. Sleeveless belted beige top with flared wide-leg pant
85. Forest green tail coat with navy blue pant
86. Light beige asymmetric top with navy blue wide-leg pant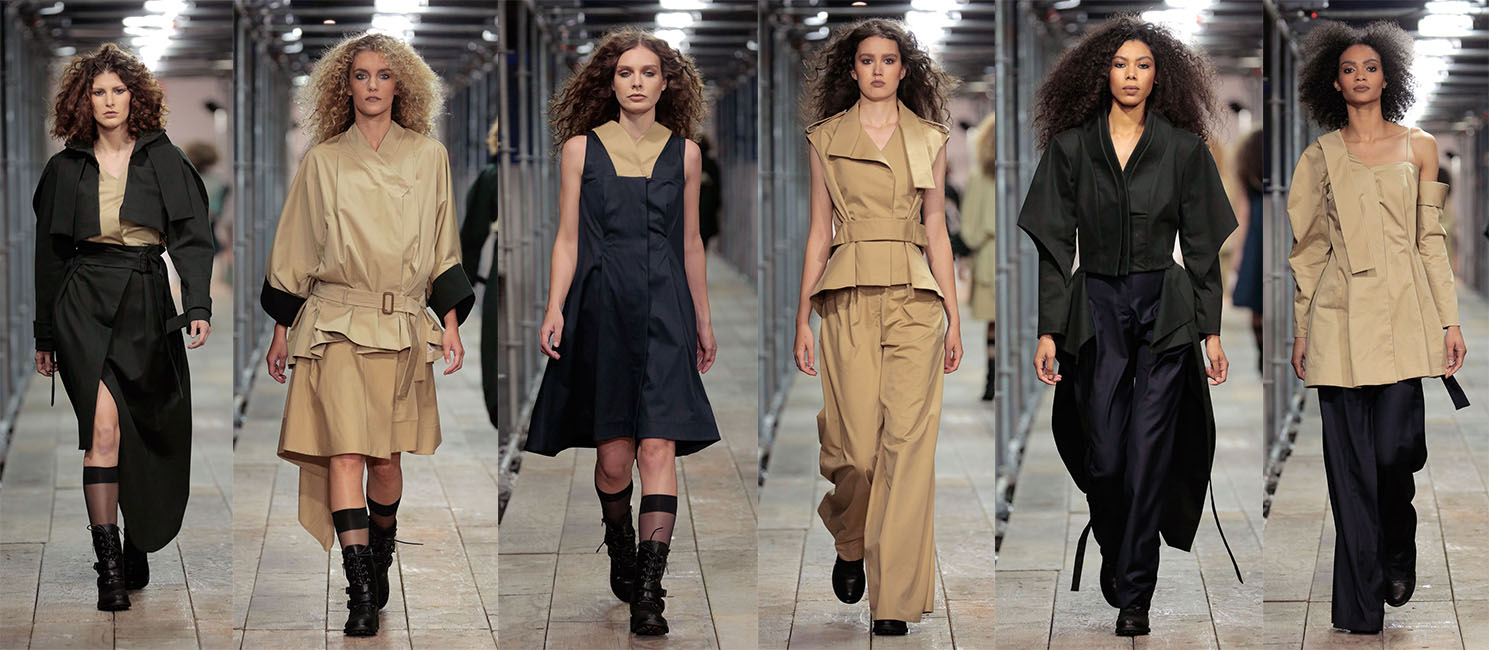 16. McKaela Christenson, BFA Knitwear Design, grew up in Baraboo, Wisconsin. The inspiration for this collection is derived from gestures, body movement, and the fluidity of the human form, as well as the organic shapes of hand-formed pottery by dancer and artist Paulus Berensohn. Christenson implemented 3D knits, used as a holding technique to create volume and shape. She appreciates the sustainability of knitwear, and how garments are created through the shape of her design which is a zero-waste process.
87. Yellow chunky hand-knit top with charcoal rayon knit skirt
88. Yellow wool stretch top with twisted back and neutral tones knit strap skirt
89. Dark chocolate cashmere draped knit dress
90. Yellow wool stretch top with flared back and neutral wool layered skirt
91. Charcoal rayon knit drape top with dark chocolate cashmere step-ruffle skirt
92. Yellow chunky hand-knit cardigan with neutral tones knit dress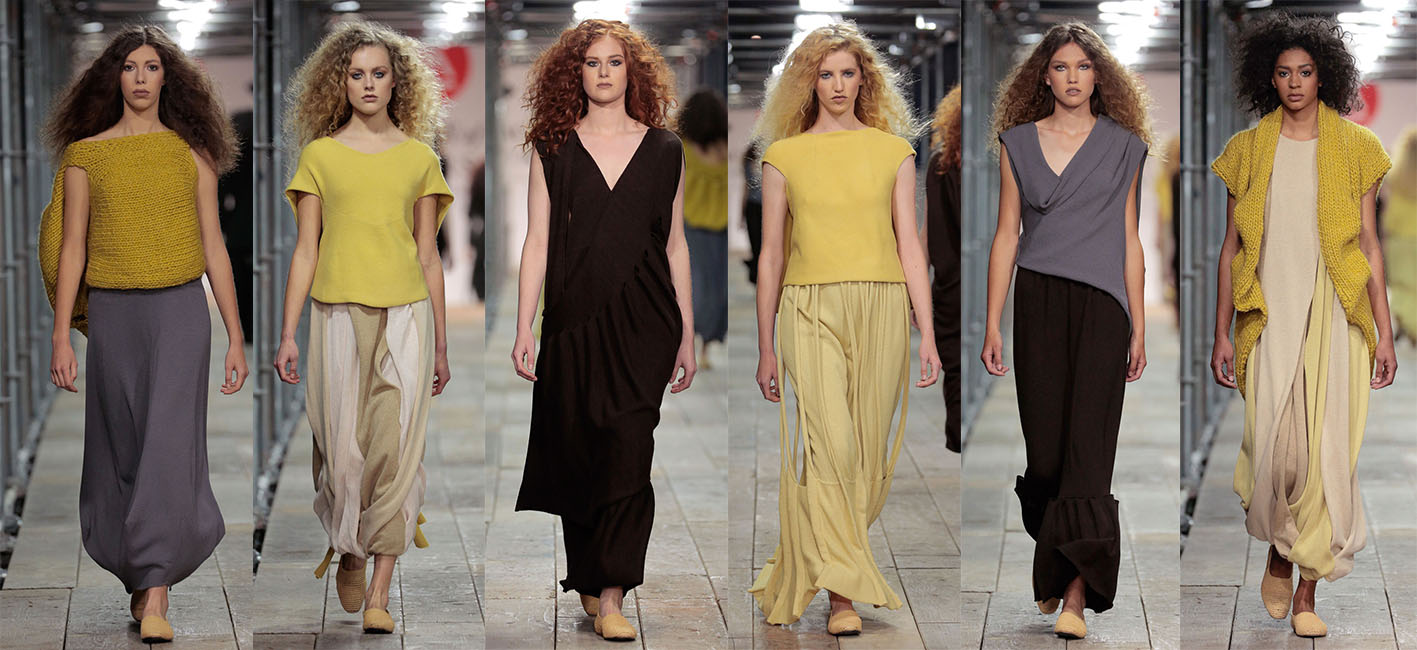 17. Felix Ryan, BFA Fashion Design, is from Jakarta, Indonesia where he developed a love for art and design at an early age. While pursuing his education, Felix interned under designer Christina Ruales in New York. In 2017, Ryan received recognition as a candidate in Joe's Blackbook Competition, became a top 10 finalist in Levi's Made and Crafted x Artsthread Worldwide Competition, and placed as one of the winners of Old Navy's Design Competition. His collection is inspired by his personal sleeping patterns – nightmares, sleep paralysis, and hallucinations. The digital prints he created are inspired by the unconscious and organic body movements while a person sleeps and dreams. Ryan's silhouettes are influenced by the hallucination images seen during sleep paralysis. His collection highlights both masculine and feminine design elements, as well as the eeriness of nightmares. He chose to combine wools, cottons and silk organza for the fabrics to create structure as well as fluidity.
93. Floor length digital print dress with midnight blue asymmetric belted jacket
94. Asymmetric midnight blue wool and organza belted coat dress
95. Digital print pantsuit with organza sleeve overlay
96. Digital print long sleeve knee-length dress
97. Midnight blue wool and organza asymmetric jacket with romper
98. Asymmetric belted digital print top with flared pant and organza overlay

18. Zhouyi Li, BFA Fashion Design, is from Jiangxi, China. In addition to her formal education, Li gained professional experiences during summer breaks, including being the design assistant for Haili Hu Design and Tailoring Studio in Shanghai, China, and also working for Hengxin Garment Weaving Company in Nanchang, China. For her collection, Li drew inspiration from Richard Serra's sculptures. She used wool and cotton fabrics in black and gradient rust colors. Li built simple and clean 3D shapes that appear to be slicing through the body. The enhanced colors are digitally printed on to the wool fabric.
99. Ombré rust dress with black cube shoulders and pleated side panel
100. Ombré rust torso cube dress
101. Elevated shouldered coat with black pleated side panels and black jersey dress
102. Asymmetric black wool coat with ombré rust left-side cube
103. Ombré rust coat with 'accordion' panels and black jersey dress
104. Ombré rust cube top with black wool pant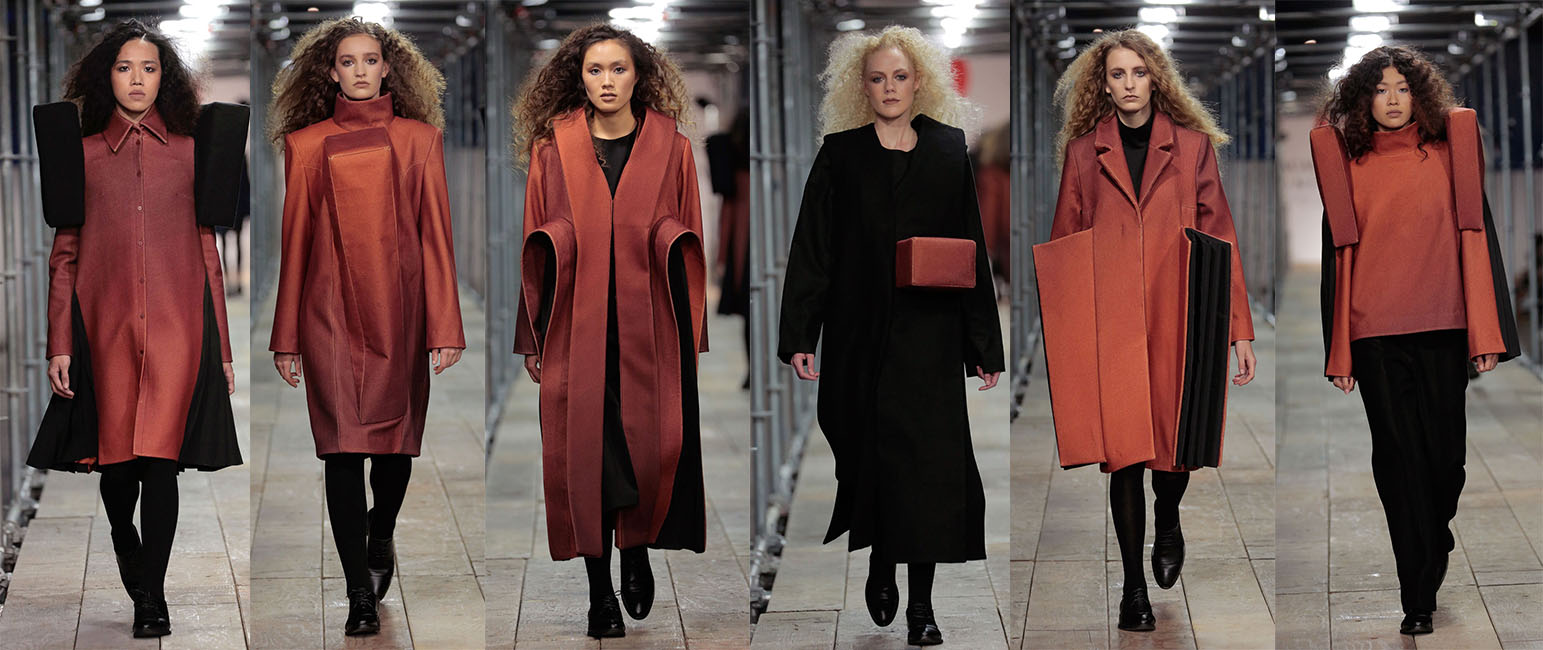 April 26th Student Award & Scholarship Announcements
YMA-Fashion Scholarship Fund
FSF $5,000 Scholarship
Hyun Nam (Nami) Kim, BFA Fashion Marketing
Isis Bryant, BFA Fashion Product Development
Junho Kim, BFA Fashion Merchandising
San Francisco – Paris Sister City Scholarship Exchange in Paris, France
Studio Berçot
Lusha Wang, MFA Fashion Design
Brianna Toomer, BFA Fashion Design
L'Ecole de la Chambre Syndicale de la Couture Parisienne
Paula Miranda Do Amaral, BFA Fashion Design
Felix Ryan, BFA Fashion Design
Graduate Fashion Week International
Selected to show her collection in London at Graduate Fashion Week International
Julie Eunju Kim, BFA Knitwear Design
General Motors Design Scholarship Award for $1,250
Mariana Suarez, BFA Fashion Design
2018 Fashion Journalism Scholarship
$1,500 Scholarship and Summer Internship at TRC Marketing
Adriana Georgiades, MA Fashion Journalism
2018 Social Media Center Scholarship
$1,000 Scholarship and Summer Internship at Cross Marketing & PR
Margaret Winkler, BFA Advertising
Additional School of Fashion Events:
On Wednesday, April 25th, the day prior to the Graduation Fashion Show and Awards Ceremony, guests Alexander Fury, Andre Walker and Lutz Huelle, joined distinguished industry guests, Trino Verkade, CEO of Sarabande: The Lee Alexander McQueen Foundation, and Sara Kozlowski, Director of Education and Professional Development (Council of Fashion Designers of America 'CFDA' for a panel discussion hosted by Simon Ungless, Executive Director of the School of Fashion. The discussion, and following Q+A with the guests, focused upon creating sustainable careers for today's fashion landscape.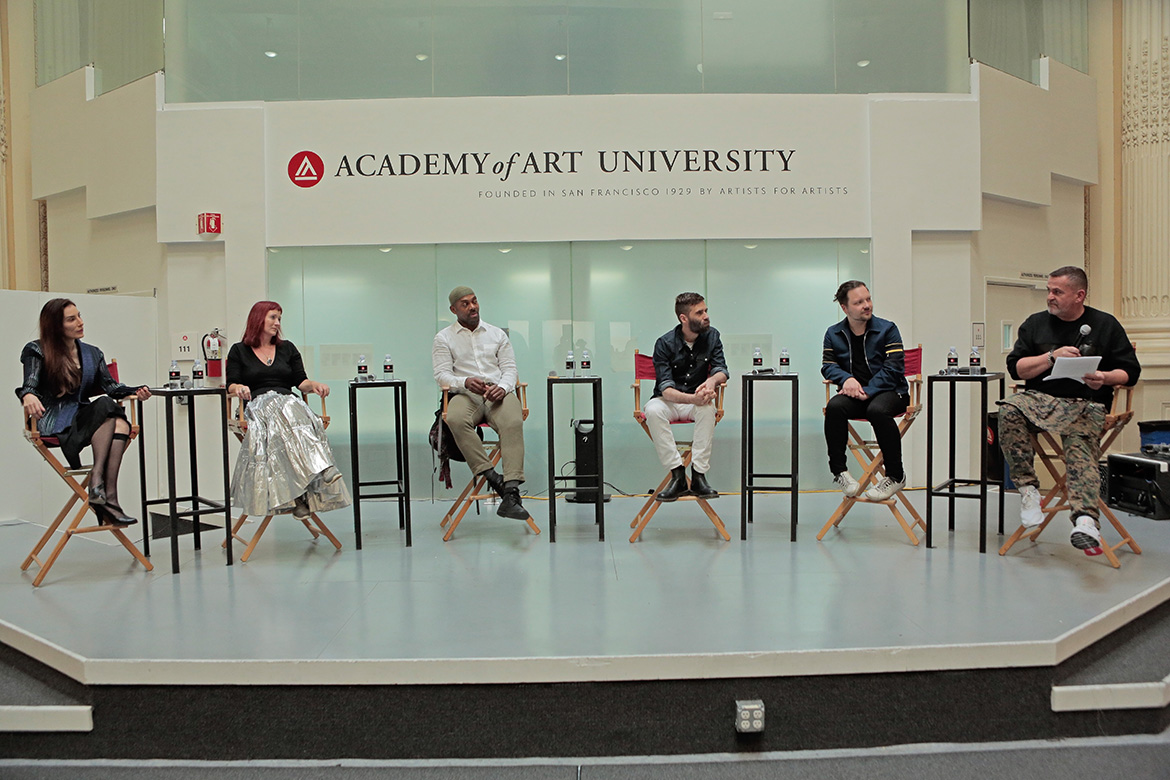 And, on Friday, April 27th, Academy of Art University hosted a discussion panel, "Inclusive Design: Redefining the User Experience", moderated by School of Fashion's Assistant Director of Fashion Styling, Flore Morton, with guests Stephanie Thomas, (founder of CUR8ABLE), Beau Oyler (founder of Enlisted Design and Urbino), and Chelsea Werner (a model with Down Syndrome and a four-time Special Olympics U.S. National Champion).
Discussion participant, Stephanie Thomas, is an MA Fashion Journalism alumna of the School of Fashion. She is also a congenital amputee, entrepreneur, professional stylist, and founder of CUR8ABLE, a disability fashion lifestyle website.  She has made it her mission to empower those with disabilities, applying her 26+years of research on clothing to make fashion available and accessible to all. Stephanie is just one example, of how our students take their own experiences, passions, and unique interests directly into the fashion industry and continue to make a difference.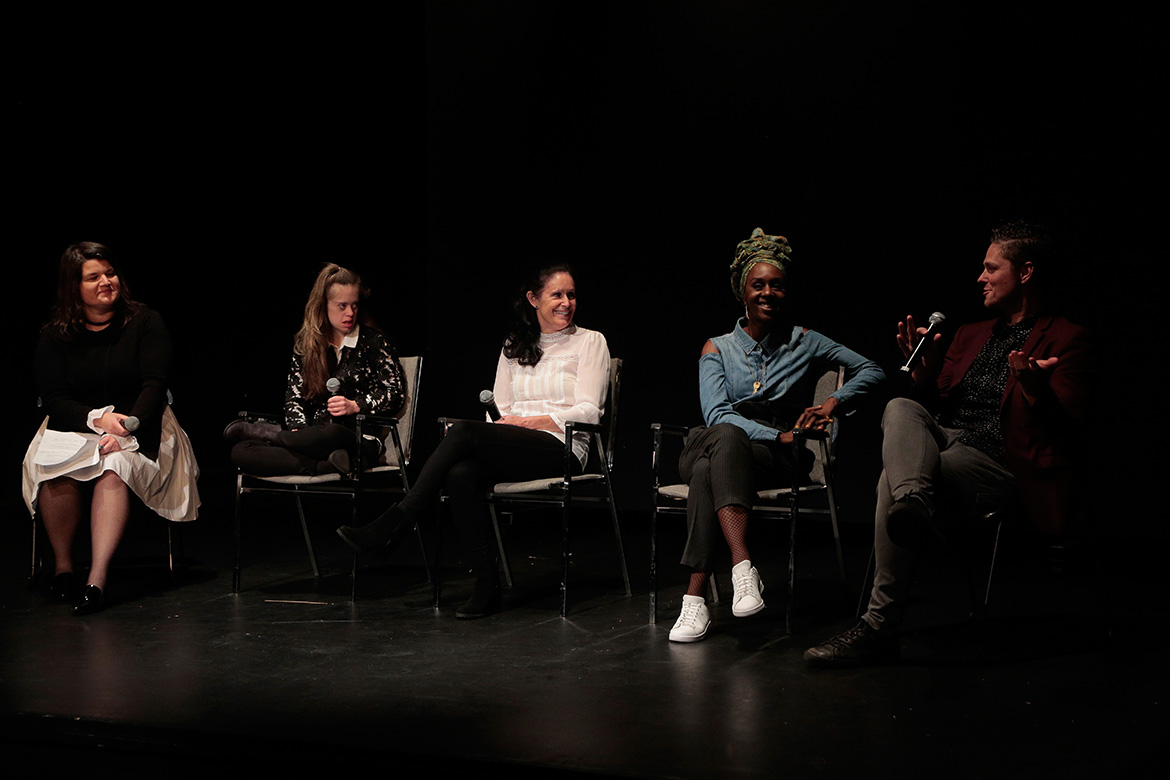 Links to download student portraits (portraits by Bob Toy) and runway photographs (photos by Randy Brooke), as well as the designer's illustrated line-ups.
High Resolution Photos: https://spaces.hightail.com/receive/XsYKPWYvg4
Low Resolution Photos: https://spaces.hightail.com/receive/dkAywdrjnl
Watch the full video of the Awards Ceremony and Graduation Fashion Show on April 26, 2016 at the Academy of Art University's website.
Download the full video of the Graduation Fashion Show on April 26, 2018:
https://spaces.hightail.com/receive/pzkRCnNClo
About Academy of Art University
Academy of Art University, the largest private university of art and design in the United States, is educating students to excel in the jobs of the 21st century. Established in 1929, the Academy offers accredited degree programs in more than 30 areas of study, as well as continuing art education, pre-college art experience programs, professional development, certificates, and teacher grants. Students are taught by a faculty of professionals from the existing marketplace, both online and on campus in San Francisco. Faculty provide them with an understanding of what it takes to succeed in today's business environment. The Academy's hands-on curriculum produces graduates who possess outstanding artistic and design skills, the ability to put those tools to work immediately after graduation, and an entrepreneurial spirit that tends to stick with them for life. AA, BA, BFA, BS, B.Arch, MA, MFA, and M.Arch degree programs are available in Acting, Advertising, Animation & Visual Effects, Architecture, Art Education, Art History, Art Teaching Credential, Automotive Restoration, Costume Design, Drone Production, Fashion, Fashion Journalism, Fashion Marketing, Fashion Merchandising, Fashion Product Development, Fashion Styling, Fashion Visual Merchandising, Fine Art, Game Development, Game Programming, Graphic Design, Illustration, Industrial Design (Transportation, Toy, & Product Design), Interior Architecture & Design, Jewelry & Metal Arts, Landscape Architecture, Motion Pictures & Television, Multimedia Communications, Music Production & Sound Design for Visual Media, Photography, Social Media, Studio Production for Advertising & Design, Virtual Reality, Visual Development, Web Design & New Media, Web Development, and Writing for Film, Television & Digital Media. Students can also enroll in flexible online degree programs in most areas of study. Academy of Art University is an accredited member of WSCUC, NASAD, CIDA (BFA-IAD, MFA-IAD), NAAB (B.ARCH., M.ARCH.) and CTC (California Teacher Credential).
About the School of Fashion
Students pursuing a Fashion Design degree from Academy of Art University learn from the finest creative minds working in fashion today, and have access to the tools and cutting-edge facilities needed for creating collections that garner accolades. Fashion students the world over gain experience designing styles that are the future of the industry the following areas of specialization: Fashion Design for Womenswear, Menswear, and Childrenswear; 3D Design and Pattern Making; Textile Design; Knitwear Design; Accessory Design; Costume Design; Fashion Illustration; Fashion Journalism; Fashion Marketing and Brand Management; Fashion Styling; Fashion Merchandising; Fashion Product Development; and Visual Merchandising.
The University works with international brands and recruitment agencies for internships and job placement. Graduates have gone on to such companies as Abercrombie & Fitch, Adidas, Alexander McQueen, Azzedine Alaïa, Banana Republic, BCBG Max Azria, Bill Blass, Blanc de Chine, Burberry, Calvin Klein, Corso Como 10, Chloë, Diane von Fürstenberg, Donna Karan, Gap, Kate Spade, Kiton, L.A.M.B., L'Ecole Lesage Paris–Atelier de Broderie, Liz Claiborne, Louis Vuitton, Marc Jacobs, Martin Margiela, Martine Sitbon, Missoni, Nike, Nordstrom, The North Face, Old Navy, Oscar de la Renta, Phillip Lim, Pottery Barn, Ralph Lauren, Reebok, Roland Mouret, St. John, Threeasfour, Tocca, Viktor & Rolf, and Williams-Sonoma.
Guests to the School of Fashion include Zaid Affas, Azzedine Alaïa, Prosper and Martine Assouline, Max and Lubov Azria of BCBG Max Azria Group, Yigal Azrouël, Geoffrey Beene, Rose Marie Bravo, Alex Brownless of Arts Thread, Sarah Burton OBE, Creative Director for Alexander McQueen, Andrew Buckler, Julie Chaiken, Kenneth Cole, The Honorable Bertrand Delanoë Mayor of Paris, David Downton, Steven Cox and Daniel Silver of Duckie Brown, Patrik Ervell, Loulou de la Falaise, James Galanos, Olya Kuryshchuk and Aya Noël of the publication 1 Granary, Lutz Huelle and David Ballu, the President of Lutz Huelle, Lisa Smilor and Sara Kozlowski, both of the Council of Fashion Designers of America, Joan Kaner, Humberto Leon and Carol Lim of Opening Ceremony, Antonio Lopez, Fern Mallis, Alexander McQueen, Enrique Meixueiro, Executive Editor of Vogue Mexico and Latin Amerinca, Rosita and Tai Missoni, Angela Missoni, Margherita Missoni, Isaac Mizrahi, Josie Natori, Ian Hannula and Joe Haller of N.I.C.E. Collective, Elisa Palomino, Laure du Pavillon, Lars Byrresen Petersen of Visionaire, Zac Posen, Oscar de la Renta, Zandra Rhodes CBE, Kate and Laura Mulleavy for Rodarte, Ralph Rucci, Nathalie Rykiel, HRH Princess Reema Bandar Al-Saud, Jeremy Scott, Carla Sozzani, Philip Treacy, Walter Van Beirendonck, Dirk van Saene, Trino Verkade, CEO of Sarabande: The Alexander McQueen Foundation, and Dame Vivienne Westwood DBE, as well as Christophe Girard Director of Fashion Strategy of LVMH Fashion Group, as well as fashion critics and journalists – Tim Blanks, Mickey Boardman, Alexander Fury, Robin Givhan, Cathy Horyn, Suzy Menkes OBE, Sarah Mower MBE, and Joe Zee.
About School of Fashion Directors
Simon Ungless, Executive Director of the School of Fashion, graduated from Central Saint Martins School of Art and Design in 1992 and was awarded the prestigious M.A. Degree in Fashion with Distinction. He collaborated with Alexander McQueen on the first 10 collections shown in London and New York, and personally introduced Sarah Burton, Creative Director of Alexander McQueen, to the late designer. In 2002, he was named Creative Director of Member Holiday, a Korean-based contemporary brand, launching both men's and women's collections with 37 freestanding stores. His work experience spans fashion design, textile design, forecasting, brand development, and marketing for such clients as Givenchy, Paul Smith, and Versace. In addition to his duties as the Executive Director of the School of Fashion overseeing both M.F.A. and B.F.A. programs, he is the editorial director of the School of Fashion's 180 Magazine, as well as the executive producer of the annual Graduation Fashion Show, Portfolio Review, and Scholarship Award Ceremony, and the biannual New York Fashion Week show. Currently, Ungless operates two artisanal design companies, When Simon Met Ralph, which focuses on apparel, and Blackened, which centers on accessories and home. Both projects are the culmination of Ungless' inspirational development work over his career.
Jayne Foster, Graduate Director of Fashion, graduated from The Royal College of Art with a M.A. in Womenswear. She has designed for a private label that showed in London, Paris, and New York. Her freelance clients included House of Fraser, Urban Outfitters, and Whistles. She created a collection of concept designs for Burton Snowboards the main women's range and the younger B by Burton range, designed textiles for Hop Lun Lingerie, and had her fashion illustration work exhibited in London galleries. Before joining the School of Fashion in 2012, she taught design for eight years in London, and designed for the British brand Monsoon.
Gary Miller, Director of Fashion, has more than 16 years of experience in New York and London as a fashion director. His design scope encompasses building and maintaining a brand's identity, initiating a start-up concept, reinvigorating an existing line, and nurturing an ongoing successful brand. For many years, he worked as a Design Director for men's sportswear division at Macy's Merchandising Group in New York. Previously, he worked at The Men's Wearhouse, Wilke-Rodriguez, Here and There (now part of The Doneger Group), and Michiko Koshino. He holds a B.A. in Fashion Design with Textiles from Ravensbourne College of Design and Communication in the U.K.
Jinah Oh, Director of Fashion Merchandising, earned her M.B.A. in Marketing at Golden Gate University in San Francisco, as well as a B.S. in Clothing and Textiles and a B.A. in Philosophy from EWHA Women's University in Seoul, Korea. She has extensive experience in international fashion and luxury brands. With Escada Asia, she developed business and market strategies, managed merchandising and buying for multiple brands, pioneered and initiated brick and mortar and e-commerce channel development. Later with Cartier, Richemont Korea Ltd., she oversaw retail operations and all aspects of retail marketing activities for the Korean market.
Iliana Ricketts was appointed to Director of Online Fashion in 2014, Assistant Director of Online Fashion in 2009, and held the position of Fashion Department Coordinator since 2005.  Prior to arriving to the U.S., Iliana was established as a recognized designer in her country of Bulgaria. She received her M.F.A. in Fashion Design from Academy of Art University. In 2002, she launched 'ILYA,' a designer ready-to-wear label sold nationally in stores such as Henri Bendel. Her line was also seen on the HBO television series, Sex And The City. In 2004, she became head designer of the boutique and golf line GGblue. Under her creative direction, GGblue became one of the most successful and fashion-forward brands in the golf and leisure industry.
Stephan Rabimov, Director of Fashion Journalism & Social Media Center, has ten years of experience in digital and print publishing, journalism, social media, public relations and marketing. He is Publisher/Editor-in-Chief of DEPESHA, and a contributing writer to The Huffington Post and Forbes International. Stephan has lectured at Johns Hopkins University and at The Museum at Fashion Institute of Technology. Stephan was also Executive Fashion Editor for FourTwoNine magazine since May 2011, and Founder of RABIMOV Public Relations Agency since May 2010, successfully launching Thom Browne, Rubin Singer, and Custo Barcelona in Russia. Stephan directly managed the opening of Nicola Formichetti's pop-up store in New York City as well as produced runway shows featuring emerging international designers during New York, St. Petersburg, Toronto, and Vancouver Fashion Weeks. Stephan has been interviewed and published across dozens of publications, including The New York Times, Russia Beyond The Headlines Edition, Women's Wear Daily, L'Officiel Ukraine, Vogue Russia, Wall Street Journal, Forbes, CNN, Yahoo Style, Examiner, and The Huffington Post.
Academy of Art University School of Fashion
79 New Montgomery Street, San Francisco, CA 94105
Call 1-800-544-2787 (U.S. only) or (415) 274-2222
Academy of Art University: http://www.academyart.edu/
School of Fashion: http://www.academyart.edu/academics/fashion
In-house Press Contacts:
Ian MacKintosh / (415) 618-3849 / imackintosh@academyart.edu
Edith Mead Barker / (415) 618-3891 / ebarker@academyart.edu
Elena Eberhard / (415) 618-3831 / eeberhard@academyart.edu
Follow the School of Fashion on Social Media
#AcademyUFashion
@AcademyUFashion
http://www.facebook.com/academyufashion
http://twitter.com/academyufashion
https://www.instagram.com/academyufashion/
Official Blog
http://www.fashionschooldaily.com
Official Flipboard Channel
http://www.flipboard.com/@academyufashion