If you didn't believe Beyoncé when she said its time to "get in formation," then I ask you to please pay attention to Beyoncé's performance at Coachella.
Properly nicknamed #Beychella as a social media trending topic, Beyoncé became the first black woman to headline Coachella in the festival's 19 years. She used this opportunity to highlight black culture and history in what will go down as one of the most iconic performances of all time — not just because Beyoncé makes performing look completely effortless, but because her performance made a culture proud.
In addition to a performance that included elements of Historically Black Colleges and Universities (HBCU), historically black Greek life and singing the "black national anthem" (sorry, that wasn't a new track), Beyoncé used fashion to make a statement.
Here's a look at several significant looks from her performance.
1. Egyptian Queen Nefertiti
Beyoncé teamed up with Balmain's creative director, Olivier Rousteing, to create two opening outfits that referenced Queen Nefertiti. What's significant about this is that Nefertiti was one of the most powerful women in ancient Egypt. She was depicted as having as much power and being as regal as the pharaoh himself. There are even theories that she was the ruler of Egypt after the death of her husband, Pharoah Akhenaten. This is fitting for Queen Bey, who shines just as bright as a male musician or icon, and champions women's rights.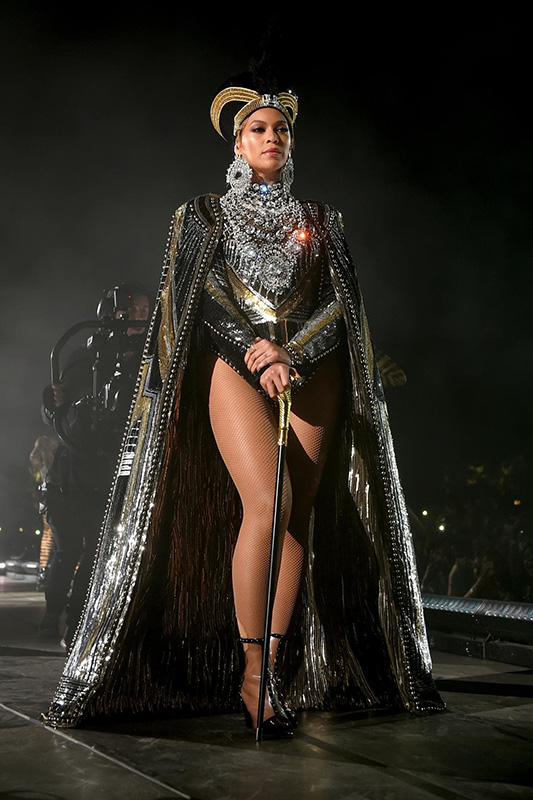 2. Yellow and Magenta Greek "BAK" Hoodies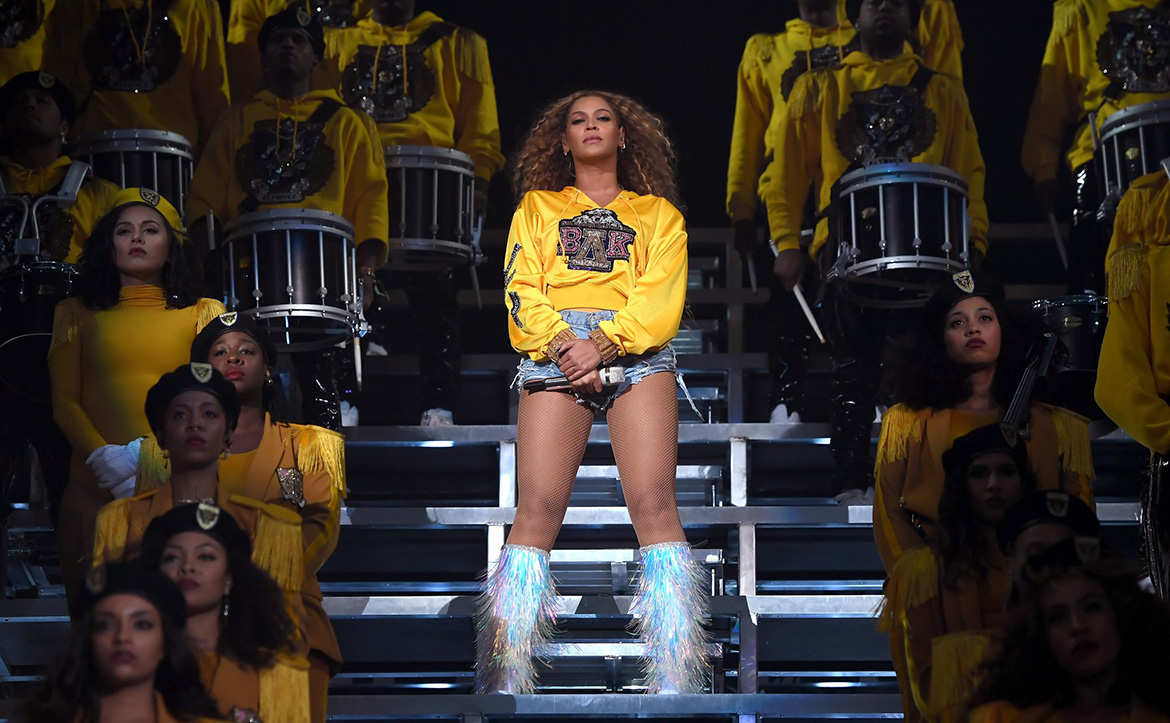 With her Balmain "BAK" hoodies spelled with Greek letters, Beyoncé created her own Beta Delta Kappa sorority. While some people might think the yellow references the first black fraternity, Alpha Phi Alpha, which was founded in 1906, we must also remember that a bee is black and yellow — representing the "beyhive," as Beyoncé's fans are called. What links this sorority to those of the National Pan-Hellenic Council (also known as Divine 9) are the rituals that these fraternities and sororities have in common, such as member presentation and stepping, which were part of the performance. Additionally, these organizations prioritize service to their communities, and Beyoncé aligns herself with the same mission.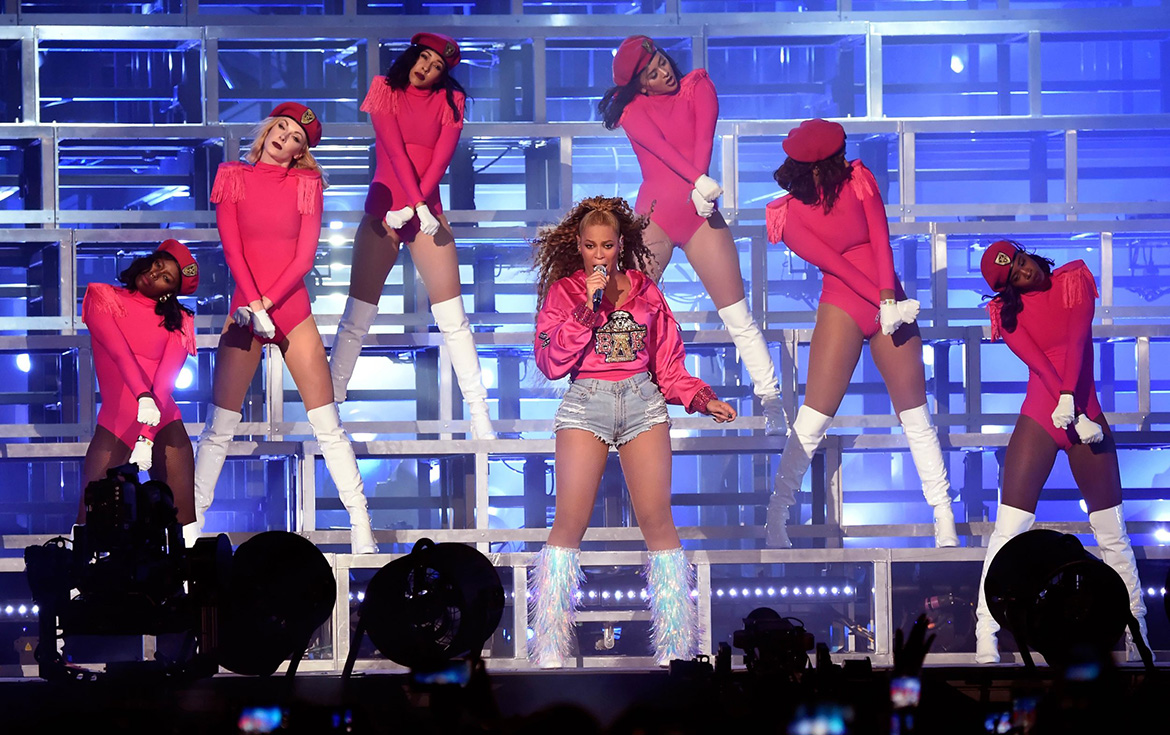 3. Mesh Crest Top
On a dazzling Balmain crest top, Beyoncé continued the theme of black rights and pride by having four distinct images that are associated with black culture. On her crest, she had an Egyptian queen, a black panther (referencing the Black Panther party), a black fist and, of course, a bee. If anyone wanted to understand Beyoncé's stance, it's clearly stated in her outfit.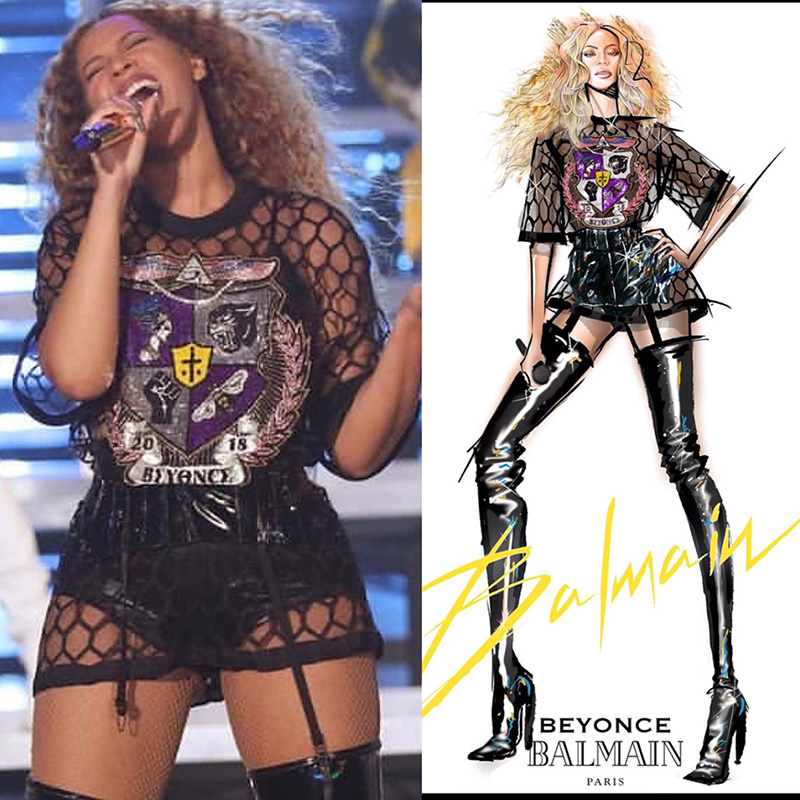 It's exceptional to see an artist use fashion to take a stand and to help move along an idea. Fashion isn't a frivolous industry with nothing to say. Beyoncé's performance and outfit choices not only brought joy but enlightenment to a wide variety of people who might not have otherwise sought out this experience. As she sang in the first verse of "Freedom":
Tryna reign, tryna rain on the thunder
Tell the storm I'm new
I'm a walk, I'm a march on the regular
Painting white flags blue
Love forgive me, I've been running
Running blind in truth
I'm a rain, I'm a reign on this bitter love
Tell the sweet I'm new.
Text by MaShawn Jones, MA Fashion Journalism online student and Fashion School Daily Contributor