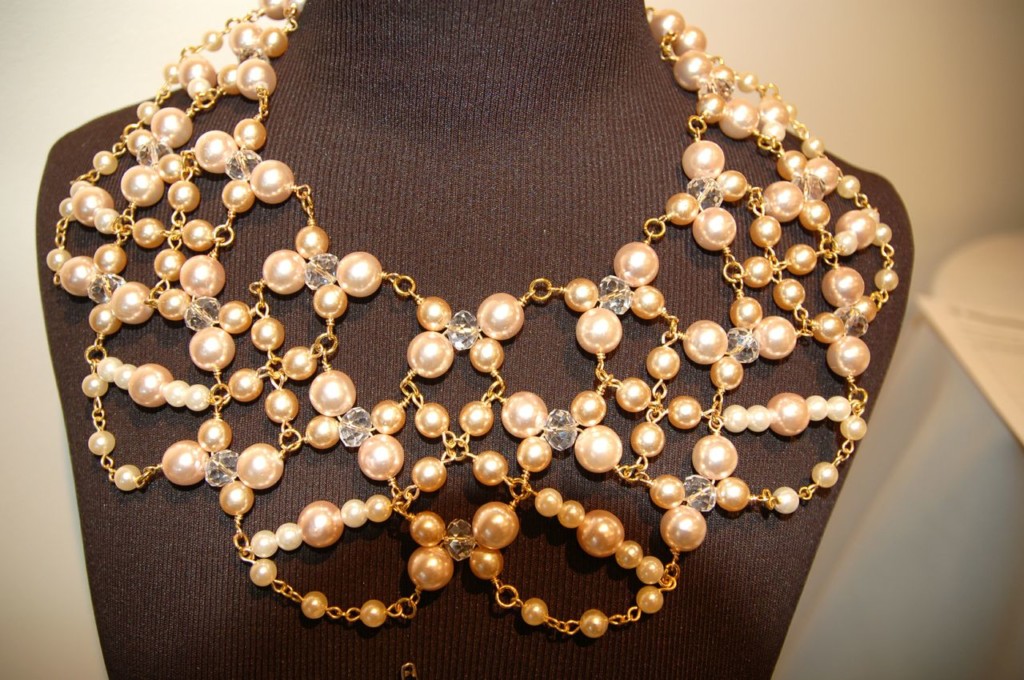 Photo courtesy of Festive Productions, Discarded to Divine.
This past Tuesday, University students' and faculty designed one of a kind reclaimed pieces of apparel, accessories, and home décor to be auctioned off at the charitable event Discarded to Divine held by the St. Vincent de Paul Society at the Gensler Architecture Firm in San Francisco.The building was transformed to host the glamorous soiree for the night. Guests were greeted by cocktail bars serving the signature beverage of the evening: champagne with strawberries. Women dressed in elegant evening wear chattered excitedly about bidding on their favorite designs.
Discarded to Divine has been bringing the philanthropic community of San Francisco together for the past eight years to raise money and awareness for poverty, homelessness, and domestic violence.  It all began in 2005 when Sally Rosen, the director of the St. Vincent de Paul Society, found herself with tons of fabric and donated clothing given to the organization that was just laying around unused.  She realized the discards were "waiting to be transformed into divine creations." By collaborating with both professional designers and aspiring design students from the University, the fabrics and scraps were transformed into couture one-of-a-kind creations.
The designs of over 50 talented individuals had been previously displayed at a preview event at the de Young Museum on Friday April 12th . Walking in, Fashion School Daily was greeted by a maze of gorgeous dresses, funky accessories, and unique home décor items.  "The layout was created by students in the Merchandising and Visual Promotions class at San Francisco State University," said an eager Emilie Stephenson, a member of the class. As we weaved our way through, DJ Mike spun '80's hits against a backdrop of a colorful fluorescent light installations, furthering us on our journey of exploring these innovative designs.
A common inspiration for a lot of designers was the Johannes Vermeer exhibit, currently on display at the museum, featuring the Dutch artist's hallmark work "Girl with the Pearl Earring." A fun pop-art inspired wallet by University student Wu Narcissi, featuring a motif of the "Girl with the Pearl Earring" in a recurring pattern, stood out. Other designers took a less literal approach. Roseanne Regal incorporated Vermeer's  17th Century Dutch influence into a collar necklace composed of pearls.
Darma Saputra, a Fashion Visual Merchandising student at the University took on the task of recreating a handbag he had been given from the Goodwill which he "felt the need to give structure to." At first it was just an ordinary red bag, but the bright hue immediately reminded the designer of a phoenix. He went to add feathers and instantly the bag he called "Broken Phoenix" looked like a stunning, couture purse.
Check out the below photos from a night of inspirational designs created for a very good cause. For more information about Discarded to Divine, click here.
[justified_image_grid row_height=250 height_deviation=50 ids="23311,23313,23490,23314,23307,23488,23487,23489″]
photos courtesy of Bob Toy and Festive Productions, Discarded to Divine.
Written by Tonislava Docheva. This article will additionally be featured in the Academy of Art University News on April 26th.