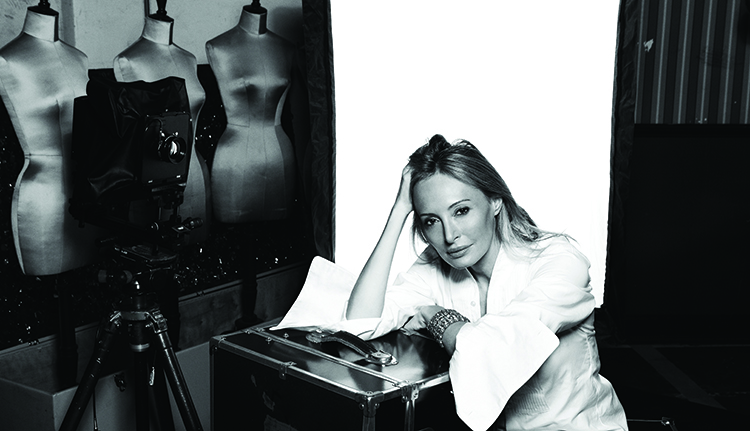 Photo courtesy of BCBGMAXAZRIAGROUP.
As Chief Creative Officer of BCBGMAXAZRIAGROUP, Lubov Azria embodies the aesthetic and spirit of the global fashion house. Taking inspiration from art, music, film and travel, Lubov designs for today's woman with a point of view that is informed by her own life and style.
Born in Kiev, Ukraine, Lubov first tasted success as a ballet dancer in the youth division of the renowned Bolshoi Ballet. After relocating to the United States in her early teens, Lubov's focus shifted from dance to the visual arts. A love of design and talent for illustration led her to pursue a degree at the Fashion Institute of Design and Merchandising, and she joined BCBGMAXAZRIAGROUP as a Designer in 1991.
Lubov was named Creative Director of the house in 1996, the same year the company's core brand, BCBGMAXAZRIA, first debuted its Runway collection during New York Fashion Week. Under Lubov's influence, the BCBGMAXAZRIA brand has evolved from an emerging contemporary line to one of America's leading design houses.
In the eight years following the company's acquisition of the couturier Hervé Léger in 1998, Lubov and her design team worked to perfect the signature bandage technique and develop new methods of crafting the silhouette. Now synonymous with red-carpet glamour, Hervé Léger by Max Azria continues to make an impact at industry events and Hollywood parties and on the runway each season with Lubov carefully creating each show.
Leading a team of nearly 200 designers, pattern makers and associates, Lubov and Max are continuously evolving the two brands, BCBGMAXAZRIA, and Hervé Léger by Max Azria. Meticulous about details, Lubov sees each collection's pieces through from concept to final sale, overseeing BCBGMAXAZRIAGROUP's marketing, visuals, merchandising and store concepts teams to ensure that customers experience each collection as she has intended. She remains committed to her position in fashion as designer and innovator.
For more on the May 2013 Graduation Fashion show events, click here.