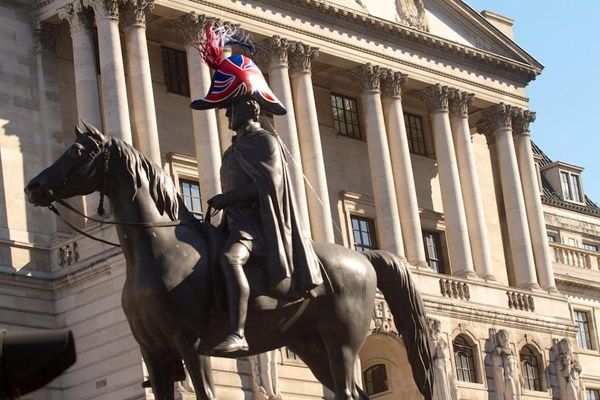 The Duke of Wellington – bicorn hat designed by Ian Bennett. Photo Courtesy of The Mayor Presents.
We all know the British love their hats – from simple pillboxes to outlandish feathered confections, you won't spot a Brit at a major event without a serious topper. In celebration of Britain's beloved accessory, the Mayor of London, the British Fashion Council, and Grazia magazine have teamed up for Hatwalk – a millinery celebration that has taken over London during the Olympic Games.
Follow the jump to read more!
Twenty of the city's iconic statues, from William Shakespeare to Winston Churchill, have been outfitted with imaginative head adornments, from crowns and turbans to the traditional bicorn. Curated by millinery legends Stephen Jones, and 2012 Guest of Honor Philip Treacy, Hatwalk brings together twenty-one emerging and established milliners to showcase their design talent. Jones told the British Fashion Council,
"I am thrilled to be able to showcase British millinery during the year of the Olympics in London. Britain has long been credited as being the center of the modern millinery world and these hats are the work of our most celebrated and inspired creators."
The hats certainly breathe new life into the statues, bringing together tradition and innovation in a creative and inspiring way. Click through the slideshow for a few of our favorites – and if you happen to be in London, take a Hatwalk around the city!
[imagebrowser id=35]
All Photos Courtesy of The Mayor Presents.