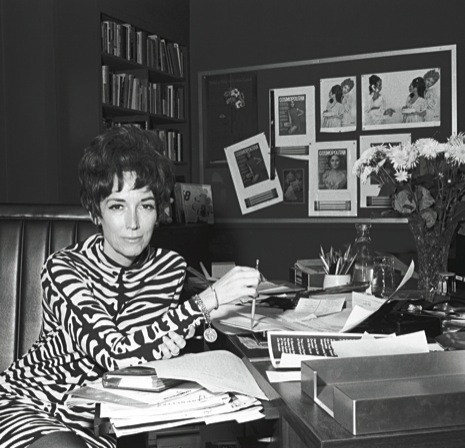 Helen Gurley Brown in her Cosmopolitan office in the 1960s. 
Helen Gurley Brown was never one to keep her mouth shut. The author of Sex and the Single Girl, published in 1962, and former editor-in-chief of  Cosmopolitan, spoke her mind on everything from fashion and beauty to health and – most notably – sex.
Sadly, the original Cosmo girl passed away yesterday at the age of 90. During her 30-year career at the publication, Brown revolutionized women's magazines and taught women that they could indeed "have it all." Though controversial, her unique blend of charisma, humor, and sex made for some seriously funny – but true – quotes. In honor of the legend, we've compiled a few of our favorites:
Oh The Places You'll Go: "Good girls go to heaven, bad girls go everywhere"
You Have to Start Somewhere: "Nearly every glamorous, wealthy, successful career woman you might envy now started out as some kind of schlepp."
Follow the jump to read more!
Work With What You've Got: "What you have to do is work with the raw material you have, namely you, and never let up."
The Original Feminist: "Cosmo is feminist in that we believe women are just as smart and capable as men and can achieve anything they want. But it also acknowledges that while work is important, men are, too. The Cosmo girl absolutely loves men!"
Pillow Talk Tips: "Never fail to know that if you are doing all the talking, you are boring somebody."
Achieving Success: "I hope I have convinced you – the only thing that separates successful people from the ones who aren't is the willingness to work very, very hard."
The Truth About Beauty: "Beauty can't amuse you, but brainwork – reading, writing, thinking – can."