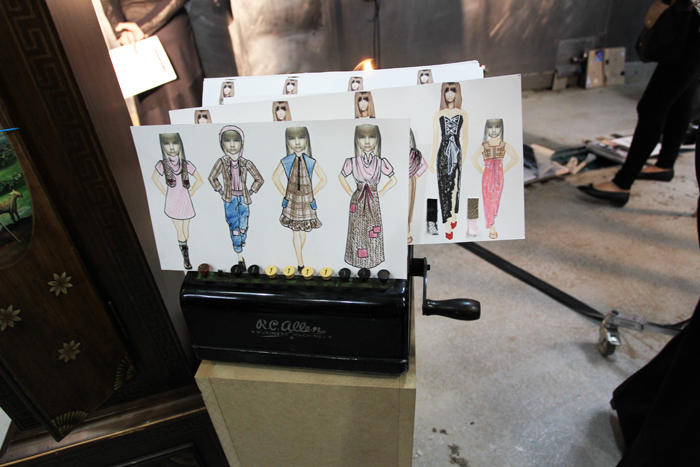 On Wednesday, December 7th, Michael Rosen's students put on an amazing art installation titled We Will Rock You. All six of his classes participated in the show: three sections of FSH 616 – Dynamics of Fashion, FSH 390 – Fashion Merchandising Career Development, GS 671 – Professional Practices and Communication of Fashion, and FSH 262 – Fashion Design 3.
Career Development and Professional Practices students displayed their business cards, résumés, and original bio's meant to grab an employer's attention. The three Dynamics of Fashion classes created publications that represented what they had learned in the course. One was an XXXpandable magazine that stretched the entire length of the table, another was a "Hand Coutured" Manual with everything from A to Z, and the third – a moving, transparent magazine. The three publications were set up amidst a tableau of household furniture: a chair here, an easel there, a grandfather clock in the corner. The furniture became the set for the final act of the presentation – a runway show, sans clothes, put on by the Fashion Design 3 students. The designers presented their sketches, mood boards, and fabrics – exhibiting their ideas in complete silence, and allowing the work to speak for itself.
The entire experience was amazing – so many different forms of creativity came together with one powerful message: We Will Rock You.
Follow the jump for more photos!