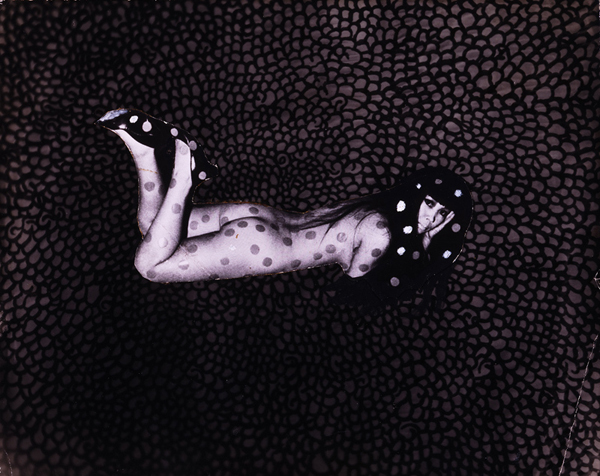 Self-Obliteration (Net Obsession Series) – Yayoi Kusama, 1966.
Yayoi Kusama has taken New York City's art and fashion scene over in the last month. With the new Whitney Museum exhibit that opened on July 12th and Louis Vuitton's collaboration with and homage to the Japanese conceptual artist, polka dots have taken the city by storm.
Kusama's work is as relevant today as it was 50 years ago, when she first formed many of the concepts that Pop artists like Andy Warhol would later embrace. Her works include repetition and collages and have evolved over the years, but still maintain their core artistic values. Giant white, polka dotted red balloons are the first thing you see at the Whitney Museum exhibit, and large polka dots greet costumers at Louis Vuitton's 5th Avenue store as well. If the three-story store façade, covered in a black and white polka dot pattern isn't enough to pique customers' interest, the exact replica of the artist displayed in the window is sure to. Adjacent windows showcase the red-and-white collection featuring Kusama-decorated shoes and handbags set in giant anemone-like shapes, mini Yayoi Kusama dolls, and the artist's hybrid sculptures of flowers and eyes in primary colored polka dots. The collaboration feels young and fresh, a welcome shock to the look of the usual Vuitton windows. The collection is a brilliant statement of the house's, and creative director Marc Jacobs', close relationship to graphic artists all over the world.
Follow the jump to read more!
What struck me most about Yayoi Kusama's exhibition were her Self-Obliteration works. In the role of artist, she creates photographs, installations and paintings, but also serves as subject, often portraying herself and ultimately blending into the repeated patterns she creates. The repetition of her subjects has helped her to overcome her anxieties towards sex, popular culture, war and life itself. She has created installations covering entire rooms with repeated dots and phallic shapes, or infinite spaces as in Fireflies on the Water,  that are simultaneously therapeutic and claustrophobic, inviting viewers into her very simple, minimal, and yet very complex universe.
Recently, Kusama created large acrylic paintings that carry some of the repetitions of her earlier works with the addition of bright monochrome backgrounds and new tribal-like motifs, such as the artist's hieroglyphic profile, flowers eyes, and dots. Her work offers a multitude of inspiration and definitely should not be missed!
[imagebrowser id=30]
Written by Laura Acosta.