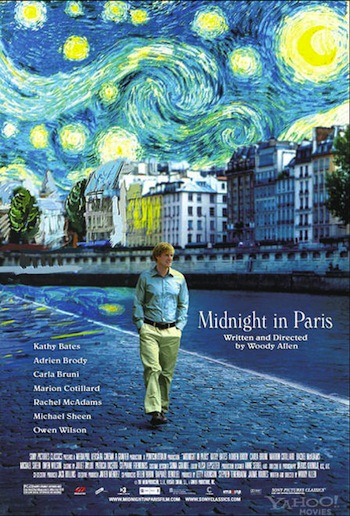 The summer time is usually a time to watch multi-billion dollar movies with ridiculously computer generated special effects, action, adventure and big names — but perhaps you should take a time out from all that and watch Woody Allen's latest: Midnight in Paris:
The trailer doesn't show it, but the main character (Owen Wilson), a writer, walks the streets of Paris after midnight and gets transported back into time into an artistic world of the greatest artistic minds in history: Hemingway, Fitzgerald (both Zelda and Scott), Gertrude Stein, Dali, Henri de Toulouse-Lautrecr, Picasso, Man Ray, T.S. Eliot, Henri de Toulouse-Lautrec — and he gets inspired. The movie plays out like a who's who of the must-know world of literature and art. Plus, the movie takes place in Paris and Carla Bruni makes an appearance.
The movie doesn't have any transforming robots, aliens, pirates or superheroes, but it's still a great movie-going experience.