Fashion School Daily contributors, Harry Go and Sata Schramm gave us a he said/she said take on some of the looks from major designers at Paris Fashion Week. From Gareth Pugh to Louis Vuitton, one of them played the good cop, the other played the bad cop – we'll let you read for yourself.
Gareth Pugh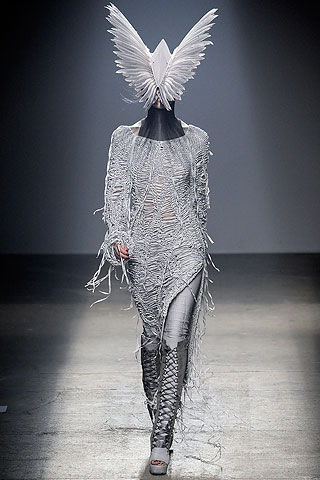 Photo credit: Marcio Madeira

Harry: Gareth is an artist. He knows how to put drama into his shows. His work has been consistently industrial and heavy but in this show, the clothes were also romantic and soft.
Sata: You know those unisex dominatrix zombies you always feared were going to imprison you? Guess what? They're coming! Take note of the cozy-looking blankets some wrap themselves in, but watch that you don't get your eyes poked out by their headdresses.
Alexander McQueen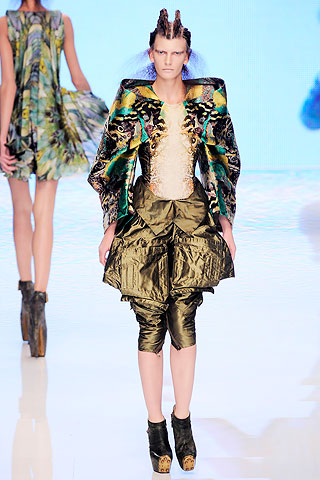 Photo credit: Marcio Madeira
Harry: I loved the prints at the McQueen show! The fabrics were digitally printed so they weren't just repeating patterns. His clothes look great from far away but the full impact happens as you get closer.
Sata: McQueen completely committed to an admittedly weird concept (right down to the hoof-like shoes–who needs feet in the future, right?) and the results were breathtaking. This was the only show of the entire season whose every detail I wanted to study. My only quibble is the choice to use mollusks for the prints on some dresses, but only because I'm afraid of mollusks.
Viktor & Rolf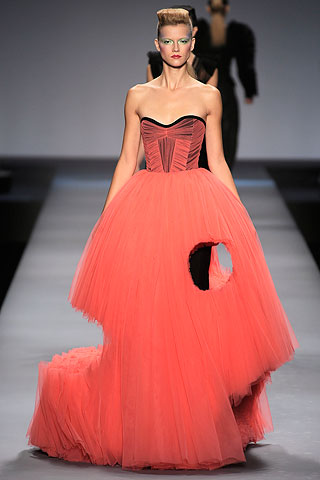 Photo credit: Marcio Madeira
Harry: My favorite look was look #28, the one that Kasia Struss wore. It was a plain red bustier dress but with holes tunneled from the front to the back. I saw lots of tulle and ruffles, and I liked it. Due to this economic situation, some of the pieces looked more commercial than what Viktor & Rolf usually offer.
Sata: If you want to go to a major event and stand in one spot the whole time then this is the collection for you. Just think, you'll be knocking people out with your holey skirt and with other dresses you won't even be able to see what's on either side of you–and definitely not behind you–so it's best to just back yourself up against a wall and stay there. But on the whole it was a really beautiful collection featuring some dare-to-not-touch-it-because-it-looks-that-soft embroidered silk.
Chanel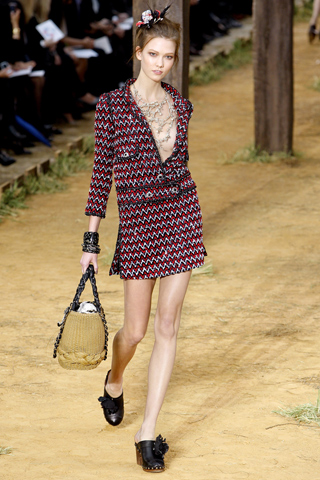 Photo credit: Monica Feudi
Harry: I was really excited about the Chanel show – as I always am every season. I even woke up in the middle of the night to read the tweets about the show. However, I was pretty disappointed with the theme. Barn and Chanel makes quite a funky match. Loved all the suits, hated the shoes. I know Karl tried to think outside the Chanel-quilted-bag-box, but sometimes inspirations don't have to be taken too literal.
Sata: The presentation at Chanel was a little gimmicky, but still charming. Sometimes Chanel feels like an exhaustive exploration of how to cut a tweed jacket–and this collection was no exception–but the Chanel customer is a Chanel customer and she deserves options. Does anyone else associate macramé dresses and wood-soled clogs with people who don't shower? That's not very Chanel.
Balmain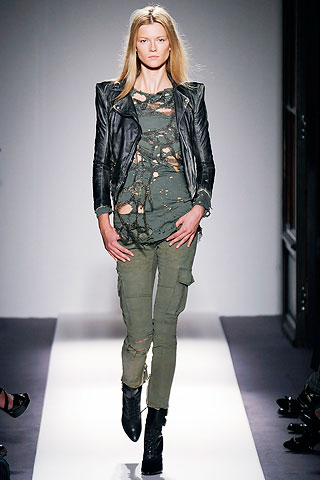 Photo credit: Marcio Madeira
Harry: The thing I love about Balmain girls is that they are very glamorous, but in a very relaxed way. Pretty much every young star in Hollywood will want to wear pieces from the show. The only thing I wasn't sure was the destructed t-shirts. Keep your dogs away from your studio, Christophe Decarnin.
Sata: I don't understand why anyone would be attracted to clothes that look like they were taken from the rag bin at the Salvation Army. It's getting to the point where people have to talk about how "cool" and "fabulous" the models in the show are because they know that only totally cool and fabulous girls can wear those clothes and have them look even a little normal. But more than anything, I wish Christophe Decarnin would stop beating this studded- and peak-shouldered horse because it's dying (or I just wish it were so that he'll stop it already).
Louis Vuitton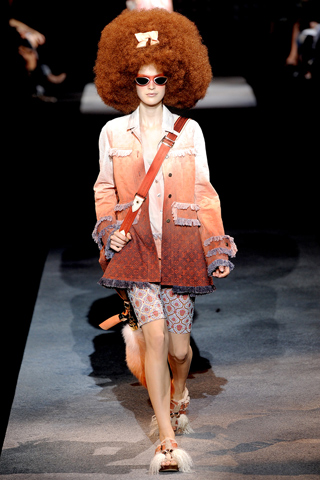 Photo credit: Monica Feudi
Harry: I love Marc Jacobs – but I'll try not to make this biased. I loved how clothes were fun, playful, and fresh. Loved the colors and the Japanese influence. However, it looked more like things that Marc will have for his own lines rather than the Parisian-chic styles that I was hoping to see.
Sata: Holy afros, Marc Jacobs. The whole vibe of this show just had a terrible '70s feel to me. Everything from the colors to the prints to the accessories. What confuses me is why he told Sarah Mower that, when designing, he was thinking about "the movement that came after punk". Um, no. You were thinking about the movement that came before punk because this is everything that punks were trying to get away from. But alas it's Marc Jacobs, so we'll love whatever nonsense he throws at us.