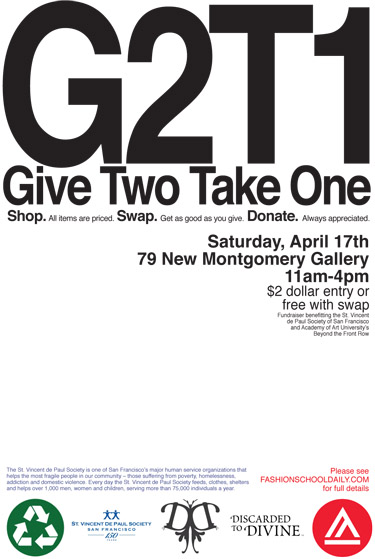 Hollywood Legends Wardrobe and Costume Exhibit
Now – Sunday, April 4th
Ground Floor of the Metreon, 101 Fourth Street at Mission Street
12:00 noon – 8:00pm
The new Hollywood Legends wardrobe and costume exhibition has just opened at Metreon (remember when Kalla blogged about it?), ground floor (the old Sony Playstation) 101 Fourth Street at Mission. A discounted admission of $5 (regularly $15) is available for all Academy of Art University students. Simply flash your i.d. card. Enjoy seeing original items worn by Barbra Streisand, Anna Nichole Smith, Marilyn Monroe, Audrey Hepburn, Elizabeth Taylor, Bette Davis, Joan Crawford, Natalie Wood, Princess Grace Kelly… and many others. Exhibit includes over two hundred items, including one of Judy Garland's Wizard of Oz dresses. For more info: call 415-644-0575.
Give Two, Take One "G2T1"
Drop-off donations / Pick-up swap tickets
Now – Friday, April 9th
(locations listed below)
Clean out your closets and donate clothes and accessories for the G2T1 clothing swap and clothing drive hosted by Beyond the Front Row (fashion club) and the St. Vincent de Paul Society of San Francisco.
2 donated items now = 1 swap item for G2T1 Saturday, April 17th
Mon -Fri. 10:00am – 3:00pm
79 Retail Store @ 79 New Montgomery, and the Lobby @ 180 New Montgomery
Mon. -Thurs. 9:00am – 5:00pm
St. Vincent de Paul Society @ 169 Stillman Street, San Francisco, CA 94107 (SoMa)
*Receipts for tax-deductible donations are available at the St. Vincent de Paul Society drop-off and at G2T1
Beyond the Front Row's General Meeting
Thursday, April 8th
79 New Montgomery Theatre 7:00pm – 8:00pm
Where Style Meets Substance. Greet other members. Learn about the club, the events, and opportunities to volunteer. Membership sign-up is still available ($10 annually) and is open to all University students. Check their Facebook page for updates and events: www.facebook.com/BeyondtheFrontRow
Ethical Fashion Night hosted by Global Action Through Fashion
Thursday, April 8th
The HUB SoMa at 901 Mission Street (Chronicle Building) 6pm-10pm
Attend the "First Bay Area Ethical Fashion Night" to mingle, munch, sip, and learn about Ethical Fashion in the Bay Area and beyond. School of Fashion students will be there too, with a display of sustainable fashion projects. The fashion club, Beyond the Front Row will also be at the event, near Discarded to Divine (St. Vincent's) to promote G2T1 (clothing swap = sustainable). To register to attend the event (free) and learn more about Global Action Through Fashion, visit http://www.globalactionthroughfashion.org the registration/RSVP is under "events".
Discarded to Divine's "Sneak Preview"
de Young Museum at Golden Gate Park
Friday, April 9th, 5:00pm
Sneak a peek at the one-of-a-kind clothes and home décor items that were transformed from the discarded into the divine, all before the items go to auction on April 29th. Look for the creations from School of Fashion students, Miriam Tolentino (pillow) and Laone Botshoma (dress)! Watch for Miriam's and Laone's designs on display in the window at the 79 Retail Store the week of April 12th, as part of the G2T1 tie-in.
View from the Bay (ABC – TV)
Friday, April 16th
Studio audience enters from 2:15pm – 2:30pm only; taping is from 3:00pm – 4:00pm
Students and instructors are invited to be part of the studio audience for View from the Bay. Audience members have a chance to meet co-hosts Spencer Christian and Janelle Wang, along with the day's guest, Cookie Johnson (fashion designer and wife of Magic Johnson). Audience doors open at 2:15pm with a cut-off of 2:30pm. Tickets must be requested in advance and groups are welcome. To reserve your seats please call the ticket request line at (415)-954-7733 or visit www.viewfromthebay.com
Give 2, Take 1 "G2T1"
Saturday, April 17th
79 Gallery at 79 New Montgomery Street 11:00am – 4:00pm
Shop. All items are priced. Swap. Get as good as you give. Donate. Always appreciated.
Entrance is free with swap tickets (provided at time of donation) or $2 at the door.
Also at G2T1: Enter the free raffle to win a VIP ticket to Discarded to Divine ($150.00 value). Drop by the "Beauty Bar" and "Style Lab" for the latest spring/summer trends. Last minute clothing/accessories donations accepted.
The St. Vincent de Paul Society of San Francisco will use remaining clothing, accessories and donations from G2T1 for their community programs, and to supply design participants for next year's Discarded to Divine fundraising auction. Proceeds will benefit the St. Vincent de Paul Society and the Academy of Art University's Beyond the Front Row fashion club. Every day the St. Vincent de Paul Society feeds, clothes, shelters and helps over 1,000 men, women and children, serving more than 75,000 individuals a year.
Inaugural San Francisco BritWeek 2010
Friday, April 23rd – Sunday, May 16th
Gladys Perint Palmer is heading the fashion subcommittee for San Francisco's first annual BritWeek! She was approached by British Consul General, Julian Evans, to lead the way among our Bay Area fashion friends and has rallied SF retailers and others to join in. The School of Fashion is an acknowledged participant, hosting our Annual Graduation Fashion Show and Awards Ceremony with special Guest of Honor, Suzy Menkes, fashion editor of the International Herald Tribune. (A Brit herself, Suzy Menkes was honored by Queen Elizabeth II and named officer of the Order of the British Empire for her services to journalism.) The Academy of Art University Galleries (79 New Montgomery; 625 Sutter Street; and 688 Sutter Street) are also participating and will have a spot on the BrtiWeek map of the city.
The original BritWeek, established in Los Angeles, celebrates British contributions to California and is wildly successful! SF BritWeek will be a festive community event, supporting foot-traffic with its own 'walking map' of San Francisco; the map will also include a list of all participants and a map-marker for businesses open to the public. Visit http://britweek.org to learn more about BritWeek events in LA and SF. And, keep your eyes open for the BritWeek-inspired window at the 79 Retail Store.

Discarded to Divine
Thursday, April 29th
The Hall at St. Mary's Cathedral, 1111 Gough Street
Exclusive VIP Party, 5:00pm; Silent Auction, 6:00pm; Live Auction, 8:00pm
Tickets start at $75 (you can enter the free raffle to win one VIP ticket at G2T1 on April 17th)
Recycled Fashions. Renewed Lives.
The annual auction, organized and hosted by the St. Vincent de Paul Society of San Francisco, directly benefits those suffering from poverty, homelessness and domestic violence. Tickets are available for purchase at http://www.svdp-sf.org/DISCARDED , or phone 415.977.1270 for more information.
*Designs by School of Fashion students, Miriam Tolentino (pillow) and Laone Botshoma (dress) will be at the Discarded to Divine sneak preview on April 9th, as well as in the window of the 79 Retail Store the week of April 12th as a tie-in to G2T1, and will be up for auction at Discarded to Divine on April 29th.
Beyond the Front Row is happy to join the St. Vincent de Paul Society of San Francisco in efforts to gather donations for the participants of next year's Discarded to Divine auction. Their Give Two, Take One "G2T1" event on April 17th will benefit this auction-fundraiser, as well as St. Vincent's other programs. Please do consider making clothing and accessories donations, even if you do not plan to participate in the swap.