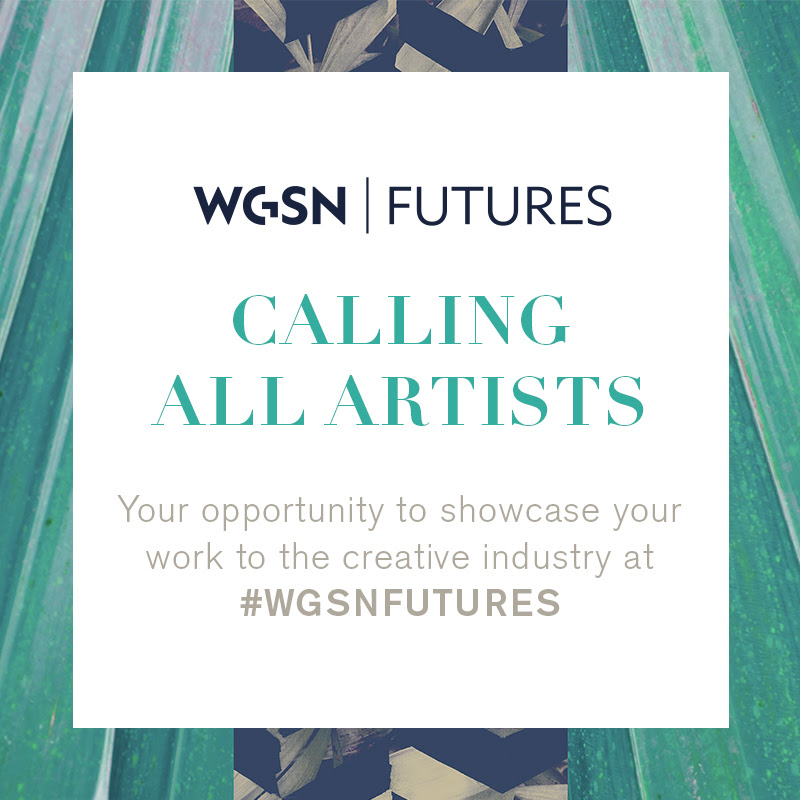 WGSN FUTURES and ARTS THREAD are Calling All Artists for the opportunity to showcase their work to the Creative Industry at WGSN Futures event that takes place

May 25 to 26

at B1, Victoria House, Bloomsbury, London, where 22,000 sq ft of urban "white space" will be transformed into a truly immersive experience.

We have an amazing blank canvas space in which we want to showcase new talent – installations whether this be structural, prints, lighting, live art or projection. The possibilities are endless! A fantastic opportunity for you, the emerging artist or designer to showcase your work to an influential audience.

We want you to bring to life our S/S17 trend Encounter Culture. We calling for work that complements our theme that plays with vibrant, lush and energetic colour.

WAHT WE ARE LOOKING FOR: Installation Art / Digital Art / Art Film / Fine Art – Paintings / Illustration / Graphic Design / Textile Art /

WHO CAN ENTER: Open to 2015 & 2014 graduate artists and designers worldwide + ARTS THREAD members worldwide graduated from 2010-2015.

ENTRY: Free – there is no entry fee

HOW TO ENTER: Simply upload 5-10 images of work you would wish to show at WGSN FUTURES to your ARTS THREAD portfolio – login or register to create a portfolio account & then Contact us using the Subject 'WGSN FUTURES'

DEADLINE FOR APPLICATIONS: APRIL 25 2016 MIDNIGHT GMT

WGSN FUTURES DATES: May 25 & 26 2016

Link to FULL BRIEF ON CALL FOR ENTRIES: WGSN FUTURES
---
WHAT IS WGSN FUTURES?
WGSN Futures is a unique event combining inspiration & insight into the future of fashion and the creative industries. This event will include exclusive content from the world's leading trend authority WGSN along with insight from a hand-picked panel of world-class thought leaders.
The WGSN Futures Awards are the grand finale to WGSN Futures, celebrating innovation in design, business and technology, as well as breakthrough talent on a global scale. The awards ceremony will be celebrated in style at B1, Bloomsbury, London on the evening of Thursday 26 May 2016.
---
WHO WILL BE AT WGSN FUTURES TO SEE MY WORK?
Alongside the dynamic WGSN team will be Industry Experts speaking at the event, from brands such as the adidas Group and The Dandy Lab, plus the WGSN Futures attendee list of 300 influential creative industry players, carefully curated to ensure the highest level of networking and knowledge sharing, with representatives from brands such as Benetton, Diesel, Farrow & Ball, H&M and Unilever. See the Attendee List so far
In addition, finalists in The WGSN Futures Awards and their guests will be at the event the evening of Thursday 26 May 2016.
Want to see the space? Click here to see what B1, Victoria House looks like!
---
MARKETING & PROMOTION OF THE CHOSEN WORK
Shortlisted entries showcased on WGSN/Insider blog visited by 650,000 per month.
Finalists included on Social Media around the WGSN Futures event. Followers for Facebook, Twitter and Instagram total 320,0000 combined.
Showcase work at the event to 300 influencers and senior members of the creative industries.
Shortlisted entries promoted on Arts Thread newsletter and social media channels – combined reach of 125, 000.
Copyright © 2016 ARTS THREAD™ All rights reserved
Our mailing address is:
Arts Thread Ltd, Exchange at Somerset House, Somerset House, Strand, London WC2R 1LA