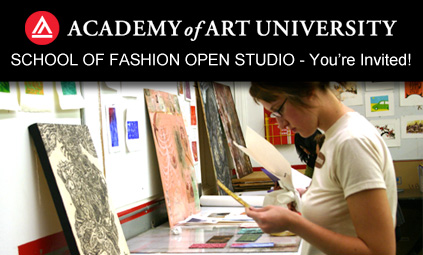 We're opening our studio doors here at the School of Fashion so come on down and pay us a little visit!
Here's all the info you need to know!
WHEN: Saturday, August 15, 2009. The open house starts at 10 a.m. and continues through p.m. Make sure you get there early! Check-in begins at 9:30 AM
WHERE: School of Fashion, 180 New Montgomery St., San Francisco.
WHAT: Drop on by the school and preview the Spring 2010 Collection before industry folks see it at NY Fashion Week. You can also get a hands-on knitwear and textile experience, get some live draping demos, become acquainted with ONE EIGHTY magazine and the fashion journalism department, learn about the business side of the fashion industry and, of course, meet the staff. People will also be on hand to answer questions about admissions, financial aid, campus life and everything you need to know about the school.
For more info and to RSVP for the event click here.