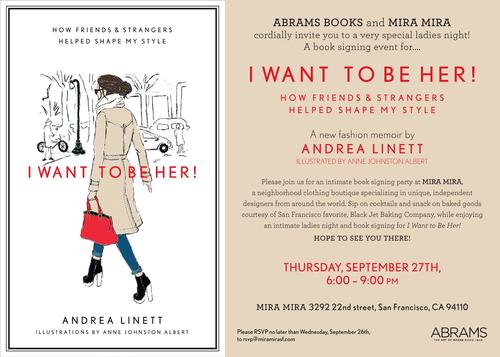 Andrea Linnet Book Signing at Mira Mira
Start your weekend a little early, and head to Mira Mira for an awesome book signing party with Andrea Linnet! The Lucky magazine cofounder's just-released fashion memoir I Want to Be Her, tells stories of the amazing women in her life (and a few awesome strangers) who've influenced her style throughout the years. Head down to the Mission to grab a copy of the book, sip on some cocktails, and enjoy baked goods from Black Jet Baking Co., and mingle with the amazing women in our fair city!
Thursday, September 27th from 6:00 to 9:00 PM
Mira Mira – 3292 22nd Street
Follow the jump to read more!
The Bonfire Sessions
Jansport – everyone's favorite middle school backpack – is hosting a FREE concert on Treasure Island! The evening features local acts The Dodos, Geographer, White Fence, and a special appearance by Father John Misty. Grab your blankets, snacks, and s'mores fixins and head over to TI for a little musical fun!
Sunday, September 30 – Doors at 5:30
Treasure Island – Halfway between SF and Oakland
Be sure to RSVP here – does not guarantee admittance so be sure to arrive early!
Textile Arts Council Lecture – The Role of Color in Costumes of Northern Caucasus Peoples
Dr. Zvezdana Dode, an archaeologist and art historian who has done extensive research on mediaeval costume and textiles, will discuss the color choices and dyes of the people who inhabited the Northern Caucasus and how the environment influenced these choices. The Turks, Iranianas, Adigs and Vainah who live here have similar costumes but their color choices from the same available dye-stuffs show distinct preferences.
Saturday, September 29, 2012 – 10 am
Koret Auditorium, de Young Museum
Free to Textile Arts Council members, $5 museum members/students, $10 for non-members