Vincent Duran, College Relations Manager for BCBGMAXAZRIAGROUP, visited the School of Fashion today to give a presentation and view portfolios for internships and job placement. He was kind enough to give the readers of Fashion School Daily four tips they should know when interviewing for industry jobs.
TIP #1: When asked why you want to enter the fashion industry, never answer that "I love to travel" or "I love to shop."
TIP #2: Never say "fashion is my passion."
TIP #3: When asked if you have any questions for the interviewer, never ask him or her "how did you get into the company" because it is obvious that you don't have a good question. 15 out of 20 people will ask this.
TIP #4: Always arrive well dressed and geared towards the company you are interviewing with. "Within the first 5 minutes, we know if we are going to move forward with someone," Vincent told us.
I would listen to him. He knows what he is talking about – especially with #2. Don't do that. Ever.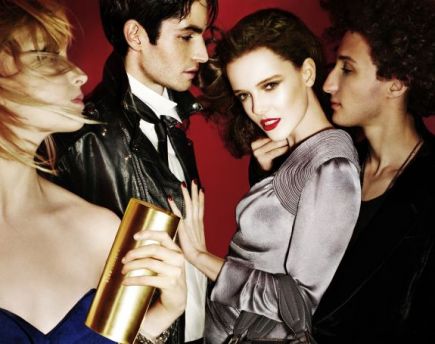 A picture from the BCBG Max Azria Fall 2009 ad campaign. If you wanna work for a company like the BCBG Max Azra Group then you should pay attention to what Vincent Duran has to say.