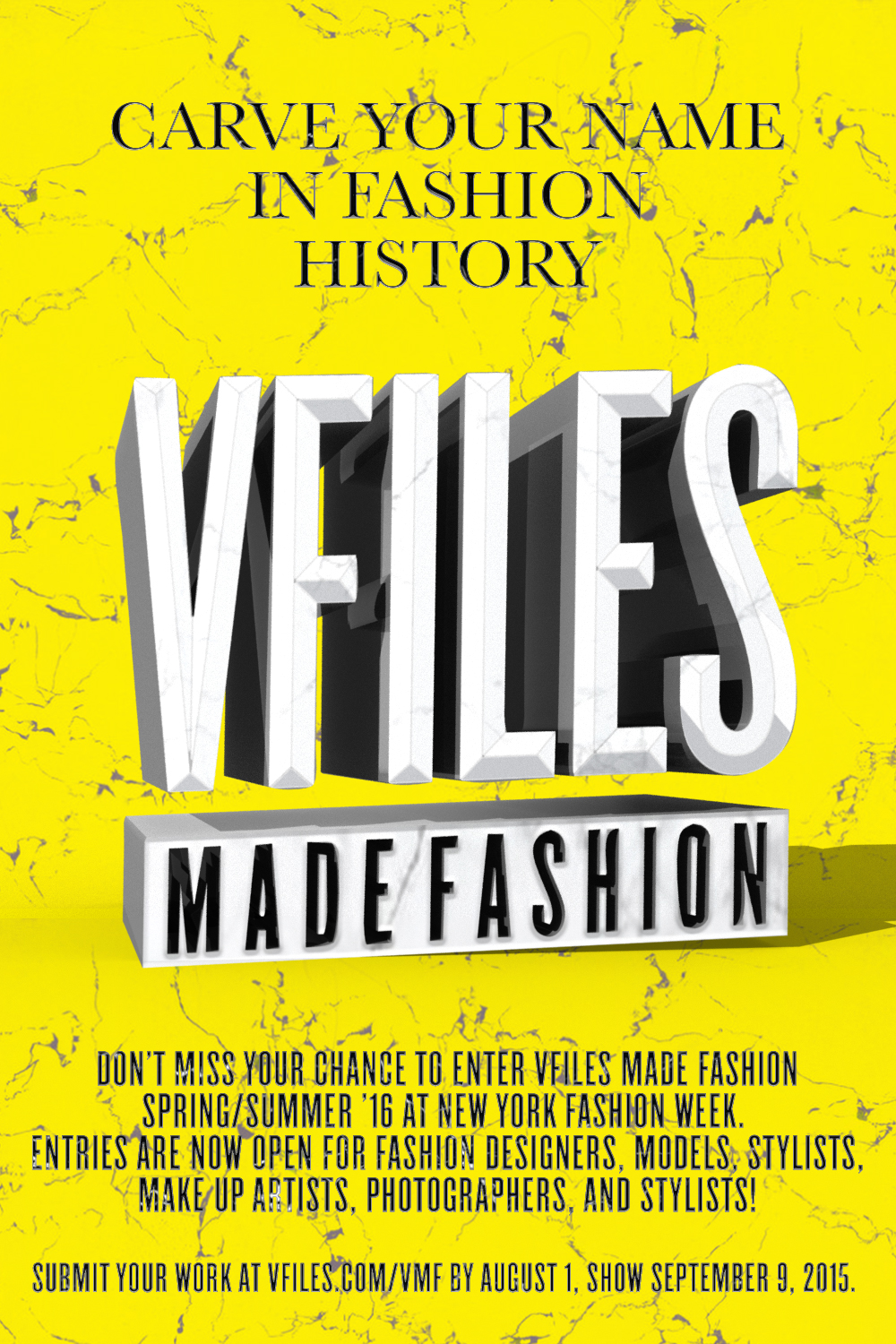 Starting June 23, VFILES MADE FASHION opens the entry period for the fifth installment of its highly anticipated, fully site-sourced fashion show. Through July 24th, the best young creatives in the industry—designers, stylists, makeup artists, photographers,  hair stylists, and models can upload their work for chance to showcase their talent on fashion's most energetic stage — kicking off New York Fashion Week.
Winners Include:
Designers
A Stylist
A Make Up Artist
A Hair Stylist
A Photographer
Models
To select the winners, the VFILES editorial team, as well as a group of prestigious mentors, review each submission based on vision, relevance, and saleability. In addition, each winner across categories will be judged on his/her ability to inspire and work with the VFILES community. A team of mentors will also be participating in the selection process; previous mentors include Stylist Mel Ottenberg, legendary fashion editor Candy Pratts Price, Calvin Klein Collection menswear designer Italo Zucchelli, W Magazine digital director Dirk Standen, and make up artist James Kaliardos. .
In addition to showing at VFILES MADE FASHION, the winning designers will receive one complimentary season in the VFILES THIRD FLOOR Showroom. The VFILES THIRD FLOOR is a sales, PR and brand incubator for a select group of future designers poised for global recognition. The VFILES THIRD FLOOR guides their brands through every aspect of the fashion industry; using the showroom to present collections to appropriate buyers, accelerating revenue growth, increasing saleability, growing brand awareness, and providing access to marketing platforms, resources and corporate relationships.
Over the past four seasons, VFILES MADE FASHION has catapulted cult fashion brands including DI$COUNT UNIVER$E, XIMONLEE, Andrea Jiapei Li, Julia Seemann, Hyein Seo, ASSK, Sam MC London and Melitta Baumeister to mainstream success. But this is nothing new for VFILES. Since its founding in 2012, the on and offline platform has catalyzed the careers of young, vibrant fashion talent from around the globe and now serves as a vital talent clearinghouse and design resource for industry and pop culture heavyweights. VFILES designers are stocked at 100+ stores in 15 countries and have dressed Rihanna, Lady Gaga, Katy Perry, Rita Ora, Naomi Campbell and even costumed The Hunger Games Trilogy.
ABOUT VFILES
VFILES is a next generation global media company and social network attracting a global youth audience of influential millennial thinkers. The company is rapidly disrupting the status quo of a traditionally offline fashion industry by shifting power directly to users and creating ways for brands to directly dialogue with a millennial audience, in person and online.
Founded in 2012, VFILES' mission is to give fashion people the power to share, connect, shop, and watch fun and compelling original content online. VFILES is disrupting the US & global fashion market worth in excess of US$1.5 trillion as it offers brands and fashion industry participants a multi-platform media environment to reach the next generation of customers and continued brand relevance. VFILES is a unique proposition as it is the only fashion and social media platform that services its community with social media, content and ecommerce/retail and live events.