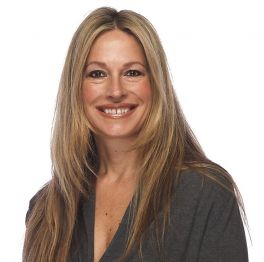 Academy of Art University fashion students were recently treated to a passionate discussion of all things fashion, trends, and the "new world of fashion journalism" between San Francisco Chronicle Style section reporter Carolyne Zinko and School of Fashion Merchandising instructor, Hersha Steinbock.
Carolyne reached out to Hersha for her expertise in reporting a Spring 2014 trend-forecasting piece (Fiercely floral dominates delicate spring) that appeared in the Chronicle's Style section. The article did not end the conversation, which continued so well that Carolyne agreed to participate in two discussions with Hersha's fashion students.
What began as an introduction about Carolyne's journalism career quickly turned into a conversation regarding the new fashion media and the different perceptions of its changes. Carolyne explained how she began reporting for the Chronicle in the mid-90s covering hard politics and news on the Peninsula and Silicon Valley.
"I started out as a hard-boiled crime reporter," Zinko explained, "it's an old-fashioned term – calling someone "hard-boiled" means they're serious, down to business, solid in their field," like a hard-boiled egg, firm inside, as opposed to a soft and runny yolk, "As a reporter you start at the bottom then work your way up. You learn to write incredibly fast. I covered city government meetings, public records, and politics. During these long meetings you have to learn how to make boring things sound interesting all of the time."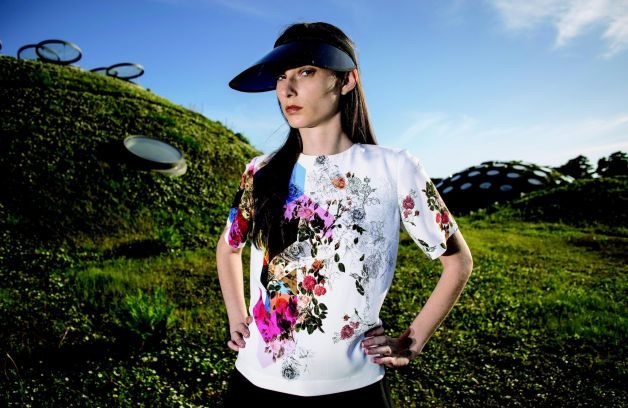 Her ability to speedily and clearly share her findings led her to cover the society column from 2000-2004. "I transitioned to covering rich society people, and community figures." She carried on, "I did that for four years. When I wrote for the society column I was able to meet a lot of people." Eventually she started covering fashion related events, at boutiques, stores, and parties. This led her to the style section.
Zinko is now wearing many hats – from reporter to social mediaist, to videographer, to semi-fashion director and layout coordinator. She calls the Chronicle "a digital media company that also has a newspaper." It's become the standard that some of her articles, must include social media posts as well as a short video clip with a summary of the article uploaded to the web before appearing in the newspaper.
The distinction might sound strange to a younger demographic of journalists who couldn't image not tweeting about their newest published piece. This opened up the idea of the difference between being a newspaper journalist as opposed to being a blogger or a magazine writer. I made the point that most twenty something's might not find print to be as attractive as say instant information on their smart phone or tablet. Zinko noted that the Chronicle is aware of these findings and has since produced the ground-level news blog SFUnzipped, from the SFChronicle's style team. She encouraged all young people to keep up with the news (in any way shape or form) and to be informed about social issues.
"It's important that everyone is aware of the news, knowledge of the world will relate back to how worldly, local, and political affairs can affect business," Zinko emphasized, "Things like political movements, environmental factors, and art movements all have an impact on us. You should come across as an informed person- this is a no dumb-ass zone."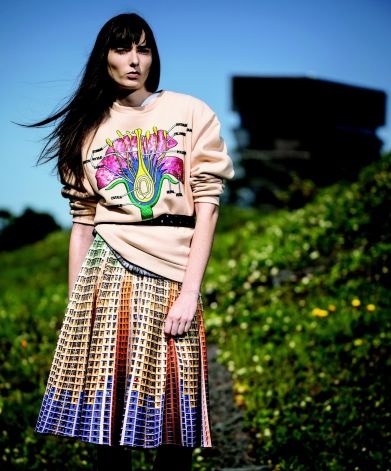 Carolyne elaborated on her point and used fashion critics as an example, "Certain fashion critics have earned respect and credibility because of their knowledge of fashion history. They were educated on the industry, brands, and fashion figures. Critics like Cathy Horyn are respected because of how she is able to reference style, and previous design…,She has knowledge of her topic."
When Hersha asked Carolyne her thoughts on celebrities' impact on beauty and fashion, while holding up the newest edition of Vogue – with Kim Kardashian and Kanye West on the cover. (The class started to groan.) Zinko responded:
"Fashion magazines like Vogue are reflecting the culture. Having huge celebrities like Kim and Kanye on the cover of Vogue is nothing that hasn't been done before. It would be the same as if Michelle Obama or Hillary Clinton were on the cover – these are influential people whose sense of style, beliefs, and opinions were relevant at the time."
She noted that newspapers are considered 'traditional media' and have certain boundaries to uphold that are very different then that of a fashion magazine. Celebrities on the red carpet may get paid hundreds if not thousands of dollars to wear a designers gown just as bloggers will don 'gifted' outfits from head to toe for a fee. Carolyne has been offered many times to wear local designers dresses, (some being couture) to society events but every time has had to refuse.
"I don't admire [the looks of} any celebrities in magazines," she said, "because more often then not [in the photos] they didn't get ready themselves. They have so many handlers and stipulations now [during photo-shoots] that instead of printing the most compelling image we only see the least offensive one."
One of Hersha's students asked about dressing the part at high-end functions or parties, Carolyne responded,"Being a working journalist means being on a budget. There's a job to do and my job is not to be the center of attention, if anything its to easily blend in and not draw attention to oneself. For events I stick to basics, classic pieces that can be worn time and time again. I treat myself to a nice pair of Prada shoes or a designer handbag every two years as to always look presentable and I never buy knockoffs!"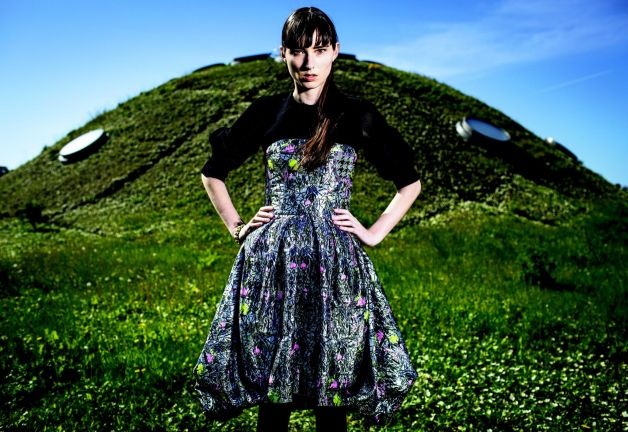 Hersha recollected one of Carolyne's most memorable articles, when she flew to Europe in 2007 to interview the designers and owners of the fashion house, Ungaro, as well as attend their show at Paris fashion week for a piece for the San Francisco Chronicle Magazine.
"I decided to go to Paris to interview the designers of Ungaro as well as the new owner," she said, "I flew out there on my own dime. They offered to pay for my flight as well as cover my hotel accommodations but I refused the offer in order to keep things ethical. As a reporter I am constantly making decisions like this, it keeps the integrity of the article intact."
Hersha explained that the article has stuck in mind ever since it was published because it was one of the first articles where the Bay Area's technological environment had intersected with a fashion brand. Before then it would have been odd for a tech mogul to invest in a fashion company so outwardly. Carolyne jumped at the chance to write the article as soon as she found out that a venture capitalist, Asim Abdullah, and his wife Dr. Isha Abdullah, from Atherton, California had bought the esteemed fashion house.
Carolyne focused on what was important in the fashion industry is making connections, attending events to network and create strong contacts with other industry professionals. She never knows who she might meet or end up sitting next to. It was through these events that she connected with Ken Downing, the fashion director for Neiman Marcus. He is an incredibly valuable source for trend forecasting, since he is responsible for outfitting all 42 stores with only the best designer garments throughout the world. He currently is putting together the fashion show for the San Francisco Ballet Gala.* Carolyne has received his expert opinion on trends in the past. Another one of Hershas students asked a question about how the SFChronical chooses which trends and styles to write about, Carolyne responded,
"It's all based on the location of the [news] paper, age group, finances, climate and geography. It's important [for me] to think about the Bay Area [people] and their lifestyle, and their opinions to know what to cover. What's important is what the people want."
*The fashion show sponsored by Neiman Marcus for the San Francisco Ballet occurred April 3. It ran on the cover of Sunday Style on Sunday, April 13, 2014.
Written by Ashley Castanos