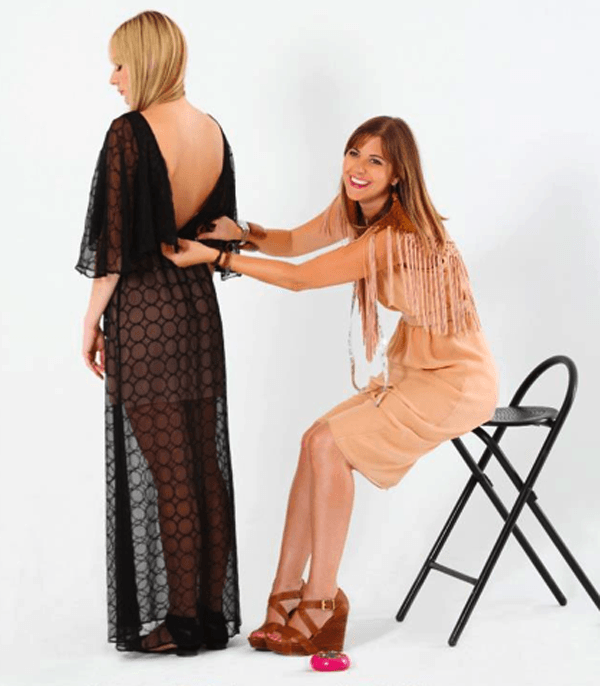 Maria Korovilas puts the finishing touches on her collection. Photo Courtesy of GenArt.
GenArt has launched some major talents on the runway – Rodarte, Zac Posen, and Phillip Lim just to name a few – and we definitely think they're on to something with their latest crop of Fresh Faces, which includes School of Fashion alumna Maria Korovilas! Maria's designs first hit the runway at the Academy of Art University's Spring '11 Fashion Show at Mercedes-Benz Fashion Week, a stunning collection of floor sweeping gowns and sparkly embellishments. After cutting her teeth in LA's fashion industry, Maria recently launched her own collection, which was shown at GenArt's Fresh Faces in Fashion last October.
Fashion School Daily spoke with Maria about her spring collection, the transition from student to full-fledged designer, and what it takes to make it on your own.
How did your interest in fashion begin?
You know, I can't really remember a time in my life when I wasn't interested in fashion. It's always been my 3rd eye, so to speak. I'm only now learning to appreciate my creative talents though, because growing up that way you don't really know any different, but I've pretty much curated my life since I was a kid.
And fashion, of course, is never just about a garment, but the road from which the garment manifested. Whether it is fashion, film, art, music… they've always been hand-in-hand for me – but my best form of telling story is through fashion. I suppose I decided to marry the industry because it was a means of expression that actually required that I constantly change my mind. And I'm just consistently inconsistent. Fashion helps me organize my chaos.
Follow the jump to read more!
Did you enjoy your time as a student in the School of Fashion?
Well, to be honest… it was completely amazing and complete hell all at once. You have to really be passionate about the field to survive. The passion gets you through it. Those few moments of presentation and glory from creation are amazing, but behind the scenes is extremely grueling and not everyone is cut out for the constant pattern puzzles, all-nighters, bleeding fingers, and inner battles of sticking to a vision that no one really has the capacity to understand until you've bet the farm.
And school is the easy part. Working in the industry is balancing all of that with the addition of cost, availability, yields, lead times, etc. It's a lot of factors that are constantly shifting. I went into the program with insane dedication. I ate, slept, and dreamed my projects. I have very strong, positive feelings towards the program because it changed my life and gave me exactly what I needed, when I needed it.
But they definitely make you work for it. If you don't work for the school, the school won't work for you. My biggest advice for anyone in the program is to trust it and give it everything, and if you can do that you'll probably end up just as in love with it as I was.
Any favorite classes?
Portfolio classes were always my favorite because it was the perfect platform to experiment with concepts that, as a student, you weren't quite sure how you'd ever tackle. I love the craft of putting together presentations, so I always looked forward to the next experiment and how it was going to come together. The little victories of achieving a vision provided a great happiness that I am still addicted to. And I loved dabbling in multimedia, making companion films and my own textile samples and kind of living in fantasy. That's the fun of it all.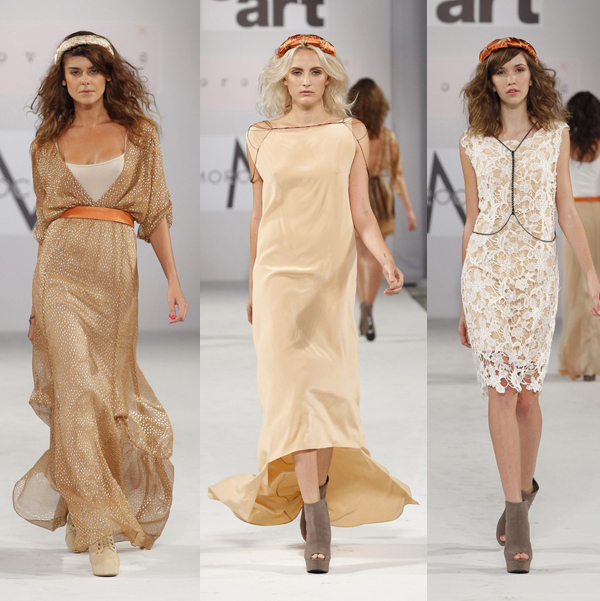 Korovilas Spring '13. Photos Courtesy of WWD.
How did it feel to show your collection during New York Fashion Week?
Like a dream. Both mentally and metaphorically speaking. At the time, I really hadn't slept much in the previous year, maybe 3-4 hours a night at best. That was my first lesson in runway anxiety!
But I couldn't have asked for a better opportunity or experience. That last year of thesis work really gave me the final "hit me over the head" skills to survive in the industry. It was almost a Catch-22. A lot of employers, when you graduate, think you're fresh off the boat. But the Academy of Art University program almost over-trains us. I felt like a mini creative director when I got out and it took being in the working world to really realize how insanely trained we all were and to know my worth. Again, I can't say enough for the program.
What did you do after graduation?
I decided to move back to LA because I knew I ultimately wanted to create my own line and I felt the LA landscape had a lot of advantages. I also wanted to work for a bit just to gain some more perspective and knowledge and see how I held up. I took a job with a contemporary, low price-point point line, which is something I never thought I would do. Ultimately LA is, on the whole, a jeans-and-tees town, so I thought, "Why not see what's going on over here?"
While it wasn't my end goal, I learned a TON working at a cheaper price point and with factories abroad. I learned the silhouettes needed to make even the cheapest fabric look good, how to dig for unique fabric amongst a pile of mass produced goods, what details and finishings cost and how to utilize them effectively while keeping costs down. And I learned a lot about tech packs and factories and general business dealings.
It wasn't always pretty but it gave me a great spectrum of perspective, coming from ready-to-wear/couture training to working in pseudo fast-fashion. It was the experience that grounded the philosophy of my current line, which I describe as "ready-to-wear contemporary" – it straddles the line. I kept the process, added commercial viability, and threw in some ethics!
How was your transition from student life to work life?
Strangely awesome. Interview after interview, lots of employers were very impressed with my portfolio work and skill range. And after working as a designer for a while now, every bit of skill held up to industry standard, which was definitely something I had anxiety about prior to starting my first job.
In fact, I always felt a little like the teacher. Everyone would come to me to ask about colors and silhouettes and to recap the seasonal inspiration and what that meant for details. It's crazy how few designers have been taught the foundation from which to build a collection. That is the glue that molds! If you create the right foundation you just plug in all the elements…
That was probably the hardest part of the transition, having to sometimes work with others who didn't have the fundamentals down. It can make everything much harder than it needs to be! Fashion, to me, is half formulaic and half an air of mystery and imagination. That intangible 6th sense is something that I, personally, don't think can be taught. But the formula can be taught. And when you've got the formula down, the 6th sense gets honed. It's really an amazing thing that I wish more of the contemporary industry embraced.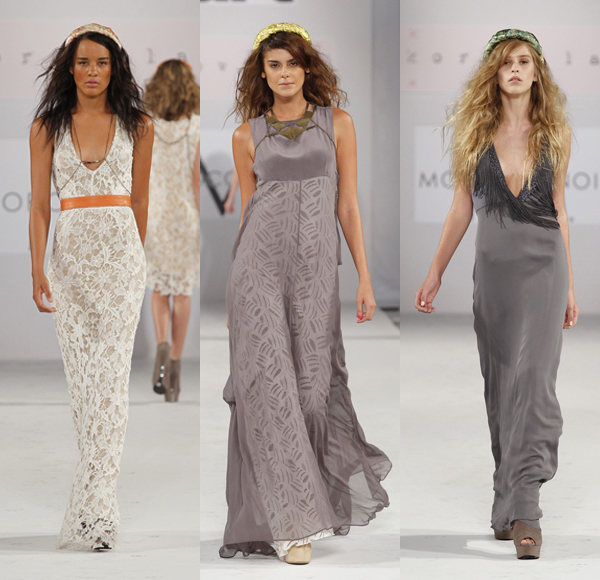 Korovilas Spring '13. Photos Courtesy of WWD.
And you recently started your collection, Korovilas. What motivated you to break out on your own?
Well, I guess hitting my breaking point with the above! I went into fashion because I had something to say. Designing under someone else limits that freedom of creation and that's why I do what I do. So much of my design process is extremely personal, and it didn't feel right to offer my soul up on a platter to someone else so that they could mangle it and dumb it down.
I also have distinct ethics that I'm not willing to degrade, and working for myself was really the best way to stay in line with my own standards. So, it made sense, the timing was right, and I had two amazing business partners come in and believe in the product. And as a process-based designer, the product is YOU! It IS personal! I think, for me, I just got to the point where I wasn't afraid to take the risk. We're all going to die anyway, and at the end of the day I can always find a job. You bring in what you put out, so why not?
What was your inspiration for the Spring '13 collection?
The farther along I get in life, the more I realize how I'm affected by my own mental plane. That's probably always the starting point for me in any collection, and I'll usually attach some narrative to describe the details that have manifested and make it palatable to an audience.
I call Spring 2013 "Girl on the Run, " which for me was really about saying goodbye to a youthful fairytale that didn't exist. It was about growing up and moving forward. Love as law. I guess the rest is personal, and meaningful only to me, but I give it away as clothing. And I like to think those messages are embedded in the soul of the garments.
You showed as part of Gen Art's Fresh Faces in Fashion show in LA – how did you get involved with them?
It's crazy how much happened in the one year that I launched the line. It really fell out of the sky. They just called me one day, an old friend had shown the curator my line and she wanted to speak to me. We had a great conversation and the rest is history. That was definitely a huge honor, I had always dreamed of being a part of that show. It was so surreal.
What advice would you offer to students and alumni looking to go out on their own?
Believe in yourself and believe that anything is possible. It sounds cliché, but when you know that inside, you can do anything. You are your own best advocate – no one will fight for you like you will fight for yourself. And when people see you fighting for yourself, you will inspire others to fight with you. And next thing you know you're building something. Fear is the enemy.
Live in the present… the future never comes.
Thank you Maria!
For more Alumni Updates, click here.