The cast of the Prada Fall 2010 campaign has been revealed.
I mentioned in a previous post about the Prada Fall 2010 show, that Miuccia casted a bunch of Victoria's Secret models. However, only the soft-spoken Australian beauty, Miranda Kerr, made the cut to be on the famous Prada campaign ad.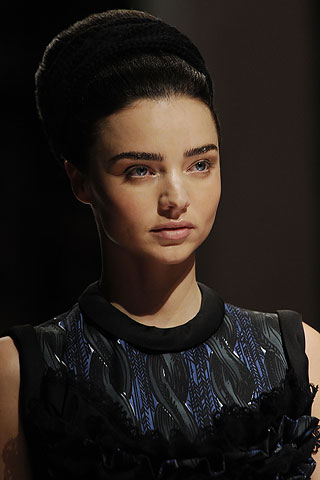 Miranda Kerr at Prada Fall 2010 Photo credit: Style.com
I call the ad campaign "famous" because Prada and Miu Miu have a history of casting new models. Those new girls usually end up being big in the industry. Miuccia and her casting people have keen eyes for new girls.
I am excited to see how they will style the sweet Miranda to look like the cool girls who were in Prada campaigns before: Sasha Pivovarova, Ali Stephens, Rasa Zukauskaite, and the whole cast for Prada's Spring 2009 ad campaign.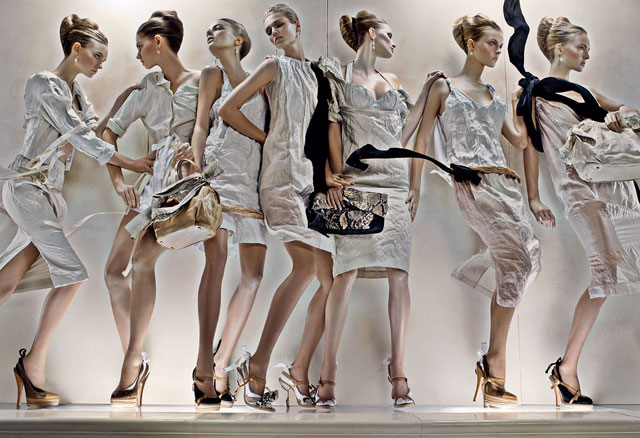 Prada's Spring 2009 campaign
I wonder if the store in San Francisco will eventually put Miranda's face on their window display or not. They still haven't put Rasa's Spring 2010 lolita-inspired pictures up.
In other news from the fashion ad campaign world, Vanessa Paradis is the new face of Chanel's Coco Cocoon bag line. It just so happens that Vanessa was the star of Miu Miu's Fall 2008 campaign. Karl Lagerfeld said in a statement, "[Vanessa] is the most divine person to work with and to be with. So why change?" Vanessa has done two other campaigns with Karl and also appears in ads for Rouge Coco lipstick.
I enjoy seeing Vanessa because she transforms into many different faces in pictures. She's a chameleon. She's not boring.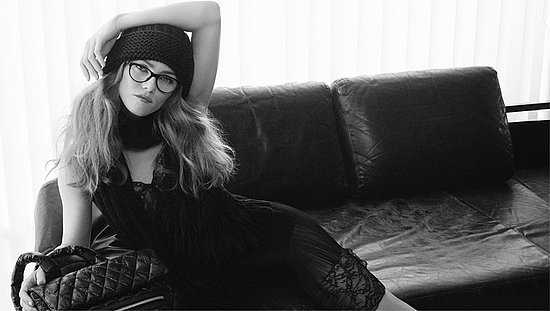 Vanessa Paradis for Chanel's Coco Cocoon bag line. Photo credit: Fashionologie.com
Written by: Harry Go
Click here For more of "The World According to Harry"