The September issue of fashion magazines is the biggest selling issue all year — so it plays a big role in fashion. In RJ Cutler's documentary, The September Issue Candy Pratts Price confirms that "September is the January in fashion," confirmed by Candy Pratts Price. That is why when it comes to September cover, most publications play it safe by putting a blonde celebrity (or a model with celebrity status) in a pretty dress.
Let's analyze last year's September issues: Vogue put Charlize Theron, W put Kate Moss, Elle put Jennifer Aniston, Glamour put Jessica Simpson, Marie Claire put Ashley Olsen (or her twin—I still can't tell them apart), and Allure had Amanda Seyfried. It was an all-blonde September — and Dodai Stewart from Jezebel was furious about it.
This year, some magazines still play it safe(ish). Harper's Bazaar put Jennifer Aniston (she's quite a popular choice, isn't she?), Elle nabbed Julia Roberts, InStyle picked Hilary Swank. However, some tried to push the envelope delicately. Teen Vogue put Justin Bieber on the cover—which was genius because all these prepubescent girls will definitely buy a copy or two. Vanity Fair featured Lady Gaga who is blonde, but edgier than Jennifer Aniston or Jessica Simpson. American Vogue put Halle Berry in Anna Wintour's cropped hairdo circa early '90s. (BTW, Halle is the second African American woman to appear on Vogue's September cover. The first was Naomi Campbell in 1989.)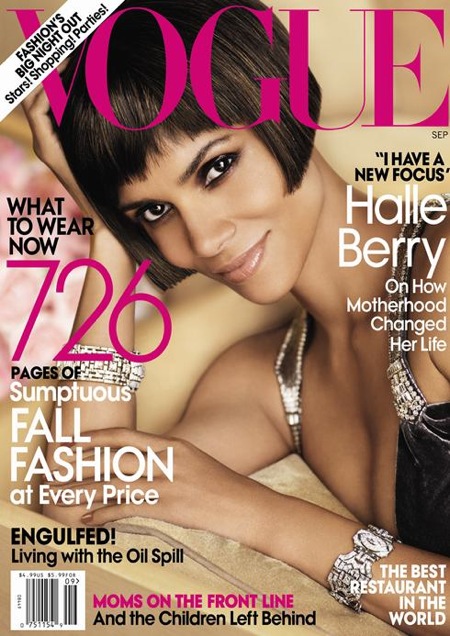 Perhaps my favorite is Stefano Tonchi's W. It features up-and-coming actresses Kat Dennings (Nick and Norah's Infinite Playlist and the upcoming Thor), Jessica Chastain (The Tree of Life), Yaya DaCosta (The Kids Are All Right), Greta Gerwig (Greenberg), Mary Elizabeth Winstead (Scott Pilgrim vs. the World), Jennifer Lawrence (Winter's Bone), Emma Roberts, and Zoe Kravitz. I love the pyramidal composition of the cover girls. The cover will be triple-page foldout and will have W's new logo, which is an italicized "W". The font choice is also much better than Vogue's Futura.
Follow the jump for covers from more September issues.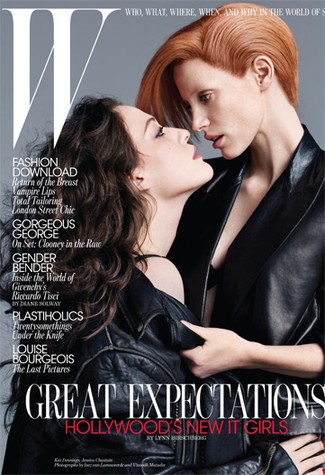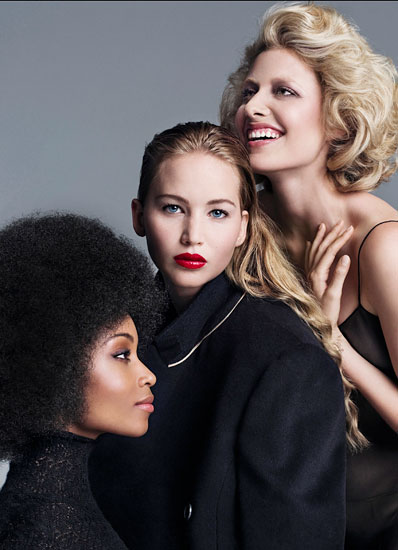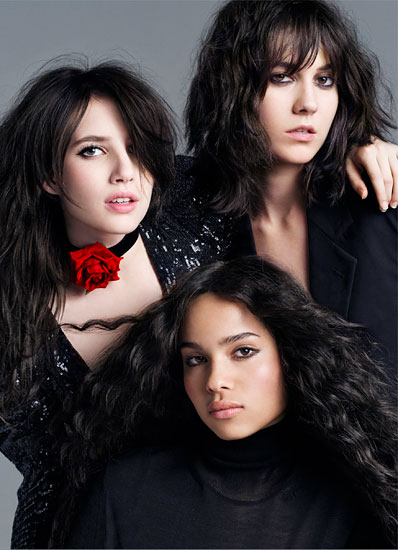 My other favorite comes from the other side of the globe. Vogue China featured today's biggest Asian models: Fei Fei Sun, Liu Wen, Shu Pei Qin, Ming Xi and Tao Okamoto shot by Peter Lindbergh and Daniel Jackson. The two shots are like yin and yang: showing strength and vulnerability. Fei Fei Sun is my current model crush.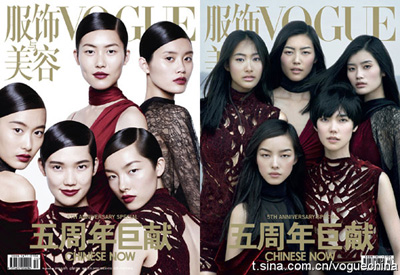 But forget all of them; the only one that matters is the 180 September issue. I can't say much but one thing for sure: we never played it safe here at 180.

Written by: Harry Go
Click here for more of "The World According to Harry"