It is the time of the year again — all fashion websites are trying to calculate the amount of shows that models walked so that they can make their "Big Girls of the Season" list. Figuratively big, of course — unless we count Beth Ditto's appearance in the Jean Paul Gaultier show. Style.com declares the following gals memorable faces for the Spring season: Arizona Muse, Bambi Northwood-Blyth, Britt Maren, Daphne Groeneveld, Hailey Clauson, Julia Saner, Kirsi Pyrhonen (fun fact: her shoe size is 11 just like Paris Hilton), Maddie Kulicka, Melodie Monrose, and Theres Alexandersson.
I am not the model-snob that I used to be in 2008. There are just way too many newcomers! I only know Arizona, Bambi, Daphne and Melodie — so I'm going to spill some interesting facts about them.
Daphne Groeneveld and Arizona Muse probably have to credit Miuccia Prada for introducing them them to the world. Daphne was casted in an all-blonde Miu Miu Fall 2010 ad campaign ad  Siri Tollerød, Lindsey Wixson and Ginta Lapina. Muse also opened and closed the Spring 2011 Miu Miu show in Paris. Daphne is walking proof that, despite body image debates, skinny is still in. I am enjoying Daphne's look. However, she undoubtedly could come of a little drag-ish with her pronounced lips. Good thing she does not have big bones.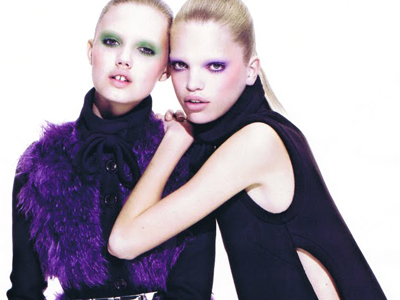 Daphne Groeneveld (right) and Lindsey Wixson for Miu Miu Fall 2010 campaign ad.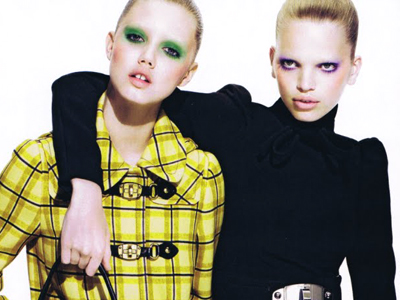 Follow the jump to read more.
Arizona Muse looks like an American bombshell sister of Aline Weber. She looks like a healthy California girl with that '90s supermodel vibe. I came across a girl on the Urban Outfitters website the other day, and was wondering if it was Arizona. Can anyone confirm this? I thought Urban Outfitters are more for has-been models, like Cole Mohr, no?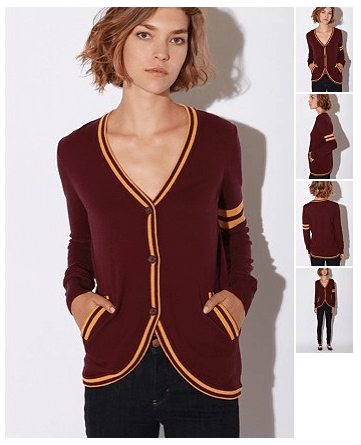 Is this Arizona in an Urban Outfitters ad?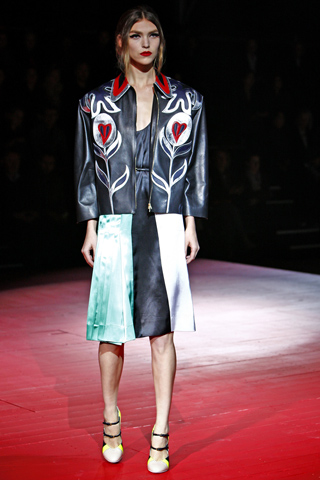 Arizona Muse at Miu Miu Spring 2011
Like Arizona, Bambi Northwood-Blyth also looks like a healthy California girl. They both possess strong eyebrows too. Bambi is actually from Australia. Katie Grand loves this girl. She walked Balenciaga and Chanel in Paris. I have been following her career for a while because she appeared in the street style section of the Spring 2010 issue of 180 magazine. Back then, she was listed as Stef Bambi and was a student whose style icon was "Megan Fox on the cover of NYLON." Who could ever forget that? She was modeling in Los Angeles for a while and then suddenly appeared at Balenciaga Spring 2011 and all over fashion blogs.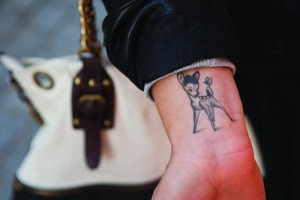 Bambi Northwood-Blyth on 180 Spring 2010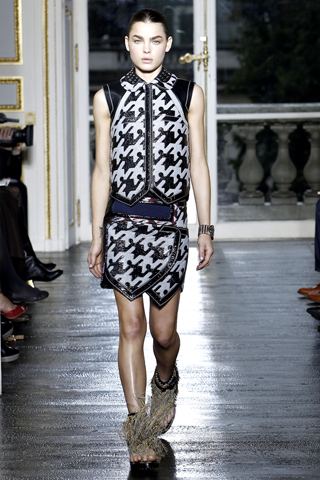 Bambi Northwood-Blyth at Balenciaga Spring 2011
Then there's Melodie Monrose. Simon wrote about her a while back. There is something quite regal about Melodie. She walked Prada, Miu Miu (in which, she was the only non-Caucasian model) and many other major shows. Watch out, Chanel Iman!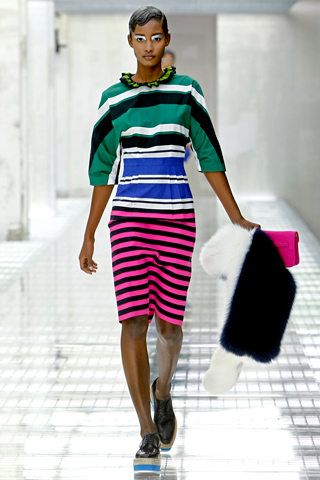 Melodie Monrose at Prada Spring 2011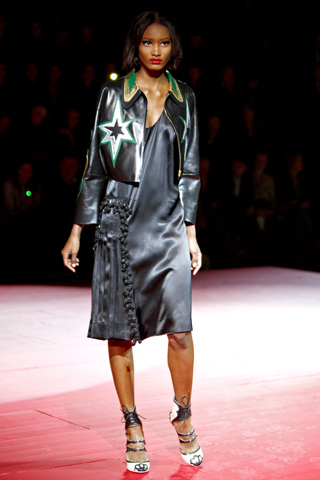 Melodie Monrose at Miu Miu Spring 2011
I don't have much to say about Britt, Hailey, Julia, Kirsi and all those other girls. They need to do more major things to get on my radar — but I do wonder why Fashion School Daily's favorite girl, Ming Xi, did not make the list! She walked fifty-one shows for goodness sake.

Written by: Harry Go
Click here for more of "The World According to Harry"