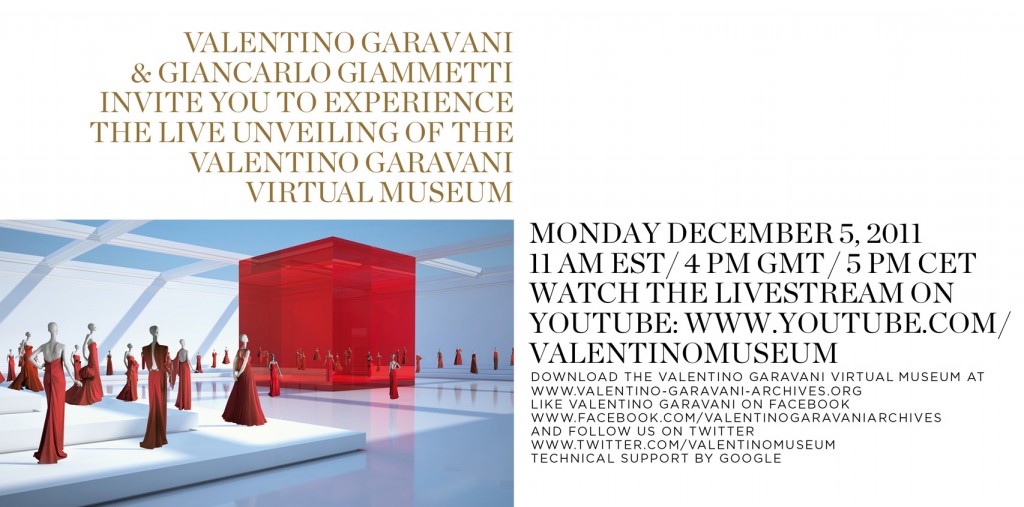 Next Monday, the Valentino Garavani Virtual Museum will be live! Valentino is the first designer to curate a permanent exhibition of his work in digital form – and it looks like it's going to be pretty amazing. The virtual museum can be downloaded to your computer, and connects to an online database that uses real time 3D technology to create an environment that makes you feel as if you are there in person.
Over 300 dresses from the Valentino archive were documented for the museum, and will be organized by different themes. The museum will also have sketches, illustrations, ad campaigns, editorials and more from the prolific and talented designer, as well as illustrations by School of Fashion Executive Director Gladys Perint Palmer! There will also be videos and photos from special events such as the 1968 White Collection and 2011 White Fairy Tale Love Ball.
On Monday, December 5th Valentino and his partner Giancarlo Giammetti (whom many came to know through the documentary Valentino: The Last Emperor), are hosting a press conference at 11 AM in NYC (8 AM West Coast Time), to reveal the full contents of the museum. It will be livestreamed for an international audience on YouTube – we can't wait to tune in and witness this amazing marriage of fashion and technology!