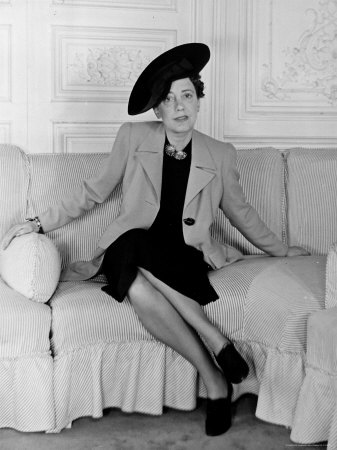 The incredibly stylish woman above is indeed Elsa Schiaparelli – which was correctly guessed by Aja! (Sorry, we don't have your last name on the comment!) Mrs. Schiaparelli was born in Italy, but her true artistic talents were realized when she moved to Paris. Mrs. Schiaparelli first began designing with encouragement from the famed couturier Paul Poiret. Unfortunately, after only a few years her business closed despite glowing reviews. Not to be deterred, she launched a collection of knitwear in 1927, featuring sweaters with surrealist images. Her first collection was featured in Vogue, and her career took off. She expanded her line to include sportswear and evening wear – a few of her evening wear pieces even made it into The Impossible Collection of Fashion. Schiaparelli was lauded as one of the most innovative fashion designers of her time, which brings us to the clues.
Follow the jump to find out the significance of the clues!
1. Colored Zippers: She was the first designer to have zippers dyed to match the fabrics and materials used in her garments.
2. Lobster: Mrs. Schiaparelli was famous for her collaborations with surrealist artists including Jean Cocteau and Salvador Dalí. Her most famous collaboration was a simple white silk evening dress with a crimson waistband, which features a large lobster painted by Dalí on the skirt. (You can see this dress in The Impossible Collection of Fashion window display today!)
3. Hats: She was also famous for creating hats in unconventional shapes – the most well known being the shoe hat, from her 1937 Fall Collection, which looked like an woman's high heel upside-down on the wearer's head. The shoe hat was another collaboration with Dalí.