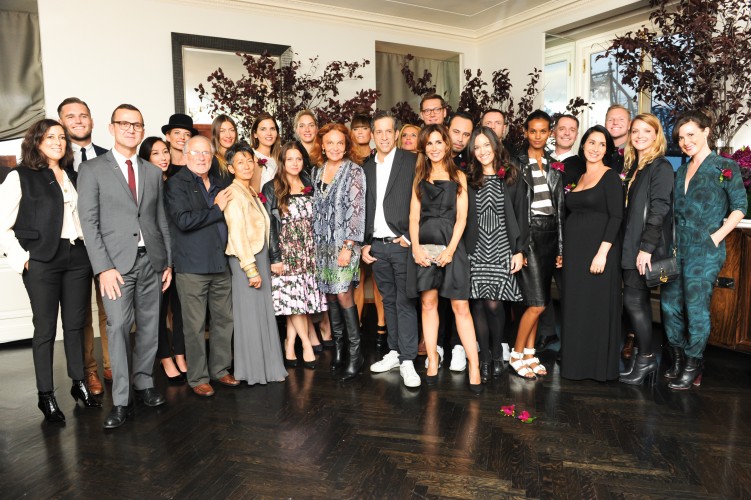 The Council of Fashion Designers of America, better known under the acronym CFDA, received the Outstanding Contribution to the Fashion Industry and Fashion Education award from the School of Fashion at the May 14th invite-only Graduation Fashion Show Awards Ceremony. The award was  presented by Academy of Art University President Dr. Elisa Stephens during the reception held at the School of Fashion's 625 Polk headquarters.
"The CFDA not only contributes to the development of the fashion industry in the United States, but it continues to help recognize and support young and emerging designers," said Dr. Stephens.  CFDA representatives, Executive Director Lisa Smilor and Senior Manager of Professional Development Sara Kozlowski, accepted the award on the organization's behalf.
For over fifty years the CFDA has remained the backbone of the American fashion industry, establishing initiatives such as the CFDA/Vogue Fashion Fund, which has helped catapult the success of brands like Alexander Wang, Proenza Schouler, Rag & Bone. The famed Fashion Fund has recognized the School of Fashion's own alumna Ryan Roche, (this year's Distinguished Alumni Award recipient) as well as Eva Fehren as runners up in 2014, with each receiving $100,000. Winners receive $300,000 and a one year mentorship with a legendary fashion brand. This prestigious competition has gained so much notoriety that there has been a documentary, Seamless, and a reality show, The Fashion Fund, to document the competition and the talented designers who participate in it.Additionally, the CFDA awards scholarships to exceptional design students across the United States.
"I am very proud to have been involved in the inception and growth of The CFDA's scholarship and professional development programming over the past 19 years," said Smilor. "It is exciting and very rewarding to identify and support such an impressive, talented group of students and emerging designers each year. Our organization is most fortunate to have the ever-present support of the fashion industry, particularly that of our sponsors and the CFDA Members, which allows us to provide the unprecedented opportunities that we offer and achieve our great success stories."
Fashion designer Diane von Furstenberg currently sits on the CFDA Board of Directors as President with Michael Kors and Marcus Wainwright of Rag&Bone both serving as Vice President. Other board members include representatives from Theory, Neiman Marcus, J.Crew, Nordstrom and Reed Krakoff among others.
By: Malcolm Thomas