We already got reviews from two major media outlets!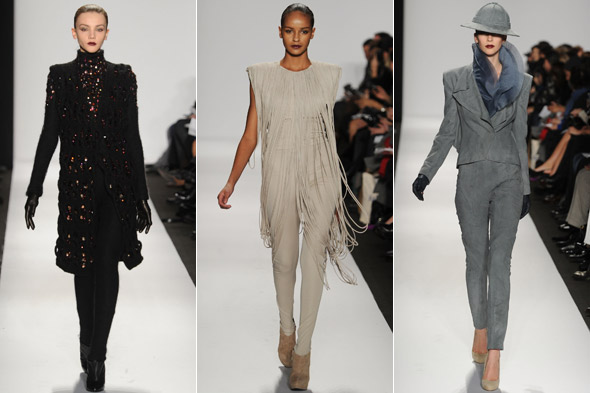 One was written by Jennifer Paull from the AOL-based StyleList:
The most successful looks from these fledgling designers were usually those that concentrated each key idea into one standout item of clothing. For instance, An's approach to toughness and loopiness worked best when consolidated into a single dress. Oo's complex, multiple-textured knits were most striking when they stuck to a simple, dramatic silhouette, like the accordion-ridged cropped sweater. The patterns on Sutton's silkscreened wool coats were largely washed out in the flashbulbs' glare, but on close inspection they were delicately appealing. She printed the fabric with images of etchings she made from old family photographs, showing children at play — retro-crafty-touch-of-creepy!
Click here to read the rest of the review
The other one was from Women's Wear Daily:
Give credit to Simon Ungless, the director of fashion (and former longtime colleague of Alexander McQueen) for whipping a group of master's students into runway shape; the clothes sent out by six MFA students at this San Francisco school surpassed some of the contemporary shows already seen for fall. First up, Marina Solomatnikova worked suede into flattering dresses and coats, subtly detailed with draped and folded backs; then Bethany Meuleners highlighted texture with a Duchamp-inspired lineup of navy and plum-colored silk slips over intricately woven dresses and bodysuits. In his knitwear collection, Steven Oo used the lines of an Italian architect to inform his startlingly chic black sweater dresses and coats, which had little spikes along the back. And, with her jewel-bedecked felt coats, Sabah Mansoor Husain offered refined outerwear with a dash of twinkly color.
Read more of this review at WWD.com.
We love it when people write good things about our designers. 🙂
For more coverage of our show at Fashion Week, click here!