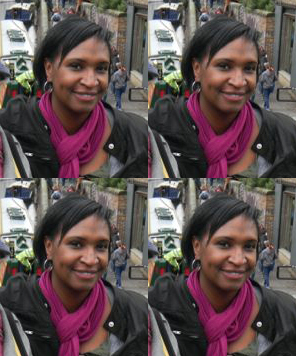 Name: Karron English
Where do you live? Good ole Atlanta, Ga
What is your area of study? I am in the 2nd half of my MFA Fashion Design program.
What is your current occupation?
Mother, full-time student, and fashion design consultant.
If you were to die and come back as [a fashion icon], who would it be?
It would be Claire McCardell. I love how she revolutionized American sportswear.
What is your most treasured possession?
My grandmothers beaded sweater. She has passed on but the sweater lives on with me.
Who are your favorite [fashion] writers?
Right now I like fashion bloggers. They have a way of bringing words and photos together. The Sartorialist is one that I like.
Follow the jump to read more!
Which talent would you most like to have?
Tailoring – it always seems so hard for me but beautiful.
Which [items in your closet] do you most use?
My old grey men's sweater that I had to add patches to the elbow because it was so worn out.
What is the quality you most like in [yourself]?
I enjoy people observing people. At the shop or walking about – to see what they purchase and the stores they visit.
What do you consider your greatest achievement?
Besides having two teenagers and surviving them, it would be working as a designer and getting paid doing what I love.
For more Proust [Fashion] Questionnaires, click here.