Doesn't everybody feel relieved that the summer is here?
Besides, turning in my last assignments of the year, I had a beauty shoot in San Francisco with Rus Anson focusing on a specific type of lighting technique that casted different shaped shadows on my face and body. The look was a bright red-orange lip with white liner and mascara, topped off with a heavy black brow. I am excited to see how these turn out.
I also had two castings — one was for a Yahoo commercial. I had to act like a teenage girl talking on a video chat with her friend from school. This was not hard to do. I just had to talk about my imaginary prom date and how HOT he was! Considering I haven't been in high school since 2001, this was quite funny. Luckily, the other model had a sense of humor — so it made it easier.
The second casting of the week was for a photo shoot for Carlton Hair. Carlton Hair is a big account and I'm hoping I book this. It would be a great start to the summer.
And on a final note, I saw a feature in Marin Magazine with my picture from a shoot I did for the clothing line Vagadu. Check it out: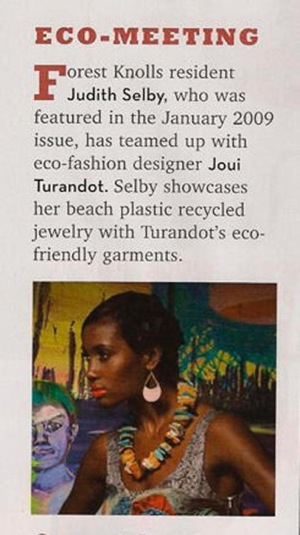 Written by: Erin Leeper
Click here to read more of "The Model Life of Erin"