Finals are over and done! This week has been extremely challenging, but doesn't it feel so good that is over? We are going after our dream and for me this is just the beginning of a beautiful career. I had to keep telling myself this as I took my textiles exam. Struggling over a question that was worth ten points, which tested my ability to choose the correct fabrics for 5 different garments, was literally making my brain hurt. Despite the temporary aneurysm, I think that this semester was an overall success. I'm ready for the holidays and will spend some time getting my portfolio ready for summer castings.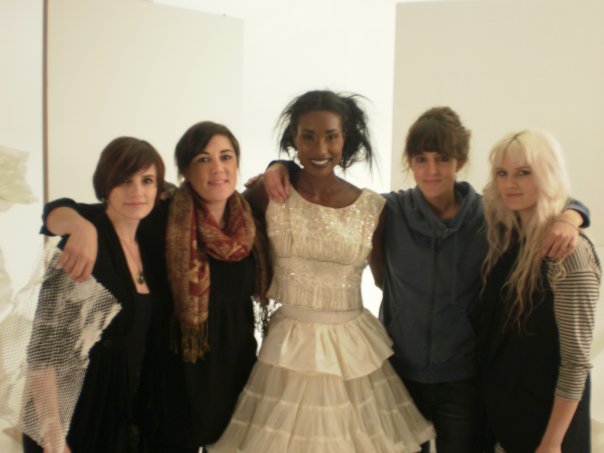 Becca Chewning (from left), Brittan Wieser, Me, Rus Anson and Erin Frederick.
In addition to finals, this week I was fortunate enough to be contacted by a good friend and a very talented photographer, Rus Anson. Rus and I have worked together on several projects during the past 2 years and like myself, she is working toward her MFA. She was interested in shooting a compilation of images, inspired by vintage dresses with lots of volume and a background full of white and crème colored props. Rus was able to pull in a spectacular team of artists. Erin Fredrick did the styling and Brittan Wieser and Becca Chewning from the Aveda Institute did the hair and makeup.
This shoot was beyond amazing. I truly do believe that this is a dream team. We were laid back, yet serious about our craft. The best part of the shoot was when Rus told me to destroy the whole set for a video she was doing on the shoot. At first, it seemed like it would be a hard thing to do, because so much time was spent creating it, but I was able to totally dismantle the background and every single prop within moments. My exam stress was completely released!
Written by: Erin Leeper
Click here to read more of "The Model Life of Erin"