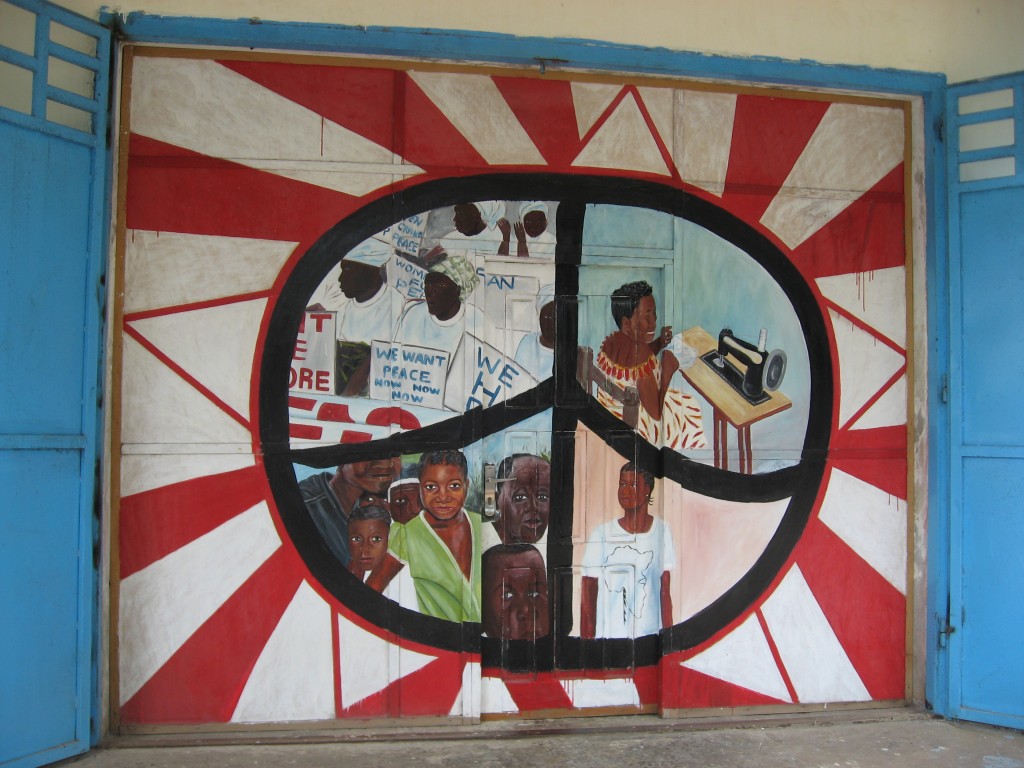 One thing I love about the fashion industry is that, despite all the glitz of runway shows and glossy magazines, there are real people behind the clothes we look at, long for, and buy. Fashion isn't just about Vogue magazine. These clothes have to be made by someone, somewhere. And despite a sketchy history of child labor and sweatshop conditions, clothing production can be an opportunity for positive change in countries like Liberia.
Located in western Africa, Liberia was torn by a brutal civil war that only recently ended in 2003. Women in this country have had little control over their own lives and are frequently sold into marriage. In fact, an estimated 75% of Liberian women were raped during the fourteen-year civil conflict.
But things are changing. In 2003, a small group of women, who were tired of the stalled peace talks, staged a demonstration that contributed to the exile of corrupt leader, Charles Taylor. How did they do it? Wearing only white t-shirts, they threatened to remove their clothes and stand naked in the streets (their protest is chronicled in the award-winning documentary, Pray the Devil Back to Hell). Then, in 2005, Ellen Johnson Sirleaf was elected president of Liberia – the first female elected to office in Africa. Sirleaf has made substantial economic improvements but unemployment still hovers around 80% (even the current recession only resulted in roughly 9% unemployment in the US).
In this environment, entrepreneurs like Chid Liberty are seeing opportunities to affect change and create a profitable local business. Liberty was born in Liberia as the son of the Liberian ambassador to Germany. Although his family moved to Germany and, ultimately, the United States when Liberty was a child, he always felt a connection to his home country. Inspired by the actions of the women protesters, Liberty started brainstorming ways to make a long-term impact in Liberia.
Read more after the jump!!
A currently popular aid effort for struggling nations like Liberia is microfinancing – basically, providing small loans to individuals so they can create a business to support themselves. The criticism with this strategy is that many of the recipients are not equipped to handle the money and often end up no better off. A recent example of this occurred in Haiti, where a $3,000 donation to rebuild a school resulted in a pile of concrete instead of any substantial improvements. Liberty felt that a better solution was stable, long-term employment and the Liberian women who have demonstrated the strength and desire to change their circumstances were the perfect employees.
Leaving a finance job in San Francisco, Liberty started the Liberian Women's Sewing Project (LWSP) in Liberia in 2009. To house the new business, he reclaimed a family-owned building in the capitol city, Monrovia, that the military had commandeered during the war. Bullet holes still cover the exterior and at the height of the conflict passersby would often be shot if they even looked at the building. Now, the building is a factory for LWSP clothing assembly services and the 58 women employed there currently sew t-shirts – a fitting choice as t-shirts were worn by the female protestors in 2003. The LWSP is the non-profit arm of its for-profit parent company, Liberty & Justice, and is guided by the same strategic and financial principles. Decisions for the company are made through an all-employee voting process and the women function more like business owners rather than strictly employees.
The business plays a role in their personal lives as well. In a country where parents have to pick which one of their children can go to school, the employees at LWSP are able to have all of their children in school. One employee, who was sold into marriage as the 8th wife of a man 50 years her senior, was left in a displaced persons camp after her husband took her children and fled the country. Today, she is remarried to a man she loves, is reunited with her children, and is building a small house. Many women have found the financial independence to leave abusive relationships.
But is this just one of many feel-good social causes? Liberty is emphatically opposed to this idea:
"Giving people the opportunity to work in factories may not be as sexy as giving a woman a $100 loan to buy a goat which, according to our Western dream, she will obviously turn into a multi-million dollar goat cheese empire – but I think we in the international development space need to check ourselves and really understand who we are serving."
In order to make a real difference in the Liberian economy, the LWSP must be a business that can stay in business. Kendall Riding, a social impact investor who has committed capital to the venture, is confident in Chid's ability to see opportunity amidst the global market forces and to create a financially successful business.
"Global manufacturing is not going away any time soon," she says. "As wages rise in Asia and the idea of corporate social responsibility becomes increasingly important, companies like Liberty &Justice are going to be uniquely positioned to meet the demands of the marketplace."
Additionally, Liberia benefits from a new trade agreement called the African Growth and Opportunity Act (AGOA) that provides up to a 30% price advantage over products from countries like China and India. On the other hand, if this were purely a for-profit enterprise, Liberty claims the women would likely not receive crucial literacy and family planning training. The LWSP is unique in its aim of creating a real, sustainable business while assisting its employees to a better life. Riding describes her experience seeing the factory firsthand,
"After visiting Liberia and meeting the women, I knew the social impact component of the investment was there. It doesn't take long to see what this factory is doing not only for its employees, but also for their families and their communities. L&J is empowering these women to see opportunities and possibilities and encouraging them to dream big not only for the company but also for themselves, for their families and for Liberia."
The future looks bright for the LWSP. Ashley Bush, the sister of designer Lauren Bush and niece of President George W. Bush, plans to use the LWSP to produce a line of skirts. The LWSP also has new contracts with a major men's pants company and a large Japanese trading company. Liberty hopes to expand the staff to 900 employees in 18 months – a tall order despite the high levels of unemployment. As Liberty found, experienced tailors were less useful than those who were quick, could get in "the zone", and have great eyesight. The expansion will require everyone to pitch in, but that's something these women are excited to do.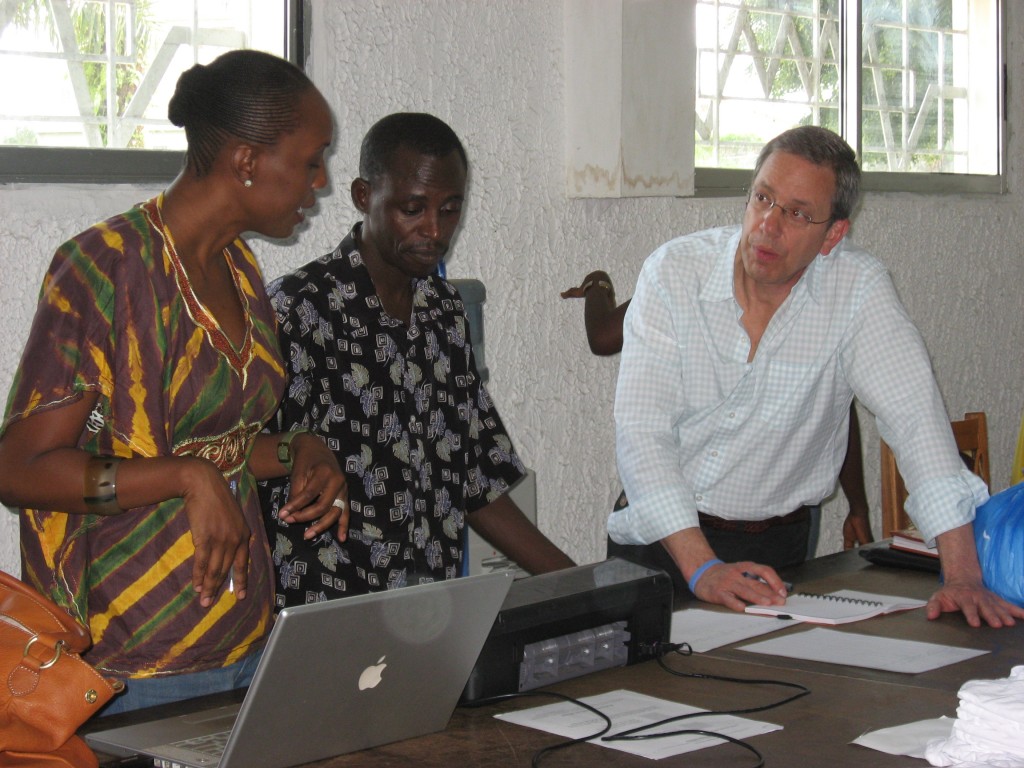 If you'd like to find out more about the Liberian Women's Sewing Project, check out their website. You can also see some of their current products at Prana.
Photo Credits: Kendall Riding
Written By: Yasha Stelzner. Follow her on Twitter @bizstylist