When I heard about the launch of Sex+Design magazine, I had to check it out. Which also led me to check out their launch party at Supper Club. The images on the newly launched site reminded me a bit of Steven Miesel's infamous "Dogging" shoot, so I was excited to see what was in store.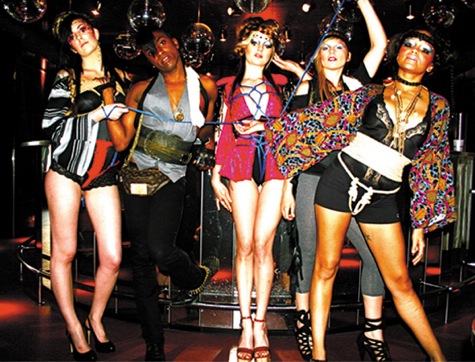 A fun Flawk photo from the Sex+Design website.
The actual event featured a disappointing lack of the underwear-clad hipsters plastered all over the Sex+Design site. I was more than a little bummed that my Betsey Johnson cocktail dress put me among the most scantily clad persons there. (And my friends were quickly annoyed with the accompanying flashbulbs that seem to follow the most scantily clad.)
I hoped the fashion show by FLAWK would be more titillating. However, after waiting… and waiting… and waiting… for the show to begin, and becoming more and more surrounded by tall people determined to block my line of vision, (and because all my blogs seem destined to start with fashion and end with food) I wimped out and headed to the W for a chicken sandwich. Sometimes food beats fashion.
Written by: Kalla Vieaux
Click here for more of 'The Kalla Chronicles'