Last week I went to visit Barry Barsamian's Hollywood memorabilia collection at the Metreon in San Francisco.
I was surprised to find it especially quiet – because it was opening day. Despite that, I was thrilled to have the place to myself. I was greeted by a perky woman in a Dorothy (from Oz of course) costume and a man in a red ringleader-like jacket who excitedly explained that the collection boasted not only the original Judy Garland Wizard of Oz costume, but also a dress from Barabara Streisand. I made an innocent joke and said that Barbara sells her entire personal wardrobe on Ebay.
The man looked at me in disdain. "MY Streisand piece came from an auction house," he corrected. Oops. Nice to meet you, Barry.
I contemplated trying to redeem myself by identifying myself as a fellow collector. I wanted to tell Barry that every Halloween I pull one of Carol Kane's costumes from the movie Ishtar out of my closet (never mind that I have never seen or heard of the movie.) I decided it against it and went on to admire the collection.
I was a bit turned off by a demon-like, doll-size replica of Lucille Ball, but so enchanted with Lana Turner's intricate smoking accessories that I was tempted to pick up my first pack of Camels. Of course, the most crass looking wardrobe bits (and retro-brown home office telephone) came from Phyllis Diller.
Barry has been adding to his collection for over 30 years, and owns over 200 pieces. Though I was secretly hoping to spy Elizabeth Taylor's Cleopatra wardrobe (sorry, not there) the collection does boast pieces from the personal wardrobes of Marilyn Monroe, Audrey Hepburn, and Jayne Mansfield.
It seemed as though Barry wasn't too offended by my Streisand comment. He has kindly offered to extend a reduced admission fee of $10 to anyone with a current Academy of Art University ID.
Photography at the exhibit is prohibited, but I was able to snag a cool postcard: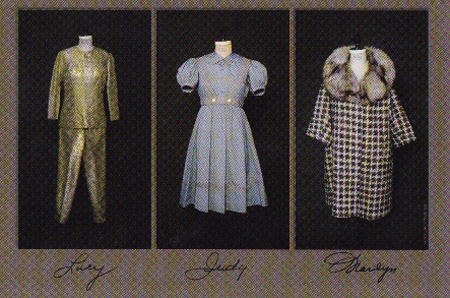 Details on the exhibit:
Hollywood Legends
Metreon Ground level
101 4th Street at Mission
Exhibit is open Wed-Sun 12-8 p.m.
Written by: Kalla Vieaux
For more of 'The Kalla Chronicles' click here