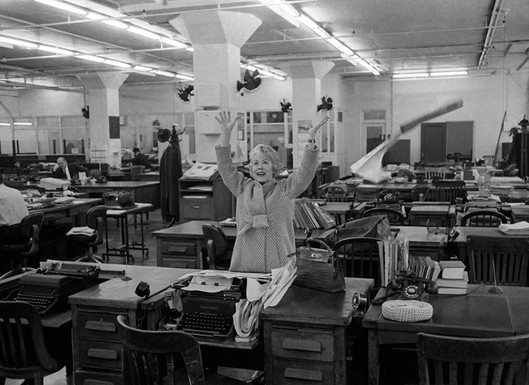 Photo Courtesy of WWD Archive.
Guessed correctly by Ian Horn on Facebook – that gal is Eugenia Sheppard! Ms. Sheppard was an American fashion journalist and newspaper columnist, credited with revolutionizing fashion reporting during her time at the New York Herald Tribune. She reported on all of the major designers, as well as the up-and-coming ones, and was known for her "personalized approach to fashion and her ability to spot trends even before the trend-setters realized they were setting them" (NY Times). And she always said exactly what she felt, making for some very memorable remarks. Here's a little more info about each of the clues:
Clue #1: She once wrote of an Yves Saint Laurent collection, "What a relief to write at last that a fashion collection is frankly, definitely and completely hideous." Needless to say – she spoke her mind.
She wrote this after seeing Yves' 1971 Spring/Summer Couture collection inspired by the 1940s and dubbed "Liberation". It was a particularly imaginative collection ahead of its time, and loathed by the critics.
Follow the jump to read more!
Clue #2: She worked closely with fashion illustrator Joe Eula. His illustrations always accompanied her columns in the New York Herald Tribune. The legendary illustrator drew everything from Dior's New Look to Yves Saint Laurent's final collections.
Clue #3: There is a CFDA Award named after her. Hint, hint. Since her death in 1984, the CFDA has given the Eugenia Sheppard Media Award for excellence in journalism to some of the fashion industry's most prestigious journalists, photographers, and editors (including our former guests of honor Suzy Menkes, Cathy Horyn, Hilary Alexander, and Robin Givhan). This year's honorees were Scott Schuman of The Sartorialist and Garance Doré.
Eugenia Sheppard's influence on the world of fashion and fashion journalism are still so important, which is why we were so eager to share her story with you! And bravo to Ian Horn for getting it right!!