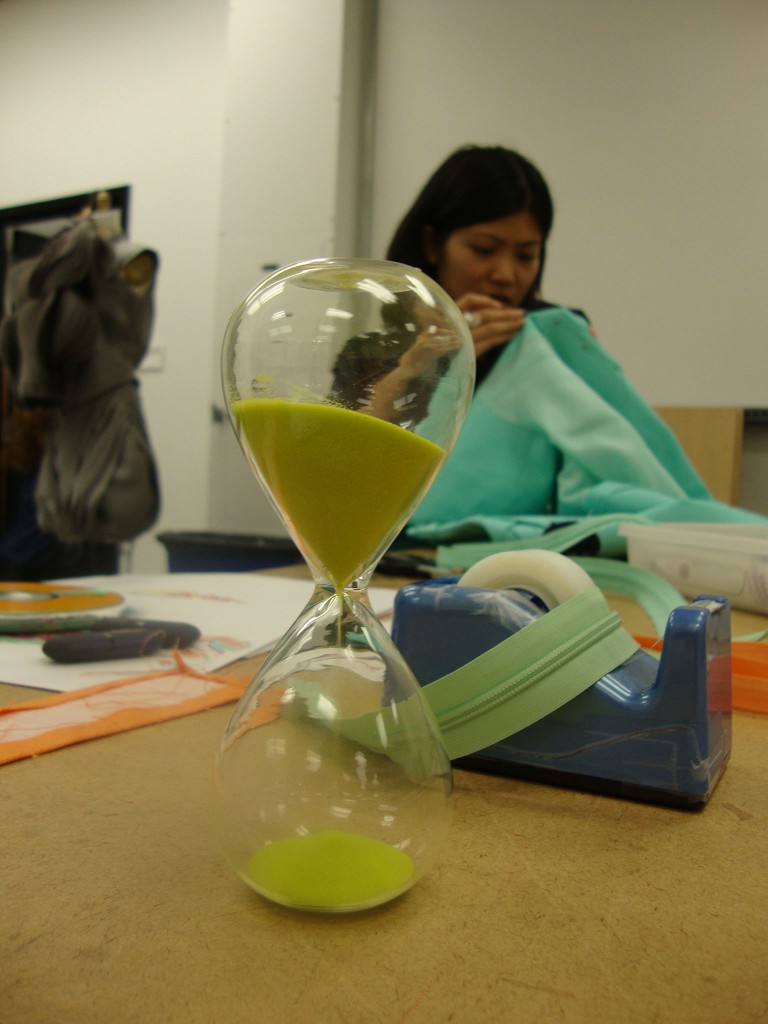 Sawanya Jomthepmala works against the clock to put finishing touches on her collection for New York Fashion Work
As Sept. 12 inches closer (if you haven't marked your calendar already, this is the date of the School of Fashion's show in New York) you'd think that MFA fashion design students Amanda Cleary, Brittney Major, Jie Pan, Kara Sennett, Richelle Valenzuela, Marina Popska, and Sawanya Jomthepmala would be frantic and unbelievably high-strung – but it's the exact opposite.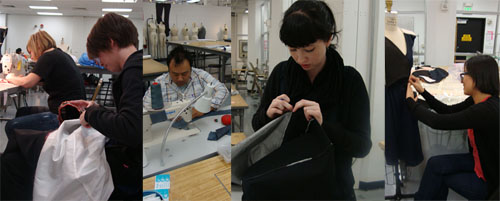 Kara Sennett (from left), Brittney Major, Richelle Valenzuela, Amanda Cleary and Jie Pan gear up for to send their stuff down the runway at Bryant Park. (Marina Nikolaeva is also showing – but she wasn't in the workroom when I was snapping photos)
There seems to be a serene vibe when walking into the workroom on the first floor at 180 New Montgomery. If they are stressed out, they know how to hide it really well.
"All of us usually work from about 9 a.m. to about 5:30 p.m.," says Brittney. "At 5:30 p.m. they usually kick us out."
"But we take some stuff home to hand sew," adds Amanda.
I suggest that they try multi-tasking to get more stuff done, but Kara regulates on that idea.
"Multi-tasking is bad for you," jokes Kara.
"Why?" I ask. "I do it all the time."
"Because if you have too much stuff going on at once, it will make your mind all messed up," says Kara.
Point taken.
The 7 students have been working non-stop on their collections since January. Their only day off is Sunday – and that' just because the building is closed. They just continue to sew, sew and sew some more until they present their collections at New York Fashion Week. This makes me wonder: do these brilliant designers ever sleep?
"More than before," says Sawanya.
"I get about 8 hours of sleep," adds Brittney. "At the end of the day, that's all you want to do."
Come to think of it, they get more sleep than me.
Stay tuned for more coverage on our designers!